While a donation to an environmental organization may be one of the best holiday gifts, supporting an environmental organization at any time of the year is one of the best things you can do for our planet. 
To help you get to that "Donate Now" button even quicker, we've rounded up 13 of the best environmental charities that deserve your donation.
These are 501(c)(3) non-profit charities so your donation is also likely tax-deductible (but double-check with your tax advisor as needed).
1. Sierra Club Foundation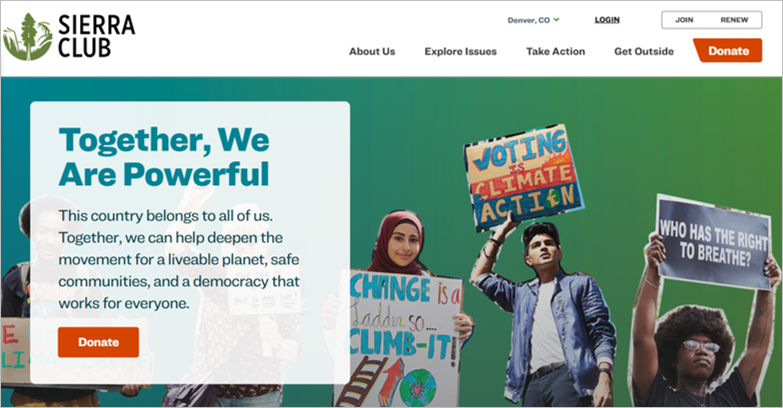 Wild places and the wildlife that inhabits them need our support—and Sierra Club provides a way for us to lend a helping hand. With either a one-time or recurring donation, we can help to preserve wild places and fight for clean air and water. 
Between land conservation projects, efforts to support clean water and healthy wildlife, and defeating oil and gas companies, Sierra Club is committed to protecting our home. So far, donations have closed 300 coal plants, established 439 parks and monuments, and supported more than 15,000 outings ever year. 
Donate here.
2. Pure Earth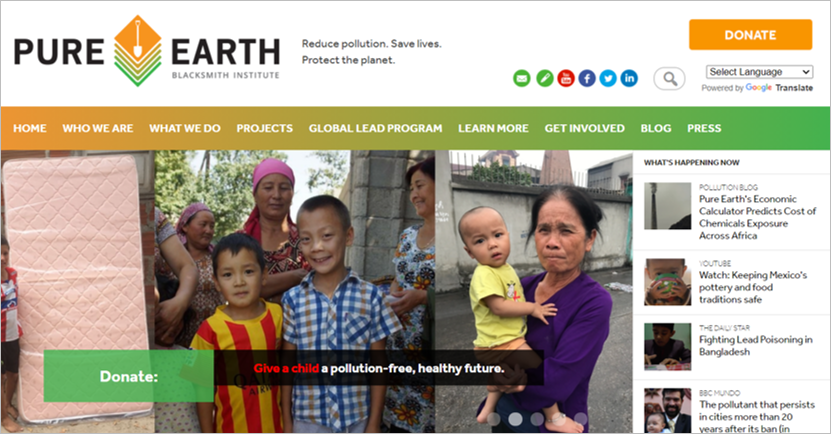 Pure Earth, formerly known as the Blacksmith Institute, has a simple mission: to clean up the toxic pollution that's affecting low- and middle-income countries. They travel to some of the world's dirtiest communities to test the air, water, and soil. If they find high levels of toxins, they develop a program to clean it up. 
Here's a quick snapshot of some of their current programs:
Colombia: Protecting children from lead poisoning, recapturing mercury from gold mining sites
Mozambique: Developing a center for environmental advocacy and research
Kyrgyzstan: Running mercury remediation projects
Vietnam: Evaluating old pesticide sites
China: Providing support for E-waste recycling, clean up water pollution
A Charity Navigator-approved donation of $100 helps to monitor blood lead levels of a family, $200 cleans a home, $500 cleans a lead-contaminated yard, and $1,000 helps to educate two communities that have been impacted by dangerous mercury levels as a result of gold mining. 
Donate here.
3. 350.org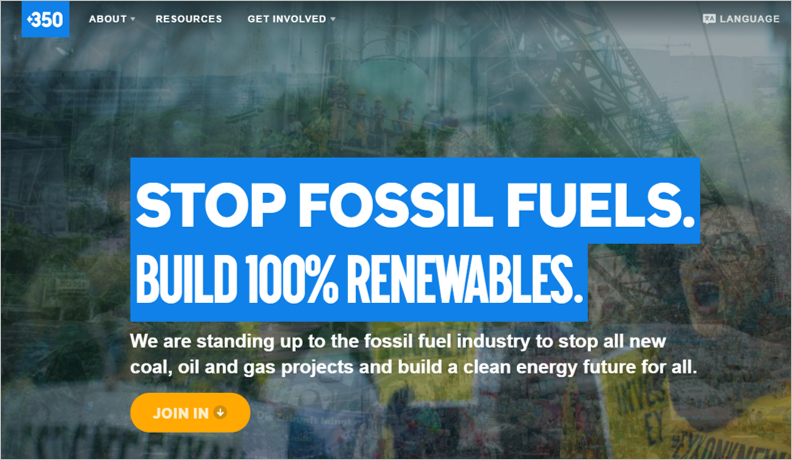 350 has played an instrumental role in the fight to keep our CO2 levels within a habitable range. They focus on ensuring a transition to renewable energy through community-led solutions, while also stopping any new fossil fuel projects and divesting money away from fossil fuel companies. 
Donating as little as $3.50 to this Charity Navigator-approved organization helps to support 350's efforts to provide more people with more resources to help them organize against the climate crisis. And it's happening! They have an active network in more than 188 countries as well as 350 fossil-free local groups located around the world.
Donate here.
4. Earthjustice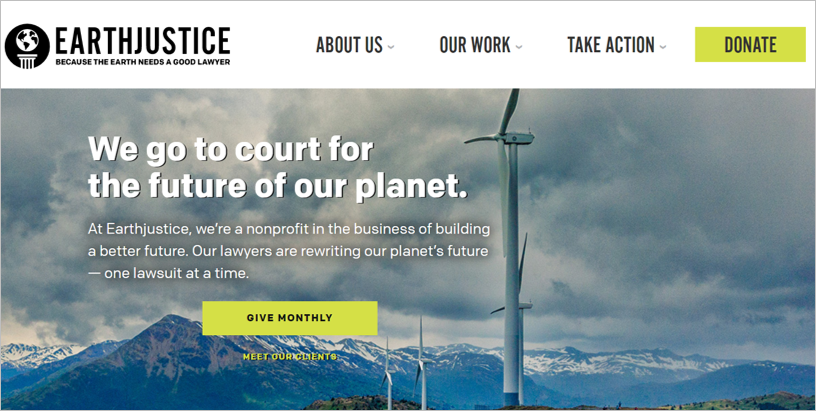 Earthjustice exists "because the Earth needs a good lawyer." Since 1971, they have been representing our planet in court. 
Here are some recent victories they've had: 
They sued the EPA to restrict water pollution from slaughterhouses, and won the case.
The state of Texas agreed to use Spanish and other non-English languages for information that impacts communities and their environment and health. 
In Montana, a loophole used by mining company was ruled unconstitutional
The Trump administration blocked funding for electric buses and environmental projects; Earthjustice fought it and won! 
In fact, since the 1970's, we have Earthjustice to thank for protection for endangered species, mercury pollution cleanups, the ban of some of the most dangerous pesticides, litigation with coal companies, and a defense of our national forests. 
All donations are backed by a four-star rating from Charity Navigator. Some workplaces participate in gift matching, too. 
Donate here.
5. National Resource Defense Council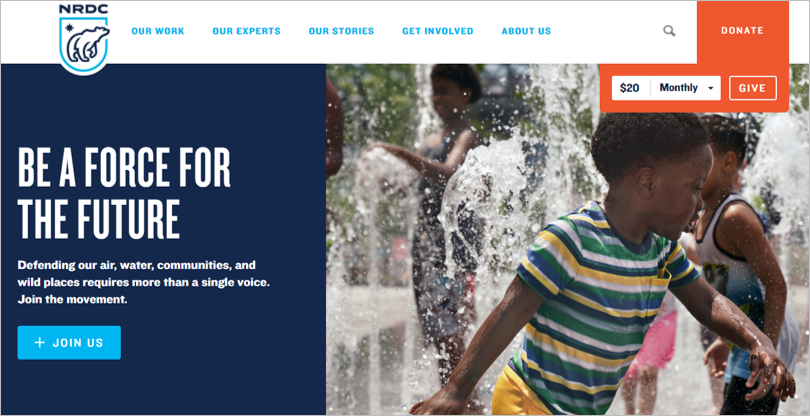 Since 1970, NRDC has fought for clean water, clean air, and healthy communities. They have more than three million members and a group of activists that includes 700 scientists, policy advocates, and lawyers.
NRDC has been behind some of the most significant actions to protect our planet:
The Clean Water Act
The Clean Air Act
A suspension on nuclear testing
The Oil Pollution Act
The China Clean Energy Project
The John D. Dingell Jr. Conservation, Management, and Recreation Act
Donations will continue to support hard-hitting campaigns and fierce courtroom battles. They're all backed by a four-star Charity Navigator review. Currently, monthly donations will be matched by a generous donor. 
Donate here.
6. The National Park Foundation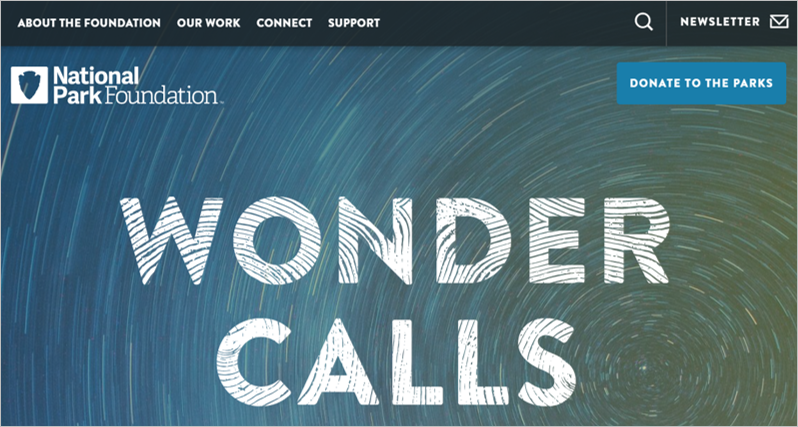 With the Natural Park Foundation, "wonder calls." Their work is motivated by a wish to connect people with national parks. 
Some of their current programs include:
A restoration project for the Elwha River in Washington
Funding to build the Flight 93 National Memorial 
A project to restore the Everglades
A restoration of 250 miles of trails and waterways
An African American Experience Fund, which supports more than 30 national park sites
There are several ways to give, including both one-time and monthly donations. Each donation is backed by Charity Navigator and will support a network of more than 424 national parks and 85 million acres.
Need more reasons to support our National Parks? Here are more benefits that we discuss in our other article, Top 5 Benefits of National Parks.
Donate here.
7. Friends of the Earth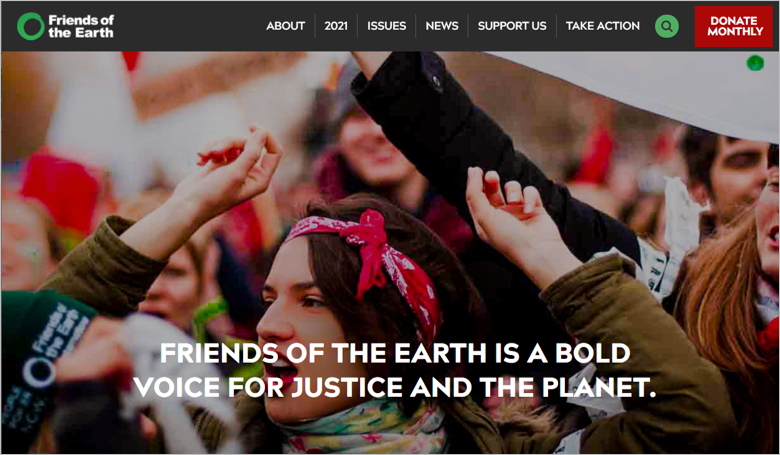 Friends of the Earth wants a healthier and more just world. They focus on six main issues: climate & energy; democracy; oceans; finance & economic systems; food & agriculture; and forests. 
Some of the projects they've been working on recently include canceling the Atlantic Coast Pipeline, challenging political appointments, challenging genetically engineered foods, and pushing businesses to make the right decisions for our forests. 
Donate here.
8. Earth Day Network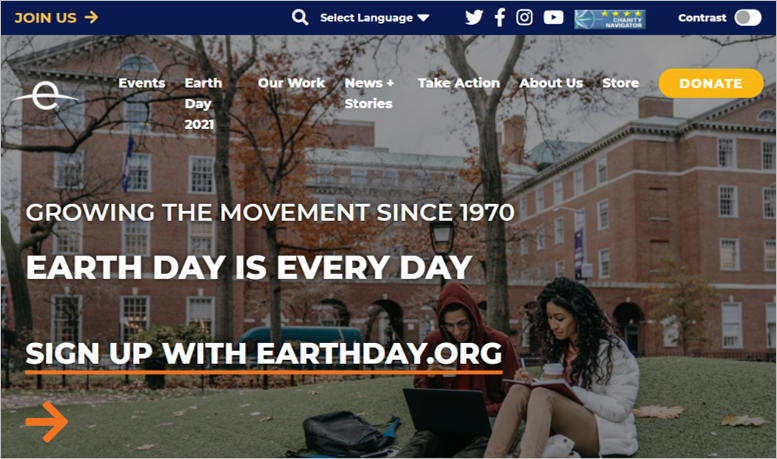 As their name suggests, the Earth Day Network was responsible for our first Earth Day back in 1970. In the past 50+ years, they've been making caring for our earth a daily activity by supporting countries all around the globe with environmental literacy programs, conservation and restoration projects, and much more. 
From voting, to eating, to everything in between, Earth Day Network wants to dedicate 365 days to our planet. Donations help to support a range of projects, as well as the official Earth Day celebrations, which features music, speakers, and more. 
Donate here.
9. The Rainforest Alliance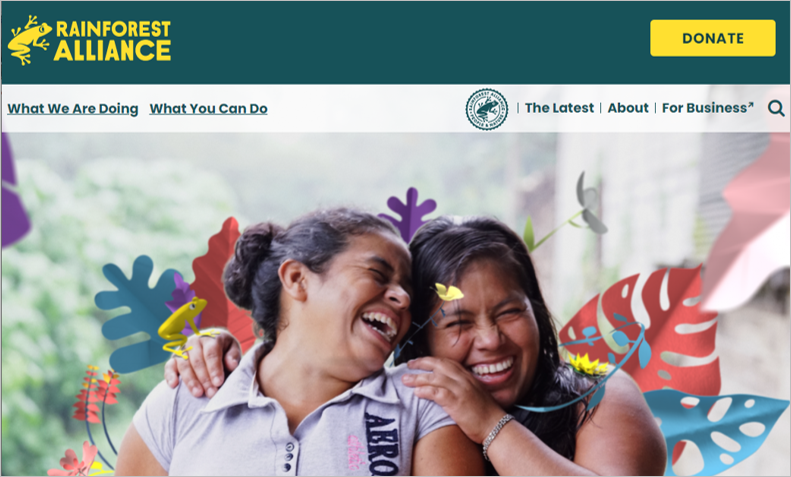 The Rainforest Alliance is made up of scientists, farmers, indigenous communities, governments, and people just like us who are committed to protecting our forests. Not only does The Rainforest Alliance have projects designed to save our forests, but they also fight for human rights and sustainable livelihoods. 
This is a top-rated charity and in 2021, 77% of all donations supported sustainability programs like certifying farmers, preserving land, and using integrated landscape management programs. They work in more than 70 countries and partner with over 5,000 companies to sell certified products. 
Donate here. 
10. Intersectional Environmentalist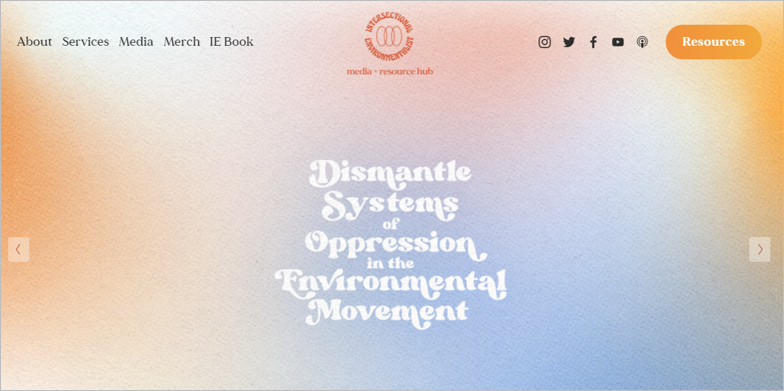 Intersectional environmentalism is an inclusive environmental movement that is driven by an aim to protect people and the planet. Launched in 2020, Intersectional Environmentalist wants to amplify the voices that are typically silenced in the environmental community. 
Stories are shared on the website, as well as their podcast, "The Joy Report."
Donations—whether one-time or through regular support on Patreon—helps the organization continue sharing information about intersectionality and compensate their BIPOC writers. 
Donate here.
11. The Conservation Fund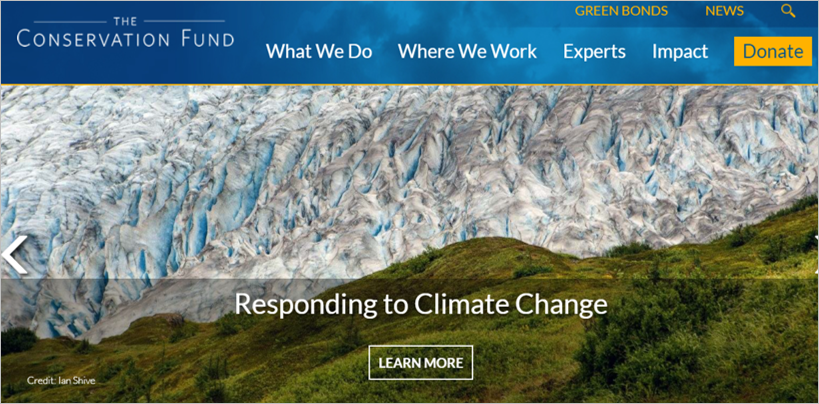 The environmentally- and economically-sound projects of The Conservation Fund have been top-rated for efficiency and effectiveness. Since 1985, the Fund has operated in all 50 states and has protected more than 8.8 million acres of land. 
90% of the annual budget directly supports conservation projects related to urban infrastructure, waterlife protection, business partnerships, conservation loans, water quality tests, and more.
Donate here.
12. The Union of Concerned Scientists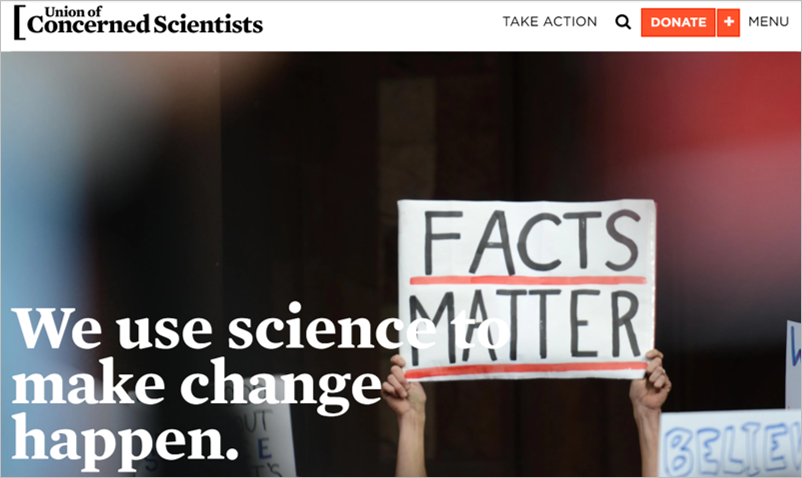 Here's what a donation to The Union of Concerned Scientists will help with:
Researching some of the world's most pressing issues
Fighting misinformation
Communication with the public and decision makers
A mobilization of more than 500,000 supporters
In just 2020, UCS has sued the EPA—and won! They've also pushed for a clean air policy in California, developed a policy to reduce transportation emissions, and blocked anti-science nominees from the government. 
Donate here.
13. Environmental Defense Fund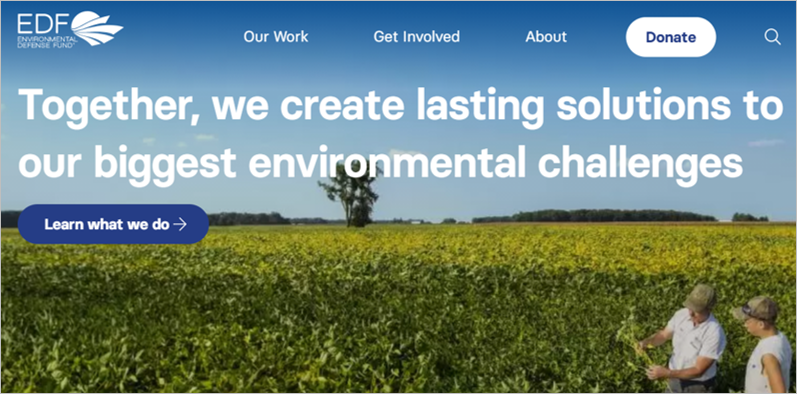 For more than half a century, EDF has been the driver behind some of the most significant and lasting solutions to our environmental challenges. They've protected wildlife by preserving more than four million acres of land and have partnered with more than 26 countries to solve a range of environmental problems around the globe. 
EDF focuses on five main areas:
Climate
Energy
Ecosystems
Oceans
Health
Donations help EDF use rigorous science and economic data to back their actions. They also help EDF form partnerships with companies and organizations, and secure advocacy efforts that create strong, bipartisan environmental policies and laws. 
Donate here.
_______________
And there you have our top 13 picks for the best environmental charities that make a huge difference for our generation and our future generations as well.
We'd love to know your favorite environmental charities that we may not have mentioned, so please share them in the comments!
This post was originally published on August 21, 2021 and updated on May 9, 2023.