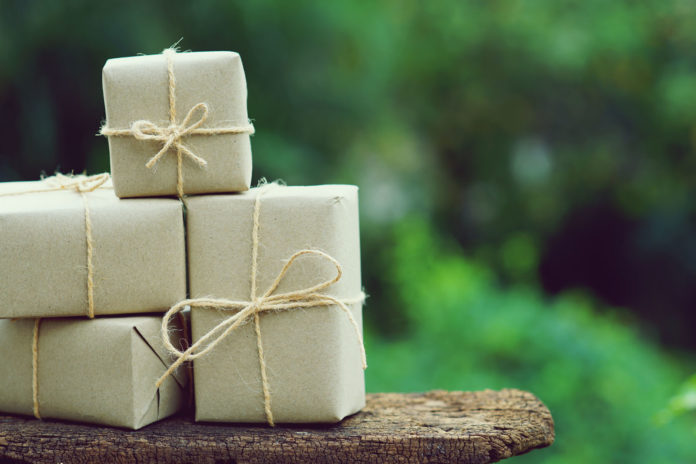 You likely have a friend (or multiple friends!) who are on the eco-friendly train and don't necessarily want random "things" as gifts. During gift-giving times, these friends and loved ones can be that much harder to shop for. I know this type of person well, since I am one!
And because more and more of us are working to reduce our environmental impact, I wanted to share these sustainable gift ideas for the eco-conscious person in your life. These gifts are also great for your friends that might be less conscious about "going green" since the items can still help them make small changes.
1. Zero Waste Starter Kit
If I had to pick my favorite gift idea on this list, it would probably be a zero-waste starter kit. You definitely don't have to go on a fully zero waste lifestyle to use a kit like this one. Using these items regularly will definitely cut down on single-use plastics and minimize personal trash production.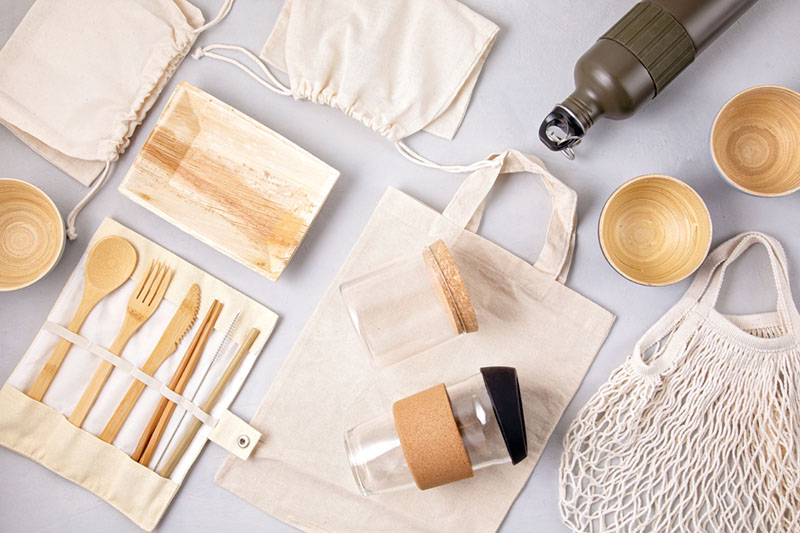 I think zero-waste kits are great for anybody, even those that didn't think they would ever use one. You can definitely make your own zero-waste gift set by including items like beeswax wraps, reusable straws, reusable produce bags, utensils, and to-go cups.
If you don't have time to get all these items separately, a kit like this one from EcoBox has all of the starter-kit essentials. It includes stainless steel straws, a reusable beverage container, cotton grocery bag, bamboo toothbrush, and beeswax wraps.
2. Reusable Produce Bags
When grocery shopping, using single-use produce bags really adds up over time – not only to plastic waste, but also the amount of fossil fuels needed to create them. My personal favorite eco-friendly gift that I got was reusable produce bags. I get to use them all the time, whether I'm at the grocery store or farmer's market.
There are so many great eco-friendly options out there, including these Simply Eco Cotton Produce Bags. This particular set includes 8 produce bags of three sizes for different uses. The bags are a mix of mesh and muslin, made from natural unbleached cotton and are polyester and BPA-free.
3. Reusable Coffee Cups
This is another must for any coffee lover. Single-use coffee cups are a huge contributor to waste production. EarthDay.org reported that 16 billion disposable coffee cups are used each year. Contrary to popular belief, coffee cups are not recyclable due to the plastic coating that laminates the inside.
Enter the reusable coffee cup, which is actually very commonplace in countries like Australia. I brought several back after traveling to Australia, and I always get compliments from baristas in coffee shops when I use it.
There are many different types to choose from, like this 12 ounce glass and silicone coffee cup from JOCO or this spill-proof, plastic-free rice husk coffee cup from BioGo.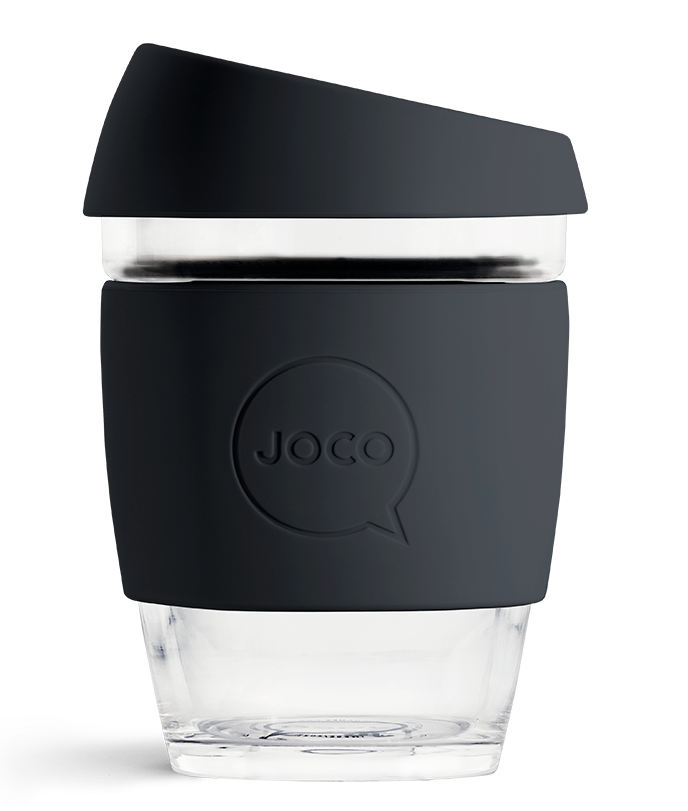 An added bonus of bringing your own reusable cup is the "bring your own cup" discounts you'll get from the majority of coffee shops.
And if you have a friend that uses a Keurig, you can also throw in a stainless steel K-cup that is reusable and doesn't rely on expensive and wasteful plastic cups. Just be sure you know what Keurig they have since the K-cup sizes are different depending on the model.
4. Kitchen Compost Bin
If your friend or loved one does any sort of gardening, a compost kit will do wonders for their garden and reduce the amount of food waste thrown into the trash.
A small counter compost bin, like this 1.3 gallon stainless steel bin from Epica, makes composting stylish and super easy. This compost bin has a charcoal filter which drastically reduces unsavory odors. From personal experience, I definitely recommend you choose a bin with a filter to reduce those bad smells.
5. Stasher Reusable Silicone Food Bags
Along with single-use produce bags, single-use plastic sandwich bags are another huge contributor of plastic waste. Enter Stasher, the first self-sealing reusable sandwich bag made out of 100% pure food-grade silicone, safe for the freezer, fridge, and microwave.
This Stasher bundle comes with 3 bags: 1 sandwich storage size, 1 snack storage size, and one large 1/2 gallon storage size, to cover all of the kitchen storage bases. Stasher bags and other silicone bag brands can also be purchased individually on Amazon.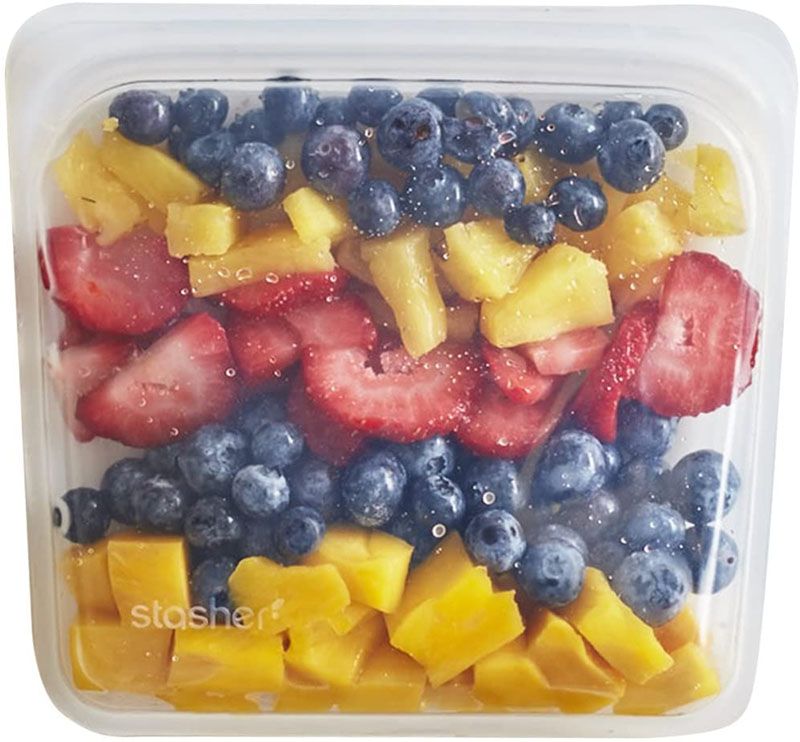 These bags are great plastic-free alternatives to bulky tupperware and plastic containers, that also come without the headache of constantly losing lids (am I the only one that does this?).
6. Eco-Friendly Take-Out Kits
Another great sustainable gift idea that also reduces waste is a "bring your own" take-out box. There are a variety of options that include really nice stainless steel kits, but I prefer a Bento Box set-up like this stylish two-tiered food storage container from Fun Life.
The kit comes with a lunchbox so it can be used for lunches or kept in a car to bring in as needed to box up leftovers, without needing to use Styrofoam or plastic containers. This particular container is microwave-safe and BPA-free as well. It also has a handy storage compartment with reusable cutlery so you can also avoid single-use silverware.
7. Beeswax Food Wraps
Beeswax wraps are another fantastic option for food storage, eliminating the need for single-use plastic wrap and bags. Beeswax wraps are reusable and washable, and can be used for almost any food storage (although meat is not recommended). You can wrap sandwiches, veggies, pastries, or pretty much any non-meat leftover again and again with beeswax wraps.
This beeswax wrap set from Bee's Wrap (a Certified B Corp) is made of organic cotton, sustainable harvested bee's wax, and organic jojoba oil with both fabric and packaging made from 100% recycled paper and biodegradable cellulose.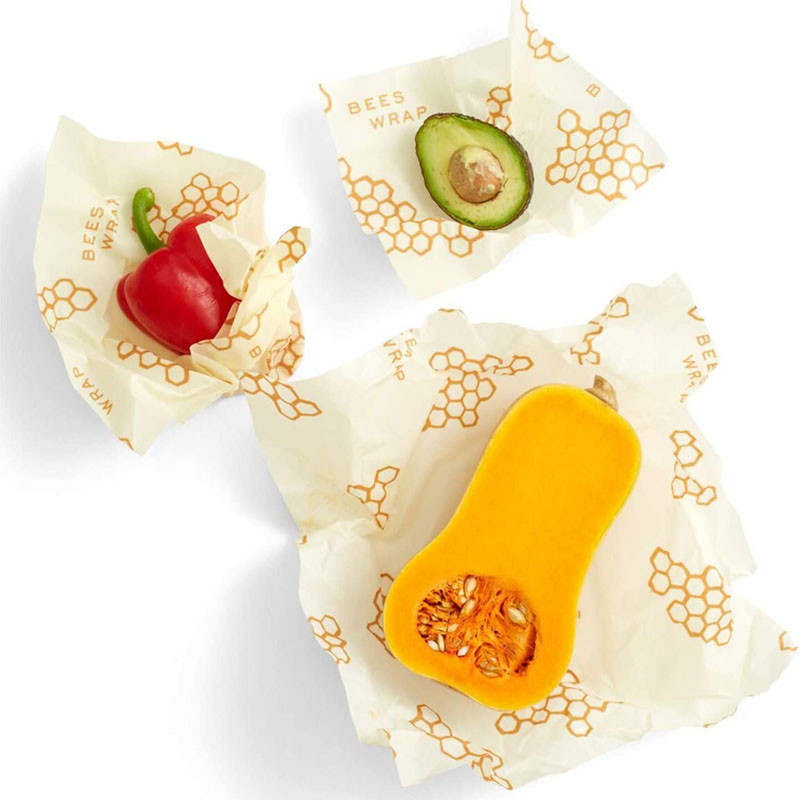 There are many beeswax wrap options out there, so I definitely recommend you make sure the company produces it's beeswax ethically (they should state this on their product page).
8. Green Lifestyle Books
If your friend is a reader, there are so many interesting and helpful books related to sustainability and green living. Doing an Amazon search is the best way to find sustainability books related to your gift recipient's interests and hobbies. Just a few topics could include organic gardening, homesteading, zero-waste living, minimalism, and climate change.
9. Sustainable Pet Products
Gifts for pets are never a bad idea, and thankfully there are more and more sustainable versions of pet supplies coming out regularly. Dog poop bags are a significant contributor to plastic waste, so why not opt for a compostable version? These non-toxic, 100% compostable poop bags from UNNI are made from plant starches and, bonus, can also be used for cat litter disposal.
Another pet-related idea to consider is a reusable pet hair remover like the OXO Good Grips Furlifter Pet Hair Remover that doesn't involve throw-away sheets like typical lint rollers do.
10. Gift Cards to a Local Thrift Stores
Gift cards to a local thrift store are a great way to be more sustainable in the gift-giving season. This is also a great way to support small local businesses.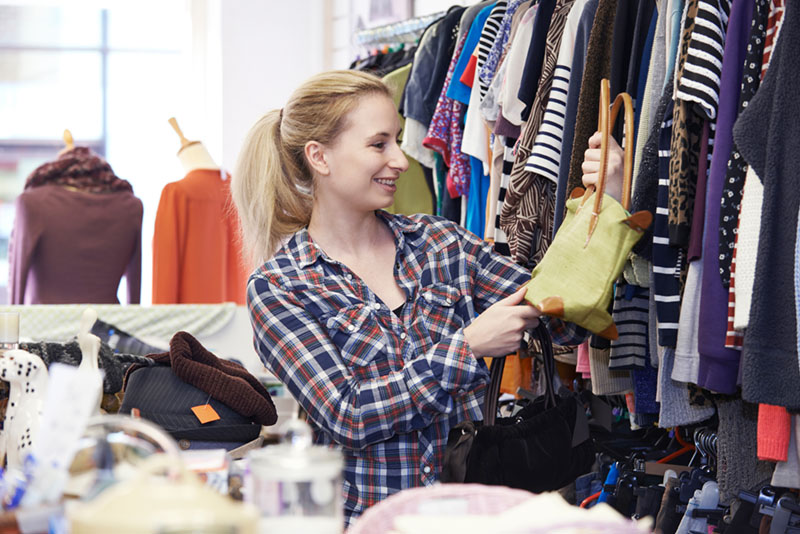 If you aren't quite sure what your environmentally conscious friend or family member might already have, this is a safe bet and they will definitely appreciate the gesture.
11. Experiences
If you know your friends don't have a need for any new products, experiences can be a great alternative. Gifting experiences is becoming more popular as people work to live a more minimalist lifestyle.
Check out Airbnb Experiences for local food tours, nature walks, and so much more. To easily gift this, you can purchase an Airbnb gift card and note in a card that it can be used for an experience of the recipient's choice.
You can also see what events or activities are going on in your area, such as art workshops, cooking classes, or a winery tour and tasting just as a few examples.
12. Planting Trees
Another alternative to a traditional gift is to plant a tree for someone! You could plant your own tree or you can have trees planted through a reputable organization like One Tree Planted. This is an amazing non-profit organization that plants trees where they're most needed (to forests suffering from deforestation, for example).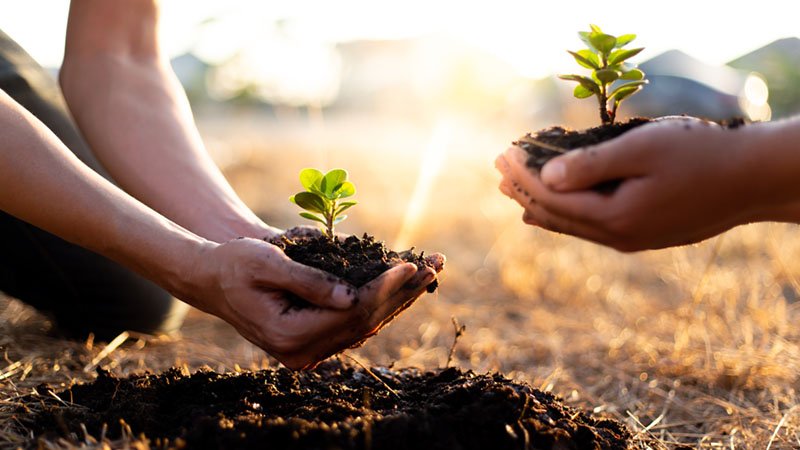 Planting more trees helps to absorb and sequester carbon to help stabilize the climate, so this may be one of the most sustainable gifts you can give. One dollar plants one tree, so for the cost of an average $20 gift, you can have 20 trees planted in your loved one's name.
13. Gifting Carbon Offsets
Carbon offsets typically take the form of financial donations that go to support clean energy projects to reduce or "offset" an individual's carbon footprint. These are becoming a popular wedding gift, and work for any gift-giving time. Like One Tree Planted, you can make a donation in your loved one's name to a carbon offset organization of your choice.
Just be sure you do your homework so you don't get scammed, as some companies can be misleading with where your contributions are actually going. One carbon offset company that is verified yearly by an independent and accredited third party is TerraPass. Be sure to check them out if you're interested in gifting carbon offsets.
14. Donate to A Charity
If your loved one is passionate about animals, for example, you can choose to donate to an animal charity, or any other charity in their name that you think they would want to support.
Donating to a charity is such a selfless and meaningful gift that actually does keep on giving. For a list of reputable charities and their ratings, you can check out GiveWell.org for helpful information.
---
What are your top picks for sustainable gift ideas? Let us know what sustainable products you have received or gifted that you really love.