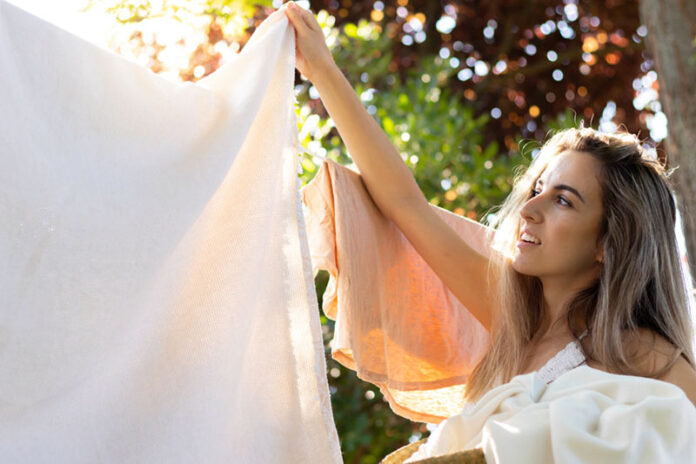 Laundry day is dreaded by many of us, but our planet stands to lose the most from that dirty pile of clothes that's been taking up space in your closet. 
Every part of laundry has an impact on our environment—from the mining of phosphates, to the materials used for packaging, to the water consumption, to the production of microplastics, to the chemicals that end up in our waterways after we pull our clothes out of the dryer. 
Fortunately, we can at least minimize some of these impacts by making use of some of the eco-friendly laundry detergent options that have become available in recent years. 
The Top Eco-Friendly Laundry Detergent Options
1. Dropps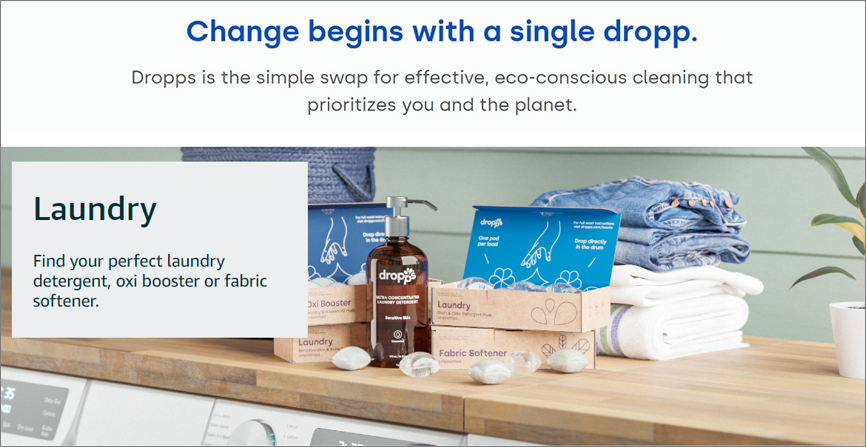 Dropps has revolutionized the world of laundry. They use formulas that are designed for not only top-quality performance, but also the planet. 
Their laundry detergent pods offer a deep clean with an ability to remove stubborn stains and handle stinky odors. They also come in a range of scents, like clean scent, lavender eucalyptus, and unscented. They even have an option for sensitive skin and babies. 
The pods are filled with plant-based ingredients and are free of fragrances, dyes, enzymes, phosphates, phthalates, parabens, and optical brighteners. They're also free of excess water, making them not only easier to use, but also lighter to ship. 
Dropps products are also cruelty-free, manufactured in the United States, and third-party lab tested.
The laundry detergent is sent in recyclable, repulpable, and compostable packaging, which reduces the need for single-use plastics. And it's also sent using 100% carbon neutral shipping!
2. Sapadilla
If you're a laundry avoider—and aren't we all?!—consider buying in bulk so that you can think about laundry less often, and save our planet. 
Sapadilla makes it easy to minimize packaging by offering 5-gallon bulk containers of their laundry liquid. The laundry liquid is made in the USA. 
Their laundry detergent is also plant-based and biodegradable and uses earth-friendly ingredients. You can fill your laundry room with intoxicating scents like grapefruit + bergamot; rosemary + peppermint; and sweet lavender + lime. Even better, these scents don't come from fake fragrances, but 100% essential oils instead.
3. Molly's Suds
Have you ever noticed that many laundry detergents don't contain a list of ingredients? With Molly's Suds, the brand proudly shares their ingredients—which do not include harmful fragrances, dyes, cancer-causing contaminants like 1,4-dioxane and formaldehyde, VOCs, optical brighteners, petrochemicals, phosphates, chlorine, SLS, phthalates, parabens, and more.
In fact, their unscented super powder laundry detergent contains just six ingredients— all with recognizable names, too. The scented options use natural fragrance (free of petrochemicals). 
Available: Amazon|Molly's Suds
4. The Simply Co.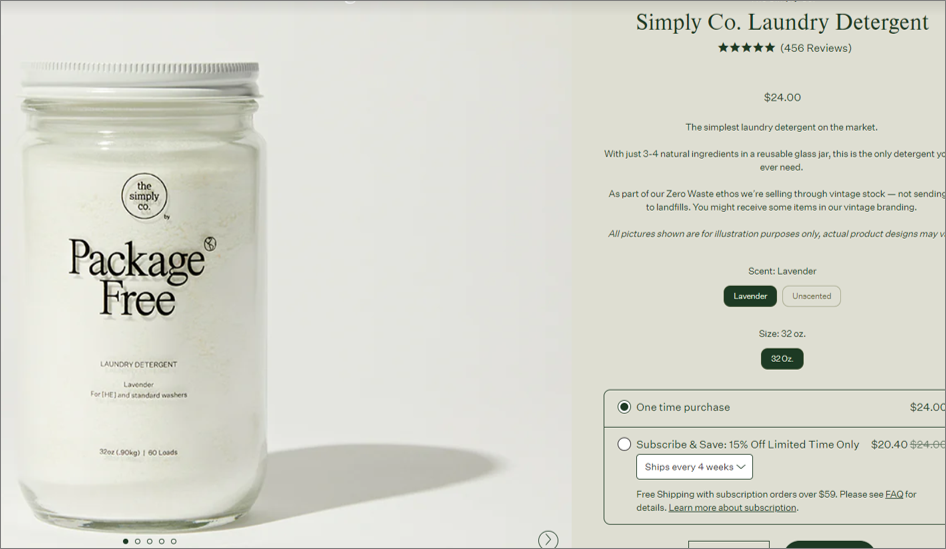 If you've always wanted to make your own DIY eco-friendly laundry detergent, but just haven't had the time or motivation to do so, let The Simply Co. help. 
They've got two eco-friendly laundry detergent powder options, both of which include 100% biodegradable ingredients that you would likely find around your house. 
In fact, the ingredient list is super short and includes just baking soda, washing soda, organic Castile soap, and lavender essential oil. There's nothing more eco-friendly than that!
Even better, the laundry detergent is sent in a reusable / recyclable glass jar. 
Available: Package Free Shop
5. Cleancult
Cleancult is another brand that has taken laundry day to the next level. They sell refillable glass laundry bottles, along with liquid laundry detergent refills that come in recyclable paper, with a compostable PLA carton cap to boot. 
The cartons used for the laundry detergent refills aren't yet accepted in all curbside recycling programs but Cleancult has a recycling program of their own, and cartons can be mailed back to them to be properly recycled. 
Here's how it works: the shatter-resistant glass detergent bottle has a silicone sleeve to enhance grip and an innovative cap to measure three different detergent amounts.The bottle can last forever, but at the end of its life it can also be recycled.
The biodegradable and eco-friendly laundry detergent refills contain ingredients like saponified olive and coconut oils, and can come in a fragrance free option. 
Everything is sent using carbon neutral shipping, too!
6. Dr. Bronner's
Dr. Bronner's isn't just one of our favorite eco-friendly shampoo and conditioner brands, they're also the top selling soap in the U.S. natural marketplace. And it's no wonder, their pure Castile liquid soaps have more than 18 different uses—including for that pile of dirty clothes.
While they have a Sal Suds Biodegradable Cleaner that's perfect for laundry, you can also use any of the pure Castile soap options. Just use ⅓ to ½ cup of soap for a large load, and add half a cup of vinegar to the rinse cycle. 
You'll be washing with the best of the best in terms of ingredients. Dr. Bronner's is made from organic coconut oil, organic palm oil, organic olive oil, organic hemp oil, organic jojoba oil, and organic essential oils. Many of these ingredients are also certified fair trade, too! 
It just keeps getting better, because the plastic bottles are made with 100% post-consumer recycled materials—and large bulk bottles can be purchased, too.
Available: Amazon|Dr. Bronner's
7. Earth Breeze
The EarthBreeze EcoSheets Laundry Detergent is an eco-friendly and innovative laundry solution. Made from natural, plant-based ingredients, the dissolvable sheets are biodegradable and safe for the environment. They are pre-measured for one load of laundry, easy to use, and effective at removing stains and dirt.
EarthBreeze EcoSheets are gentle on skin and clothes, as they do not contain harsh chemicals or artificial fragrances. They are compatible with all types of washing machines, including high-efficiency machines. The packaging is also eco-friendly and made from recyclable materials, producing less waste than traditional laundry detergent packaging.
EarthBreeze also donates a portion of their profits to organizations that work to protect the environment and reduce plastic waste.
Available: Amazon|Earth Breeze
8. Tru Earth
In keeping with the theme of convenience, Tru Earth is another time-efficient option for the environmentally-minded. This detergent comes in the form of laundry strips.
All you need to do is drop one of the strips in any type of washing machine. As your clothes wash, the strip slowly dissolves in the water.
The strip approach saves you time and space in ways that liquid-based detergents can't. Additionally, Tru Earth follows a zero-waste policy in its manufacturing and transportation processes.
Available: Amazon
9. Stoneworks
Stoneworks pods are a great environmentally-friendly pod option. One individual pod works to both clean and soften your fabrics sustainably. These pods come in several varieties with different earthy scents and are made with naturally-derived ingredients (meaning they're free of phosphates, optical brighteners, chlorines and dye).
Available: Amazon
Final Thoughts on Eco-Friendly Laundry Detergent
Bear in mind that most laundry detergents, even eco-friendly options, contain surfactants which are toxic to aquatic life. Because it's hard to avoid surfactants (they're what make clothes clean), try to wear clothes more and do laundry less. Sounds great, right? Not only will you spend less time in the laundry room, but the planet will thank you. 
To make tackling that pile of clothes even more eco-friendly, you can also do the following:
Use cold water. 90% of a laundry machine's energy is used just to heat the water, so washing with cold minimizes energy usage—and your monthly electric bill.
Avoid the dryer. If you're able to, air dry your clothes. A typical dryer uses as much energy as a refrigerator, dishwasher, and washer combined—so avoiding is one of the best things you can do for the planet (and it helps make your clothes last longer, too).
Try to avoid clothes made from synthetic fibers. Microplastics are an extremely problematic part of having most of our clothes made from petroleum-based materials. If you can go with natural fibers, like cotton, linen, hemp, and wool, this is much better. 
Any other laundry day tips or eco-friendly laundry detergent brand recommendations? Let us know in the comments!