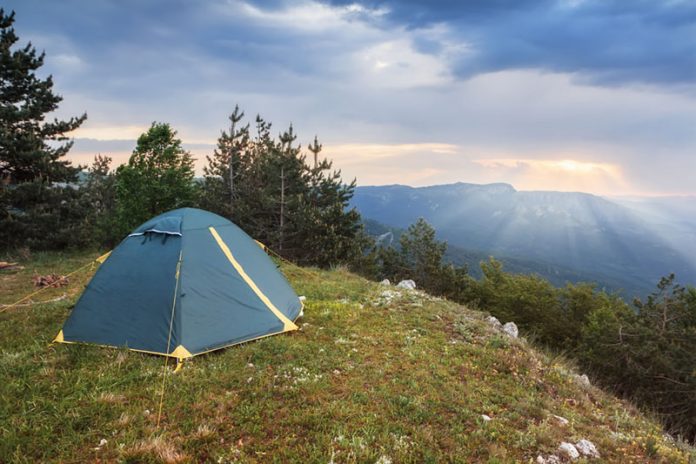 Did you know that every year, in the United States alone, there are more than 10 billion nature trips?
It's great that people are heading into the great outdoors, but with numbers that high, perhaps we need to start thinking more about protecting those great outdoors, too. Fortunately, it doesn't take a lot to give Mother Earth a helping hand as we hit the trailhead or sleep under the stars. 
While daydreaming about our next escape from concrete jungles and cell phone service, we've prepared some of our favorite tips for eco-friendly camping trips. 
Pack Planet-Friendly Gear
Sleeping Bag
If you're going to be staying warm with a sleeping bag made out of animal products, look for some certifications: like Responsible Down Certified (RDS) or Traceable Down Standard (TDS).
Many brands are now using recycled synthetic materials, which has a certification, too: Global Recycle Standard (GRS).
If you're opting for natural fibers, look for sleeping bags (or liners) made with organic cotton, hemp, or even linen.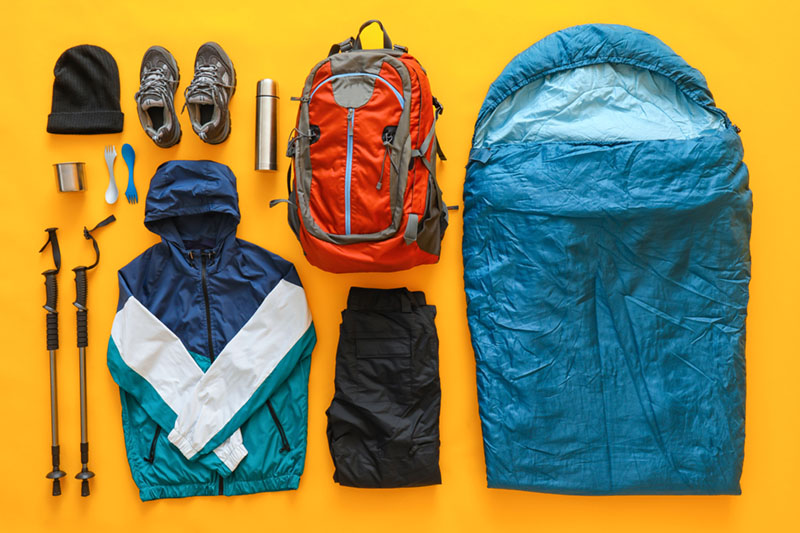 For all sleeping bags, you can look for a bluesign® approved logo, which means that it's been produced ethically and responsibly. There's also the fair trade logo to keep an eye out for!
Bodycare Products
We get that you want to be protected from the elements (sun, bugs, etc.), but it's important that you do a bit of protecting yourself—especially when it comes to waterways. 
Makeup, lotion, suntan oils, bug repellent, and other water-soluble products can pollute lakes, rivers, and other bodies of water.  
So, avoid anything that contains fragrance, don't bring any facial wipes (or choose biodegradable options), leave the serums and makeup and toners behind, don't use permethrin-containing bug repellant, and only look for sunscreen that is reef safe and free of any dangerous ingredients. 
Also, opt for biodegradable soaps, shampoos and toothpaste and only use in places that are 200 feet away from water sources.
Tent
If you don't have one already, many brands are now making sustainable tents that feature recycled materials and don't include the VOCs and PVCs that are normally found in conventional tents. 
If you do have one that has a broken pole, consider trying to repair it yourself or order a replacement—instead of sending all of those materials to a landfill.
Food & Drink
The joy that comes from a nice warm meal after a 20-mile hike is one that's hard to top. Fortunately, making that a joy-worthy experience for our planet is super simple, and just takes a bit of extra preparation.
DIY snacks and meals: Instead of buying prepackaged snacks and MREs, consider making your own. DIY granola bars or energy bars are a breeze (we like this recipe), as are trail mix, roasted nuts and seeds, and even crackers. 
Meals are just as simple—REI has several recipes to satisfy any appetite. Just be sure to pack in reusable containers (like silicone bags or beeswax wraps).
Reusable water bottle: A reusable water bottle is an absolute must-have—not just for camping, but for daily life, too (hint, hint). 
Reusable dishes and cutlery: Lightweight, reusable dishes and cutlery are also pretty essential for an eco-friendly camping trip. There are several options to buy sets or individual pieces for the whole family.
Rent/Buy Used
Don't have any of the camping gear we just listed? No worries, there are several options for renting gear or buying items used. Craigslist and Facebook Marketplace are great for checking for used tents, sleeping bags, and other items. Patagonia and REI both sell used gear, and REI even rents gear, too!
Leave No Trace
The Leave No Trace trend has become increasingly popular over the past couple of years—and for good reason. Because more people are exploring wilderness areas around the US, it's extremely important that we all do what we can to protect these sacred outdoor places.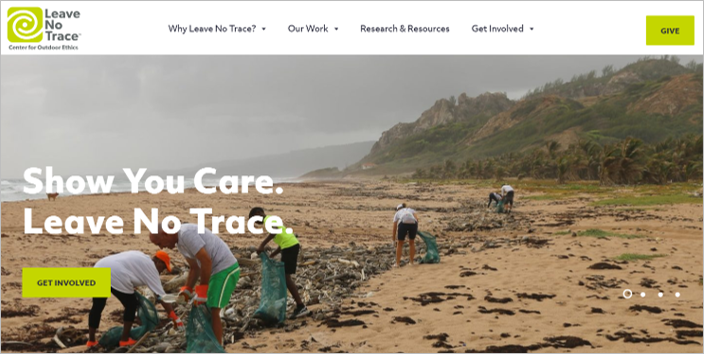 The Leave No Trace Center for Outdoor Ethics has developed seven principles for us to consider on our next eco-friendly camping trip.
Plan ahead and prepare: The time to start thinking about your next camping trip is now! It's important to familiarize yourself with the area that you'll call "home" for a couple days. Take some time to learn any rules for camping or hiking, and do some research so that you can know what to pack. Also, determine when peak visitor periods are, and try to avoid going when there's already going to be a high volume of use.
Travel and camp on durable surfaces: A durable surface is an established area or trail where hiking and camping is permitted. It's important to only consider camping or exploring in an area that is designated for you to do so. Simply put, try not to disturb any untouched areas.
Dispose of waste properly: There's an easy motto to remember this principle: "Pack it in, pack it out." This means that everything that you bring camping with you needs to also leave with you when you head back home. This includes everything: trash, fruit and veggie scraps, gear, dirty socks, and even toilet paper and used menstrual products.
PRO TIP: For the last two on the list, just use two ziplock bags and a half teaspoon of powdered bleach (or baking soda or borax). You can even add a few handfuls of pine needles or decorate the clear ziplock bag with colored duct tape to disguise what you'll be carrying. You can also consider bringing a portable bidet, like this one from TUSHY. 
Leave what you find: It might be tempting to want to take home rocks or plants that you find during your outdoor adventure, but do remember that these serve a role in the natural ecosystem to which they belong. Snap a few photos for Instagram, but leave nature where you find it. 
Minimize campfire impacts: While a fire is a quintessential part of any camping trip, it's important to not get carried away and to only have a fire in a designated and safe area. Most camping spots will have established fire rings to use. 
If you're going to be in the backcountry, stay tuned for any fire bans and check in with BLM or Forest Service workers/websites to be sure that you're permitted to have a fire.
After you're stuffed from s'mores, burn your fire down to ash and put it out completely before you pack up to leave. Add enough water to form a soup-like consistency and spread the cool coals out.
PRO TIP: A fire is not a trash can! It should not be used to burn trash (most items will release toxic chemicals when incinerated, or leave dangerous heavy metals behind).
Respect wildlife: This should go without saying, but you're a guest in an animal's home and you should treat any that you encounter with respect. Never approach an animal or try to feed it, instead keep your distance and keep human food out of reach. 
Be considerate of other visitors: Similarly, other people are exploring the great outdoors just like you—and they also deserve a break from the hustle and bustle of daily life. So, keep any loud noises to a minimum, keep your space contained and clean, and be respectful as other people enjoy the serenity of nature. 
Final Thoughts on Eco-Friendly Camping Trips
So, next time you pitch a tent or fill your backpack, consider the Earth as one of your most important hiking buddies. She also likes s'mores—in the form of a more habitable planet, that is. 
Also, for all you through-hikers and trailblazers, we'd love to know of any additional tips you might have for eco-friendly camping trips. Just let us know in the comments!