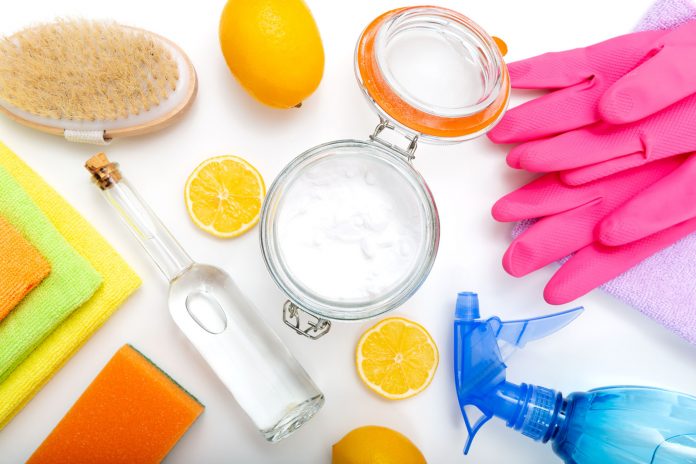 Why exactly do we need to clean up our act? According to the Environmental Working Group, cleaning supplies may trigger asthma, they may contain carcinogens, and they could lead to dangerous burns and poisoning. Not only are DIY eco-friendly household cleaners better for our health and our wallets, but they're better for our planet, too.
The volatile organic compounds (VOCs) found in traditional household cleaning products have actually been found to be a serious contributor to urban air pollution, according to The Guardian. In large enough quantities, these VOCs act like chlorofluorocarbons (CFCs) because they also have a detrimental effect on our ozone.
All of this certainly doesn't mean that you should invite over some dust bunnies and never clean again, but it does mean that you might want to swap out hard-to-pronounce and dangerous chemicals with common ingredients you probably have in your pantry already.
Clean With What's Around the House
Before you roll up your sleeves and get to work, let's take a moment to consider how easy it is to make a DIY eco-friendly household cleaner. In fact, there are several things you have around the house that would make good ingredients for a DIY eco-friendly household cleaner, or even work on their own:
Baking soda
Distilled white vinegar
Liquid dish soap
Castille soap
Salt
Citrus fruits
Olive oil
Rubbing alcohol or cheap vodka
Hydrogen peroxide
Essential oils
Not only are these items that you probably already have at home, but if you need to purchase them it's cheap and easy to do so! Grab some old t-shirts from around the house and you'll have some repurposed wipes, too!
Top 10 DIY Eco-Friendly Household Cleaners
1. Scented All-Purpose Cleaner
Ingredients:
One part water
One part distilled white vinegar
Rosemary sprigs
Citrus rind (lemon or orange work best)
Combine all ingredients into a glass spray bottle (we like these ones). Then, let the combination infuse for about a week. After that, you're ready to spray! The cleaner will work well to remove stains and clean up smudges. Not only will the citrus rind add some additional cleaning power, but it will also give off a bright and fresh scent. 
Warning: Avoid using anything acidic (i.e. with citrus rinds) on a granite surface.
2. Natural Carpet Cleaner
Ingredients:
One part distilled white vinegar
One part water
Baking soda
Spilled juice on the carpet? You'll have it cleaned up in no time. Simply cover the entire stain with a thick layer of baking soda. Then, add the water and the vinegar to your glass bottle. Simply spray the stain with this blend and watch the baking soda go to work! Like a high school science experiment, it will foam up.
You'll have to wait for the baking soda to do its magic (around three hours); then you can use an eco-friendly brush (like this one) to scrub the stain. Try not to scrub too hard. 
Once the cleaning solution is thoroughly worked in, let everything dry (preferably overnight), then vacuum the baking soda residue the next day!
3. Grapefruit and Salt Bathtub Cleaner
Ingredients:
1 large grapefruit
¼ cup coarse kosher salt
Slice your grapefruit in half (resist the urge to dig in!). Sprinkle the top with salt (liberally). Then, get to work on your bathtub using the grapefruit as a sponge! You'll want to use the rind to get out tough stains and regularly squeeze the grapefruit so that the juice comes out. Add more salt as needed. 
Not only is this an awesome zero-waste cleaning solution, but it will leave your bathtub smelling like fresh grapefruit! (For larger bathtubs, you might want to use 2 grapefruits and ½ cup of coarse salt.
4. Kitchen Deodorizer and Cleaner
Ingredients:
1 quart warm water
4 tablespoons baking soda
All you need is love…and baking soda! Put The Beatles on repeat and use this magical ingredient to clean your kitchen appliances, counters, sink, and the inside of your refrigerator. Transform the water and baking soda into a paste and rub it into surfaces with a damp cloth.
To deodorize, you can simply add the baking soda-warm water solution directly to the surface. For smelly drains, just pour baking soda directly in.
5. Tile and Wood Floor Cleaner
Ingredients:
One gallon warm water
One cup distilled white vinegar
Optional: orange or lemon rind
Optional: 1-2 drops of an essential oil
Mix the ingredients in a large bucket. Using a smaller spray bottle, spray on your floors then wipe. This also works with a spray mop, just add it to the mop's reservoir. If everything's a little damp after cleaning, simply wipe up with a clean, dry cloth.
6. Grout Cleaner
Ingredients:
One part water
One part distilled white vinegar
Baking soda (as needed)
Hydrogen peroxide (as needed)
Kick things off with vinegar. Make a 1:1 solution of water and vinegar and add it to your spray bottle. Generously apply to grout and let it sit for around five minutes. Then, scrub it with a brush (an upcycled toothbrush works well). Rinse with warm water. 
Still see stains? Make a baking soda paste (with water). Use the toothbrush to apply it into the grout before spraying your vinegar water solution again. You'll see the baking soda bubble up. Let sit for a couple of minutes before rinsing with warm water.
Still see stains? Spray the stain with hydrogen peroxide and let it sit for about five minutes before rinsing with warm water.
Repeat this spray, sit, scrub, and rinse cycle a couple more times if the stain still hasn't disappeared.
7. Glass Cleaner
Ingredients:
2 cups water
½ cup vinegar (either apple cider or distilled white)
¼ cup rubbing oil
Optional: 2 drops orange essential oil
Combine all ingredients and pour in a glass spray bottle. Spray on the window/mirror and use clean cloth or squeegee to wipe off. If you're cleaning windows, avoid doing this when it's hot outside as the solution will dry quickly and look streaky.
8. Oven Gunk Cleaner
Ingredients:
Baking soda
Water
Non-scratching sponge (a spatula works well, too)
This is the solution for all of your stuck-on food and gunk in your oven (both inside and out). All you need to do is create a paste with the water and baking soda. To do this, just add baking soda to a bowl and sprinkle on enough water to create a paste.
Apply baking soda to all areas with stuck-on gunk and allow it to set overnight.
The next day, use a sponge like this to remove the gunk. Note that a non-scratching sponge will help keep the surface of your oven safe. If you don't have one, a hard-edged spatula also works (just be careful not to scratch the surface too hard). 
9. Upholstery Stain Remover
Ingredients:
Water
Dish soap
Distilled white vinegar
Vodka
Start with a little water mixed with dish soap. Blot the stain (don't rub!) and then rinse with just water. If you still notice the stain, add a little vinegar or vodka directly to the stain and do the same process. Then dry with a clean cloth.
Warning: Some furniture has specific cleaning instructions. Be sure to check the cleaning codes located on the tag so that you can be sure you won't do any damage with your household cleaning products. Then, do a spot test to double check.
10. Wood Furniture Polish
Ingredients:
2 cups olive oil
1 cup lemon juice (distilled white vinegar works also)
Mix ingredients together and rub into wooden furniture with a soft cloth. With light-colored wood, any scratches can be rubbed out with this solution, too.
_______________
And there you have it! Now you can always make your own eco-friendly household cleaners and feel good about the products you're using.
If you have any other favorite DIY eco-friendly cleaning recipes/ideas, please share them in the comments below.