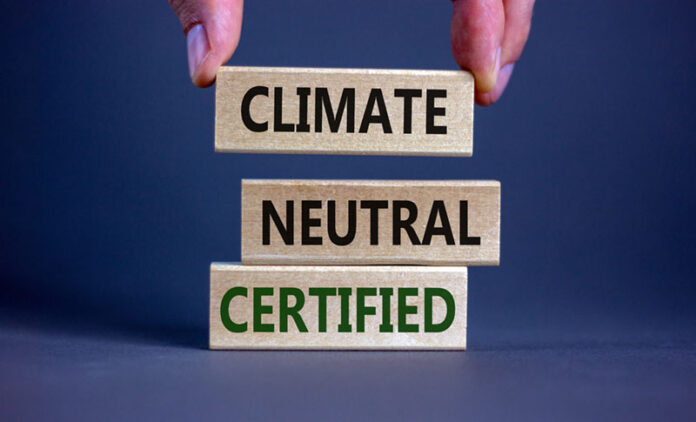 Many people have begun "voting with their dollar" by supporting ethical grocery stores, electronics brands, and sustainable fashion brands who are doing much more than just creating the products we know and love. To help us sift through real action and the unfortunate problem of greenwashing, many third-paper certifications have been established in recent years. Let's look at one of them: Climate Neutral Certified. 
Climate Neutral Certified: What is It?
Climate Neutral realizes that 2050 isn't soon enough—which is why they're determined to support the businesses and consumers who want real action, and they want it today. 
This is important because everything made, bought, and sold on this planet has a carbon footprint. 
Between materials sourcing, operations, manufacturing, and shipping, every business is responsible for climate-changing greenhouse gas emissions. If we want a chance at protecting our planet and keeping it habitable for generations to come, we must see a significant decrease in these emissions. 
Climate Neutral has a solution: getting every business to pay for their carbon emissions, which requires them to:
Unfortunately, even the first step—actually being aware of their carbon footprint—isn't a common practice for most companies. How can we expect to curb global warming when some of the main contributors aren't even aware of their impact?
For those of us who want a greener future, supporting certified brands that take responsibility for their impact is the one of the best things we can do. 
Climate Neutral Certified: How Does It Work?
Let's break down the process a little more to see exactly how our favorite brands are becoming Climate Neutral Certified.
Step 1: Measure
First, the brand will use the Brand Emissions Estimator—an emissions calculator that's based on the Greenhouse Gas Protocol (GGP), one of the world's most commonly used greenhouse gas accounting standards. 
The previous year's emissions are used in the calculations, which considers both direct, indirect, and supply chain emissions:
Direct emissions:

Fossil fuel consumption at facilities, fuel consumption of vehicles

Indirect emissions:

Facility electricity use, steam bought and used at facilities

Supply chain emissions:

Purchased goods and services, capital goods, upstream emissions (from fuel and energy), upstream transportation and distribution, operational waste, business travel, employee commutes, downstream transportation and distribution
There are some things that aren't included, like how sold products are processed, used, or treated at the end of their lives. 
For larger brands (with revenues that exceed $100 million), a third-party greenhouse gas consulting firm works with them to confirm emissions data. 
Step 2: Offset
Once the brand's emissions are calculated, an equivalent number of carbon credits must be purchased. Additionally, the carbon credits must be third-party verified through standards like: Gold Standard, American Carbon Registry, Clean Development Mechanism, Climate Action Reserve, or Verified Carbon Standard. 
Examples of carbon offset projects may include some of the following:
Avoided deforestation

Tree planting

Agriculture

Cookstoves

Water filtration

Agriculture

Renewable energy

Methane capture

Energy efficiency

Waste

Transportation

Chemical process/industrial manufacturing

Step 3: Reduce
One of the most important aspects of Climate Neutral certification is the fact that when brands report their emissions, they also make the commitment to reducing them!
When the brand submits their emissions data and offset purchases, they must also create a Reduction Action Plan that demonstrates a commitment to reduce internal emissions. At the very least, an action plan with two measures must be included, showing how corporate emissions will be cut within the next 12-24 months. 
For Climate Neutral certification renewal, these plans must also include reports about progress made against the actions on the prior year's plan. 
All reduction targets are based upon those put forth by the Science-Based Targets Initiative.
Climate Neutral Certified Brands
Climate Neutral has worked with more than 300 brands who are paving the way towards a zero-carbon future.
Allbirds:

First certified in 2019, sustainable shoe and activewear brand Allbirds is supporting carbon offset projects (forests and renewables) while installing solar at their new factories.
Avocado:

Green Mattress-maker Avocado offsets their emissions by purchasing credits to support forests, renewables, and landfills projects. They're also on their way to achieving Zero Waste Certification by finding a way to upcycle/recycle all materials. 
Reformation:

Reformation became certified in 2020, purchasing credits that support cookstoves, water, renewables, and forests. Their reduction plan includes a shift to lower-impact fibers.
Klean Kanteen:

We love Klean Kanteen's eco-friendly water bottles, and our planet loves them, too. Their offsets support forest projects and their impressive action plans include actions to reduce HQ energy use and incorporate renewable energy into their operations.
Alter Ego:

Chocolate fans, rejoice! Alter Ego is supporting forestry projects through their offsets, while also implementing agroforestry practices in their cocoa growing areas. By the end of 2021, they'll have 100% recyclable or compostable packaging materials. 
Two Days Off:

The woman-owned fashion brands also supports forests while simultaneously upcycling fabric waste and making shipping efficiency improvements.  
Cotopaxi:

The outdoor gear specialists have spent nearly $50,000 purchasing carbon credits that support forests, renewables, and landfills. Taking things one step further, their 2021 focus is to prioritize deadstock materials over recycled materials and completely eliminate single-use plastics in packaging and materials. 
Kickstarter:

One of the world's biggest fundraising platforms first became Climate Neutral Certified in 2019. Since then, they've reduced cloud computing emissions by using hydroelectric and have cut employee commuting emissions by encouraging more working from home. 
tentree:

The outdoor apparel brand doesn't just plant ten trees for every purchase, they've also invested in carbon credits that support forests, along with renewables and cookstoves. Beyond that, they're cutting down on air freight and implementing renewable energy programs. 
LifeStraw:

LifeStraw's carbon credit portfolio includes forests, waste, and renewables. By the end of 2021, they'll use only plastic-free or compostable packaging. They're also working on a recycling program for all of their products and packaging.
REI:

The outdoor gear giant is making up for their 250,422 tCO2e emissions by purchasing credits that support cookstoves, renewables, forests, and landfills. To reduce future emissions, they're supporting energy efficient practices for their manufacturing partners, and installing retail rooftop solar systems. 
MATE the Label:

Sustainable fashion brand MATE the Label already has a minimal carbon footprint, which they offset with cookstoves and forests. Becoming even greener, they're using more recycled material and offering an option for old MATE garments to be recycled.
Numi Organic Tea:

When you're sipping on a cup of Earl Gray, you're supporting a brand with an offset portfolio that supports water and forest programs. The company is working to increase the amount of post-consumer recycled content in their shipping boxes. They're also working to increase carbon sequestration in their tea farms and make the switch to zero emission vehicles.

Pela:

Pela has not only made the world's first biodegradable phone case, but they also offset their carbon footprint by purchasing credits to support landfills, cookstoves, and renewables. In the past, their action plan has included a recycling program and shifts to renewable energy.
Coming soon: Meow Meow Tweet, HydraPak, and Knickey
Certifications: Why Do They Help?
When we see a brand that's Climate Neutral Certified, a Certified B Corporation, or a contributing member to 1% for the Planet, we know that their sustainability efforts are green—not just greenwashing. With 71% of us making purchases that align with our values, it's nice to have some guidance for how to do just that.