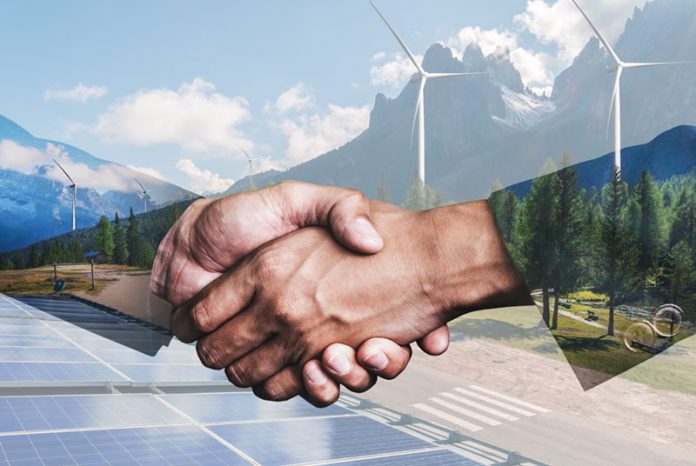 There's no doubt that you've seen it, the B circle mark logo at the bottom of your favorite brand's website. Even if you know what the logo is, there's a chance you don't know exactly what it means (hint: it's a very good thing in the world of conscious consumerism).
To help us all out, this article will answer two questions: What is a B corporation and Why does it matter?
A Culture of Corporate Responsibility
If you know anything about the corporate world, or have spent some time working in it, it's likely that you're familiar with corporate social responsibility (CSR). This "social contract" between a company and society became popular around the 1970s and, until recently, was the main way a business "did good."
CSR has always been considered to play an essential role in a company's bottom line (i.e. their net profits). However, the past couple of years have welcomed the triple bottom line, where, in addition to profits, people and the planet are also considered.
And consumers want this, too. A recent study found that nearly 80% of Americans expect companies to do more than just bring in profits, we want them to positively impact society and our planet as a whole.
With this new understanding of business' role in social and environmental impacts, more companies (both small and large) are using their businesses as a force for good—and this is where a Certified B Corporation comes in.
The Drive to Get Certified
So, say you're a relatively small ice cream company. You only use quality ingredients like grass-fed milk and Fair Trade cocoa. You treat your employees well. In fact, they earn significantly higher than minimum wage and are able to enjoy added incentives like the best healthcare and training opportunities.
But that's not all! You also support your local community by keeping your supply chain small and working with local producers. Diversity and inclusion are important to you, and you're proud to have a diverse team and efforts to show that you're alleviating poverty in the community.
You're also conscious to choose ingredients and materials that are helping our planet, and you only use soy-based ink and recycled shipping materials. You use carbon offsets for some of your manufacturing emissions and you even give back to the environment by planting a tree for every pint purchase.
This is a lot to squeeze in on your packaging and who checks a brand's website before they splurge on some mint chocolate chip? As a business owner, you're proud of all of these efforts but how do you convey this information to a shopper looking to satisfy an ice cream craving?
With that little B circle mark logo on the bottom of your product, that's how.
What Exactly is a Certified B Corporation?
In 2006, three friends left their business and private equity careers with a dream to make it easier for mission-driven companies to improve their positive impact. By 2007, they had welcomed the first 82 B Corps.
According to their website, "B Corp Certification is the only certification that measures a company's entire social and environmental performance."
The B Impact Assessment takes a look at a company's operations and business model and evaluates its impact on four metrics: workers, community, environment, and customers. It considers things like supply chain practices, the materials that are sourced, employee benefits, and any charitable giving.
How Does a Company Get Certified?
B Lab is the non-profit corporation that certifies B Corporations. It does this by looking at five major areas: Workers, Community, Governance, Environment, and Customers.
A business starts the process by completing the B Impact Assessment, which assesses a company's day-to-day operations and their business model over a 12 month period. There are 200 total questions and a company's responses must meet a minimum total of 80 across all of the impact areas (most "average companies" score around 50). While the questionnaire is self-reported, B Lab randomly selects 10% of Certified B Corps to get reviewed every year.
Then, there are legal requirements that differ based on what type of company it is and where it is located but essentially it requires that the business considers a broad group of stakeholders (i.e. local community, employees, the environment) instead of just shareholders.
What follows next is a verification and transparency process. This entails speaking with a B Lab Standards Analyst, submitting additional documentation, completing a background check, or possibly undergoing a site review.
Every three years, a company must update their assessment in order to maintain B Corp certification.
Why Does This Matter?
As consumers, the simple B circle mark logo and the process that goes behind it is great for us. As "doing good" becomes more popular, it's all too easy for a brand to make claims about their positive social and environmental impact—but without anything to back it up. Greenwashing allows companies to cash in on things they might be stretching the truth on.
When we see a Certified B Corp we can be sure that any claims made by that brand have been backed up by transparency and accountability requirements. This joins other popular certifications like USDA Organic or Fair Trade in providing us with some reassurance that we're supporting brands that align with our values.
Even better, we can see a company's B Impact Report, as all of them are publicly available on bcorporation.net.
Let's 'B' Better to People and Our Planet
So what are some of the practices and processes earning our favorite brands a B Corp status?
Around the world, there are more than 3,500 Certified B Corporations—even more if you include the Pending B Corp status for start-ups that are on the path towards full certification.
There are a lot of good things coming out of these companies. Many are doing things like targeting local poverty levels, reducing inequality, creating jobs with purpose, supporting a thriving environment, and building stronger communities.
Patagonia, for instance, was the first Californian company to become a B Corp in 2012. In 2019, they joined the other top-performing B Corps in being recognized as a Best For The World corporation. They regularly use some of the world's most sustainable materials and, since 1985, have donated more than $89 million to environmental work.
Who else is on that list of the world's best B Corps?
African Clean Energy: An organization that provides people in the developing world with access to solar energy systems.
Elkie & Ark: An Australian, family-owned housewares business that sells some of the most sustainable linens made out of organic, recycled, fair trade, and upcycled fabrics.
Iroquois Valley Farmland REIT: A mission-driven investment trust that provides security to organic and regenerative farmers through leases and mortgages with a goal to make organic agriculture the norm, not the exception.
Vista Caballo: An award-winning personal and leadership development center and nature preserve in Southwestern Colorado.
Some of Our Favorite B Corps
In some of our previous articles, we've actually covered some of our favorite Certified B Corporations!
Dr. Bronner's is one of our favorite eco-friendly toothpaste brands and has been a B Corp (with an impressive impact score of 177.8) since 2016. Klean Kanteen happens to sell our favorite sustainable water bottle and is new to the B Corp world but has a good impact score of 101.7.
If you're looking for a new bank, Amalgamated Bank is America's most socially responsible bank—and it also happens to be America's largest B Corp! They have an impact score of 115.1 and were awarded Best for Changemaker 2019 for their continuous improvements.
What about you? We'd love to hear about your favorite B Corps in the comments!