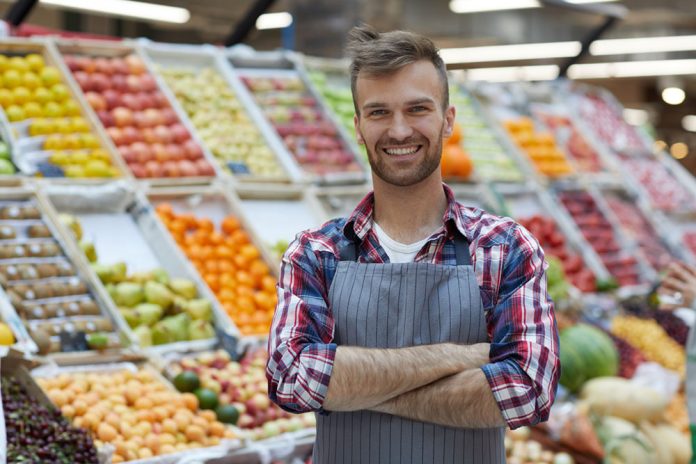 Some of us aren't blessed with a local farmer's market in our neighborhood, we don't have the time to find and sign up for a local CSA, and/or perhaps we just lost the small organic food co-op down the street (which are, unfortunately, in decline).
So where can we shop in order to eat sustainably?
We've put together this list of some of the most ethical supermarkets the USA has to offer—just don't forget to bring your reusable produce bags!
Because accessibility is also an issue (especially for people living in rural areas), we've also found some of the most ethical grocery stores available for online shopping.  
Most Ethical Supermarkets (Brick and Mortar Locations)
1. Trader Joe's (560 stores in 42 states)
The first Trader Joe's store opened in Pasadena, California in 1967 by a team who were described as "traders on the culinary seas"—which is the reason behind team members wearing bright, tropical-patterned shirts to this day. 
Ironically, the term "granola" is used to describe an environmentally-aware person and it was also what set Trader Joe's apart from other supermarkets. In 1972, they released their own private label Trader Joe's product: granola. 
To this day, shoppers still get value from Trader Joe's in the form of products that cut out the middleman, don't have embodied marketing fees, and regularly evolve based on the needs of the customers. 
They have a list of ingredients that aren't permitted in their private label products (i.e. no artificial flavors and preservatives, GMOs, and MSG). They're also committed to making their organic private label items more accessible, and in many cases, the prices of their organic products are similar to conventional versions found in other grocery stores. 
Trader Joe's also:
For Natural Grocers, the health and wellbeing of their customers is their top priority. That's why they only sell 100% organic produce, pasture-based dairy, and antibiotic and hormone-free meats—in addition to several other standards. 
Natural Grocers was started in 1955 by two idealistic young parents with a dream that everyone should be able to afford a healthy lifestyle. In fact, their first "grocery" was whole grain bread that they passed out along with nutrition books to their Golden, Colorado neighbors. 
Now, the family-operated store sells whole grain bread—and so much more—and is still committed to:
Nutrition education
Affordable prices
Helping their community through donations
Supporting their crew members with good pay and benefits 
Sprouts is all about "healthy living for less." They opened their doors in 2002 with a dream to make natural foods available and accessible for everyone. They focus on farm-fresh produce and shy away from selling popular sodas, snacks, and candy. 
Social responsibility and sustainability are also important at Sprouts, here's what they're doing:
They have a healthy communities foundation, where they support local organizations. 
They also have a zero waste goal, which has meant that they've increased the amount of recaptured items from their waste stream and have repurposed food through a food waste diversion program. This has led to a 69% landfill diversion rate as of 2023.
Sprouts is the only North American grocery store to utilize the most energy-efficient refrigeration system available in the industry, meaning a 10% energy savings every year. 
4. Costco (851 stores in 47 states)
If you've ever strolled around Costco to enjoy a free meal of samples, it's likely that you realize that they aren't like some of these other ethical supermarkets. They don't exclusively source natural food (but they do have an impressive selection), they sell sugar-laden soda and candy (in bulk, to boot!), and they present shoppers with the opportunity to waste a lot of food. 
They are, however, known as one of the most ethical businesses in the world. They put their employees first and are known to pay them 40% more than other large retailers (ahem, ahem, Target and Walmart). They also regularly donate to local organizations and provide grants for larger causes. 
They're also transparent as a company about their environmental footprint, and are making efforts to improve their sustainability with their Climate Action Plan. 
Whole Foods tends to be one of the top picks when it comes to sustainable grocery stores. It was founded by some hippies in the 1970s (they actually lived at the store for a point!) and to this day is one of the biggest retailers of natural and organic food. 
While Whole Foods has received some criticism in recent years (especially when it fell under Amazon's ownership), it still continues to be one of the best places to buy sustainably-produced food. 
It has also revolutionized the role a sustainable grocery store can play in environmental stewardship and giving back. Through its Green Mission, Whole Foods has adopted earth-friendly practices like composting, low-flow toilets, 100% post-consumer recycled-content paper bags, rain-water collection, and more at its hundreds of stores. Some stores even have solar power!  
They give back in a variety of ways, both on a local and global scale. They have three foundations that have donated more than $50 million to communities around the globe since 2005. 
Most Ethical Grocery Stores (Found Online)
6. Azure Standard (Drops available in 48 states)
Azure Standard started in 1971 when the Oregon-based farming family realized how American farmers were beginning to use more and more chemicals to obtain higher yields, and that this was having a negative impact on health. 
They started small over the next couple of decades, just with a dream to provide people with healthy and nutritious alternatives to what was becoming popular in grocery stores. They chose their name to reflect azure, the color blue that is associated with honest and justice. 
Wanting to provide an honest and trustworthy place to buy food, now they have an impressive range of natural and organic foods that meet their strict product standards. They've got nearly any food imaginable (well, natural food that is), and much of it is available in bulk or with minimal, eco-friendly packaging. 
From plant-based meats and pasta to frozen desserts and eggs, you're sure to find everything you would in a brick and mortar sustainable grocery store—many times at a discount. Only catch is that you have to either start or join a "drop" so that they can minimize their emissions by lumping delivery orders together. 
7. Thrive Market (Ships to Contiguous US)
Thrive Market is relatively new but has already become one of the most popular natural and organic online marketplaces. The online ethical supermarket was founded by four friends who were committed to correcting some of the flaws of our food system—namely that it's inconvenient, confusing, and expensive. 
They have five core principles that their products are based on:
Organic: if a product comes in conventional and organic options, Thrive will only sell the organic version. 
Non-GMO: all of their products are GMO-free.
Sustainable: Thrive tracks their supply chains to ensure that they meet their environmental criteria.  
Nontoxic: their products are free of more than 500 chemicals that aren't deemed to be safe. 
For you: customers can shop by diet and lifestyle (i.e. vegan, hypoallergenic, biodynamic, BIPOC-owned, etc.) to quickly find the products they need. 
They also use recyclable shipping materials and are the first grocery store to become a Certified B Corporation! With the purchase of every membership, one is given to someone in need for free. They also regularly raise funds for environmental and social causes.  
8. Public Goods (Ships to Contiguous US)
Public Goods is a one-stop-shop for healthy and sustainable essentials. Like Thrive Market, they also have a membership program, which allows people to access their exclusive personal brand of sustainable products that come with the lowest price tag. 
Everything that they sell is free of:
Parabens
GMOs
Sulfates
Toxic chemicals
Unnecessary additives
Their products come in minimal recyclable, biodegradable, or reusable packaging—like bottles that are made with bioplastics (i.e. sugarcane) instead of fossil fuels. Every shipment is carbon offset and a tree is planets for every order! 
Where do you do your shopping? If there's an ethical supermarket we missed, let us know in the comments! 
This post was originally published on February 8, 2021 and updated on May 3, 2023.