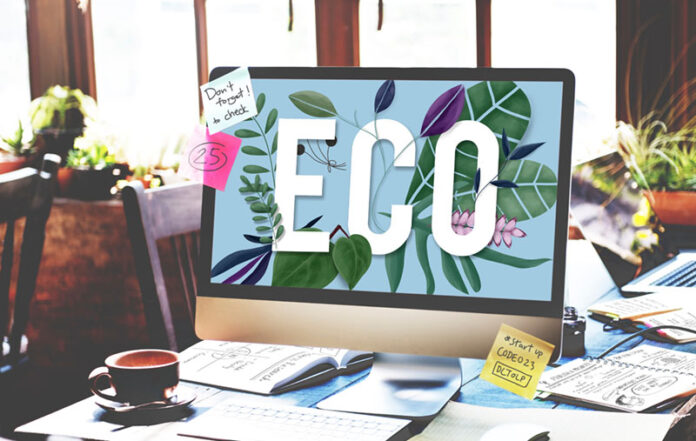 Online shopping: it's likely something we've all done—and we've been doing a lot more of it recently. In the U.S. alone, e-commerce sales reached $1.03 trillion in 2022, passing $1 trillion for the first time ever.
Online shopping can fall into two categories: Mass-produced goods sent in plastic packaging with fossil-fuel guzzling two-day shipping OR ethical, handmade goods that support people and our planet. 
We'll definitely take the latter, thanks. Here are some of the best sustainable online shops to help us out. 
8 Best Sustainable Online Shops
1. Made Trade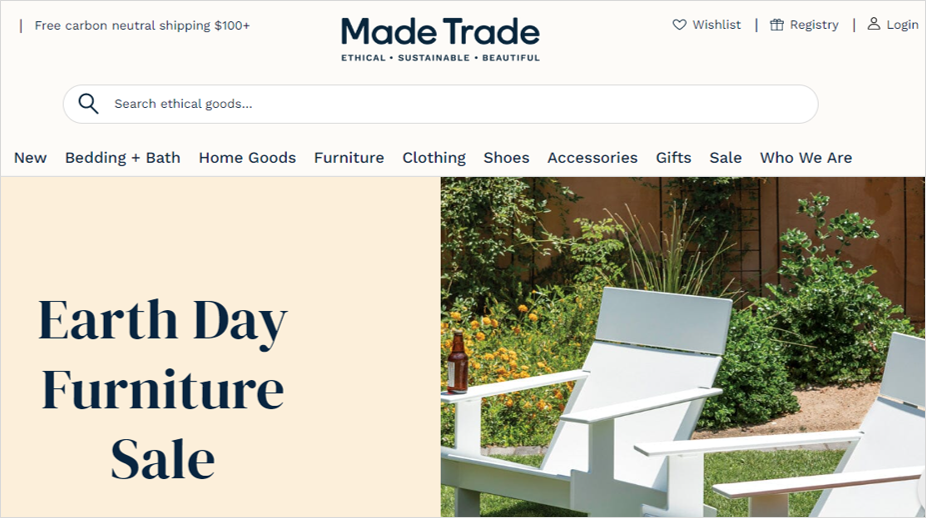 Made Trade takes a collection of curated sustainable goods to the next level. If you're looking for something unique, consciously made, and truly special and one-of-a-kind, you're sure to find something that tickles your fancy on the platform.
The woman-owned and family-operated company was started to provide shoppers with an easy way to fill their homes and their lives with beautiful goods that meet some of the highest environmental and social standards. 
Since 2018, Made Trade has been partnering with hundreds of small businesses, independent artisans, and brands around the globe to provide more people with carefully curated and ethically sourced products.
They also make it easy to shop for your values, and every single one of the products on their platform needs at least one of the following: fair trade, heritage, made in the USA, people of color owned, sustainable, vegan, and/or woman owned. 
Not only that, but the platform is also a member of 1% for the Planet, and a portion of profits are donated to an environmental charity, Fibershed.
Don't waste your time with online searches, head to Made Trade to look for home decor, bedding and bath items, kitchen and dining essentials, furniture, shoes, clothing, accessories, gifts, and more. 
2. Ten Thousand Villages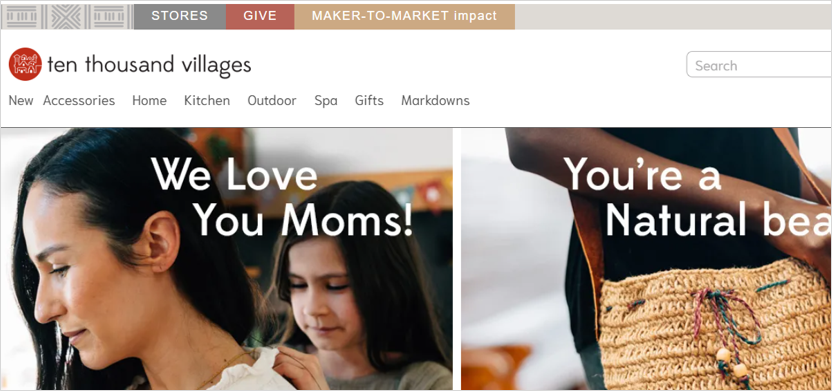 Similar to main trade, Ten Thousand Villages is the place to look for unique and one-of-a-kind products.
However, they've got a slightly different "maker-to-market" model. With an aim to halt generational poverty, more of the money from every purchase goes directly back to the individuals who created the product.
Most of the artisans that partner with Ten Thousand Villages are women (around 60%), and the brand has demonstrated that when these women receive money from shoppers around the globe, more of it goes towards supporting families and their communities as a whole. 
It should come as no surprise that Ten Thousand Villages was a founding member of the World Fair Trade Organization. Currently, they continue partnerships with Level Ground Trading, Equal Exchange, and the Fair Trade Federation—organizations all committed to supporting a global community of talented craftspeople with fair wages and safe and rewarding livelihood opportunities. 
Want to take a trip to an international bazaar from the comfort of home? Check out Ten Thousand Villages for home decor, kitchen essentials, outdoor equipment, accessories, spa and wellness goods, gifts, and more. 
3. EarthHero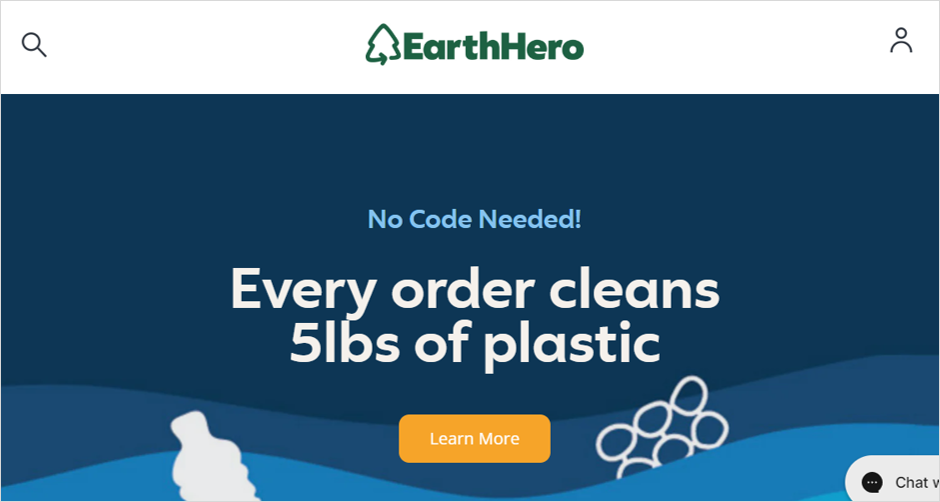 EarthHero is like Amazon—except you won't feel overwhelming guilt after hitting the 'add to cart' button. In fact, the company's founder, Ryan Lewis, actually started EarthHero to correct some of the environmental problems that come with the convenience of online shopping. 
Here's what he has to say about that:
"Our landfills are growing while our resources are disappearing—it's just not sustainable. The future of our planet depends on the actions we take today, but the truth is, it's just not that easy to make every shopping decision a mindful one."
And their platform is here to help. They've got nearly everything you can imagine, and all of it comes from ethical and sustainable companies. They make it easy to shop for the values that we hold near and dear to our hearts, and they use simple logos to help customers find exactly what we need.
Looking for something made out of recycled wool? There's a logo for that. Looking for something that's fair trade certified, or empowers women, or plants a tree with every purchase? There are logos for that, too. Whatever is important to you, you'll be able to find something from EarthHero to make you feel good about spending your hard-earned dollars. 
Check out EarthHero for zero waste living products, clothing, footwear, baby and kids accessories, home and office supplies, travel products, audio and tech equipment, pet items, sports and outdoor gear, beauty care products, gifts, and more.
4. Thrive Market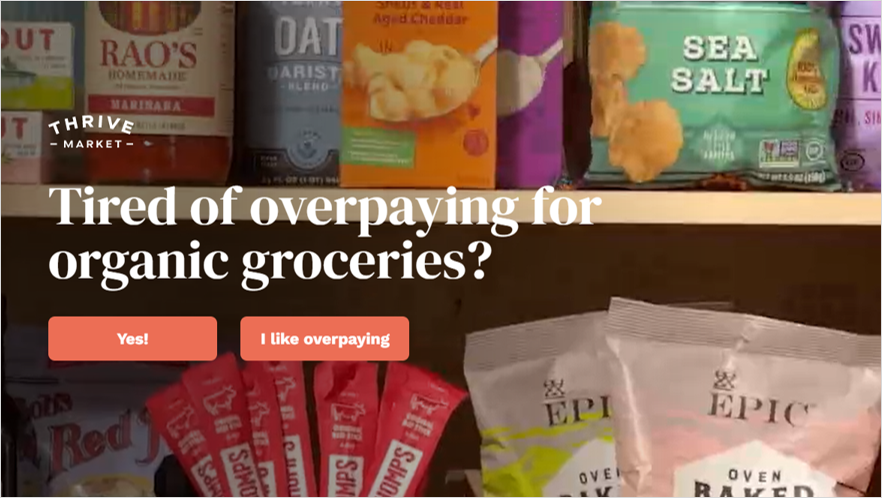 Here's a sustainable online shop for someone who prefers to shop with their grumbling stomach. Thrive Market makes healthy living easy by delivering some of the most popular organic brands directly to your door.
When you shop with Thrive Market, not only do you get affordable prices on some of your favorite foods, but you can also be sure that they were sourced ethically and sustainably. Additionally, you'll support our planet through Thrive's zero waste warehouse, recyclable and compostable packaging, and carbon neutral shipping. 
Not only that, but the platform also allows you to shop by over 70 different diets and values (like organic, vegan, gluten-free, and more)!
So, make a grocery list and head to Thrive Market to shop for snacks, refrigerated goods, pantry staples, supplements, beauty and body products, things for around the house, and more. 
5. Ocelot Market
Travel's been limited recently, so why not bring some treasures from around the world to you? This is possible with Ocelot Market. 
Similar to some of these other sustainable online shops, you can search based on different criteria. However, what sets Ocelot Market apart is that you can shop by country. As of the time of writing this article, there were more than 32 countries represented!
Wherever you decide to source your next treasure from, you can be certain that it's been produced in an ethical and sustainable way. Ocelot Market only works with brands who pay fair wages and support their artisans. In addition, every purchase through the platform means a tree planted in Madagascar.
Ocelot Market is the place to look for men's and women's clothes, Turkish shoes, essentials for the home, gifts, and more. 
6. Etsy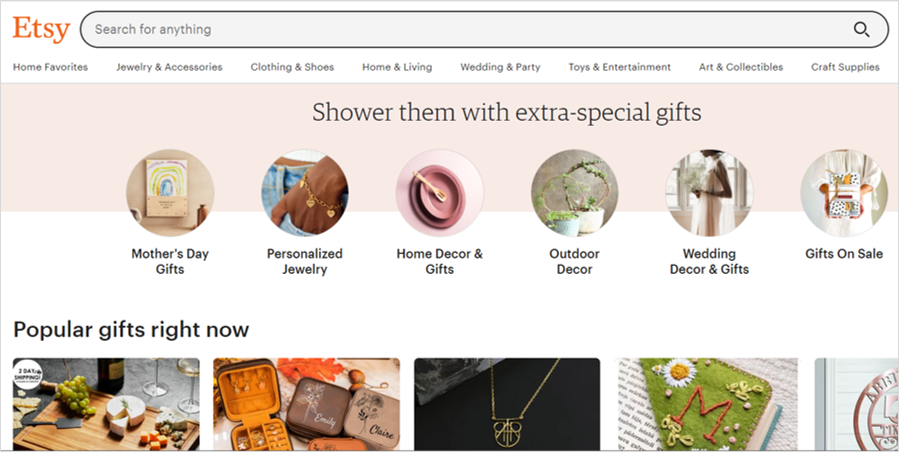 We won't elaborate too much on Etsy—because we're pretty sure you're familiar with it. However, we will remind you that the platform is one of the best ways to support millions of small businesses from around the globe, and with their search options, it's also a great way to support local companies, too. Even better, all shipping is carbon neutral!
Head to Etsy to shop for…well, pretty much anything and everything!
7. Fair Trade Winds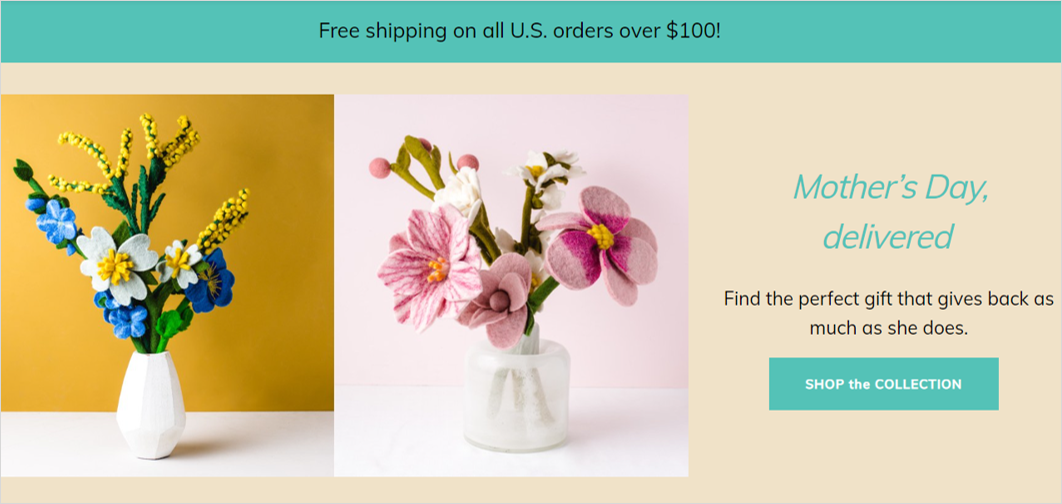 Fair Trade Winds lets their beliefs drive their business. These beliefs include:
People and the planet shouldn't be exploited
People should be fairly paid for their work
Small and local businesses are the heartbeat of our communities
Every purchase can have a positive impact
Every product has a story
As a member of the Fair Trade Federation, you can be sure that anything you buy from this online shop is handmade and the craftsperson is fairly compensated. Additionally, you can be certain that traditional crafts are preserved, sustainable materials are used, and you're supporting opportunities that empower women, fight human trafficking, and protect children. 
If you want to feel good about buying something new, check out Fair Trade Winds for clothing, gifts, bags and accessories, jewelry, home products, cards, journals, and more.
8. Society B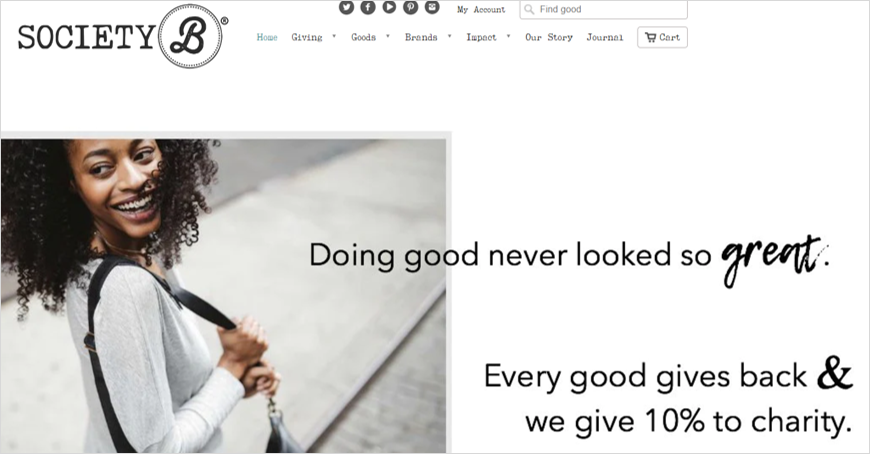 Society B is a marketplace for good. Their platform makes it easy for shoppers to truly make a difference with some of their everyday purchases. In fact, they were the first marketplace in the U.S. to blend consumerism with charity. 
Society B was started by two sisters who wanted to make a difference—and because they're able to donate 10% of their sales to charities, they're successful in supporting people and our planet. They support charities that help vulnerable or underserved people on a national or International level, and when you make a purchase you get to choose where that donation goes. 
They also sell products made by brands that also support charities or pay their workers with fair wages. Check out Society B's range of men's, women's and kids clothes, home essentials, bags, body care products, and more. 
Final Thoughts on the Best Sustainable Online Shops
Know of any other sustainable online shops? Feel free to share your favorites in the comments so that we have even more great alternatives to a certain online shopping behemoth we won't mention…