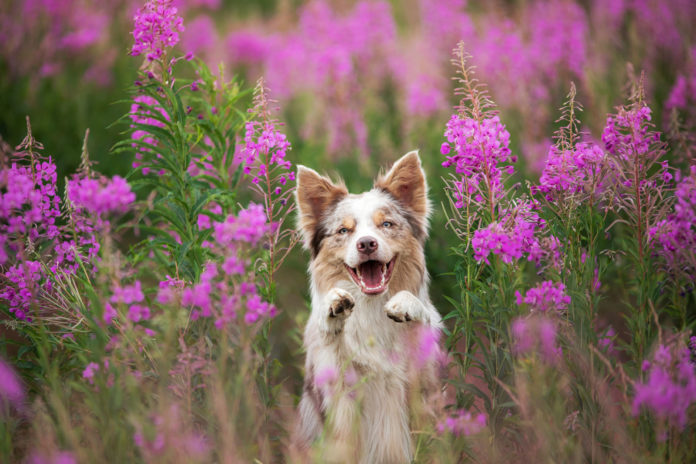 If you're anything like me, you might be researching every common item to see if there's a green option for it. I recently did this for my dog and foster animals and was excited to find the vast array of eco-friendly pet items out there.
Considering nearly 57% of U.S. households had pets in 2016 (American Veterinary Medical Association), it's not a bad idea to think about the eco-friendly pet options out there when making our routine pet purchases.
Thankfully there are many great brands that have made going green with your pets super easy. But with so many options, what types of products and brands should you consider?
After doing a deep research dive, we found these 7 eco-friendly pet product options that will make your pet footprint that much greener, without having to bend over backwards to make any inconvenient changes.
1. Compostable Dog Poop Bags
If you're a dog owner you know how many poop bags you can tear through on a regular basis. Instead of reaching for the plastic bags that don't degrade in a landfill, try these compostable bags from UNNI.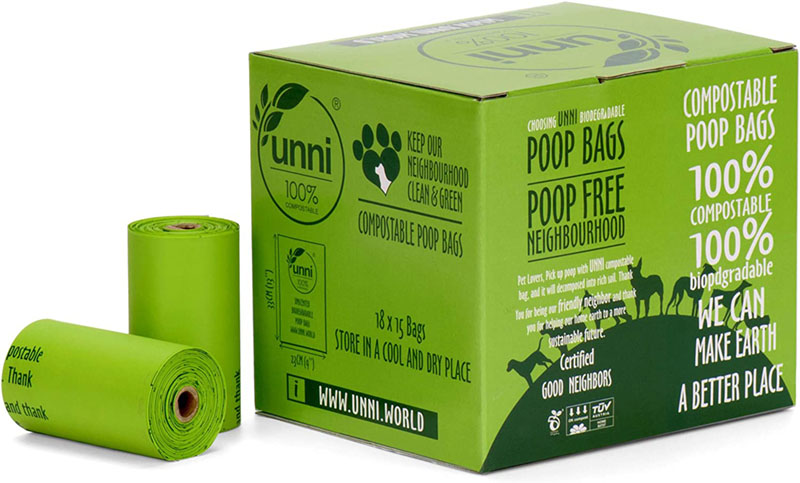 They're non-toxic and made from plant starches and are certified in the E.U. for use in commercial, backyard and municipal composting facilities.
If you're lucky enough to have a backyard, you can also get a "poop scooper" like this Nature's Miracle Advanced Jaw Scoop on Amazon and use it toss any "presents" into your trash bag when you're ready to throw it out.
While this might feel a bit weird at first, it saves me so many poop bags every week. As an occupational therapist I also really love how the scooper helps with my body mechanics thanks to the long handle.
2. Sustainable Pet Food
When researching for this article, I was surprised to learn that – according to Tufts' Cummings Veterinary Medical Center – owning a medium-sized dog may the same environmental impact as owning a large SUV largely due to the pet food footprint.
They mention a few ways to make your pet food more sustainable, including considering brands that include animal by-products like nutritionally dense organ meat.
This seems counter-intuitive to what we've heard from pet food marketing for years, but it's okay to buy pet food from reputable brands that include animal by-products as well as pet food that contains grains and vegetables.
Additionally, feeding your pets only what they need and not any more is another way to reduce the environmental impact of the pet food while helping your pet maintain a healthy weight.
"Isn't Vegan Pet Food the Most Sustainable?"
While eating vegan as a human is great for the environment, and while there are vegan dog and cat food options out there, the advice from Tufts' vet experts is that dogs and cats have different nutritional needs from humans and should not be on a vegan diet.
Dogs and especially cats do best with at least some animal products in their diets. And when the pet food includes safe animal by-products, you can feel good knowing that all of the animal is being used while benefiting your pet nutritionally.
What to Look For When Buying Pet Food
When you're shopping for sustainable pet food, the best things to look out for on the labels include:
Is the food made from factory-farmed meat?
Many of us like to consider where our own meat and produce comes from, but might not think about the same ingredients when it comes to pet food.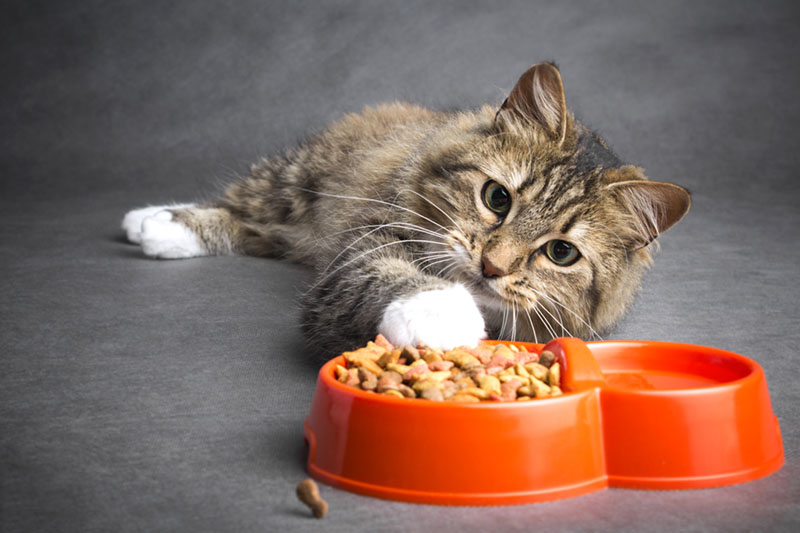 Sadly, a lot of the big-name pet food brands source from unethical factory farms, so this is something to look out for when pet food shopping.
If the brand mentions free range or organic, it will be less likely that the food is made soley from factory farmed meat.
Does the food use herbicides or pesticides?
If the food is labeled organic, you'll know the product does not include these. Buying organic pet food is not only healthier for your pet but also helps to keep these chemicals out of the soil and waterways, helping protect the environment.
Does the food contain palm oil?
If so, you'll want to steer clear as palm oil is linked to deforestation and habitat destruction.
Is the packaging made from recycled content?
This might be a bit harder to find on the labeling, but if you can find a company that also cares about it's footprint through mindful packaging practices this is definitely a plus.
A Few Sustainable Pet Food Brands
A few of the best eco-friendly dog and cat food options include:
Organix
Natural Balance
Yarrah
Benevo
Newman's Own
The Honest Kitchen
Ethical Consumer created a full report of all pet food brands based on their sustainability. The report also listed the worst brands/ones to avoid that includes:
Purina
Iams
Pedigree
Nutro
Caeser
Eukanuba
Lily's Kitchen
3. Eco-friendly Cat Litter
Similar to dog poop bags and pet food, cat litter is another essential that pet owners use a lot and go through quickly. Traditional clay cat litter can contain harmful chemicals and doesn't biodegrade in landfills.
To make your cat litter more sustainable, you can opt for litter made from natural, renewable resources like corn or pine or recycled ingredients like walnut shells or newspaper.
A few eco-friendly cat litter options include: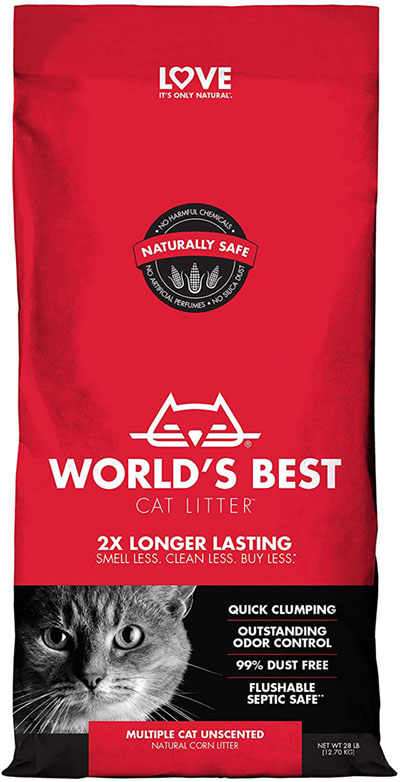 All of these cat litters can be purchased from Amazon to save you time going to specialty pet stores.
4. Leashes and Collars
For your dog and cat collar and leash needs, there are some great eco options out there. Consider leashes, harnesses, and collars made from hemp like these hemp and corduroy blends from the Good Dog Company.
These are better options than traditional leashes made from less than environmentally friendly synthetic chemicals.
5. Sustainable Bedding for Your Small Pets
If you have a small animal like a guinea pig, hamster, rabbit, or other small critter, don't forget about their bedding! Most bedding comes from natural wood shavings or paper but not all bedding is made in a sustainable way.
One sustainable bedding option to consider is Small Pet Select. They make their 100% natural paper bedding from tree-friendly, left over food-grade paper material without harvesting from trees directly.
6. Eco-Friendly Toys
Similar to leashes and collars, you can find many toys made from synthetic chemicals and cheap materials. You can also opt to go the eco route and find durable, long-lasting toys made from hemp and wool like the cat and dog toys from Honest Pet Products.
7. Food and Water Bowls
If you already have pet bowls this one isn't a necessity to change up, but if you're needing to get new bowls, you can opt for bowls made from stainless steel (which will last forever) or bamboo bowls instead of traditional plastic bowls.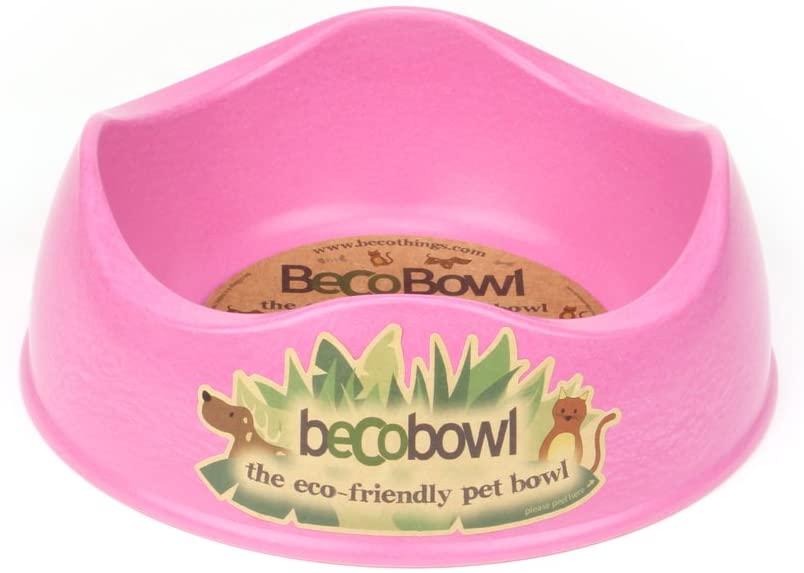 These dishwasher-safe Becobowls are made from recycled bamboo cutoffs from chopstick production, so no extra bamboo is harvested to create them.
Don't Forget Secondhand for Your Pet Needs!
I know I probably sound like a broken record, but the best thing you can do is always to get used products when possible.
Even if the kitty condo you find on Facebook Marketplace isn't made from recycled plastic bottles, the fact that you're not contributing to new materials being made and shipped is going to be more sustainable than buying a brand-new eco-friendly item.
And if your dog is tired of their toys, consider a toy swap with a friend. I promise from experience that your dog will be just as excited about their "new" toy 🙂
_______________
And there you have it! That wraps up our list of 7 eco-friendly pet products that will help lower our pet-owning carbon footprint. When you equip your pets with any of these environmentally-friendly pet products, you can rest assured you're helping the planet, one paw at a time!
What else would you add to this list? Feel free to share your favorite eco-friendly pet products in the comments below.