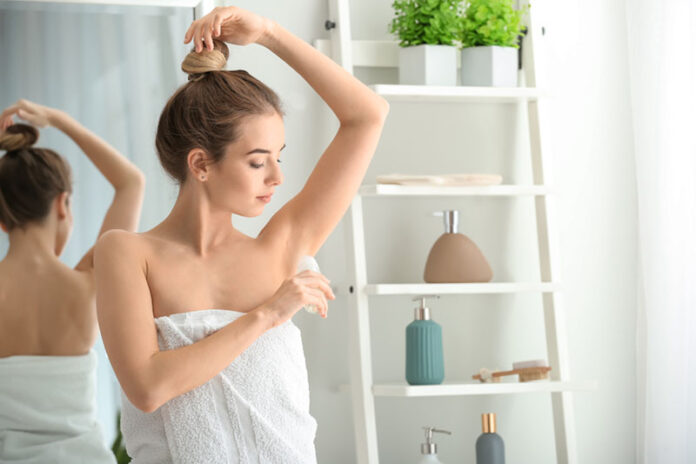 If you've been feeling down in the pits about your chemical-based deodorant, or the fact that you throw away a plastic tube every couple of months, don't sweat it! We've found some of the best eco-friendly deodorant brands out there—ones that are better for you and better for our planet. 
When Antiperspirants are Antiplanet
We don't like B.O., but the planet might not be the biggest fan of how we take care of it. 
By now, many of us are aware that the aluminum compounds found in most antiperspirant deodorants have been linked to negative health outcomes like Alzheimer's disease and breast cancer (NIH), but aluminum can be just as toxic for our planet. 
Aluminum has to be mined—in a process that is resource-intensive, destructive, and polluting.
Even when we opt for aluminum-free deodorant, it's likely that we're still using a chemical cocktail that contains toxic chemicals like parabens and phthalates, or contains palm oil that has been associated with deforestation and ecosystem destruction.   
Then there's the fact that deodorant tubes are notoriously difficult to recycle in your curbside collection (check with your local government for more tips). 
Don't let this news get you down in the pits, fortunately there are some eco-friendly deodorant brands that can allow us to be smell-free, sustainably. 
7 Eco-Friendly Deodorant Brands
1. Bai-li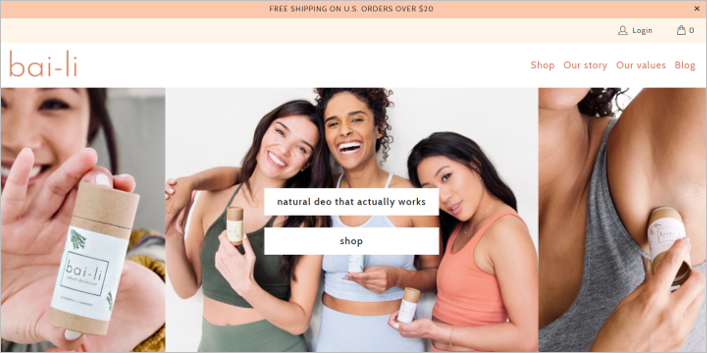 Bai-li might be new (they launched in 2019), but their natural deodorant already exploded into the clean beauty world. 
When founder Bailey was on a search for natural deodorant herself, she experimented with a recipe until she found something that actually worked—and didn't irritate her skin in the process. 
Then, she took it to the next level by using a biodegradable push up tube that can be composted. 
All of the deodorant is made in small batches and is baking soda free, aluminum free, paraben free, and fragrance free! It's made with organic ingredients like shea butter, arrowroot starch, and jojoba oil. They never test on animals and ship their products in 100% recycled mailers.  
Available: Bai-li
2. Meow Meow Tweet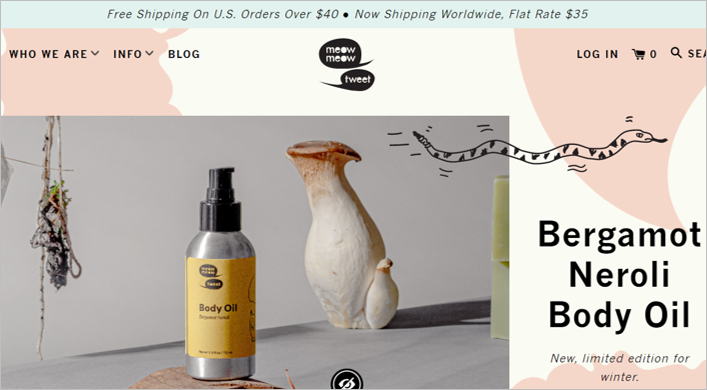 Meow Meow Tweet is a small-batch vegan and natural/organic skin care company. They treat their goods like modern culinary dishes—meaning that a lot of thought goes into the ingredients they source. 
Organic, fair trade, and unrefined plant oils and butters are the main ingredient in their eco-friendly deodorant (no palm oil here!). They sell both sticks and cream and, instead of using baking soda, their deodorant is made of organic arrowroot powder and a range of botanicals and essential oils. 
Plus, the deodorant sticks come in a compostable paper tube and the cream comes in a recyclable or reusable glass jar with an aluminum lid. Everything is shipped plastic-free with biodegradable and compostable paper, cardboard, paper tape, and corn-based packing peanuts. They also reuse boxes and other materials whenever possible. 
Don't sweat your purchase with Meow Meow Tweet because they regularly donate to organizations that align with their social justice and environmental goals and values. Your purchase will help to support organizations like Black Lives Matter, Amazon Watch, Earthjustice, the Navajo Water Project, and more. 
Available: Meow Meow Tweet|Amazon 
3. Fat And The Moon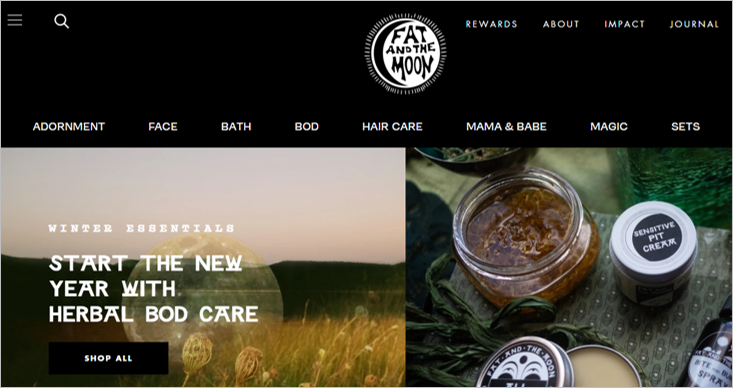 According to Fat And The Moon, "Self care is earth care" and it certainly can be when you use their eco-friendly deodorant. 
Their deodorant cream is made with organic coconut oil, baking soda, arrowroot powder, and essential oils. While it's not vegan friendly, it does contain ethically-sourced beeswax. Everything is freshly made to order and the hint of citrus and clary sage provides a light and beautiful scent. 
Can't tolerate baking soda? That's okay—they've still got you covered with their sensitive pit cream deodorant that uses milk of magnesia (AKA magnesium hydroxide) instead.
Both types of cream deodorant come in a reusable or recyclable glass jar with an aluminum lid. 
Available: Fat And The Moon|Amazon 
4. Ethique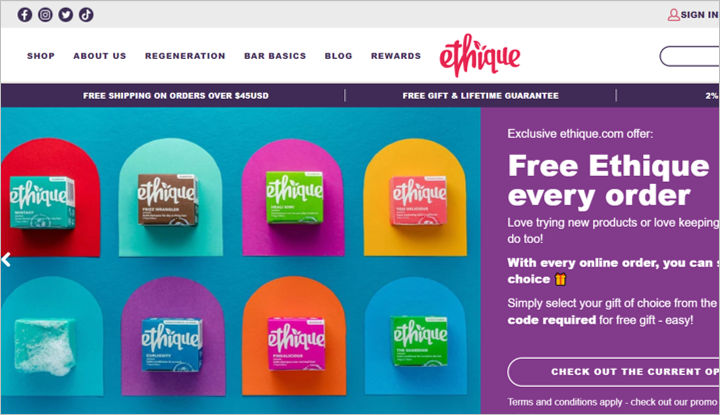 Ethique is one of our favorite plastic-free brands and they have a unique way of doing eco-friendly deodorant. Their eco-friendly deodorant bars (yes, you read that right) keeps it really simple with a solid deodorant.
With delicious flavors like lavender and vanilla, lime and eucalyptus, and an unscented version, every pit is sure to find the perfect pair. 
The solid deodorant bars are vegan, palm oil free, and cruelty free and are made with ingredients like bamboo, magnesium hydroxide, zinc oxide, and jojoba and sweet almond oil. The bamboo alone has the ability to absorb 200% of its own weight in sweat and oil!
The solid deodorant bars come in a compostable recyclable cardboard box, making them some of the most eco-friendly deodorant options out there. In fact, by purchasing this deodorant, it prevents two plastic bottles from being produced, It's no wonder Ethique is a Certified B Corporation! 
5. Booda Organics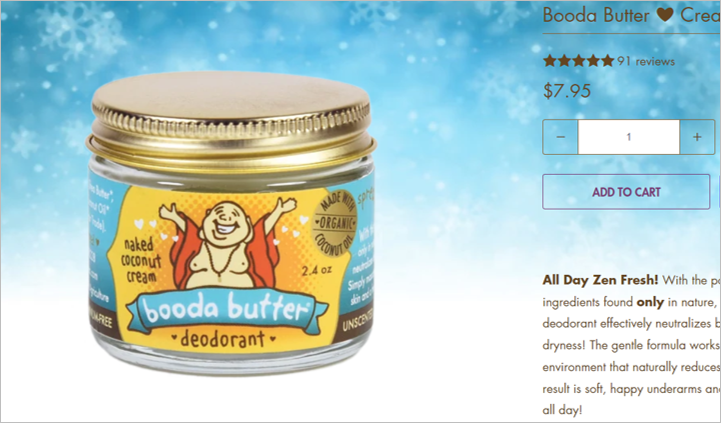 Booda Organics is the best place to get enlightened body care products. They use some of the highest quality, food-grade, organic, sustainable, vegan, and non-GMO ingredients and they never include anything harmful or unnecessary.
Their eco-friendly deodorant is effective, gentle on skin, and gentle on our planet. The cream-based deodorant uses natural ingredients that neutralize body odor and promote dryness. 
You'll find that they use certified organic and fair-trade ingredients like shea butter and coconut oil, and they avoid phthalates, parabens, sulfates, synthetics, palm oil, propylene glycol, or any other funky chemicals 
These ingredients also happen to be effective at removing foot odor and soothing bug bites or bee stings!
We should also mention that their products are made with love by hand, and they stand by them completely. That's why they offer a 100% guarantee that you'll fall in love with your products. If not, they'll replace it or refund your money.
Available: Booda Organics
6. Biork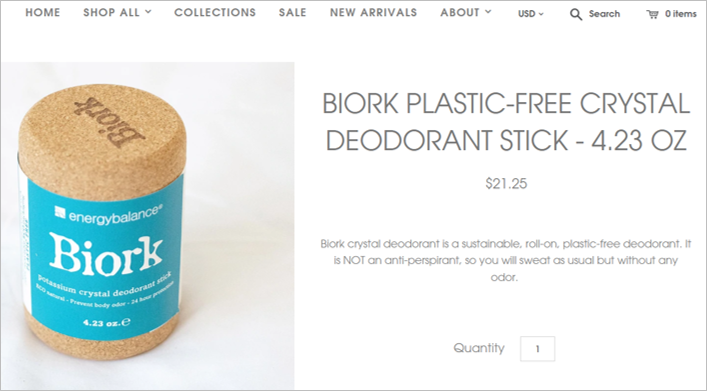 Biork deodorant is unscented and hypoallergenic and housed in a 100% recyclable and biodegradable cork container. Cork, for those of you who don't know, is a no-waste material that is harvested from cork oaks. This can be done without killing the whole tree, and actually helps it grow stronger and healthier.
The deodorant is free of alcohol, perfumes, parabens, aluminum chlorohydrate, preservatives, and dyes. It's different from all the other types of deodorant listed here and that it is made from a natural mineral stone. 
The potassium crystal stick contains a different, safe type of aluminum (aka potassium aluminum sulfate). The natural mineral salts contain molecules that cannot be absorbed by your skin, so instead they form a protective layer that prevents the growth of odor-causing bacteria.
It provides 24-hour protection and just one stick will last a year.
Biork sources their potassium crystal from Italy and works with a third-party agency to ensure that their manufacturing process is ethical. A portion of their sales is also donated to plant trees in National Forests around the US. 
Available: Zerovana
7. Apothecary Muse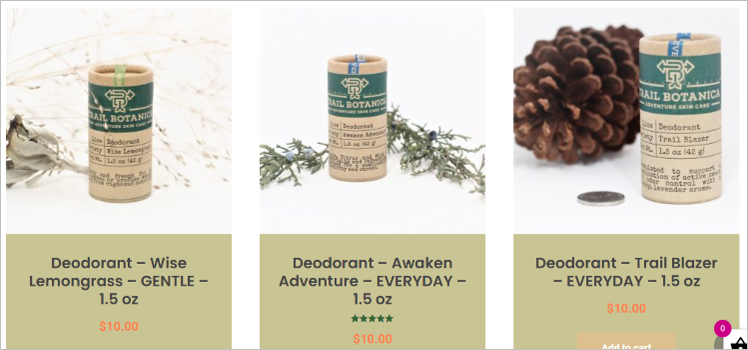 Apothecary Muse is a creator of "adventure skin care products." Founder Eryn designs products for people who spend a lot of time outside, but also want something that's safe for them, the environment, and their wallets.
All her products are vegan, plastic-free, and zero waste. Using a background in sports nutrition, herbalism, wilderness medicine, and aromatherapy she's been able to create effective and safe products for people who get sweaty.
Organic ingredients are prioritized, as are those that are locally found and sustainably-sourced. You'll see options like Wise Lemongrass, Awaken Adventure, Trail Blazer, and Righteous Rebel—all of which vary from "gentle" to "advanced" formulations.  
Instead of baking soda or aluminum, you'll see ingredients like zinc oxide powder, arrowroot powder, bentonite clay, and witch hazel. The deodorant comes in a plastic-free cardboard tube, too! 
Available: Apothecary Muse
Final Thoughts
So, now that you know the best eco-friendly deodorant brands, just add them to the list along with eco-friendly shampoo and conditioner and you'll have an Earth-friendly body care routine in no time! 
Speaking of which, if there are any eco-friendly deodorant brands we left out, let us know about them in the comments!