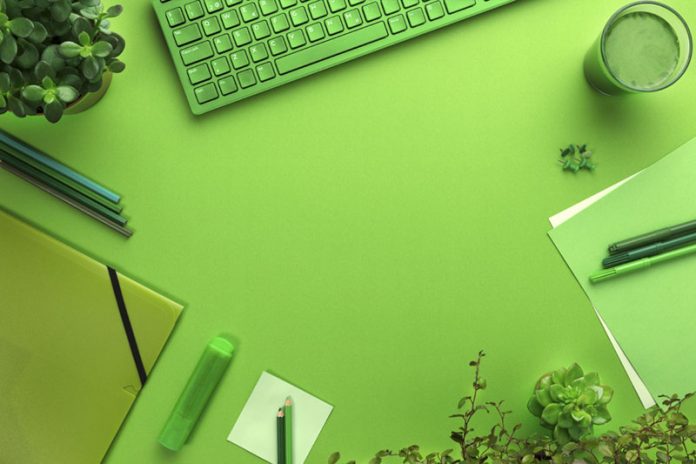 When it comes to sustainable living, we should leave no room untouched. While the kitchen and bathroom tend to receive the most attention for where we can make some positive changes, the office is another room that deserves some green alternatives. 
Like with other rooms, even swapping out one or a few items can make a big difference. If you're working in a large office, just one change can have a HUGE impact. To help you get started, here are some of the most sustainable office supplies. 
15 Most Sustainable Office Supplies: The Master List
1. Refillable Dry Erase Markers
Who doesn't love writing with a dry erase marker? Unfortunately, dry erase markers also tend to dry out relatively quickly—and when those bulky plastic markers are tossed out they end up accumulating in landfills. 
Fortunately, refillable options are available! While they still come in plastic packaging, the actual marker is made from 92% recycled content—and comes in several colors!
Available: Pilot V Board Master Whiteboard Markers + Refills (Amazon)
2. Solar Chargers
If you've got an adequate, sunny space for it, consider a small solar panel to help charge your phones, power banks, and any other small devices around the office. 
This model is both safe and water-resistant and has a higher efficiency level than most comparable solar panels. It also comes with a dual-port output, so it can accommodate both 5V powered gadgets and 18V DC devices, like laptops. 
While it's got 10 laptop connectors, it can charge two devices simultaneously and has protective measures so it won't overload, over-current, or overcharge. 
Available: X-DRAGON Portable Solar Charger, 40W Foldable Solar Panel for Portable Power Station (Amazon)
3. TerraCycle Zero Waste Box
If you're working in an office that tends to have a lot of a certain type of waste (like vinyl gloves, hair nets, garden products, straws, pens/pencils/markers, etc.), allow TerraCycle to help you recycle it properly!
Available: TerraCycle Zero Waste Box
4. LED Light Bulbs
According to the Department of Energy itself, LED lighting is one of the most energy-efficient technologies. Quality LED bulbs will provide comparable—or even better—light than other types of lighting. Plus, the bulbs will last longer and are generally more durable. 
Look for ENERGY STAR rated bulbs, like these. They'll use up to 75% less energy and last around 25 times as long! With smart Bluetooth technology, you'll never forget to turn off the lights again!
Available: Philips Hue White A19 Bluetooth Smart LED Bulb (Best Buy)
5. Recycled Printer Paper
While our virtual technologies have significantly cut down the amount of printing we're doing, it's still a good opportunity to make the switch to 100% recycled copy paper. 
Plus, if you're looking for a cheap and easy alternative that can considerably cut down on landfill space and reduce energy and water consumption as well as greenhouse gas emissions, this is your answer!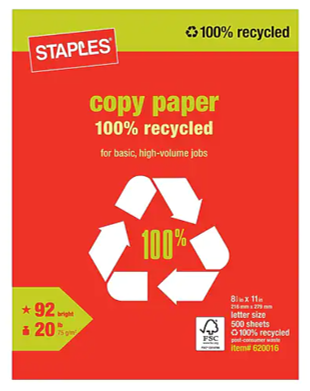 Available: 100% Recycled Copy Paper (Staples)
6. An Energy Star Computer
As one of the most essential items in any office, a computer also has one of the highest environmental impacts. Between the mined materials in the battery to the energy consumption, there are several ways your laptop, desktop, or tablet is impacting our planet. 
If you've got a computer already, keep it! Similarly, if you can get away with a secondhand one, that's the most sustainable option. 
However, if you're in the market for a new one, be sure to consider an ENERGY STAR certified option, as it will protect the climate by being around 25-40% more efficient than conventional models. 
Available: Nearly 1,500 ENERGY STAR Certified Computer Models
7. Secondhand Printer
Because of a new printer's increasingly cheap cost and the switch to digital versions of nearly anything, there is no shortage of secondhand printers. In fact, a drive down nearly any major city street will see at least one or two out next to the trash can! 
There are obvious concerns with the staggering amount of e-waste from printers, so one of the best sustainable office supplies is a printer that's been saved from a landfill. 
If you're concerned about the quality of a secondhand printer, consider a refurbished one instead.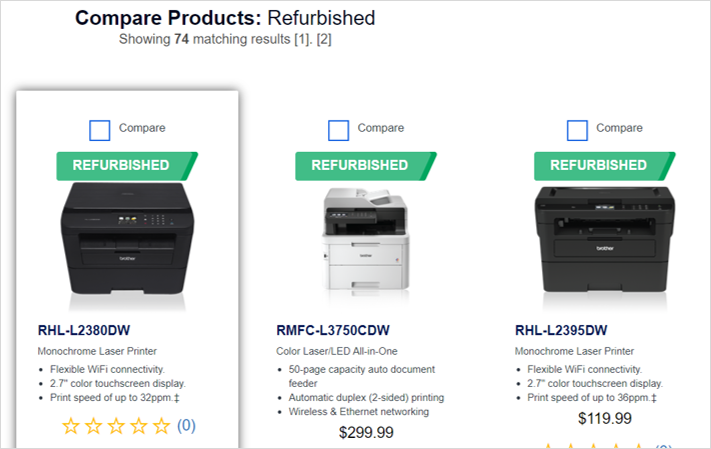 Available: Brother Refurbished Printers
8. Hand-Powered Paper Shredder
There's nothing like a mid-workday workout to get the blood flowing. Make it a productive one with a hand-powered paper shredder. It'll replace an electric-powered version, help you build muscle, and provide bedding or carbon-based material that can go in your DIY compost bin. 
Available: HOME-X Hand Crank Paper Document Shredder (Amazon) 
9. Refillable Pens
Imagine a pen that's made out of eco-friendly materials. Then imagine never having to throw it away. Well, you can get your sustainable office supply of your dreams with a refillable pen that's made from natural meadow grass and BPA-free plastics. The blue ink is non-toxic, vegan, and cruelty-free and comes in refills.
Did we mention that it's from a company that's powered by renewable energy and offsets their already-minimal emissions by planting trees in Zambia, Africa?!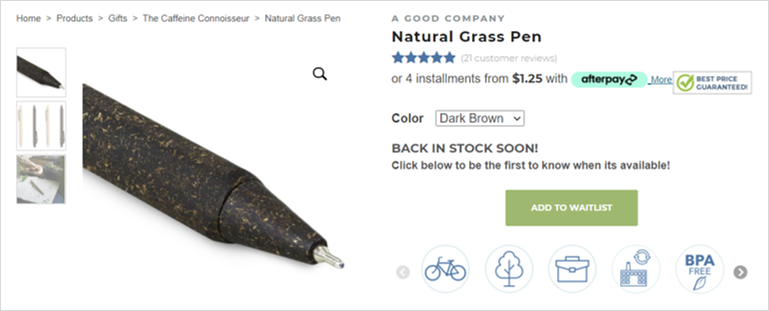 Available: A Good Company Natural Grass Pen (EarthHero)
10. 100% Recycled Sticky Notes
Is there anything quite as handy as a Post-it note?! If you haven't switched to jotting down notes on a phone, consider switching to Post-it notes that are made with 100% recycled material and are recyclable themselves! 
These ones even come with plant-based adhesive and are sourced from well-managed forests that are replanted. 
Available: 3M Post-it Notes Greener Notes (Amazon)
11. 100% Recycled Plastic Trash Bags
Isn't it silly that we have to consume more plastic to throw away our waste? To cut down where you can, consider 100% post-consumer recycled plastic bags instead. These ones are made in the USA and are BPA-free. 
Grove Co. is a Certified B Corporation, too!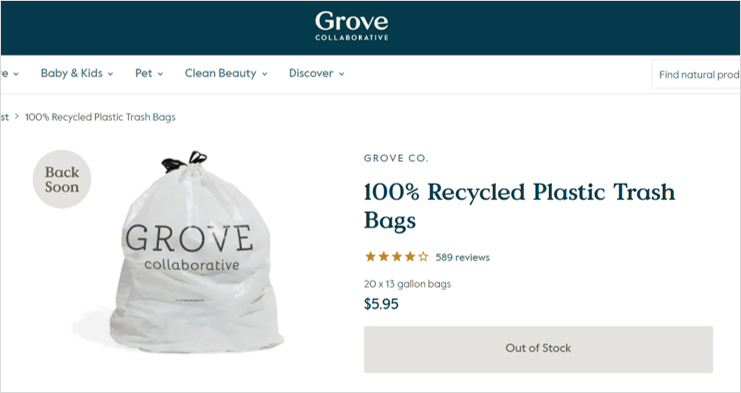 Available: 100% Recycled Plastic Trash Bags (Grove Co.)
12. Recycled Tissues
Sniffles will happen, and when they do, 100% recycled tissues are the way to go. These ones are made from 100% recycled paper fiber, 90% of which is from post-consumer recycled content that's processed without chlorine. 
These are strong and soft—yet are safe to use in compost systems because they're readily biodegradable. You can even buy in bulk to have them for the entire office and the entire cold and flu season! 
Available: Green Forest 100% Recycled Facial Tissue – Pack of 24 (Amazon)
13. Recycled Toilet Paper
While you're at it, make sure you get recycled toilet paper, too. Perfect for the office, this brand offers a subscription service so you'll never run out again. They also donate a portion of every purchase to charities that help to build toilets in global communities that need them. 
Every box is filled with 24 or 48 rolls that are wrapped in adorable paper that not only doubles as excellent gift wrap—but is also plastic-free. For the ultimate tree-free experience, they also have 100% bamboo toilet paper. 
Available: Who Gives a Crap 
14. Reusable K Cups
Is a workspace complete without caffeine?! Ditch the traditional K-Cups and opt for a plastic-free option instead, like these BPA-free ones. To make everyone's love for coffee even more sustainable, consider using organic, fair trade coffee, too. And don't forget your reusable coffee cup!
Available: MaxRona Reusable K Cups (Amazon)
15. Rechargeable Batteries
There's nothing more annoying than running out of battery power—or maybe there is. 
When batteries are tossed in the trash can (which, let's be real, happens a lot), they contribute to water and air pollution. Plus it simply wastes the valuable materials that went into the batteries in the first place. 
Rechargeable batteries end up saving nonrenewable natural resources. Plus, you'll never be short a battery again.
Available: Panasonic eneloop 12AA, 4AAA, 2C, 2D Adapters, Battery Charger, and Plastic Storage Case (Amazon)