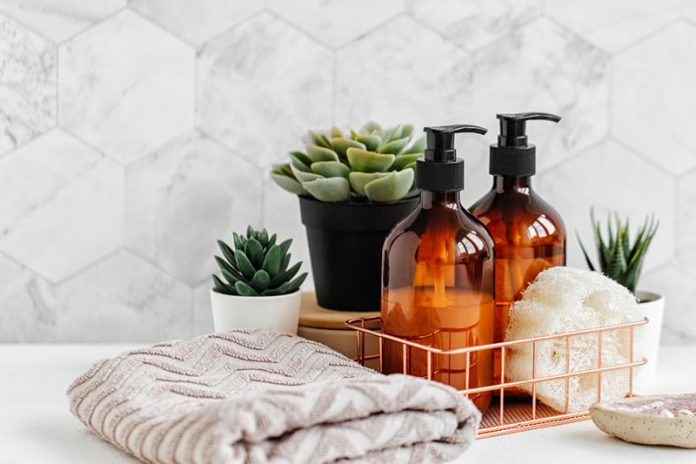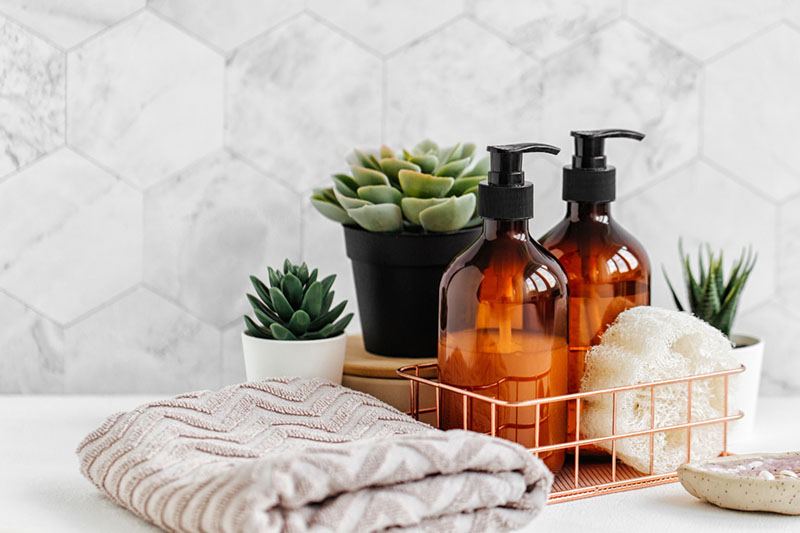 Why do we even need eco-friendly shampoo? It's no secret that the majority of hair care products on the market aren't great for people or the planet. Many are filled with harmful ingredients like sodium lauryl sulfate (SLS), parabens, polyethylene glycols (PEG), formaldehyde, synthetic fragrances, and alcohol.
You wouldn't want to accidentally get all of that in your eyes, now would you?
Fortunately, you don't have to. Here are 8 eco-friendly shampoo options that are eye-friendly, hair-friendly, and best of all, planet-friendly.
8 Top Eco-Friendly Shampoo Brands
1. Plaine Products
Sister-owned and Certified B Corp Plaine Products has revolutionized how we do hair care (and body care, for that matter). Lindsey and Allison Delaplaine dreamt of a world where we could nourish our hair and bodies without plastic—so they created a line of products exactly for that purpose!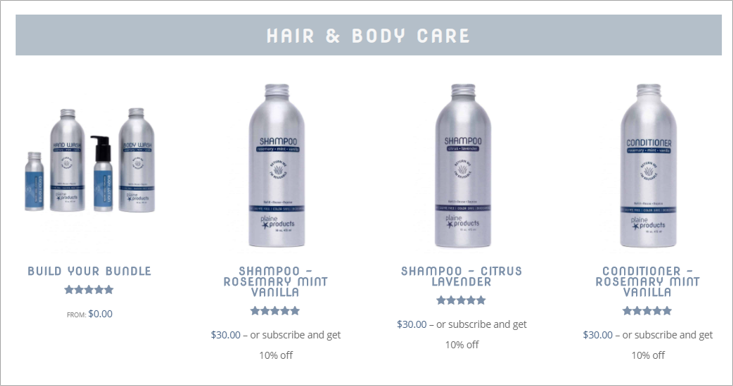 Their shampoo comes in two intoxicating scents—Rosemary Mint Vanilla and Citrus Lavender—which are made with essential oils, non-GMO and vegan ingredients. Free of parabens, phthalates, silicone, sulfates, and palm oil, instead you'll see ingredients like organic aloe leaf juice, Irish moss, organic sunflower oil, and organic green tea.
Even better, the shampoo comes in 16 oz aluminum bottles that can be returned to Plaine Products to be refilled! Aluminum is infinitely recycled, so even if you end up only trying the shampoo once, you can be certain that you won't be contributing to any landfill waste.
Available: Amazon|Plaine Products
2. Dr. Bronner's
Dr. Bronner's is one of our favorites. From their eco-friendly toothpaste to the magical 18-in-1 soap, Dr. Bronner's is a name we know and love to have in our homes. While they don't make shampoo per se, they do have a liquid soap that can be used as a shampoo, soap, dishwashing detergent, laundry detergent, and much, much more.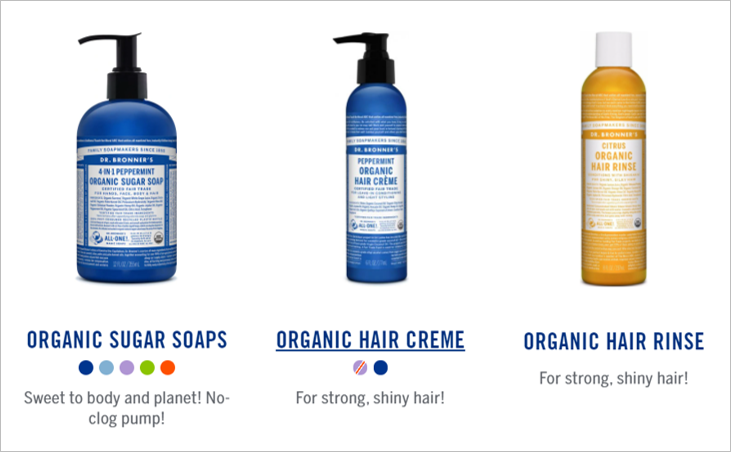 As a Certified B Corp, Dr. Bronner's is truly using business as a force for good. So, not only will you get luscious locks when you use their eco-friendly shampoo, but you'll also get fair trade certified and USDA certified organic ingredients and a company that's committed to social and environmental justice.
We could go on and on about what they're doing to make our world a better place but here are a few key takeaways:
By 2025, they'll be climate positive (will absorb more carbon from the atmosphere than they emit).
They're one of the first companies to use Regenerative Organic Certified products.
They use post-consumer recycled plastic for their bottles.
They're building a Regenerative Learning Center in Ghana.
They've set a limit on how much their CEOs can make (no more than five times as much as their lowest paid employees).
Whew! All of this from washing your hair!
Available: Amazon|Dr. Bronner's
3. Ursa Major
Did you know that although there is no radical difference between what a men's and women's shampoo contains, women typically pay more for theirs? With what's considered a 'pink tax,' on average, women pay 48% more for shampoo!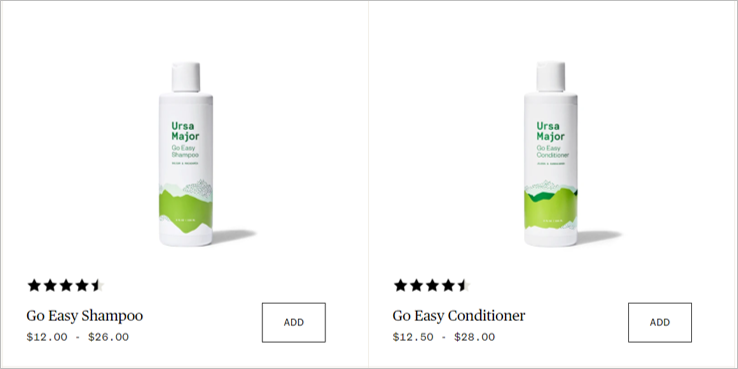 We won't have to worry about that with Ursa Major. Their Go Easy shampoo and conditioner come in just one gender-neutral variety. The intoxicating warm, woodsy blend is made with balsam, fir, and ginger, which are combined with other natural (sometimes organic) ingredients.
The vegan, cruelty-free shampoo is also free of SLS, SLES, parabens, synthetic fragrance, glycols, silicones, PEGs, and petrochemicals
This is yet another Certified B Corp that makes their products in the USA (with wind power, to boot!) and uses 50% recycled plastic for their bottles. They also use some of their profits to fund a range of environmental projects and organizations.
Available: Amazon|Ursa Major
4. Ethique
Ethique wants us all to #giveupthebottle—and they've helped us do exactly that! Since the New Zealand company (and Certified B Corp) launched in 2012, their line of plastic-free health and beauty products has meant that they've prevented more than eight million plastic bottles from being produced!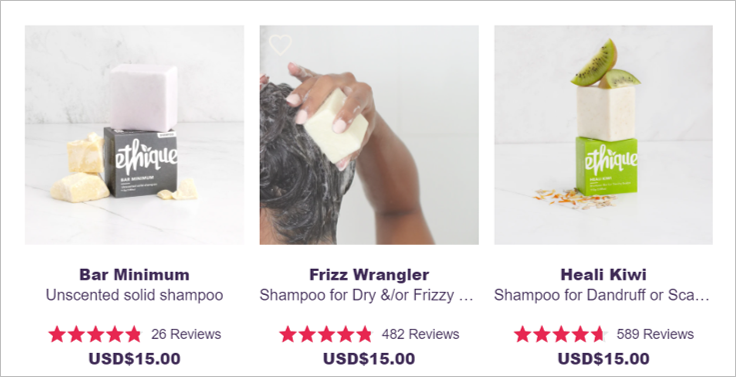 Not to worry, they now have a U.S. distribution center too!
Their shampoo bars are free of cruelty and palm oil, and are made with some of the most sustainable and ethical ingredients. They've got several different varieties, all with different scents and to be used for different purposes (i.e. dry hair, dandruff, etc.).
All Ethique bars come in a recyclable cardboard box, are produced in a carbon neutral way (using renewable energy and carbon offsets), and one tree is planted for every order. Their website even has a video for those of us who are new to using a solid shampoo bar.
5. True Botanicals
True Botanicals is all about creating products that are "safe for people and the planet." All of their products are certified by MADE SAFE®, which means that they're free of more than 5,000 known toxic ingredients.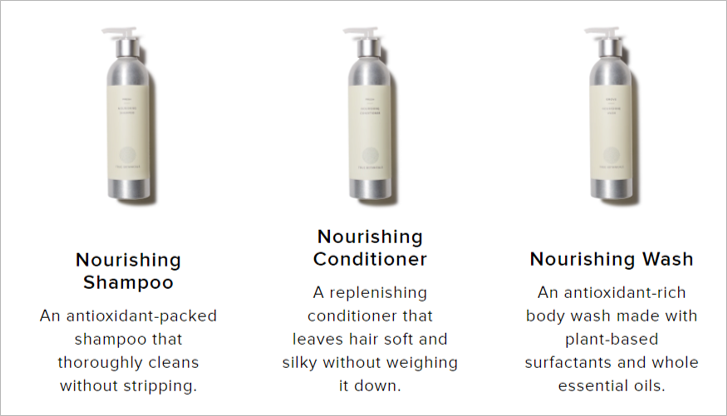 Going beyond that, True Botanicals consciously chooses production practices, packaging materials, and shipping options that minimize their impact on the environment.
Their Nourishing Shampoo is packed with antioxidants to keep our hair and scalp nourished. It includes organic and wild-harvested ingredients like meadowfoam seed oil, green tea oil, and a coconut-based surfactant.
Available: Amazon|True Botanicals
6. Yarok
Yarok's shampoo range is perfect for amping up hair volume and moisturizing dry hair in a way that is good for your head and the earth. Using a blend of organic and natural ingredients, the shampoo is like healthy food for hair and scalp.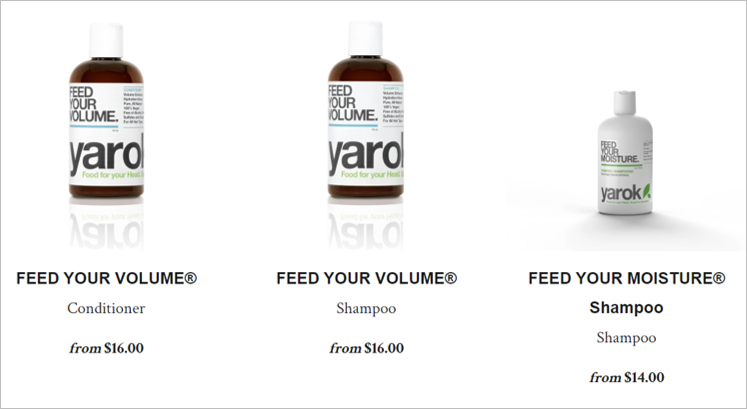 When you check the ingredient list, you'll see things like organic nettles, organic slippery elm, organic rosemary, and naturally cultivated chamomile in their Feed Your Volume® shampoo. It's so natural you could almost eat it!
The brand was founded by Mordechai Alvow, a renowned hair stylist who was committed to making hair products with recognizable ingredients. Yarok is committed to minimizing their carbon footprint and they don't use animal testing.
7. Public Goods
Who says you can't get affordability and sustainability at the same time? A 12 ounce bottle of Public Goods shampoo is only $4.50! Public Goods is a membership-based platform for healthy and sustainable goods at direct-to-consumer prices (don't worry, you can try their shampoo with a free two-week trial).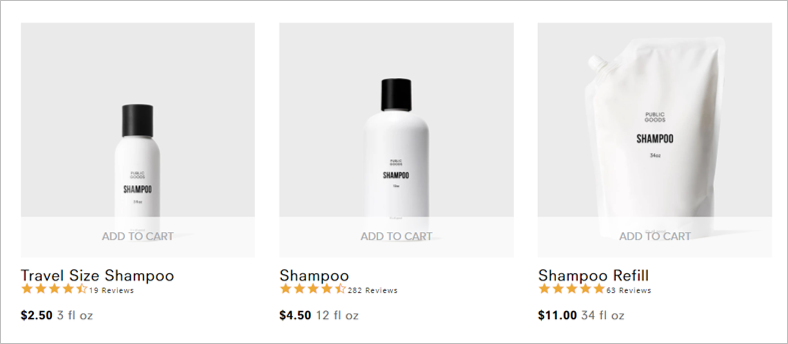 The membership fee is used to plant over 500 trees! Yay!
Powered by essential oils, this shampoo cleans hair instead of stripping it of its natural oils (what you get with most "normal" shampoo. Made with high quality ingredients that have been carefully selected, the shampoo is free of SLS, phthalates, formaldehyde, synthetic fragrance, and parabens.
Once you fall in love with this shampoo (which, according to the reviews happens a lot), you can just order a shampoo refill (for your sugar cane bottle) to minimize your plastic consumption.
Available: Public Goods
8. Seed Phytonutrients
When you buy a Seed Phytonutrients shampoo, you can feel confident that it's been made with 93-100% natural ingredients, 60% less plastic, and is free of sulfates, parabens, gluten, and animal products.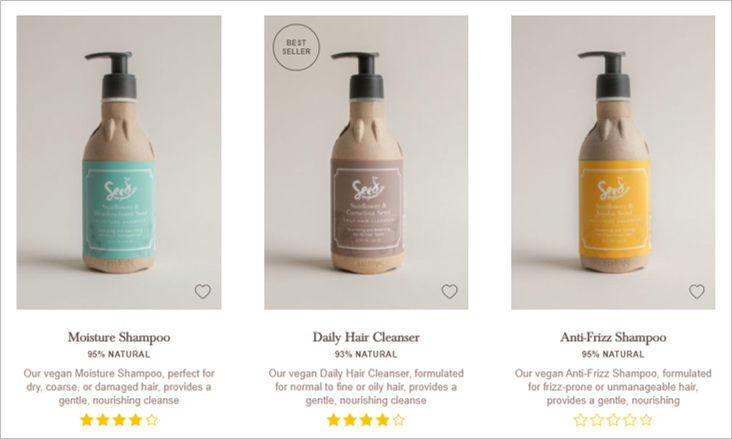 The brand prioritizes sustainability and works with American organic farmers to preserve seed diversity—and this is where you come in. They've partnered with the Hudson Valley Seed Company to provide consumers with a little surprise.
After your shower-friendly and compostable paper shampoo bottle runs dry, crack it open to find a packet of heirloom herb seeds! The plastic pump can be either reused or recycled via TerraCycle.
Available: Amazon|Seed Phytonutrients
Did we leave anyone off the list? If you have a favorite eco-friendly shampoo brand or a great DIY recipe, let us know in the comments!