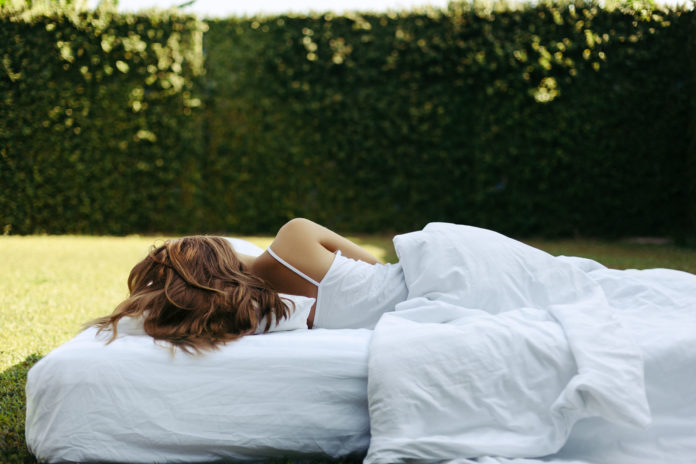 As you may know, we spend almost one-third of our lives sleeping. Which is why we should thoughtfully consider what type of bedding is best for both our health and the environment.
That being said, have you ever considered organic for your sleeping needs?
There's no doubt that organic products are on the rise now. Many of us are buying less products made from unknown synthetic materials and chemicals and going for the green option instead.
Here are some of the reasons why you should consider doing the same and choose an organic mattress, along with a few drawbacks of this option.
Reasons to Go for an Organic Mattress
Let's go over some of the biggest benefits that an organic mattress can offer.
They're Free of Chemicals and Additives
Most non-organic (traditional) mattresses are filled with many different chemicals to retain the mattress shape and texture. Other things, like durability, are also enhanced using chemicals.
However, these chemicals could have adverse effects on health. While you sleep, your mattress may be omitting tiny amounts of volatile organic compounds. VOCs are known to cause irritation and other problems when you're exposed to them. Sleeping on an organic mattress eliminates this health hazard.
This point and the chemical-free point go hand in hand. When there are no gases or toxins in the mattress, there won't be an actual catalyst that would cause allergies or health issues to the person sleeping.
Natural organic wool used in organic mattresses isn't only free of chemicals, it also fights bacteria and mold, among other things. The reason behind this is that wool naturally releases moisture regularly to prevent a damp environment.
They're Cool in Summer, Warm in Winter
Natural wool regulates body temperature, so it's suitable for any climate. It acts as a natural insulator so you can feel cool in the summer and warm in winter.
Living in Colorado without air conditioning in the summer, I can vouch that my organic wool and latex mattress has been great both in the cold winters and hot summers.
They're So Comfortable
Let's be real, the quality of your sleep reflects the quality of your mattress. If your mattress is uncomfortable, then you're probably not getting up in the morning well-rested.
With the higher price point and natural materials of organic mattresses comes higher quality mattresses overall, with much less discomfort than cheap synthetic mattresses.
If possible, try out your organic mattress out before you buy if you're going for a local mattress. If you buy one online, they almost always offer a free trial period and free returns in case it isn't a good fit for you.
Organic mattresses can sometimes run on the firmer side, so you if you like soft mattresses, I recommend opting for organic mattress toppers that many of the companies offer.
They're the Most Environmental-friendly Choice
Due the chemical-free nature of these mattresses, there's much less harm on the environment from their manufacturing. An organic mattress is the most sustainable type of mattress you can get.
When researching organic mattress companies, you'll find that many of them work really hard to minimize their impact as much as possible, from the manufacturing to the packaging and everything in between. Many organic mattress companies also do carbon offsetting to make the whole process as carbon neutral as possible.
What About Traditional Mattresses?
We've all owned traditional mattresses before. What we didn't know was the number of chemicals they were offgassing on a daily basis while we slept.
Traditional mattresses could include flame retardants, which could be made out of silicone, phosphates, or boric acid. Other materials that are used are formaldehyde, petroleum-based nylon, polyester, pressboard, polyurethane foam, and vinyl.
You may be wondering why manufacturers add all of those unnecessary ingredients to their mattresses. Well, all mattresses need to pass a US flammability test, so the companies add these cheap chemicals in order to pass.
It's of course really important that your mattress won't easily catch fire, but these traditional mattress companies oft for the cheap chemical route instead of using natural wool. Natural wool, used by organic mattress companies, also acts as a fire retardant without the pounds of harmful added chemicals.
My Personal Favorite Organic Mattress
When I was making the switch to an organic mattress last year, I did tons of research and read countless organic mattress reviews, ranging from online stores to my local organic mattress stores. I opted for the Avocado organic mattress (that you can get online) with the added pillow top and found it to be the most comfortable mattress I've owned.
I also really love the fact that their mattresses are only made from organic latex, wool and cotton, and is MADE SAFE certified, so you know there are no hidden chemicals in the mattress.
Avocado is also really doing their part to be a super sustainable company. They are the first mattress brand to be both carbon neutral and now carbon negative as well. They are also a Certified B Corporation and donate a portion of their profits to 1% for the Planet. If you're looking for both comfort and sustainability, I highly recommend them.
I want to note that Avocado is not paying me or sponsoring this, this mini-review is based on my own unbiased experience. But if they ever want to reach out, they can email me any time at [email protected] 🙂
Disadvantages of an Organic Mattress
As you know, nothing is perfect, not even organic mattresses. Here are the biggest disadvantages I've found in my experience. Most of these drawbacks aren't total dealbreakers, however.
Limited Options
As with any green product, the choices are more limited. Compared to traditional mattresses, there are less options to choose from, especially if you're wanting to buy in person from a mattress store.
Less Availability
You're not going to walk into any store that sells mattresses and expect to find an organic mattress there. These types of mattresses are harder to find in person, so be sure to research stores ahead of time. If you can't find any organic options in your town, you can easily find organic options online to try out.
Organic Mattresses Are More Expensive
This is probably the biggest drawback overall. Quality items typically come with higher prices. You can definitely find traditional mattresses for a couple hundred bucks, which is not the case for organic options. You're going to have to shell out at least $1,000 (but it could be up to $1,500+) for a quality organic mattress.
If you're thinking about going for organic, I recommend you start saving now. For a list of exact prices and organic options, be sure to check out this helpful list of 10 affordable organic mattress options.
The Final Verdict
If you're on the fence about going for an organic mattress, I'm of the opinion that the pros outweigh the cons. Organic mattresses have the upper hand when it comes to quality, sustainability and health.
The cost is the biggest disadvantage, but if you're able to save up, I think you'll be happy with your decision.
Of course, you should choose whatever mattress is most comfortable for you. Just be sure to do your research and compare the options thoroughly before taking the plunge. Sleep tight!