While sustainability is important to ensure a healthy planet for future generations, it's also important to incorporate future generations in some of our favorite sustainable practices. Whether you're new to an Earth-friendly lifestyle or have been on a zero-waste journey for years, you might be surprised to find that eco-friendly living with kids might be easier than you think.
Environmental Responsibility is a Family Affair
While we don't recommend bombarding kids with climate change doom and gloom, it is important to encourage them to take responsibility for their actions and make choices that align with a healthier planet.
Children today have the potential to become tomorrow's educators and policy-makers, and, at the very least will be the decision-makers of the future. That being said, what they're taught now will play a role in their eco-friendly habits going forward.
We're our children's biggest role models, and the actions we take are likely those that our children will replicate—both good and bad. There's no better reason to improve our own sustainability practices, and with these eco-friendly living with kids tips, we can even get them involved in a fun and educational way.
7 Tips for Eco-Friendly Living With Kids
Get Outside
Exploring the great outdoors is one of the best ways to be eco-friendly with kids. You can't feel inclined to save something if you don't understand it, right?
This doesn't necessarily mean that you need to immediately plan a big backpacking trip to the Grand Canyon or Yellowstone, you can simply introduce your kids to nature from the comfort of your own backyard.
Encourage your kids to play outside and explore the nooks and crannies of your backyard. You can introduce them to animals by setting up a bird feeder, buying a bird bath, putting out food for squirrels, or creating a bee hotel.
You can also introduce your children to plants by setting up a small vegetable garden or pollinator garden. Encourage them to play a role in the entire process, from seed to harvest.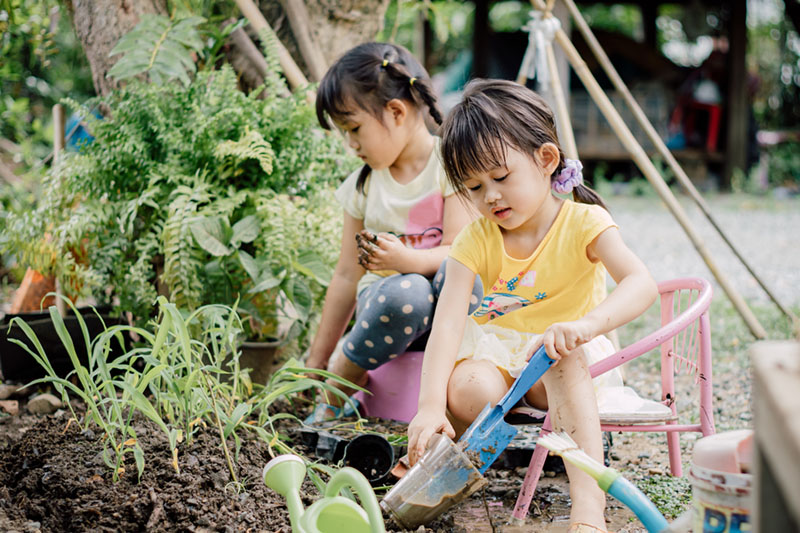 Then, when you do have the time and budget, plan to go on a weekend camping trip or take a hike in a State or National Park. Even a walk in a local park or nature preserve is a great way to expose your kids to the beauty and wonder of your local ecosystems. Plus, it's a great way to get some exercise and much-needed vitamin D!
Reduce, Reuse, and Recycle
Most of us learned about the 3 R's when we were children, and this is a great lesson to share with kids now.
Reducing what we consume is one of the best things we can do for our planet. To minimize purchases, plan some fun afternoon crafting or baking sessions with your kids. Instead of buying new toys, encourage them to make some of their own. Instead of buying prepackaged snacks, spend the afternoon baking cheese crackers or fruit leather with your kids.
Have your kids join you in transforming old t-shirts into cloth bags or cardboard boxes into castles, and share tips with kids about things that can be reused. Getting a vermicomposting, or worm composting, system is a great way to expose kids to the wonders of how food waste can be reused by hundreds of hungry worms.
It's never too early to get your kids involved with recycling. Understanding exactly what can be recycled is the first step, so once you know for yourself what your local council accepts, create a picture chart so that you can share this knowledge with your kids.
Have them help you sort and prepare items for recycling, and explain to them the difference between what ends up being recycled versus what happens in landfills.
Conserve Energy
Remembering to turn off lights and electronics is the quintessential eco-friendly living tip, and something that is easy to get children on board with!
Remind kids of the importance of turning off lights and electronics when not in use. If this is something that kids (or adults) have difficulties with, create a reward system for properly turning off lights—the winner gets to choose an eco-friendly dessert or gets out of dish duty!
If you want to take energy conservation to the next level, make sure you're bringing in as much natural light into your home as possible. Also, dress appropriately for the seasons and move your thermostat just a couple of degrees hotter or colder to reduce the impact of your air conditioning or heating.
Have an Educational Movie Night
Make some homemade eco-friendly snacks and snuggle up for a Friday night movie that will not only be entertaining, but will also educate your children about protecting our planet. Here are a few of our favorite recommendations:
Participate in Meatless Monday
It's important to let your kids know where their favorite foods come from and how they're produced. If you do eat meat, try to choose more sustainable options, like chicken, and opt for organic or pasture-grown varieties.
Every Monday, enjoy plant-based meals and talk to your kids about the importance of eating their fruits and veggies—as well as the impact dietary choices have on the planet. Here are a few of our favorite kid-approved and plant-based meals:
DIY Veggie Pizzas: Make some homemade pizza crusts and have your kid help out with preparing their own veggie-packed mini-pizza.
Meat-Free Nachos: Layer tortilla chips with cheese, vegetables, and beans.
Vegetarian Fried Rice: This is an easy way to use up leftover rice, veggies, and anything else you may have laying around in the refrigerator!
Veggie Pasta Bake: If you're looking for comfort food, a pasta bake with marinara sauce, cheese, mushrooms, and peppers will leave everyone feeling satisfied.
Also, don't be afraid to have a strict clean-plate policy and discuss the impacts of food waste with your kids.
Use Alternative Ways of Transportation
It's safe for you to do so, leave the car keys at home and get into a practice of walking, cycling, or roller skating to close-by destinations. If you live in a city, get a monthly bus pass and teach your kids some valuable skills when it comes to taking public transit.
Depending on their age, share some information about the impact of driving on our planet, and encourage alternative ways of getting around.
Be Water Wise
Make sure that your children know to turn off the water when brushing their teeth, and encourage short showers for the whole family—for which a timer might be helpful.
If you can, capture rainwater to use in the garden and make sure your children understand that water is a finite resource that should be respected as such.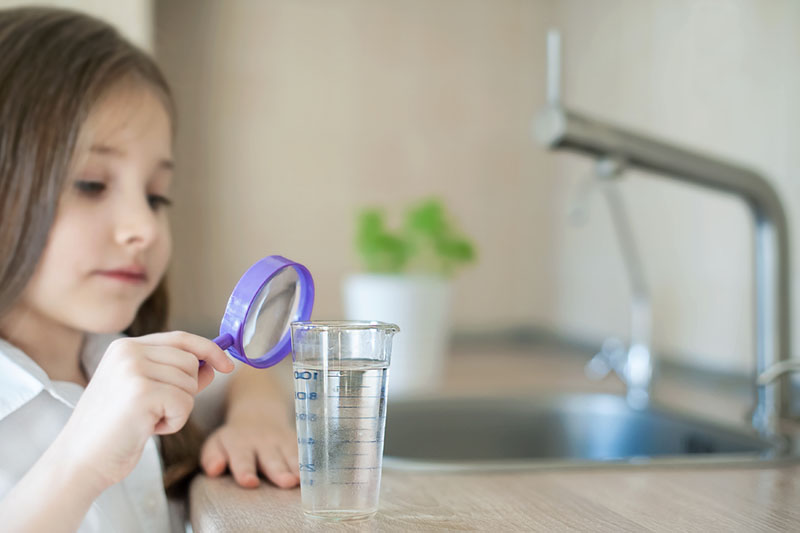 Eco-Friendly Living for The Whole Family
While these tips are suitable for children, they are important things that the entire family should consider. Seemingly small changes around the house can end up having a big positive impact—not just on the planet, but for our health, wellbeing, and wallets, too.
We'd love to know what eco-friendly living with kids means to you, share your tips in the comments!