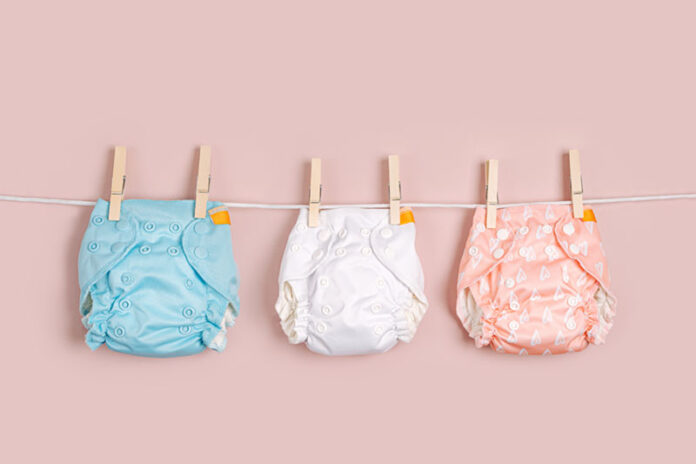 You've just welcomed home your new addition to the family, and now you're faced with several new considerations—feeding, bathing, and sleeping (if you're lucky). From day one you'll also have to think about diapers. You can expect to see thousands of them over the span of the next several months and you'll want to get into a changing routine that's best for you and your baby. 
We hate to throw yet another consideration at you, but when it comes to changing a diaper, you'll also have to think of the planet. That diaper may leave the changing table but its impact is far from over. 
So, to help you out with some sustainable swaddling, we'll talk about the environmental impact of dirty diapers and share our 8 favorite eco-friendly diapers.  
Dirty Diapers = A Dirty Planet
When we change a diaper, it's unlikely that we want to give it any additional thought as it heads to the trash can. On average, a parent will change between 49 and 70 diapers each week. With all the time spent wiping and plugging our noses, it's no wonder that we don't take the time to wonder where that diaper ends up after it leaves our homes.
But here's the thing: diapers are one of the most commonly found items in landfills, and more than 49 million end up there every single day. 
We don't have an alternative to diapers (just yet, anyway), but there are things we can do to make our diapers a little better for our planet and our babies. So, without further ado, here are 8 eco-friendly diapers for a no-mess change and a less-mess planet. 
8 Eco-Friendly Diapers 
1. Earth + Eden Disposable Diapers (Better Option)
We love the diapers from Earth + Eden because they're produced in a Zero Waste to Landfill facility and the brand is extremely transparent about the ingredients in their diapers—things like sustainably sourced wood fluff pulp, a cotton blend dryness layer, and non-toxic water based inks. 
Not only are they made with all the good stuff, but they're also more absorbent than Pampers® and up to 10 times drier than Huggies®! They're also not tested on animals, made without chlorine bleach (which can cause rashes), and free of fragrance, parabens, latex, and other allergens.
Available: Amazon|Earth + Eden
2. Earth's Best Disposable Diapers (Better Option)
These are made with renewable resources, like wheat and corn starch. They don't contain chlorine bleach and have less petro-chemicals (i.e. polyethylene, polypropylene) than other disposable diapers. Additionally, they're latex-free, fragrance-free, and dye-free—making them a great choice for sensitive skin. 
Available: Amazon|Earth's Best
3. Andy Pandy Bamboo Disposable Diapers (Better Option)
These diapers are made with non-woven bamboo fiber, which has been produced sustainably and without chemical pesticides. It's combined with other ingredients like chlorine-free fluff pulp and pure aloe essence, making it a perfect antibacterial and hypoallergenic option for sensitive skin.
The diapers are free of alcohol, preservatives, latex, PVC, TBT, and phthalates, too. Even better, since they're made from bamboo fiber, the diapers are highly (87%) biodegradable. 
If you feel guilty about seeing the mountain of diapers pile up in your trash can, you can feel a bit better with Andy Pandy because they plant two trees for every purchase thanks to a partnership with Eden Reforestation Projects. 
Available: Amazon|Andy Pandy
4. Eco by Naty Compostable Diaper (Even Better Option)
Most diapers contain up to 80% ingredients derived from fossil fuels. Naty diapers contain 0% fossil fuels and are made with certified renewable materials. 
These diapers are made from plant-based materials like FSC-certified wood pulp. They've got other certifications (from ECOCERT, Oeko-Tex, and GOTS) to back up their other natural and biodegradable materials. 
In fact, these are one of the few diapers considered to be 100% compostable (although you'd have to check with a commercial composting facility to be sure that it accepts dirty diapers).
Hybrid Options
Hybrid diapers certainly are not a perfect solution, but may be a good stepping stone for those hesitant to venture into the world of cloth diapering.
5. Pampers Pure Hybrid Disposable Diapers
The Pampers Pure disposable diaper brand is well known and well rated. Many people were excited to hear that Pampers was releasing a variant of the diaper with a cloth shell and disposable insert.
The company even produces a trial kit to allow you to test the waters before committing to a larger purchase. These diapers are not cheap, and many reviews question whether or not the product achieves one of the main benefits of reusable diapers for many parents – cost savings.
Still, hybrid diapers are growing in popularity and the Pampers Pure brand is one of the few options at big box retailers like Target.
Available: Pampers Pure Hybrid
6. GroVia Reusable Hybrid Baby Cloth Diaper
GroVia was started in 2009 and has seen a lot of success in the market. Their hybrid diaper is also a very popular choice for parents. Like other hybrid diapers, the disposable liner allows the shell to be used for more than one diapering which helps reduce on water from washing.
Of course, there are trade-offs that come with disposing part of the diaper. But as mentioned with the Pampers Pure option, the hybrid diapers are a great way for parents to test of cloth diapers and ease into it.
There's Still a Problem—Even With These Better-For-Earth Options…
Although these diapers are arguably much better for baby bottoms and our planet, they're still associated with a pretty big issue. Unless they're fully biodegradable (like in Poof's case) or composted properly (in Naty's case) they're still ending up in landfills—where they're estimated to take up to 500 years to degrade. 
So then, this begs the question: are cloth diapers the best option? Cloth diapers require significantly more water to produce (mostly for the cotton). Then there's the water required to do several loads of laundry each week…
Ultimately, the environmental impact of any type of diaper is roughly the same. However, there are significant improvements that can be made with cloth diapers. Namely, making your own from old T-shirts or sweaters, using a more efficient washer, choosing organic cotton, and opting for more environmentally-friendly soaps. 
Another great way to cut down on the environmental impact of a diaper change is by using a compostable liner with a cloth diaper. 
7. GroVia Cloth Diapers (BEST Option)
When you have a cloth diaper that's made from organic cotton, you're seriously minimizing the amount of water required to produce it. 
Plus, with these diapers, which come in one-size, they'll grow as your baby grows (meaning no new purchases required). They're produced without chemicals and are some of the safest and softest (and most affordable) diapers available on the market today. 
With several different absorbency options available (in the form of eco-friendly disposable BioSoakers), you'll find something suitable for you and your lifestyle. 
8. Esembly Cloth Diapers (BEST Option)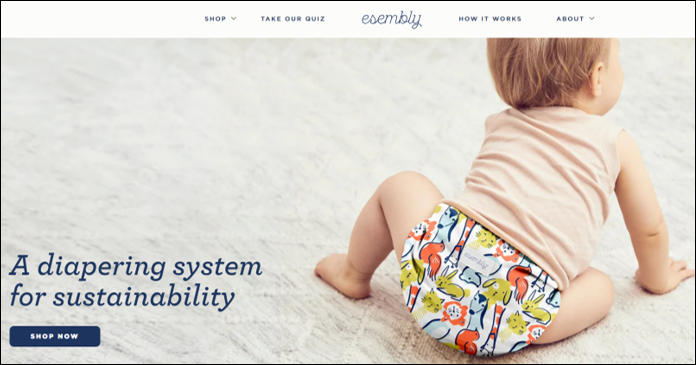 If you're looking for a one-stop-shop for all of your diapering needs (that's owned by women, no less) then you should check out Essembly. 
They've got soft organic diapers that are waterproof and comfortable, biodegradable bamboo liners that are perfect for solid waste, and absorbent organic cotton overnight inserts that will help you get a little shut eye (fingers crossed).
Designed to truly be landfill-free, they even have an option where you can sell your diapers back to Esembly or send them back so that they can be properly recycled into new (and more affordable) cloth diapers! 
Available: Esembly
_________________
If this article was of interest to you, congratulations on your parenthood journey! We'd love to keep this conversation about eco-friendly diapers going, so please feel free to share any tips or favorite brands in the comments below!