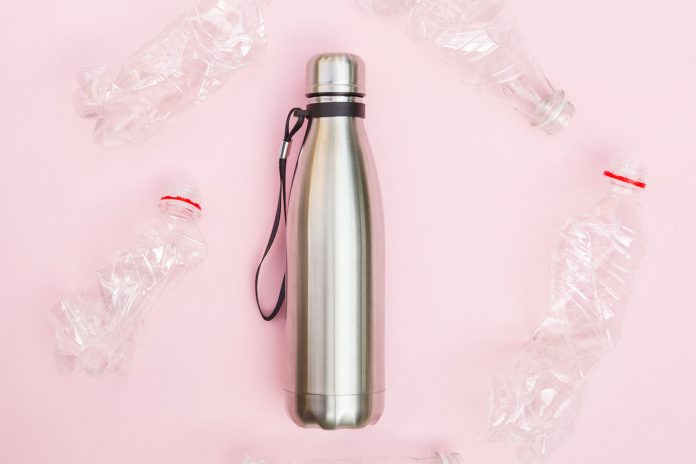 Ahh, there's nothing like some good old H2O—you know, that stuff that makes up around 75% of our bodies? Water is absolutely essential to our survival. It's important for our cognition, our organ and cell health, and our physical performance. Drinking water is clearly pretty great for us but there's unfortunately one thing standing in the way of it being okay for our planet, too:
Plastic water bottles.
So, let's take a quick look at the problem with plastic water bottles before we provide a solution in the form of the 8 best eco-friendly water bottles that will allow you to stay hydrated and simultaneously keep our planet happy.
The Business of Bottling Water
Americans have been in the business of selling water since the beginning of the 19th century. One of the first brands, Poland Springs (which is still around today) touted their bottles of water as a way to cure nearly everything—from fever and sea sickness, to kidney and liver issues.
Bottled water continued to be sold in the US ever since that miraculous bottle in the mid 1850's, but for the most part, the numbers remained relatively small and consisted of large five-gallon jugs for office water coolers.
In 1978, Perrier became the first modern brand to promote their bottled water as something American consumers needed to have. Fast-forward several years, and Pepsi and Coca-Cola (who were likely sad that soda drinkers were switching to bottled water) joined the mix and Aquafina and Dasani were born.
Now, between sparkling, flavored, caffeinated, spring, mineral, and purified, we've got a rapidly expanding bottled water industry. We may not see the same ludicrous claims that were used with bottled water in the 1850's, but marketing is still convincing many of us that we need bottled water—even when most of it is identical to what comes out of our taps.
These beliefs contribute to the fact that 15% of Americans only drink bottled water. And this is only a drop in the ocean for the total impact of our obsession with bottled water—the fact that around the globe, one million bottles of water are consumed every single minute.
Keep in mind that most of these plastic bottles end up polluting our oceans. Plus, all that plastic is made with petroleum…which means that around 54 million barrels of oil are required each year to make plastic water bottles (yikes!).
Fortunately, we can save the planet and our pockets (about $100 every year), by bottling our own water in an eco-friendly water bottle.
8 Best Eco-Friendly Water Bottles
1. Klean Kanteen Double Wall Insulated Water Bottle
We can't talk about eco-friendly water bottles without mentioning Klean Kanteen.
Klean Kanteen has been around since before it was cool to BYOB – bring your own (water) bottle. The sibling-owned company sold their first BPA free stainless steel bottle in 2004. Now, they sell a variety of sustainable water bottles, insulated cups and tumblers, and a range of other containers for food and drinks.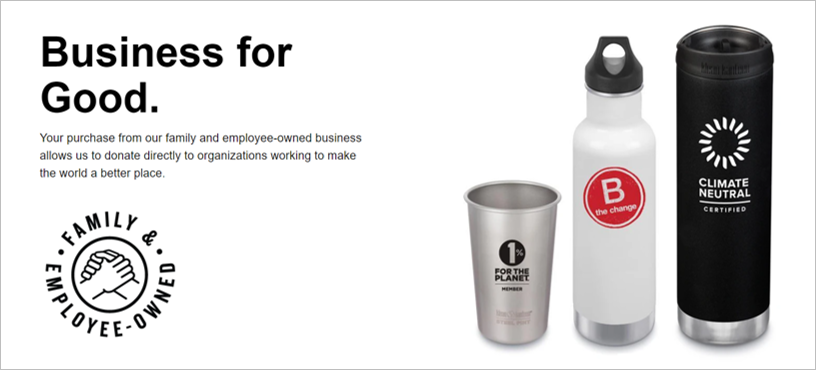 They're also a Certified B Corporation, donate some of their profits to 1% for the Planet, and are a Climate Neutral Certified company. With their bottles, you can feel good about staying hydrated and feel even better about doing so in a sustainable way.
Available: Amazon|Klean Kanteen
2. HYDRO CELL Stainless Steel Water Bottle
Like Klean Kanteen, the water bottles from HYDRO CELL use stainless steel to create a vacuum seal, which makes their bottles great for adventure, as well as keeping things hot or cold. In fact, it can keep your ice water cold for up to 24 hours and your hot tea hot for up to eight hours!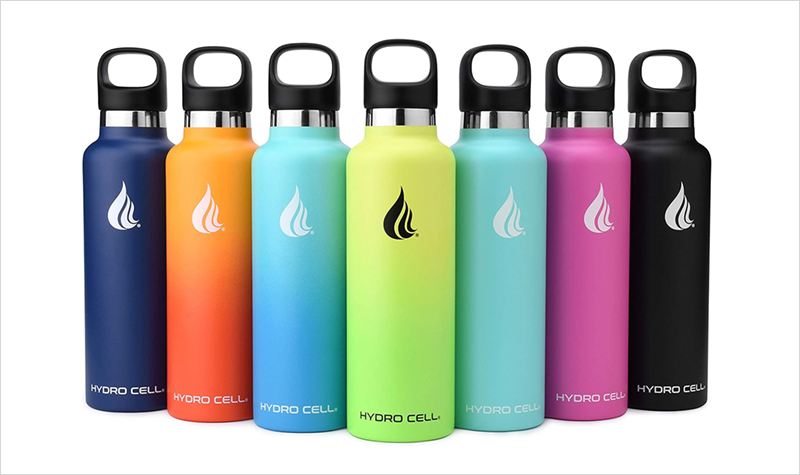 The bottles are free of BPA and use food-grade stainless steel. You won't find any plasticizers, polymers, or other synthetics in their bottles (like you would in your average plastic water bottle).
Available: Amazon
3. KOR Reusable Water Bottle
The water bottles from KOR use a minimalistic, effortless design to make it simple to drink water. They're made from a non-toxic copolyester, which is a tough type of plastic that is free of both bisphenol A (BPA) and bisphenol S (BPS).
The bottle is large enough to add some of your favorite fruit to add some flavor to your water. KOR offers a lifetime warranty, which means that a single water bottle should be able to last years, if not decades! It can also be recycled at the end of its life.
4. Origin Glass Water Bottle with Protective Silicone Sleeve
For those of us who want to make the switch to glass (but are worried about our clumsy nature), this is a great sustainable (and safe!) water bottle for us.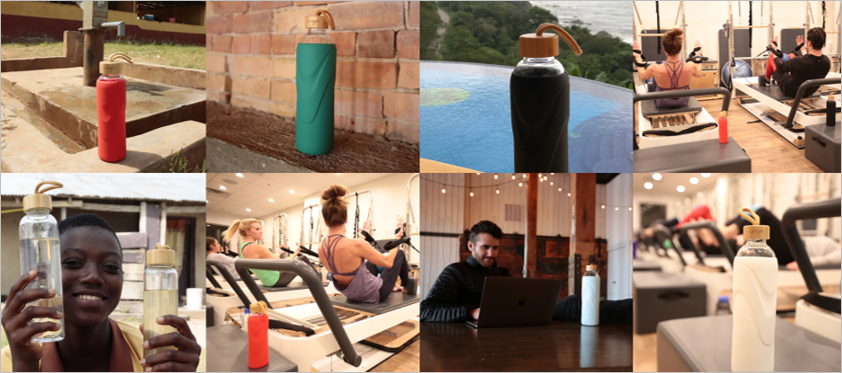 The water bottle is made from borosilicate glass, which is covered with a food-grade silicone grippy sleeve, which comes in 13 different colors. It's free of all the bad stuff you don't want to drink—BPA, BPS, lead, cadmium, and PVC. Once you're done using it (hopefully in a few decades), it's fully recyclable.
Origin also donates 2% of their revenue to supply partner organizations with funding to provide education, health assistance and clean water resources to impoverished communities in Ghana. 
5. S'well Water Bottle
S'well is another well-known name in the world of eco-friendly water bottles. They're famous for their beautifully designed, multi-purpose, insulated bottles that are non-toxic, non-leaching, and free of BPA.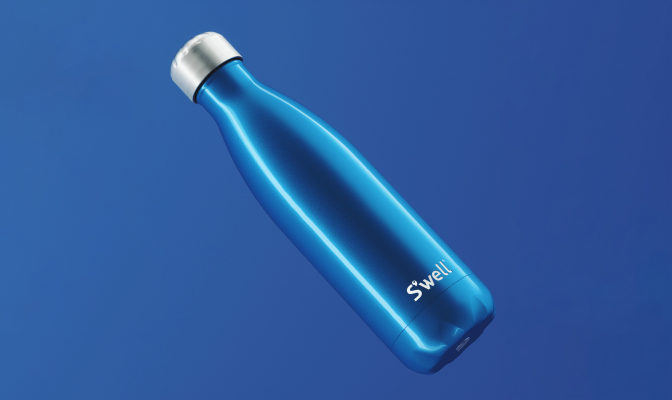 The first S'well bottle was sold in 2010, before sustainable products weren't as stylish as they are today. Style is still a big priority for S'well today, which is why you can get their triple-insulated water bottle in a variety of designs, colors, textures, patterns, and prints.
The female-owned business is one of the fastest growing in the US and is supported by an ever-growing range of all types of drink and food containers. They also provide some support as well, in the form of donations to UNICEF and Lonely Whale.
Through these partnerships, they provide clean drinking water to vulnerable communities in Madagascar and help clean up plastic pollution in our oceans and have already pledged millions of dollars to community organizations around the world.
6. Fressko Double-Walled Glass Bottle
If you're drinking anything, Fressko can help make it sustainable. In addition to glass, they've got a range of bamboo, stainless steel, and cafe bottles and reusable coffee cups. Some come with a filter for fruit or tea, but all of them are perfect for any hot or cold drinks and are all free of BPA.
Fressko designs their products before having them made responsibly in China. Since 2014, they have taken extra quality control steps to ensure that their products are made in a way that's better for the planet and the people involved in production.
Their glass bottles are made with A-grade borosilicate glass and food-grade stainless steel—resulting in a durable bottle that's capable of lasting a lifetime.
Available: Fressko
7. Tree Tribe Stainless Steel Water Bottle
Tree Tribe is as cool as it sounds. The company plants a tree for every purchase, and so far, they've planted almost half a million trees around the world! Not only do they have bottles, but they also sell clothing, facemasks, and hats.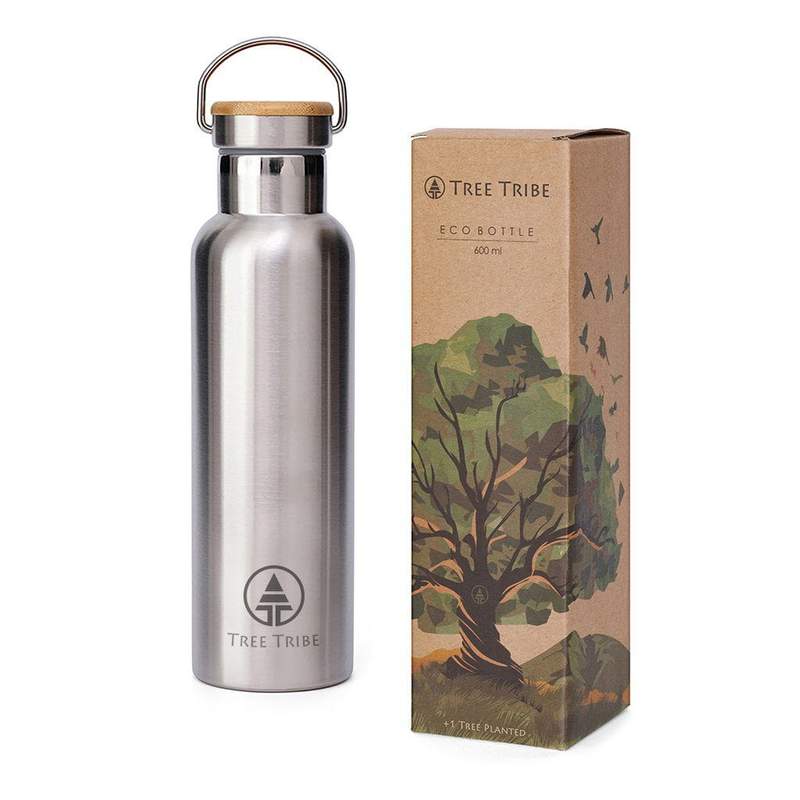 Another reason why they're great is that the bottles are designed to last forever. When it comes to sustainability, there's nothing better than something that never needs replaced!
The bottles are BPA-free, double-insulated, and can keep things hot and cold for several hours.
Available: Amazon|Tree Tribe
8. Lifefactory Glass Water Bottle
Lifefactory is another brand that makes a glass bottle that will make you want to guzzle down water. It's got a wide mouth, making it easy to add ice, fresh/frozen fruit, or tea bags. Unlike with plastic or stainless steel, you won't notice a smell after continuous use.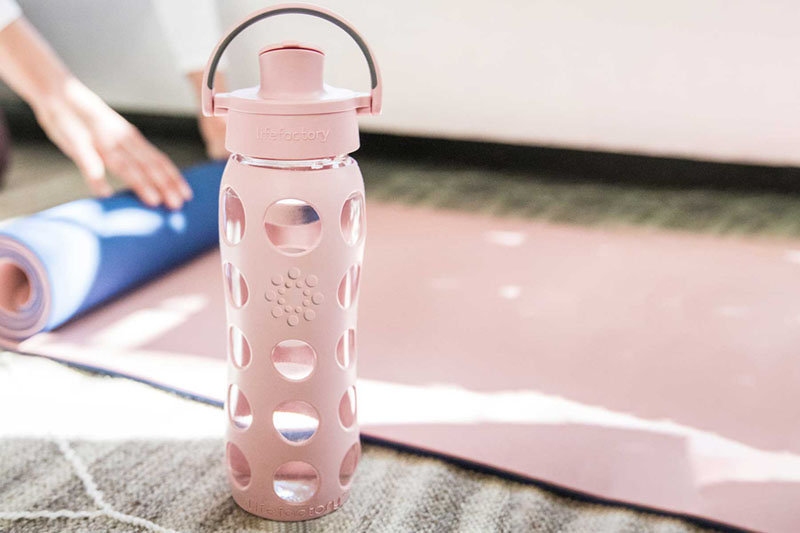 And, if you're worried about having a glass bottle by your side all day, don't. The silicone sleeves are slip-proof and will keep your bottle protected.
Lifefactory bottles are designed for lifetime use. You can even order replacement parts to avoid needing to replace the whole thing, which is always a great practice for more sustainable practices day to day.
And, to celebrate a day of water drinking, you can congratulate yourself with one of their wine glasses in the evening.
Available: Amazon|Lifefactory
_______________
Feeling thirsty now? Well, now you know how to quench that thirst without harming the planet! We'd love to know what water bottle you use. Did we miss any on our list? Let us know in the comments!
This post was last updated on May 16, 2023.