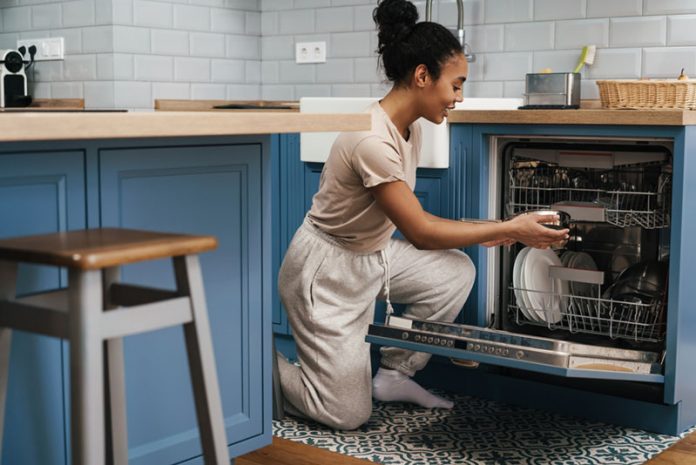 If you've decided to make some sustainable swaps around the house, the kitchen is one of the best places to start. If you're ready to move on from reusable bags and beeswax wraps, an environmentally safe dishwasher is a great way to reduce your footprint. 
A new dishwasher will not only save you time, but it can also help you save our planet. Newer models have been designed with features to save both energy and water—but unfortunately, older models tend to use quite a bit of both, especially when it comes to heating the water. 
So then, to sustainably address that stack of dishes in your sink, here are some top picks for eco-friendly dishwashers, as well as some tips to make your daily dishwashing chores even more sustainable.
Top Eco-Friendly Dishwashers
1. Miele (Several Models)
According to ENERGY STAR's recommendations for 2021, Miele models G 6885 SCVi, G 6935 SCi, G 6987 SCVi, G 6875 SCVi,G 6875 SCVi SF, G6835 SCi, and G 6880 SCVi all take the cake for being the most energy and water efficient dishwashers out there.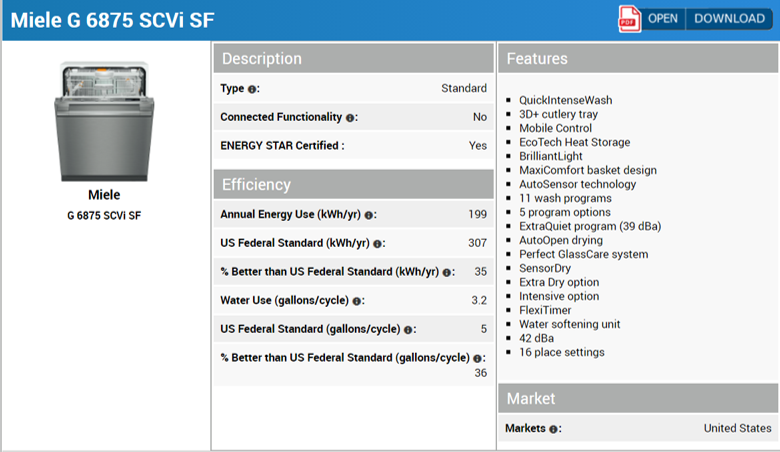 Over the span of a year, this German family-owned company's models use an average of 199 kWh, which is based on four loads a week. Per cycle, they all just use 3.2 gallons of water (the average is about 10 gallons!). 
In addition to Earth-friendly features, many of the models have user-friendly features like EcoTech heat storage, 10+ wash programs, cutlery trays, and water softening units. 
Miele models G 4780 SCVi and G 4720 SCi are a close second, coming in at 220 kWh of annual energy use with just 2.4 gallons of water per cycle. 
2. Blomberg DWS 51500 FBI1
Awarded ENERGY STAR Most Efficient, this 5-program dishwasher uses just 2.4 gallons of water per cycle, along with an average of 220 kWh/yr. Other top-performing and eco-friendly Blomberg models include the DWS 51500 and DWS 51500 SS1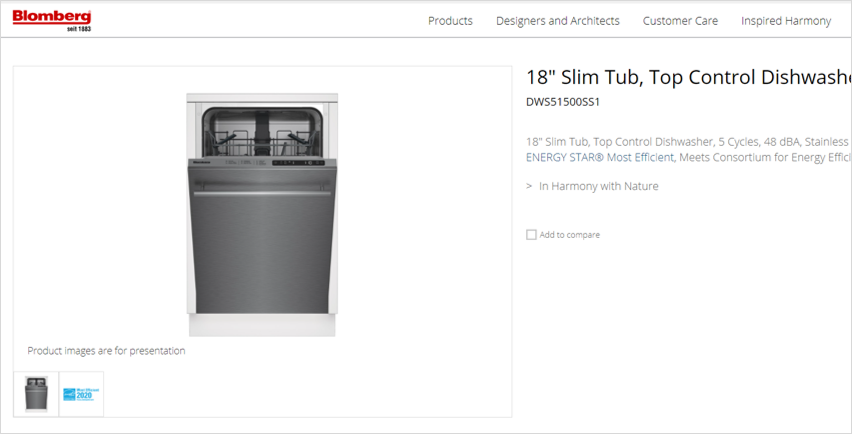 In fact, Blomberg as a whole is one of the best of the best in the world of eco-friendly dishwashers. Every model either meets or exceeds the Department of Energy's (ENERGY STAR's) Most Efficient criteria.
3. Beko 
Also totalling an average of just 220 kWh of annual energy use and just 2.4 gallons of water per cycle, the Beko model DDS25841 has been rated ENERGY STAR Most Efficient.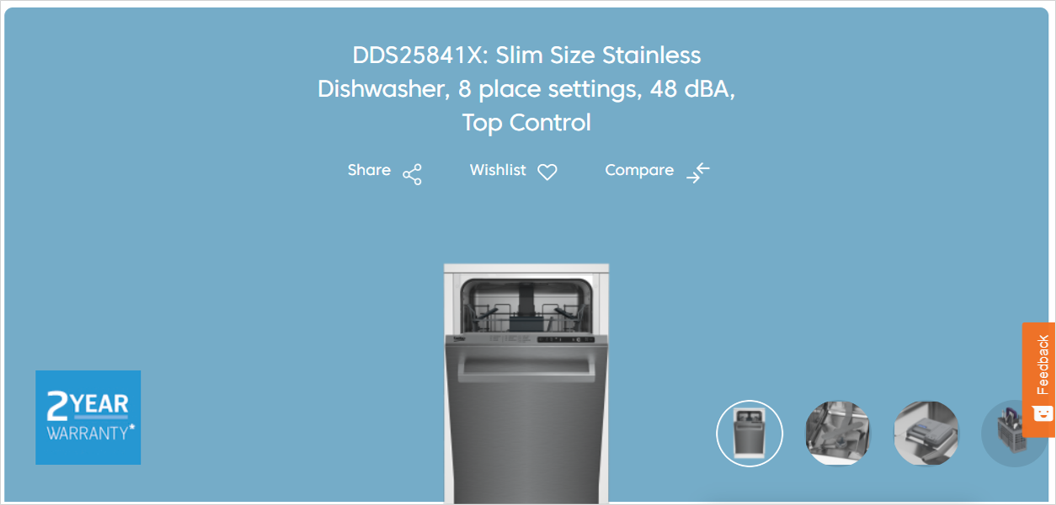 It has 5 cycles, 8 place settings, and a 3-position upper rack. It's stainless steel, so it'll look great, too!  
Beko, as a company, is committed to sustainability across their entire range of washing machines, dryers, freezers, ovens, dishwashers, and espresso machines. They've actually been recognized by the Dow Jones Sustainability Index (DJSI) as an eco-friendly household durable company to keep an eye on! 
4. Summit DW18SS31
Here are a few European-made built-in dishwashers to make ENERGY STAR's list of top picks. 
Models DW 18SS31 and DW18SS4 have smart fold shelving, automatic detergent detection, a time delay, and an average annual energy usage of 220 kWh. Each cycle uses just 2.4 gallons of water, too!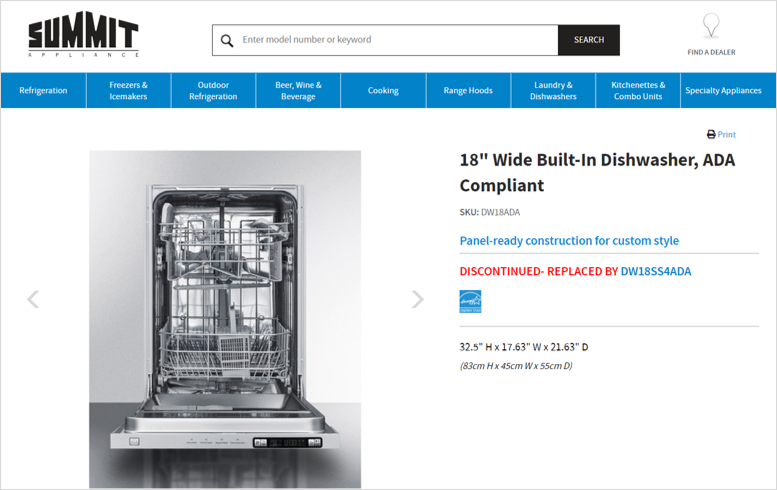 Other Top Brands with Eco-Friendly Dishwashers
There are a few other go-to brands in the world of sustainable dishwashing. Here are some well-known companies, many of which have a range of ENERGY STAR rated dishwashers that are budget-friendly, too:
LG: LG is one of the highest ranking companies in terms of corporate social responsibility (according to CSRhub) and the company as a whole scores very well in terms of energy and climate change, as well as resource managing and environmental policy. Several of their dishwashers are ENERGY STAR certified and have features to improve their efficiency. 
KitchenAid: KitchenAid is a well-known name in the kitchen, and they have a pretty impressive sustainability plan. We happen to love their Refurbished Program, where old KitchenAid appliances can be purchased!  
How to Do Dishes, Sustainably
Think Proactively
Directly after eating, try to take a few minutes and scrape off any food residue (without water). But wait, there's a tool for that! If you do this, it gives any food less time to get stuck or caked on, making washing easier when the time comes.  
Also, if you have a newer dishwasher, there really should be no need to pre-wash the dishes. In fact, it's probably just a huge waste of time and water. If you do find that you constantly need to soak or pre-wash your dishes before the dishwasher, it might be a sign that it's time to invest in a new environmentally safe dishwasher…
Avoid Hand-Washing Dishes
We've got some great news. It turns out that hand-washing dishes isn't just a dreaded task, but it's actually not the best thing to do for our planet, either. 
A 2020 study published in Environmental Research Communications did the dirty work to get to the bottom of the age-old question: hand-washing or dishwasher? 
Lazy cleaners can rejoice because a new, at least relatively-efficient dishwasher is better than traditional hand-washing. This is because it takes a significant amount of energy and running water to get that full sink to a temperature that's suitable for cleaning. Then there's the fact that most of us are likely to leave the water running as we do the dishes…
If you don't have the budget for a (new) dishwasher, but do have a double basin sink, it's good to fill one with hot and one with cold water, let dishes soak, and then air-dry them. If you're conscientious and don't let your water run, you'll produce about 1,610 kg of emissions over a ten-year period (compared with 1,960 for an efficient dishwasher).  
Run the Dishwasher Full
This is a pretty obvious recommendation, but it's crucial that you only run the dishwasher when it's full! 
While a machine dishwasher is better than your hands, this is only the case when it's operated efficiently. This means that if you live alone, you likely don't need to run it everyday. Yeah, it may get a little smelly in there but ignore any desire to wash daily—unless you have to, that is. 
Plus, if you're worried about food residue stinking up your kitchen, it's probably a good time to start composting.  
Air Dry if Possible
If you've got the time to do so, leave the dryer mode off and open the door when the cycle is finished (some models will even automatically do this for you). The dryer sucks up a lot of energy, so air-drying is the way to go. 
Use Eco-Friendly Dishwasher Soap
It should come as a no-brainer, but using eco-friendly dishwasher soap is a pretty important part of removing grease and grime without harming our planet. Look for compostable packaging, companies that give back, and formulations that are free of dyes, fragrance, chlorine bleach, triclosan, and animal testing. 
Eco-friendly dishwasher tablets are available, too! Dropps is consistently a top brand to pick, as their pods come in compostable packaging and are made with Earth friendly ingredients. Ecoleaf and Ecover are other eco-friendly dishwasher tablet makers worth checking out! 
Wrapping Up Eco-Friendly Dishwashers
Well then, all that's left is to hit the start button! We've surely made your day by informing you that you no longer have to experience pruny hands after hand-washing your dishes. Now, if you could make our day by sharing this article with anyone who'd appreciate it, we'd thank you!