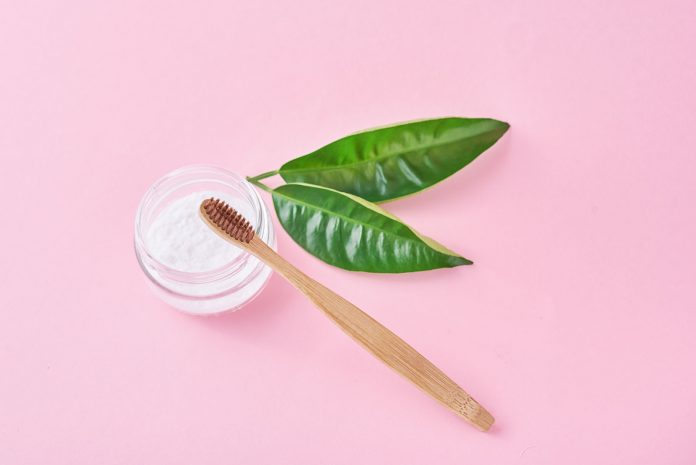 When it comes to healthy teeth, there are a few things that might be preventing us from smiling: namely, toxic chemical ingredients and plastic pollution.
Most toothpastes are made with ingredients derived from palm oil or animal products (like animal-based glycerin), or they contain chemicals like sodium lauryl sulfate (SLS) and phthalates.
And then there's the fact that about one billion toothpaste tubes end up in landfills every year…
It's safe to say that we don't want our pearly whites to come with a side of toxic chemicals or plastic pollution. Fortunately, there are some eco-friendly toothpaste brands that are helping us brush in ways that are better for the planet.
9 Eco-Friendly Toothpaste Options
1. Dr. Bronner's All-One Toothpaste
If you know anything about Dr. Bronner's, you likely know about their use of some of the world's best ingredients—like those that are found in their toothpaste.
Their Anise, Peppermint, Cinnamon, and Spearmint toothpastes are made with a simple formula that uses 70% organic ingredients and avoids fluoride, preservatives, synthetic foaming agents, carrageenan, SLS, and artificial colors and flavors.
While their toothpaste comes in traditional tubes, it's better for Earth because they're made with 100% recycled materials!
Available: Amazon|Dr. Bronner's
2. Terra & Co. Brilliant Black Toothpaste
Sister-owned Terra & Co. uses Mother Earth as their inspiration behind their eco-luxe line of oral care products.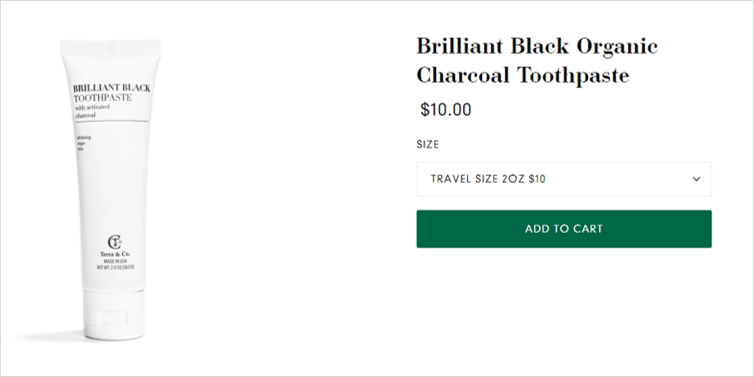 Their Brilliant Black Toothpaste harnesses the natural whitening powers of activated charcoal and is combined with other natural and healthy ingredients like baking soda, organic coconut oil, and essential oils.
The toothpaste is great for those of us with sensitive teeth and has been clinically-tested to be safe for enamel. It's free of SLS, parabens, fluoride, and other toxic chemicals.
Even better, the tubes are made out of a waste byproduct of the sugarcane industry, and use 70% less fossil fuels than plastic-based toothpaste tubes! They can also be recycled.
Plus, Terra & Co. regularly gives back to their local community by supporting the Los Angeles Downtown Women's Center—a great reason to show off those pearly whites!
Available: Amazon|Terra & Co.
3. Bite Toothpaste Bits
Realizing that perhaps using a plastic tube twice a day wasn't worth it, Bite founder Linday turned her kitchen into a laboratory and got to creating a chewable toothpaste that wouldn't require plastic.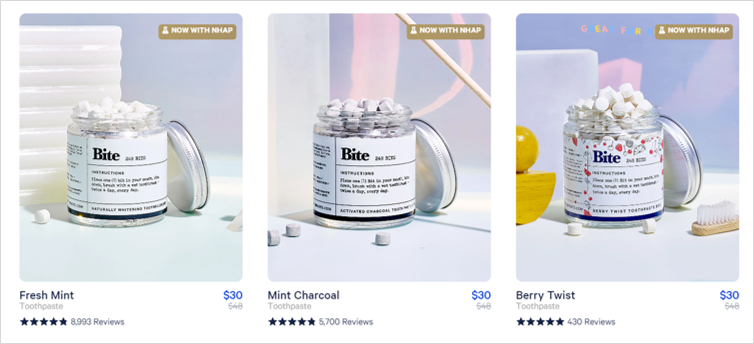 In 2018, Bite was officially born.
The toothpaste bits come in Fresh Mint, Mint Charcoal and Berry Twist flavors and are free of cheap fillers, artificial dyes, harsh chemicals, and artificial flavors. Instead, they contain natural calcium carbonate, xylitol, erythritol, mint, baking soda, and sodium cocoyl glutamate.
You won't have to worry about seeing fluoride, SLS, or animal ingredients on the label. Instead, they became the first toothpaste tablet to use nHAp, or Nano-Hydroxypatite, which is a non-toxic fluoride alternative that has shown the same ability to remineralize enamel.
Bite toothpaste bits come in infinitely-recyclable glass bottles, which are sent in paper envelopes that are filled with shredded post-consumer newspapers. Instead of getting a new bottle every couple of months, you can also order refills that come in a pouch that is 100% home compostable.
Available: Bite
4. Green Beaver
Green Beaver is a Canadian company that was started in 2002 with a mission to have a positive impact by creating products that support health while respecting the environment.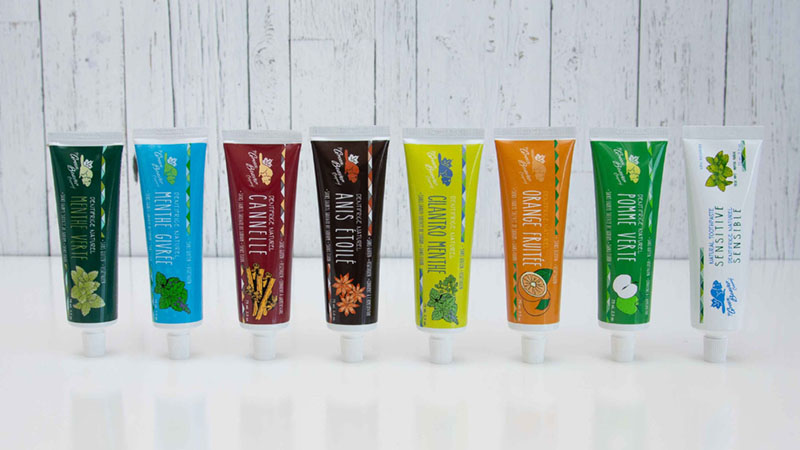 Their line of "natrapeutic toothpastes" have been designed to do all of the things regular toothpaste does (i.e. prevent cavities, whiten teeth, and tooth decay) but without all of the toxic chemicals.
They also have a line of natural toothpastes that come in enough local and exotic flavors to satisfy any palate. You can choose from: Zesty Orange, Green Apple, Frosty Mint, Star Anise, Cilantro Mint, Spearmint, Cinnamon, and Sensitive.
None of their toothpastes have been tested on animals. All of them are vegan, GMO-free, gluten-free, and biodegradable.
They also all come in tubes that contain post-consumer recycled plastic (which is better than virgin plastics!). Green Beaver is certified by EcoCert for their commitment to sustainability and they regularly give back to organizations like The Fur Bearers.
Available: Amazon|The Green Beaver
5. My Magic Mud Toothpaste
Magic Mud was one of the first brands to incorporate activated charcoal into their line of whitening toothpastes. Now, they're trailblazers again by incorporating CBD and hemp oil into toothpaste!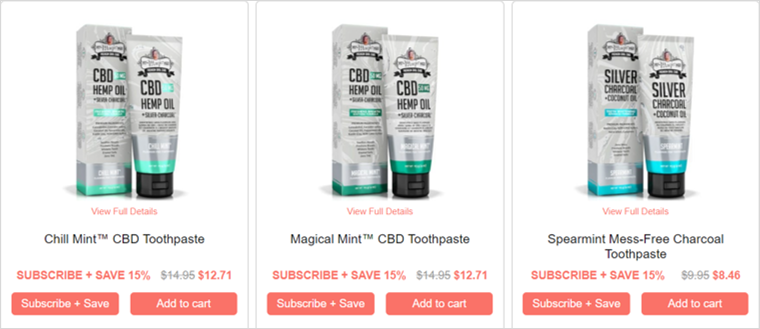 Regardless of what it's got in it, you can feel confident that your brushing routine will NOT include genetically modified ingredients, palm oil, SLS, fluoride, synthetic ingredients, or animal products.
In fact, they're certified cruelty-free by Leaping Bunny and are certified by the Natural Cosmetics Standard for their commitment to natural (sometimes organic) products.
While everything is family-owned and made in the USA (meaning less shipping emissions), My Magic Mud's line of toothpaste unfortunately comes in the standard plastic toothpaste tube.
Available: Amazon|My Magic Mud
6. Davids Premium Natural Toothpaste
Some of us aren't ready for chewable toothpaste or toothpaste powder, so it's great that Davids exists. Davids combines the kind of toothpaste that we're used to with the type of packaging that makes the earth happy.

Their natural toothpaste comes in aluminum tubes. These even have a little metal key in them so that you can squeeze out all of the toothpaste. Even better, the aluminum tubes are fully recyclable. They're sent in FSC certified packaging that can also be recycled.
What's inside the tube also matters. Davids only uses natural ingredients—no SLS, sweeteners, colors, preservatives, fluoride, animal products, or flavors here.
For those of us living in the USA, we can feel good about brushing with toothpaste that is not only proudly made in America, but also uses ingredients (98%) that were sourced here.
We're not the only ones impressed with Davids. They've also received the highest possible score from the Environment Working Group for their clean, safe, and non-toxic ingredients.
7. Georganics Toothpaste Powder
Georganics Activated Charcoal Toothpaste Powder (they also have chewable tabs) is made with vegan, cruelty-free, and organic ingredients. Activated charcoal has natural whitening powers because it's great at absorbing and polishing away stains.

Baking soda and organic diatomaceous earth make up some of the other ingredients, all of which are fluoride free and free of SLS/SLES. You can simply dip your clean toothbrush into the powder and brush like you would with "normal" toothpaste.
The toothpaste powder comes in a glass jar with an aluminum lid (both recyclable). They use vegetable inks and a recyclable cardboard box for shipping.
Available: Amazon|Georganics
8. Etee's Chewpaste
All Etee products are made with materials that are 100% biodegradable and natural—and this goes for both the products themselves and the packaging they come in.

Their Minty Vanilla Chewpaste is exactly what it sounds like—a chewable toothpaste. It's fluoride-free and made with vegan friendly and natural ingredients, like Canadian glacial clay, xylitol, baking soda, mint and vanilla.
It does contain sodium lauryl sulfoacetate (SLS-A), which is considered to be a safe and skin-friendly cleanser. However, in Etee's case, it is derived from palm oil.
One of the reasons we love Etee is because it's 100% plastic-free! The Chewpaste tabs come in a reusable glass jar and refills come in a compostable packet.
Available: Etee
9. Dirty Hippie Tooth Powder
Hailing from Australia, Dirty Hippie Cosmetics is a well-known brand for their range of eco-friendly beauty products.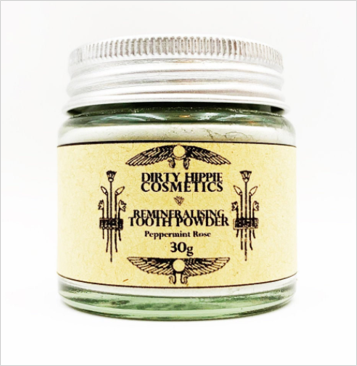 Their tooth powder contains mostly-organic ingredients like calcium carbonate, baking soda, Zeolite clay, and Western Australian salt.
Tooth powder has been used all around the globe for centuries. Historically, it contained bones and hooves but in this case, it's free of animal products (as well as chemicals, flavors, coloring, preservatives, fluorides, parabens, and SLS/SLES).
You can choose from Peppermint, Peppermint Rose, or Cinnamon Bun. Simply mix with coconut oil and your "toothpaste" is ready for use!
The tooth powder comes in a recyclable glass jar that can be reused. Refills are sent in 100% post-consumer recycled paper envelopes. How's that for a zero-waste smile?
Available: Etsy|Dirty Hippie Tooth Powder
_______________
What eco-friendly toothpaste makes you want to show off those pearly whites? Let us know in the comments!