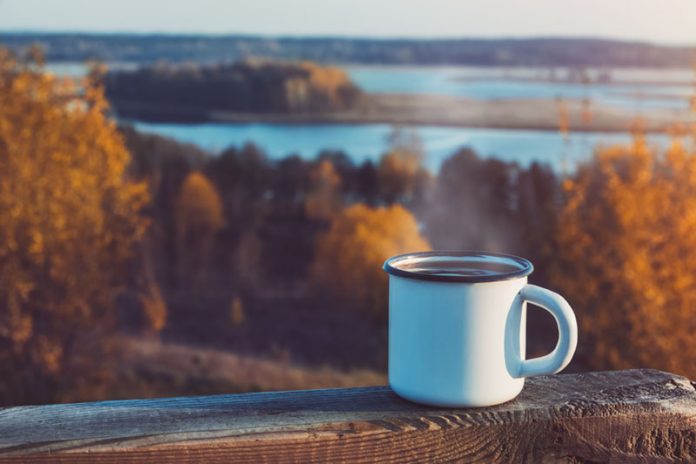 In our household, we're almost always at battle with ourselves when it comes to making decisions for regular kitchen items. The saga of convenience versus eco-friendly almost always results in the latter as the renowned winner.
Speaking of kitchen items, there's not much I love more than my morning coffee, and when K-Cups came out and my mother-in-law got us a Keurig Mini, I was super excited about the idea of a single serving coffee. That was until some of the information surrounding the massive amount of waste K-Cups produce starting surfacing.
When I found out there are tens of billions of these non-reusable, non-recyclable plastic pods in landfills (enough to wrap around the planet 11 times!), I knew there had to be a better option. Not wanting to give up my easy single servings, I discovered the reusable coffee pod.
Since I've been using one for years now, I wanted to narrow the options down to the 9 best reusable coffee pods so you, too, can enjoy your morning (or afternoon!) coffee guilt-free.
What to Look for in Reusable Coffee Pods
Keurig has gotten a lot of heat recently regarding environmental concerns over K-Cups. As a result, reusable K-Cups have increased in popularity. With all of the options available out there, it can be tricky to figure out which is the best one. Take a look at some of these considerations to determine the best fit for you.
Model Compatibility
Whether you use a Keurig or another top brand for a coffee machine, you'll want to make sure that your reusable cup fits with your device. There are plenty of different options out there, so don't be discouraged if you can't find your fit right away. With a little searching, you'll be able to find the perfect fit.
Materials
Two of the most popular materials for reusable cups are either BPA-free plastic or stainless steel. You might have to try both before you can determine which you prefer.
Some like stainless steel because they want to reduce their plastic use and find it to be easier to clean out coffee grounds. Others like their BPA-free plastic because they cost a bit less and sometimes require fewer additional pieces to keep the lids closed.
Price
When you consider the savings over time, reusable coffee pods definitely won't break the bank. In fact, you'll spend 5 times more on single-use coffee pods versus buying one reusable pod and using regular coffee with it. So even if the reusable pods seem a bit pricier initially, trust me from personal experience that you'll save so much more in the long run.
Our Picks for the Top 9 Best Reusable Coffee Pods
Here are our top choices of reusable coffee pods:
1. Keurig Universal Reusable Filter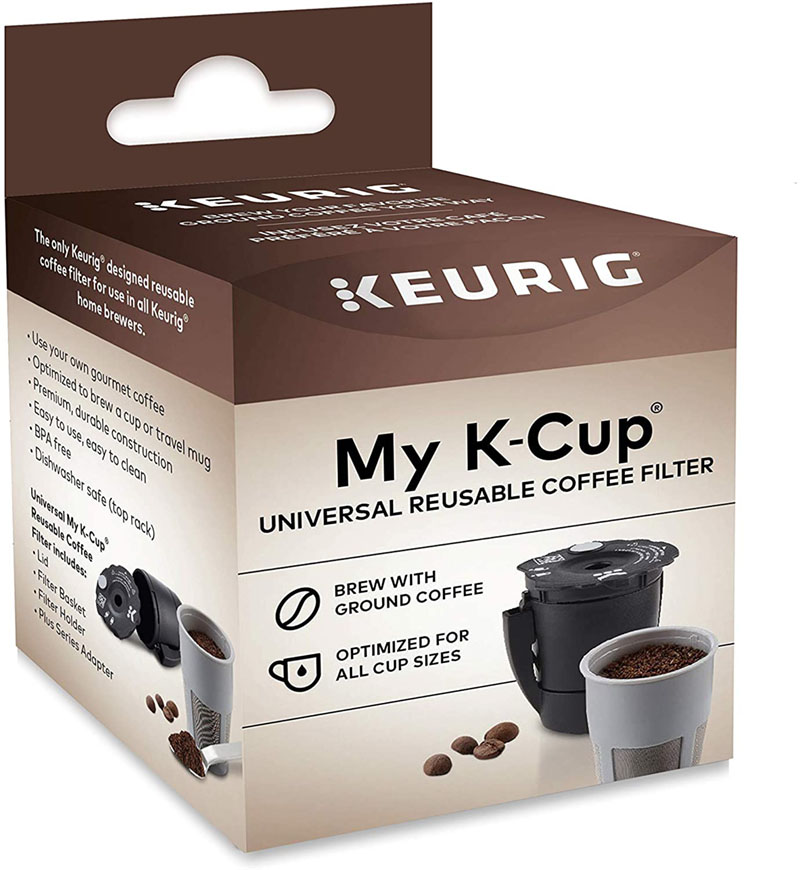 For those of you who are loyal to the Keurig name, have no fear. The Keurig Universal Reusable Filter is a significant upgrade to their single-use cups. With a durable design that is built to last, the filter basket is made from a removable BPA-free shell and has a lid that locks on tight.
The reusable filters are marked with two fill lines to fill your grounds for a standard coffee mug or a taller travel mug for mornings on the go. Avoid unnecessary messes due to accidental spills in the Keurig and clean up quickly since it's dishwasher safe.
2. Fill N Save Elite Series Stainless Steel Reusable K Cup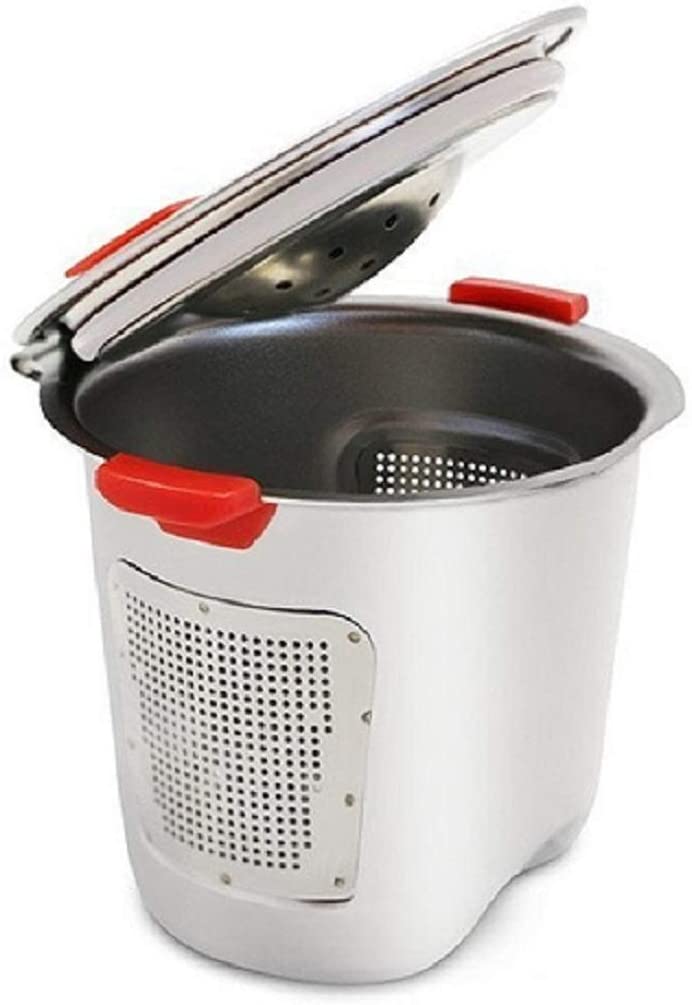 Stainless steel is a great alternative material for reusable K Cups for anyone who has had issues with flimsier ones in the past. The Fill N Save stainless steel cups are specifically designed for maximum flow, minimizing messes due to coffee overflow in the cups.
Even easier to clean entirely from any coffee residue, these stainless steel cups are dishwasher safe. One downside to keep in mind is that these cups are only compatible with the Keurig 2.0 machines. The good news is they have a 100% customer satisfaction guarantee, so if for whatever reason you are not happy with your purchase, you can get a full refund.
3. iPartsPlusMore Reusable K-Cups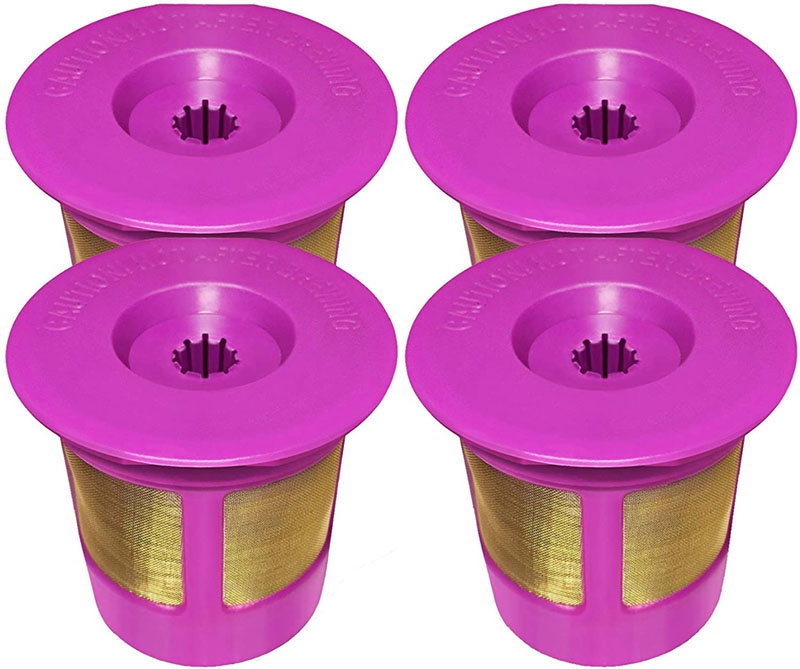 If you're looking for great value, the iPartsPlusMore Reusable K-Cups are a great option for you. Coming in sets of either four or six (great for sharing), they are simple to use and require no additional parts or stickers for a firm close in your Keurig.
These K-Cups are designed to fit in Keurig Plus, Classic, 1.0, and 2.0 models and are made of BPA-free purple plastic. The gold-plated filter is also supposed to help bring out extra oils in your coffee for additional flavor.
4. Cafe Fill Value Pack by Perfect Pod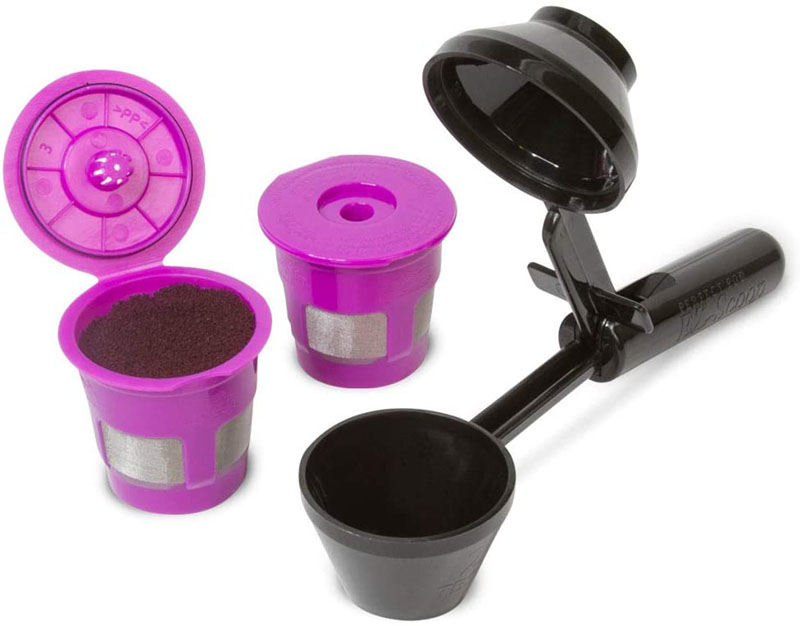 These BPA-free refillable and reusable coffee pods by Perfect Pod bring a whole new level of convenience when it comes to your morning cup of coffee. Included with the two reusable pods is the handy coffee scooper, also BPA-free, which makes portioning and pouring into your pod easier than ever.
These pods are made of a dense plastic that is dishwasher safe. Even better, the product is backed with a 100% money-back guarantee as well as a lifetime warranty, so if you are unhappy with your products for any reason, you can also get refunded easily.
5. Cafe Flow Stainless Steel Reusable Metal Coffee Pod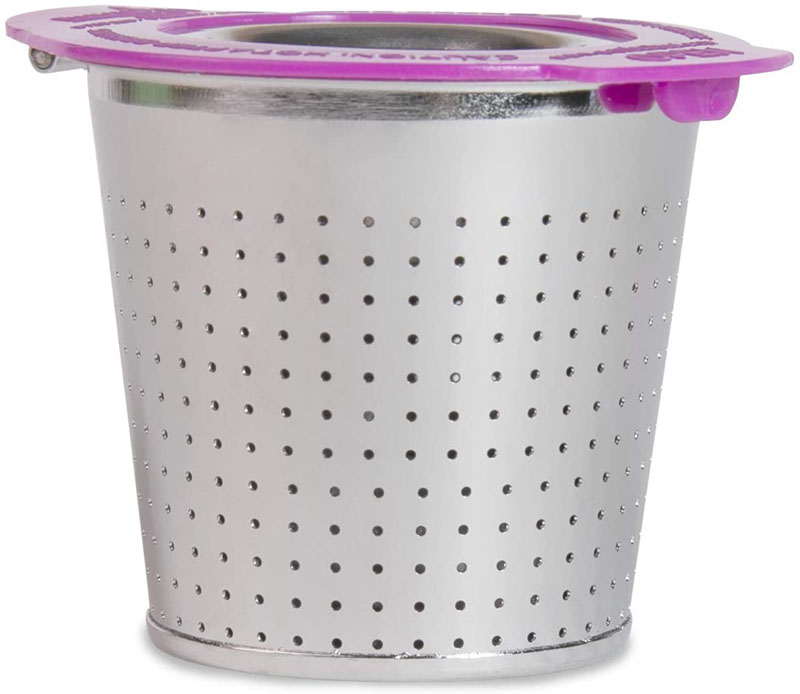 Another option for you, if you prefer stainless steel over plastics, is the Cafe Flow stainless steel reusable pod. This pod is a simple no-fuss coffee pod that does not require any additional parts or features to work flawlessly in your coffee machine.
Not only do these reusable pods work in Keurigs, both 1.0 and 2.0 models, but they also work great in Mr. Coffee, Breville, Cuisinart, and Mueller Austria coffee makers as well. And, if you're not happy with your purchase, it is backed with a 100% money-back guarantee.
6. DI ORO MaxBrew Keurig Reusable K Cup Coffee Filter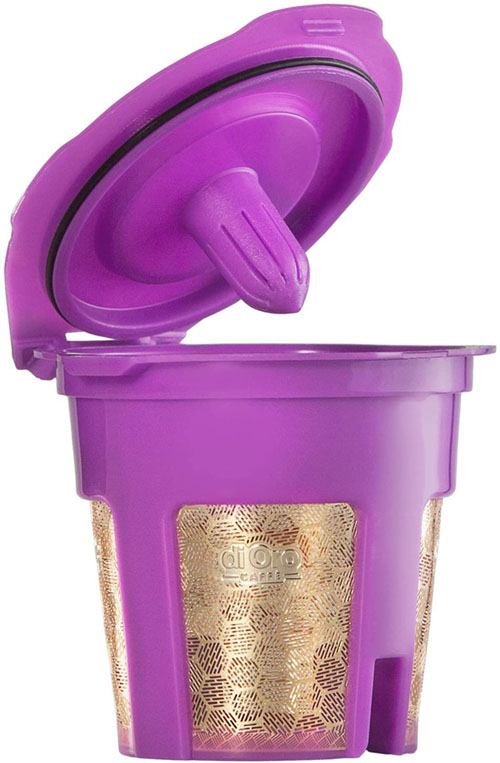 If you are looking for a heavy-duty and aesthetically pleasing option, the Di Oro MaxBrew is an excellent reusable coffee pod option for you. With a heavy-duty plastic body that is 100% BPA, lead, and DEHP free, you don't have to worry about the harmful effects of your coffee pod.
With a 24K gold-plated honeycomb filter pattern, you don't have to worry about any straggler grounds in your cup. The one-piece construction makes it easy to operate and clean. Lastly, this reusable coffee pod is backed by a "forever warranty" for you to get your money back if you are ever unhappy with your pod.
7. MaxRona Reusable K Cups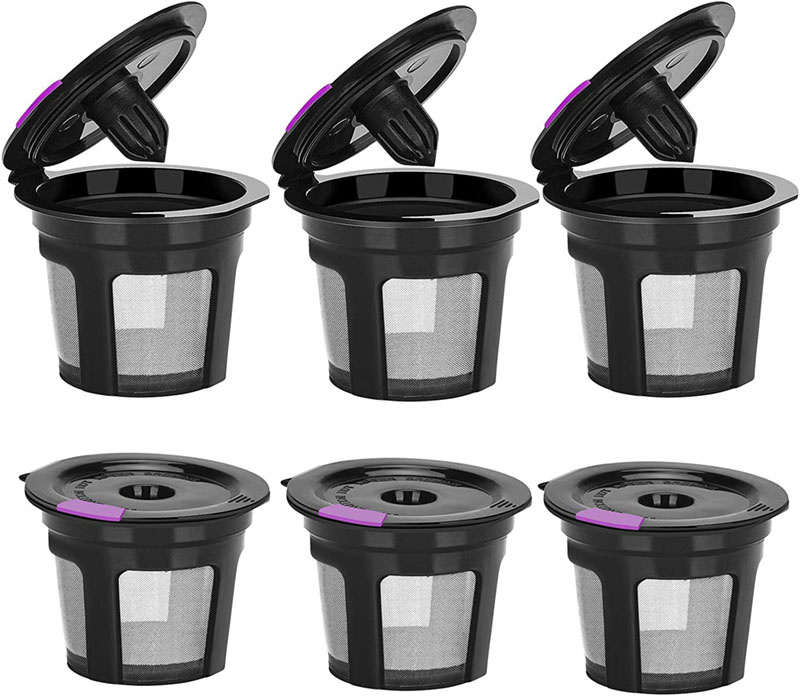 With a perfect combination of heavy-duty BPA-free plastic and stainless steel, the MaxRona reusable K-Cups are an ideal blend of affordability and durability. These reusable pods are compatible with most Keurig machines and other popular models by Breville and Mr. Coffee.
Coming in a six-pack, these reusable pods are a great deal and bonus, you can give the extras to friends and family to reduce their K-cup waste! They are also a single-piece constructed pod, meaning they are safe for the dishwasher and easy to clean.
8. FROZ Refillable/Reusable Cups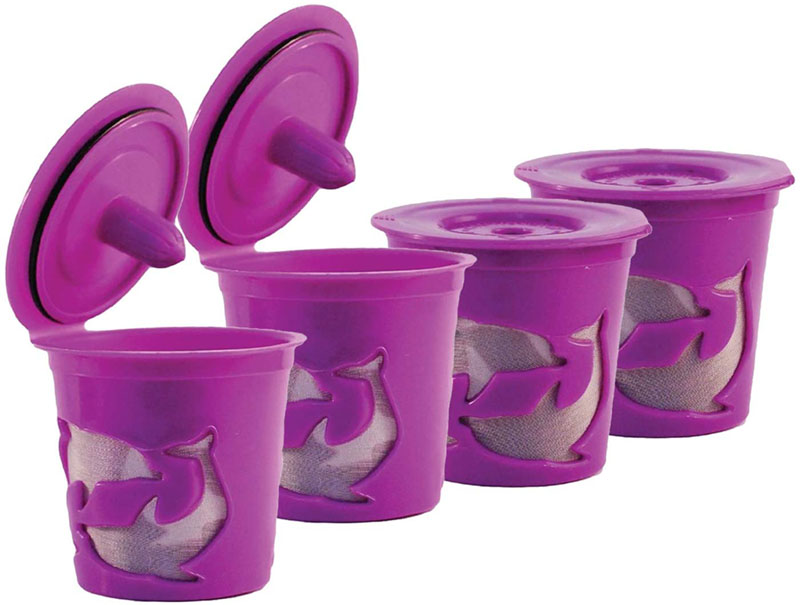 The FROZ refillable coffee pods have a uniquely designed cup with fun dolphins along the exterior. The mesh filter is made of 18/8 stainless steel, giving you the best of both worlds in terms of BPA-free plastic and stainless steel in your reusable coffee pod.
The lids of these reusable cups have a hinge that attaches them, so you don't have to bother with any missing pieces. One simple snap shut, and the o-ring leaves a tight seal with no worries of coffee spillage.
9. GoodCups 7 Reusable Rainbow Colors K Cups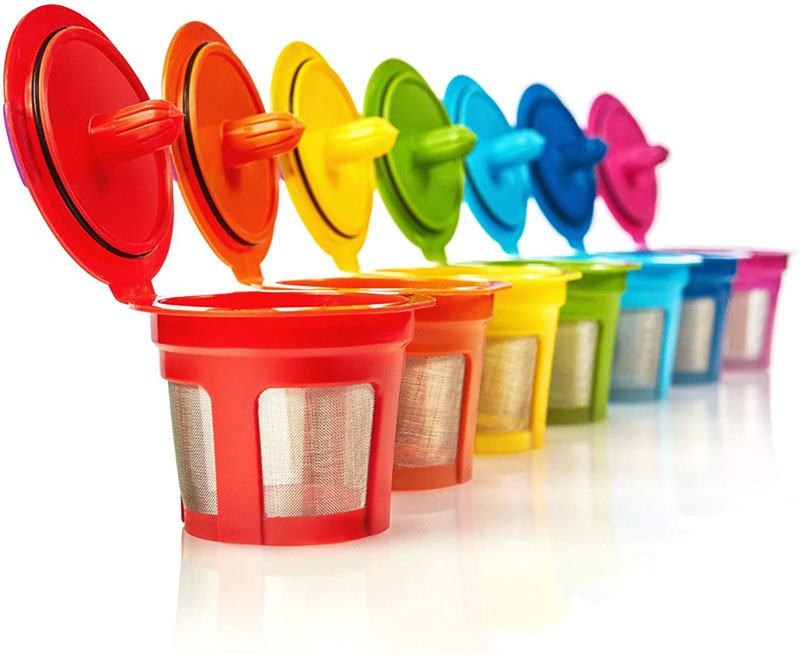 If you're anything like me, you like to have a little variety in your life. Luckily, with the GoodCups reusable coffee pods, there are seven different colors to choose from in a pack. This makes a great gift idea for friends that love a splash of color in their lives.
These reusable coffee pods are compatible with Keurig models 1.0 and 2.0, making them an excellent option for current K-Cup users looking for a more environmentally friendly alternative to their morning cups of coffee.
Wrapping Up
And there you have our list of the best reusable coffee pods to help reduce our carbon footprint, one cup of joe at a time! To us, there's no better feeling than waking up in the morning and knowing you're doing your part to help minimize waste at the start of your day.
And for more tips on reducing your coffee carbon footprint, be sure to check out our other article, How To Have A More Sustainable Coffee Habit. Cheers!