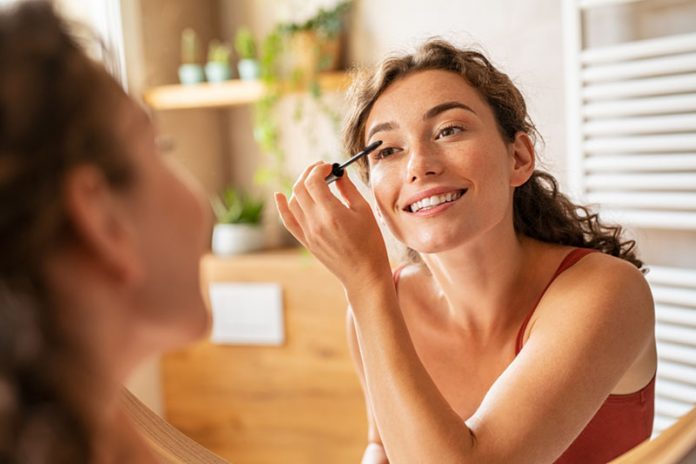 We might have slightly different social plans these days, but that doesn't mean that we should avoid the usual process of glamming up completely. Glamour that's also green is more possible than ever, thanks to these 10 zero waste makeup brands.
10 Top Zero Waste Makeup Brands
1. Antonym Cosmetics
Antonym believes that we deserve natural ingredients—and that to get these we shouldn't have to compromise our desired look. That's why they created a line of natural makeup that offers professional level quality made with kind ingredients.
Their makeup is used by celebrities around the globe and has been recognized by publications like Cosmopolitan, Elle, and InStyle.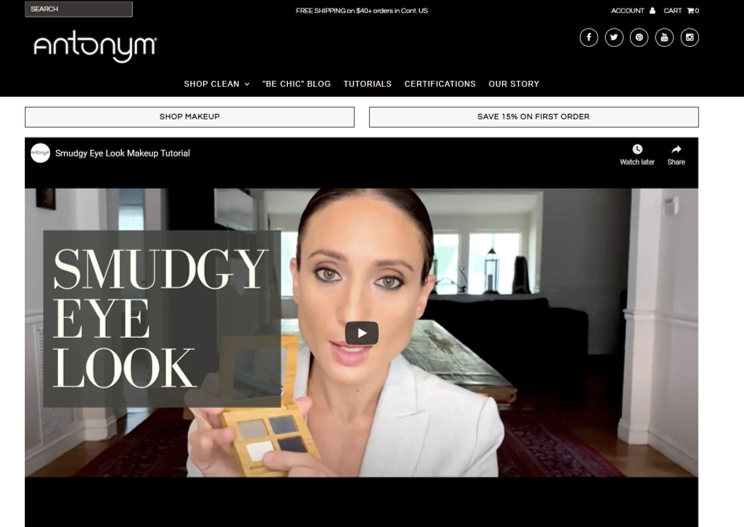 They've got all the makeup you could need—foundation, blush, eyeshadow, eyebrow pencils, mascara, lipstick, and more. None of the products are tested on animals and, aside from the organic beeswax used in their lipsticks, everything is vegan.
Why we really like Antonym, however, is because all of their products are certified by ECOCERT since they're made with natural and organic ingredients using manufacturing practices that meet high environmental standards.
As a true zero waste makeup brand, most of Antonym's packaging is made from sustainable bamboo, glass, or either recycled or FSC-certified paper.
Available: Amazon|Antonym Cosmetics
2. Dab Herb
Dab Herb also has a lot of zero waste makeup options, including foundation, concealer, blush, lip gloss, eyeshadow, mascara, and so much more. For those of us who can't decide, they also have makeup sets.
Everything is made with some of the best food grade, cruelty free, vegan, and certified organic ingredients available on this planet. Even the mica is ethically sourced in the USA! The "medicinal makeup" is suitable for everyone, even those with sensitive skin.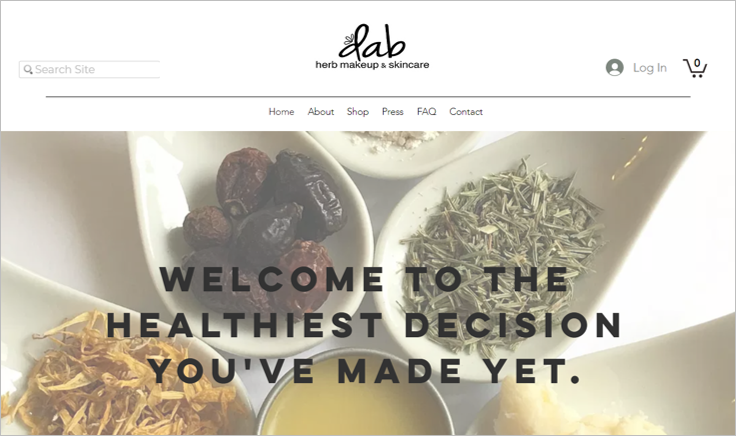 What sets them apart from other makeup brands is their conscious choices for packaging. Recyclable and reusable glass jars are preferred, along with tin lids.
Everything is shipped plastic free, and Dab Herb also offers the opportunity to refill most of their products. Powder refills are sent in recyclable kraft paper, and glass and metal containers can be sent back to be refilled for a discounted price.
Available: Dab Herb
3. Fat and the Moon
Fat and the Moon sells makeup—and so much more. The herbalist formulated products are made from non-toxic and nourishing ingredients by natural healer and Fat and the Moon founder, Rachel Budde. Everything is non-toxic, palm oil free, and (aside from ethically sourced beeswax) is vegan friendly.
Age-old techniques are prioritized instead of chemicals. Self care and self-love are promoted instead of pervasive messages that tell us that something is wrong with us and we're in need of a mindless purchase to fix it.
It's clear that you're getting a lot of more than just make up with every order from Fat in the Moon. What you're not getting, however, is excessive packaging. Reusable tins and jars are used instead of plastic, and everything has been designed to be easy to either reuse or recycle.
Available: Fat and the Moon
4. Vapour
Vapour creates makeup products that are made for us and the planet. They use plant-powered formulas that perform well and are sustainable. Their large range of makeup is cruelty free and mostly vegan.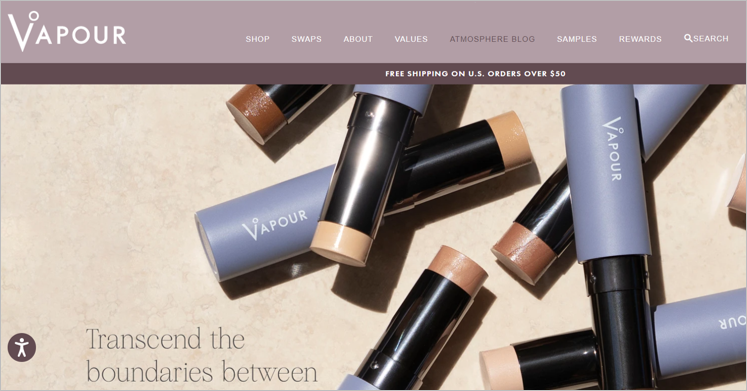 While they do use plastic packaging (currently, anyway), it can be sent back to Vapour to be properly recycled through Terracycle. You even get a discount on a future order for doing so!
Available: Vapour
5. Elate
We are absolutely elated to talk about the zero waste makeup from Elate! First of all, the makeup is made from 75% organic ingredients, some of which are fair trade, too.
Instead of palm oil, vegan carnauba wax is generally used. When that's not possible RSPO (Roundtable on Sustainable Palm Oil) certified palm oil is used instead. Only responsible mica is used and they avoid nano-sized titanium dioxide. Everything is cruelty-free and vegan, too!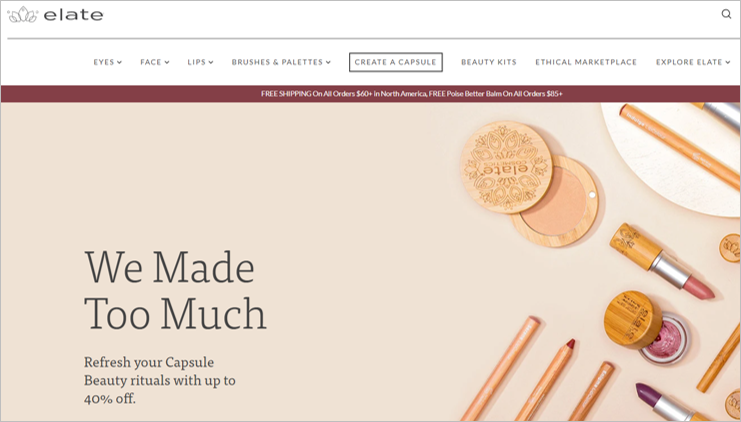 It's their packaging that really stands out though! Everything—down to the responsibly-sourced wood used for their pencils—has been carefully considered.
While some things aren't reusable (the mascara has a recyclable inner tube made from plastic), compostable bamboo packaging is used for most products. Once it runs out, simply crush the bamboo and add it to your backyard compost.
Even better, they also offer refills to go with their Bamboo Capsule Palate!
Available: Elate Cosmetics
6. Axiology
Axiology wants to give plastic the ax. Helping us with a plastic-free pucker, Axiology has some of the best zero waste makeup for lips (think: lipstick, crayons, and lip balm).
We love that their lip makeup is vegan, cruelty free, clean, and made with 10 ingredients or less.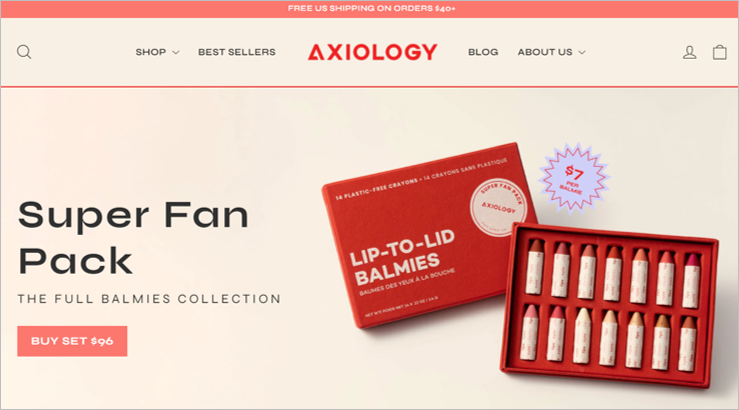 With Axiology, we're also ready to kiss plastic goodbye—because the tubes are made with post-consumer recycled plastic. All of the exterior packaging is handmade using recycled trash by a woman's cooperative in Bali, Indonesia.
7. Nudi Goods
Nudi Goods got an interesting start for a zero waste makeup brand. In 2017, researchers, scientists, and students were gathered together to study marine mammals. Founder Jamie Boddorff wanted plastic free alternatives for makeup after seeing how plastic pollution was affecting our oceans and aquatic life.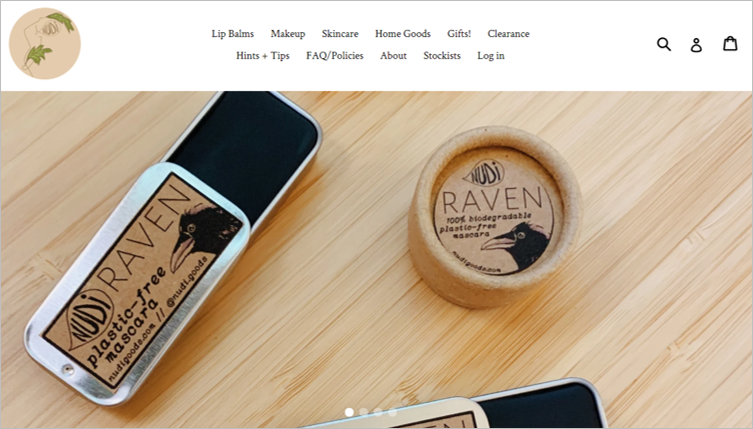 The plastic-free goods were initially developed as a creative outlet, and while the company is still relatively small, their environmentally responsible products are helping people from around the globe vote with their wallets.
In addition to skin care products, there's also plastic free mascara, eyeshadow, brow wax, shimmer sticks, and simmer gel. There are also a few different starter packs for those of us who can't decide!
Everything either comes in a reusable tin or one made with kraft paper that is both biodegradable and compostable. All of the ingredients are natural and biodegradable, too.
Available: Nudi Goods
8. Alima Pure
Alima Pure started in an attic in Portland, Oregon by a mother and a kindergarten teacher. The women-owned and operated company doesn't compromise when it comes to high performance and luxurious makeup that is free of toxic chemicals and animal testing.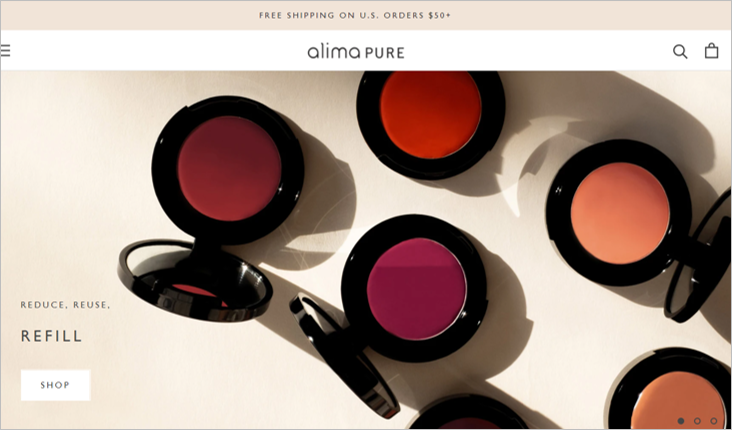 Alima Pure is a Certified B Corporation, member of 1% for the Planet, and is a 100% carbon neutral company. What energy they don't produce using renewable power, they offset through a partnership with Carbon Fund! Did we mention that they also plant trees for every order?!
They've got cruelty-free and vegan makeup sets, as well as individual products for face, cheeks, eyes, and lips. Most of the products come with options for refilling, and they've got a magnetic palette that can hold the refills. For everything else, reusable food-grade plastic jars are used.
Available: Amazon|Alima Pure
9. Clean Faced Cosmetics
This is one of the few truly zero waste makeup brands out there. As of 2020, they've almost entirely reduced waste from all of their products.
Shop owner Laura has a love for formulating low-waste, eco-friendly, and vegan products. Simply put, she makes good makeup that doesn't hurt our skin or the environment.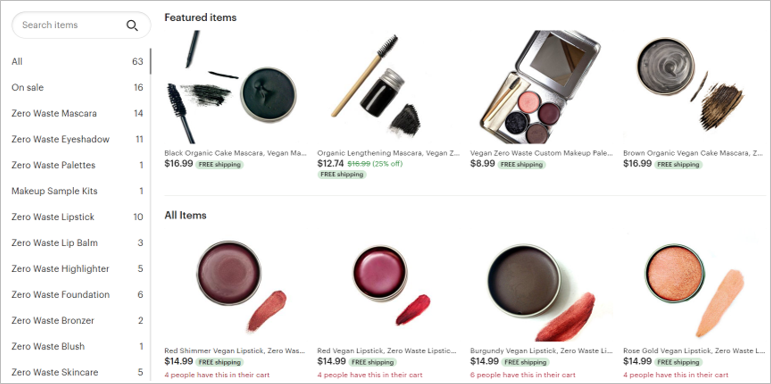 Ethically mined mica is used, along with other cruelty free ingredients. Everything in the CFC makeup range either comes in reusable or recyclable glass jars or metal tins. Even better, you can get a refill for a discount—which is sent in a biodegradable refill bag!
Plus, all shipping through Etsy is 100% carbon offset!
Available: Etsy
10. RMS Beauty
RMS beauty is committed to providing products that are not just made with natural and organic ingredients, but those that are also kept in their natural state. Most cosmetics—even those from clean beauty brands—have ingredients that undergo several processes to transform them.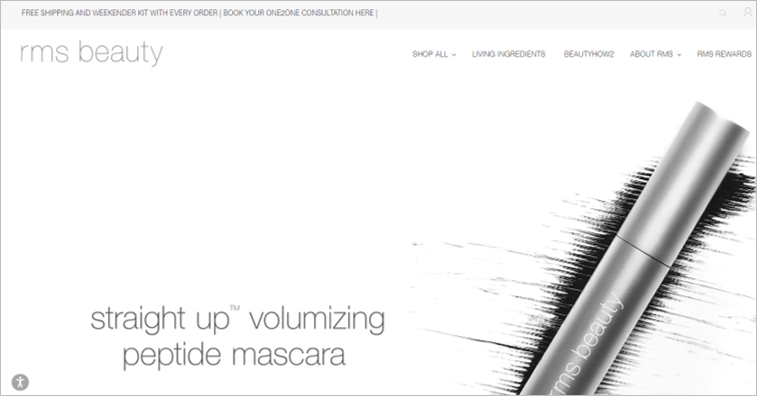 So instead, RMS beauty uses raw, food grade, and organic ingredients so that they can use their natural healing powers to rejuvenate the skin. Everything is free of harmful chemicals and is sent in minimal, recyclable, or reusable packaging.
Available: Amazon|RMS Beauty
What are your zero waste makeup faves? Share any brag-worthy brands in the comments below!