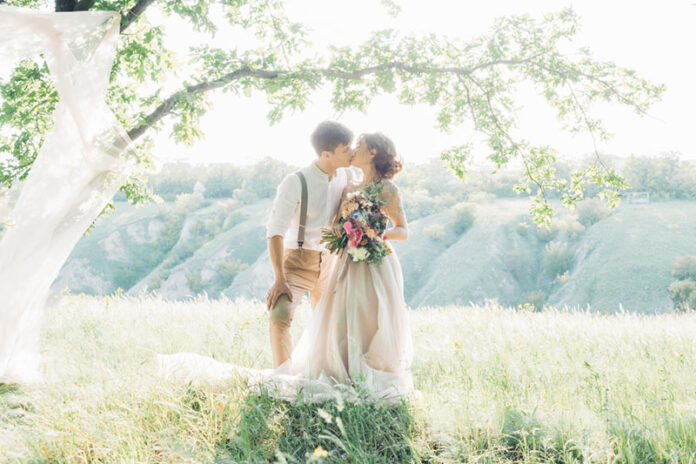 Congratulations on your engagement! You've likely already got enough on your plate—your relatives who absolutely cannot be seated next to each other, decisions about the food and dress, and planning the honeymoon! 
We don't want to add another consideration, but it's important to realize that you can tie the knot without getting our planet all tangled up. With this in mind, here are some of our favorite sustainable wedding ideas—and why they're just as important as the "I do."
Why We Should Minimize the Impact of the Big Day
Love is in the air! This makes a wedding day one of the best times to express our love for our planet. Here's why. 
The book The Green Bride Guide took a look at the impact of a wedding day. On average, around 400 pounds of garbage are produced, meaning an equivalent of 63 tons of CO2. And this is data from 2008, so we could probably expect that the number's even higher now. 
Every year, in the U.S. alone, there are approximately 2.4 million weddings. 
Do some simple math, and you end up with at least 151 million tons of carbon dioxide emissions. Thanks to EPA's greenhouse gas equivalencies calculator, we can know that this is equivalent to 32,839,467 cars being driven every year, or 832,923 railcars' worth of coal burned.
We all want some tears to be shed during the ceremony, but not for these reasons. Fortunately, we can consider a few simple tips to wear a white dress but make the event much, much greener.  
15 Sustainable Wedding Ideas
1. Avoid the temptation to invite EVERYONE from far and wide: If 2020 taught us anything, it's that virtual experiences can often be just as meaningful as the real thing.
If you've got distant relatives that you haven't spoken to in years and they live internationally, send them a zoom link instead of an invitation. In fact, keeping the guest list as small as possible is one of the best ways you can celebrate love (and love for our planet).
2. Ditch the balloons: Not only do they end up in landfills at the end of the day (or littering some distant field or waterway), but balloons can be extremely harmful to wildlife, too!
Vintage umbrellas, paper sky lanterns, or nature elements (twigs, pinecones, etc.) can be hung in the same manner, look better, and are a far better decoration for the planet. 
3. Avoid getting exotic or out-of-season flowers: Sunflowers in December or peonies in early fall will be expensive, for you and Mother Earth. Choosing local, in-season varieties means less shipping emissions and less fossil fuels required for fertilizer and pesticides. Natives are an even better option!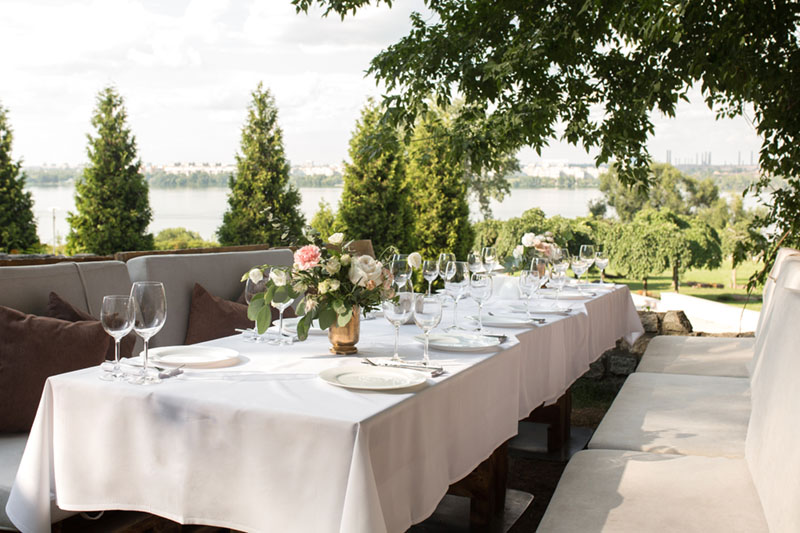 4. Don't toss microplastics (cough, cough confetti) into the air: Instead of polluting the environment with tiny pieces of shiny plastic, consider using lavender or rose petals instead. You can even use a hole punch to turn leaves into biodegradable confetti!
5. Use a plant-based caterer: To significantly cut down on the impact of your wedding, keep animal agriculture out of it! 
Contrary to popular opinion, plant based foods taste good—and might even save you some money. Don't worry about picky guests, this list of vegetarian wedding menu ideas from The Knot is sure to make everyone drool. If you're able to source some ingredients from local or organic farms, even better!
6. Cheers to local booze: It seems as if you can't go too far in America without running into a brewery or vineyard, which can come in handy for the big day. Head to your local watering hole to see if they can help cater your wedding with eco-friendly beer, wine, or spirits. Local alcohol is more sustainable, and helps to support your local economy. 
7. Re-think your stationary: Are save-the-dates actually essential? If your wedding party is smaller, you can directly call friends (crazy idea, right?) to let them know about your engagement! 
Then, once the invitations do go out they can be made from either recycled materials or seed paper, paper that can be planted to grow wildflowers or herbs. 
8. Keep things close: If you can, cut down the amount of travelling people are doing. If everyone is staying at the same hotel, try to arrange carpooling or shuttles to and from the ceremony and reception. If it's feasible, try to keep all stages of the wedding at the same location, too. 
9. Look for an eco-friendly wedding venue: A simple Google search should turn up some results for eco-friendly wedding venues near you. Look for those that are constructed with sustainable materials, use low-energy lighting, or are powered by solar panels. 
10. Choose bling that's better for people and our planet: Between the highly energy-intensive mining practices and stones tarnished with human rights abuses and conflicts, there are a lot of problems with conventional engagement rings and wedding bands. 
Instead, consider a vintage ring, one made from recycled metals, or one that's been responsibly sourced (and has the certifications to show for it). Recycled or lab-grown diamonds are some of the few ways you can be certain that someone hasn't suffered for your sparkle and shimmer.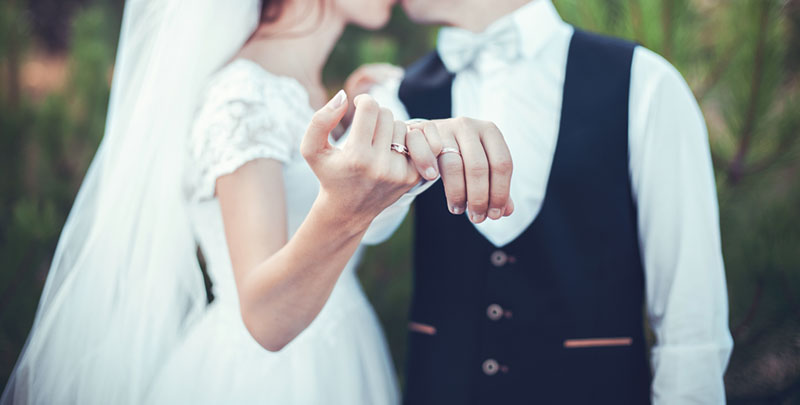 11. Consider generosity without gifts: We're by no means suggesting that you have a gift-free wedding, but perhaps you can tone it down. 
Instead of registering with the online retail behemoth, consider supporting a smaller, eco-friendly online marketplace, like EarthHero, or consider a cash-based Honeyfund where guests can contribute to your honeymoon for their gift. Recommend that your friends and family choose local, ethical gifts, and leave them unwrapped!
12. Make your decor more sustainable: Fairy lights look great in any wedding setting, but consider using those that are solar-powered or equipped with LED bulbs. Seek out beeswax or natural soy candles, and try to upcycle or borrow decorations whenever possible. 
Natural materials look much better, too. Runners and napkins made from linen or hessian are perfect for a rustic theme. Branches of driftwood can be hung, or displayed on tables. Even fallen leaves can have names directly written on them to be used as place settings.
13. Say 'yes' to the (sustainable) dress: As stunning and perfect as it is, it's likely that your wedding dress will sit in a box for years or decades, never to be worn again. Not only is a new wedding dress a big financial investment, but it requires a lot of (typically plastic-based) fabrics to make. 
Pre-owned wedding dresses, or those made with sustainable materials, are the way to go. Stillwhite, Borrowing Magnolia, and Nearly Newlywed are great sources for used wedding dresses. For new dresses, Reformation, Whimsy + Row, and Wear Your Love add sustainability to the guestlist. 
14. Ditch disposables: Not only do reusable plates, dishes, cutlery, and signs look better, but they're far better for our planet, too. Plan some thrift store dates with your partner and scour the internet for options to borrow or purchase used items. 
15. Give a living wedding favor: Instead of pens or cheesy items with your names and the wedding date printed on them, give something that won't likely end up in the trash. For example, a potted plant or succulent will thrive in its new home, and remind the recipient of you and your partner's growing love. 
Any More Sustainable Wedding Ideas?
For those of you who have recently tied the knot, do you have any other sustainable wedding ideas?! We'd love to hear them, so let us know in the comments below!