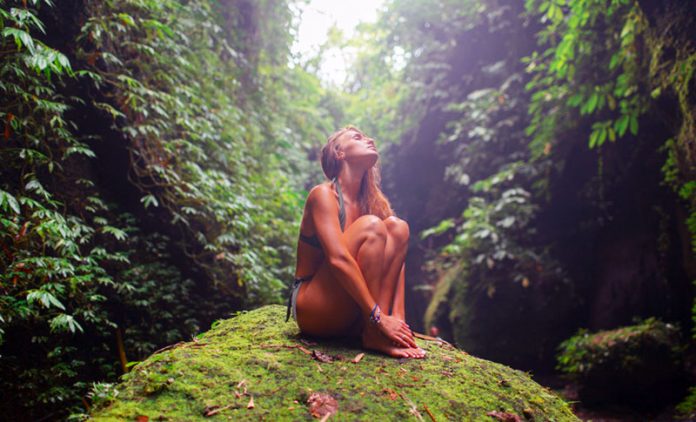 Why do we even need sustainable swimwear?
Just like most of our other garments, the majority of swimwear is made with synthetic fabrics (AKA plastic). This may provide that perfect fit and slip-proof skivvies, but it also means microplastic pollution. 
While the biggest source of microplastic pollution comes from washing our clothes, we're directly polluting when we go swimming or spend a day at the beach in our plastic-based swimsuit. 
This is because most bikinis are made from nylon (polyamide) and elastane/spandex/lycra (polyurethane). Over time, these fibers become brittle and broken due to exposure to UV rays and chlorine. 
So, even before they end up in a landfill they are often impacting our environment in a negative way.
What to Look For in Sustainable Swimwear
At this stage, we haven't yet found an ideal alternative to using synthetic fabrics and swimwear. The best solution we currently have is to recapture some of that marine plastic waste and repurpose it into recovered and regenerated synthetic fibers. 
ECONYL: ECONYL is made from nylon scraps found in fishing nets, carpet waste, fabric scraps, and industrial plastic. It's rescued, regenerated into virgin-quality nylon, and remade into new products! 
YULEX: Considered to be the best of the best when it comes to replacing neoprene, YULEX is the only FSC-certified natural rubber that can be used in high-performing and super sustainable wetsuits, dive suits, and swimwear. As a natural material, it's biodegradable, too! 
REPREVE: REPREVE is the world's leading recycled fiber maker—and so far, their products have transformed more than 25 billion plastic bottles into new goods!
Amni Soul Eco: As a biodegradable nylon fiber, Amni Soul Eco is designed to biodegrade in about 5 years—even in anaerobic landfills. 
Hemp: Natural fibers aren't used often in swimwear because they don't provide the stretch and durability that synthetic fabrics do. However, because of some of its inherent properties, there are few brands experimenting with hemp swimwear. 
Because plastic-based synthetics are still the main material and most of the swimwear on the market today, it's absolutely critical that to be a sustainable swimwear you try to make your swimwear at last as long as possible. 
Additionally, consider using a Guppyfriend Washing Bag in the washing machine to capture any shedded microplastics. 
9 Sustainable Swimwear Brands
1. Do Good Swimwear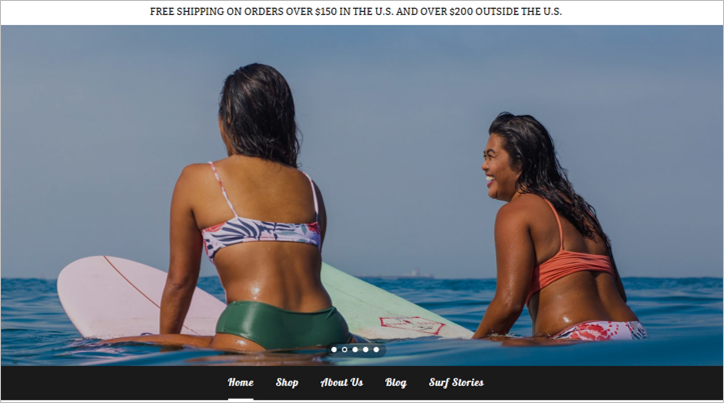 As their name suggests, Do Good Swimwear does a lot of good in our world. Not only do they use ECONYL (recycled ocean waste materials) to make their swimsuits, but they're also designed to be mixed and matched and worn longer.
Even better, they offset some of their footprint by planting trees for every purchase. They also donate a portion of their profits to support non-profit organizations that perform a range of services, like protect our oceans and provide education for girls. 
2. Outerknown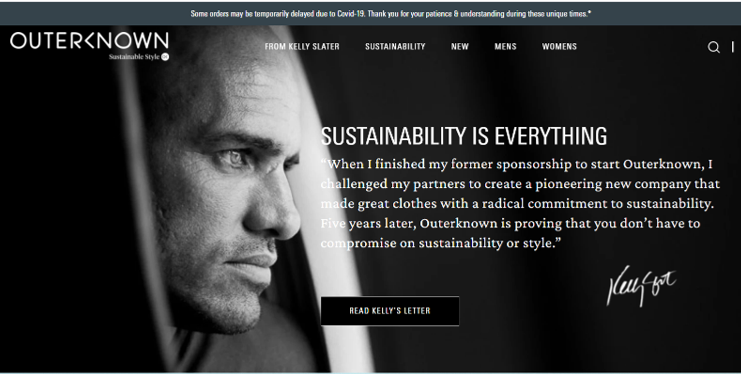 Outerknown was founded by surf legend Kelly Slater, so it's safe to say they know a thing or two about loving and preserving our oceans. All of their men's swim trunks are made with 100% recycled polyester from post-consumer waste. This puts another used to discarded plastic water bottles and also reduces CO2 emissions.
Additionally, all of the trunks are sewn in Fair Trade Certified factories, where workers are paid a premium for their work and receive collective funds to support their lives. 
They partner with SEEA for their women's swimwear—an inclusive and sustainable swimwear brand that uses both ECONYL and REPREVE fabric, and also produces their swimsuits ethically in the United States. 
3. Jade Swim
Deadstock fibers (fashion industry waste) and ECONYL fabric are what's used for Jade Swim, a US-based sustainable swimwear brand that consciously and ethically produces swimwear in small batches.
The swimsuits are also OEKO-TEX certified and free from azo dyes, so you'll be swimming sans hazardous chemicals. They're also a climate neutral company, only use biodegradable packaging, and a partner of 1% for the Planet! 
4. Hackwith Design House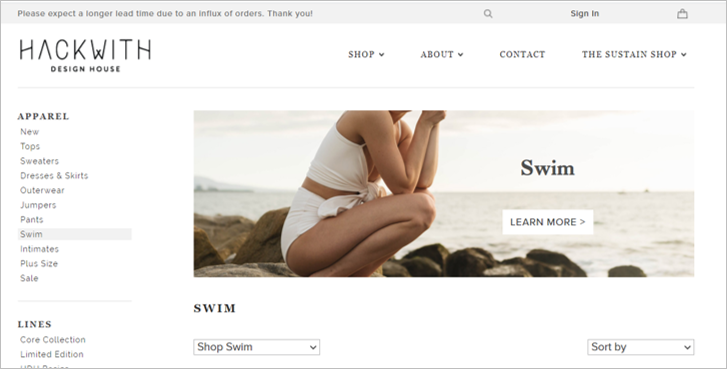 Hackwith Design House is on a mission. They want to make long-lasting and versatile clothing that stands the test of time. Everything is made in their Minnesota-based studio, where practices are employed to reduce waste and water usage. 
Their swimwear is designed to be mixed and matched, and embrace a diversity of shapes and body types. They are also designed to be eco-friendly, meaning that all of the suits are made from ethical and sustainable recycled polyester and (virgin) spandex. 
While they currently don't accept swimwear, you can return other HDH pieces to be recycled into new products via The Sustain Shop. 
5. Wolven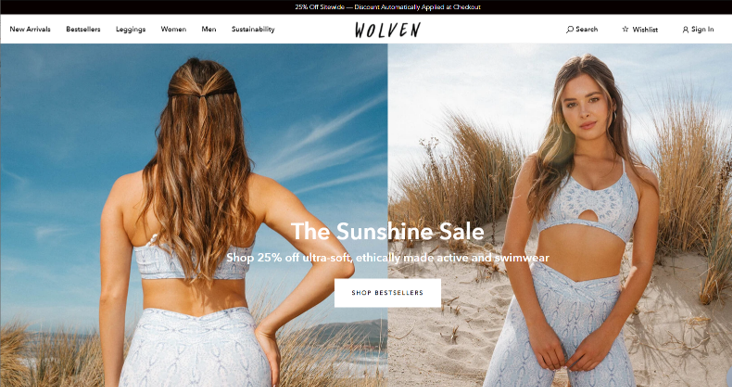 Wolven makes activewear and swimwear that looks like nothing you've seen before. Their sacred geometry-inspired designs are cute and versatile, meaning that your swim top would also make an excellent tank for a night out or yoga top.
Then there's the fact that their swimwear line is made with around 84% recycled polyester (rPET)!
The brand also offsets their greenhouse gas emissions, making them a carbon-neutral company! They also donate to 1% for the Planet and only use 100% recycled or biodegradable packaging. The swimwear is ethically produced in China, too. 
For every Wolven order, the brand also collects a pound of ocean-bound plastic! 
6. For the Dreamers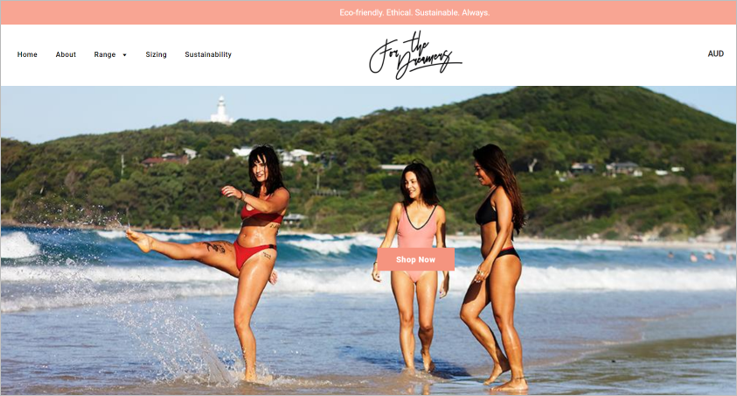 For the Dreamers is another swimwear brand that uses ECONYL. Going further, they also use environmentally-friendly packaging and carbon-neutral shipping. 
The Australian swimwear line is made by manufacturing partners who align with For the Dreamers' ethical and social beliefs. The final products are designed to embrace a women's individuality, and each piece is adjustable and reversible for versatility. 
Additionally, 5% of every purchase is donated to Water is Life, an organization working to provide global communities with fresh drinking water. 
7. BOLD Swim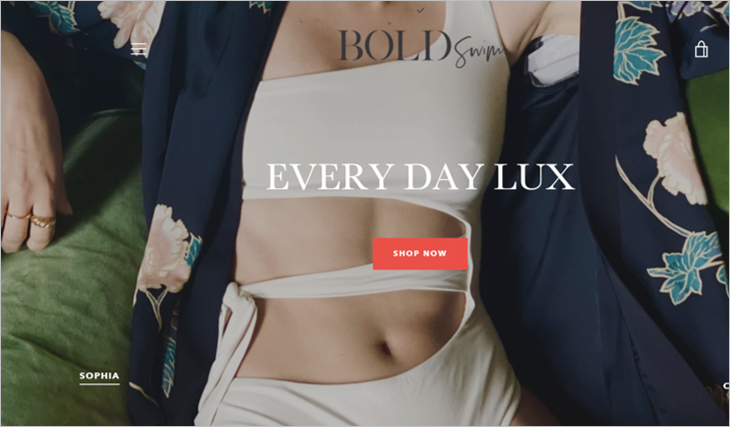 BOLD Swim makes use of Amni Soul Eco, the biodegradable nylon fabric. Not only is it biodegradable, but it's also soft, comfortable, breathable, free of toxins that harm the skin, naturally UV protective, and not tested on animals. 
The female-founded brand also only produces swimwear and small curated collections, meaning minimal waste. The excess fabric that they do produce is donated to local artisans in Brazil for their own textile businesses. 
You'll receive your new sustainable swimwear via 100% carbon-neutral shipping and it will come in recycled/compostable packaging materials. Your purchase will also help BOLD Swim's contribution to 1% for the Planet. 
8. Natasha Tonic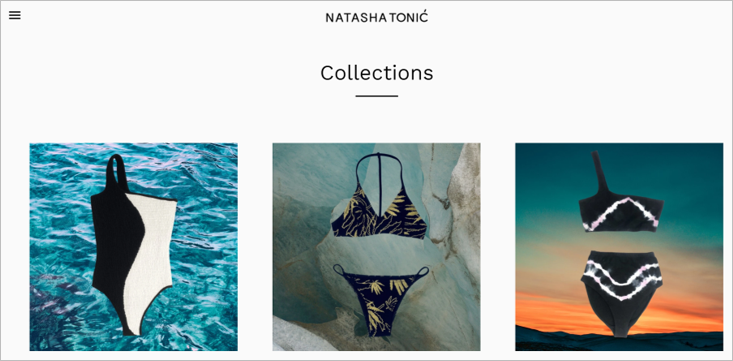 Natasha Tonic uses ECOCERT certified organic hemp to make vegan friendly and eco-conscious swimwear. Not only does this mean that the swimwear is biodegradable, but hemp is also naturally antimicrobial and UV resistant, meaning that it doesn't require any additional chemicals. 
Also, many of the suits are designed for multiple uses, so they often double as shirts or lingerie or even activewear. Plus, you can really enjoy the sunshine knowing that your suit was made ethically in Los Angeles. 
9. Patagonia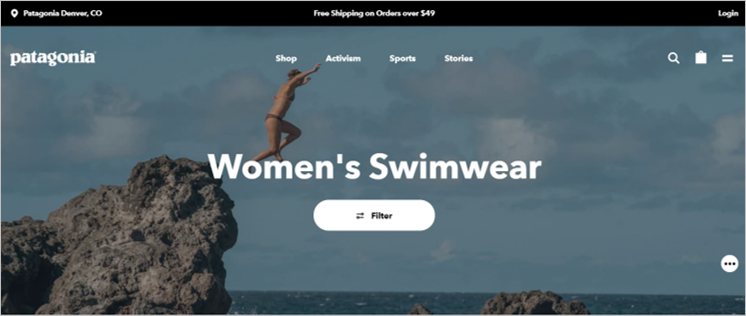 Patagonia is a well-known leader in the world of sustainable fashion. In fact, the 1% for the Planet that we've mentioned so often in this article was actually started by the outdoor apparel company.
So, it's no surprise that they make sustainable swimwear. Most of their swimwear line is made with around 80% recycled polyester, blended with spandex. Additionally, along with most of their other garments, their swimwear is produced in Fair Trade Certified factories. 
Final Thoughts on Sustainable Swimwear
That brisk morning swim in the ocean is so much more enjoyable when you know that you are taking steps to help protect it. 
Unfortunately, our waterways are becoming plagued by microplastic pollution, so wearing a swimsuit made from recycled ocean plastic is clearly one of the best (and most fashionable) ways to save our planet. 
Marco? Polo! If you have any other favorite sustainable swimwear brands, please share them in the comments!