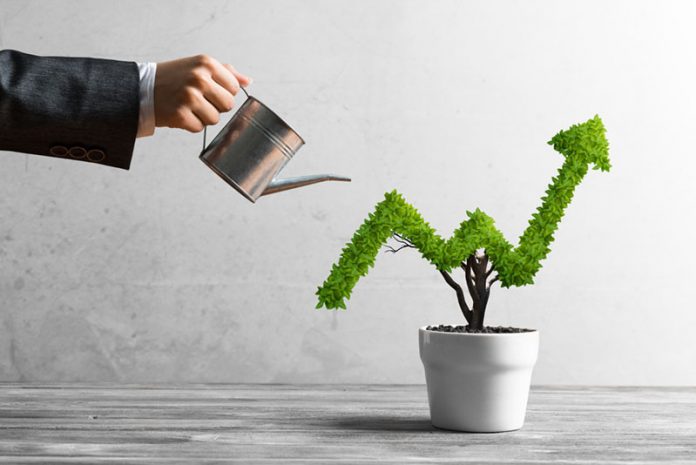 Global corporations have a responsibility to make commitments that align with their impact. These large companies have the resources to be leaders and set an example for the customers, competitors, and to drive their respective industry further. In many countries, private corporations lead in sustainability over the national or local governments and aim above and beyond baseline policy and minimum standard. In developed countries with capitalist societies, companies have the opportunity to drive governmental policies forward, advancing the possible minimum standards, and pushing progress, incentivizing growth, and promoting innovation.
Sustainability and climate action is about reducing negative harms to the earth and to our environment. Though this is complicated, focusing on the reduction of carbon is a good place to start. Last year, Forbes summarized 101 Companies Committed to Reducing their Carbon Footprint. These companies have leadership that recognizes their potential impact and have committed to making efforts to reduce the negative and enhance the positive impact.
Sustainability is also about humans. As companies create goals to increase their positive impact on the environment, they must also address local communities, individuals, and social equity in tandem. Recently, companies have built Social Responsibility missions and supported teams to help address the human-centric implications of the business. Fundera's list of 25 of the World's Most Socially Responsible Companies lists the types of commitments that socially responsible companies are dedicated to achieving.
Interestingly, these two angles of sustainability are rarely addressed together as holistic sustainable qualities. This more comprehensive impact addresses people and the planet together in a central sustainability mission. Though there is overlap in Forbes' planet-focused list and Fundera's people-focused list, we have created a list that highlights these companies' holistically positive impact strategies:
Clothing & Merchandise
Clothing is a basic necessity of life, but is not created equal. Clothing can be created in a variety of qualities and materials, and can also be made in a variety of ways. All of these variables have implications for humans and for the environment and should not be taken lightly. These companies think about these issues together:
1. Patagonia
Largely known for their environmental sustainability and socially responsible practices, Patagonia has a carbon neutrality goal by 2025 and a commitment to fund 1% for the Planet. Based in Ventura, California, they have Fair Trade Certified sewing practices and all of their cotton growth is 100% organic.
2. Nike
Based in Portland, Oregon, Nike is one of the most globally recognized brands in the world. Their new era of corporate responsibility includes environmental practices and an emphasis on safe labor, gender equality, and racial equity. In addition to their social equity efforts, they have a goal to be powered by 100% renewable energy by 2025 and recently released a shoe with 50% recycled content.
3. Adidas
Though originally based and headquartered in Germany, Adidas has a hugely global impact, through their own products and through acquisitions such as Reebok. Adidas was one of the first manufacturers to try a shoe with recycled content with Parley, made from ocean plastic. They now have an "End Plastic Waste" initiative and have a tremendous platform to make a real impact.
Household Items
In the United States, many of our household goods are single-use and disposable. Most basic household items are considered temporary and are made with cheap virgin plastic that can oftentimes not be recycled. To keep costs low, these goods are often imported and are made by people with very low wages in other parts of the world. These companies are reconsidering that business model:
4. Seventh Generation
Though maybe not a household name to the same level as the merchandise above, Seventh Generation sells something hugely critical in the post-COVID world: Soap. Though any way to sanitize is important, Seventh Generation is largely known for their bio-based products, made without harmful chemicals or toxins. They are also B Corp Certified and have goals to reduce plastic waste and promote diversity within their workforce.
5. Ikea
IKEA sells much more than furniture and therefore has a huge environmental footprint for many types of household items. They're based in Sweden have claim "A Sustainable Everyday" approach, where they promote sustainable decisions in everything from plant-based food, to circular packaging and materials, passive solar design, and the utilization of wooden products. By the end of 2020, IKEA will also be powered by 100% renewable energy.
6. Bee's Wrap
A Certified B Corp, Bee's Wrap is a Vermont-based food packaging company on a mission to reduce single-use plastic waste. The company offers biodegradable, organic, and sustainably-sourced alternatives to food storage products that have historically produced waste after very minimal use. The core product, which is an organic cotton-based paper and coated in bee's wax, is versatile to replace saran wrap, ziploc bags, aluminum foil, and even larger plastic shopping bags. The company is also partnered with 1% for the Planet and other sustainability-driven organizations.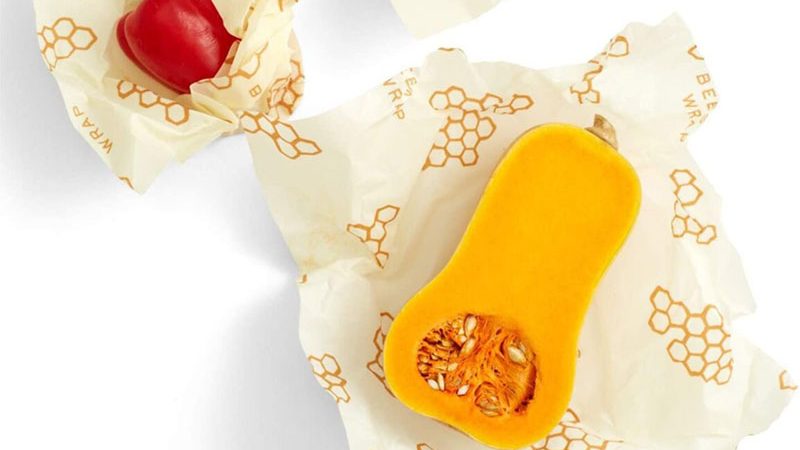 Food
Food choices are about personal health, but they also have huge impacts on the people that produce the food and the planet, depending on the type of food. To address these complicated issues while scaling a company to a national or international scale is complicated and often imperfect, but these companies are leading with solutions to address these issues:
7. Clif Bar
Clif Bar has long been famous for their transparent organic vegan protein-rich ingredients. Their protein bars are individually packaged, so easy to travel with. Unfortunately, this produces a lot of plastic waste, which the company has now committed to reducing after committing to reusable, recyclable, or compostable packaging by 2025. In previous years, Clif's award-winning sustainability program had already switched much of their manufacturing and warehousing to renewable energy.
8. Quorn
A relatively new company based in England but available in the U.S., Quorn is a meat substitute manufacturer. Their protein-rich food is not only tasty, but plant-based meat inherently consumes 50-60% more water during its production. To go further, Quorn is testing a Carbon Footprint Label, which looks similar to a Nutrition Label, but displays the carbon footprint associated with manufacturing the product and packaging. One day, this could be the norm!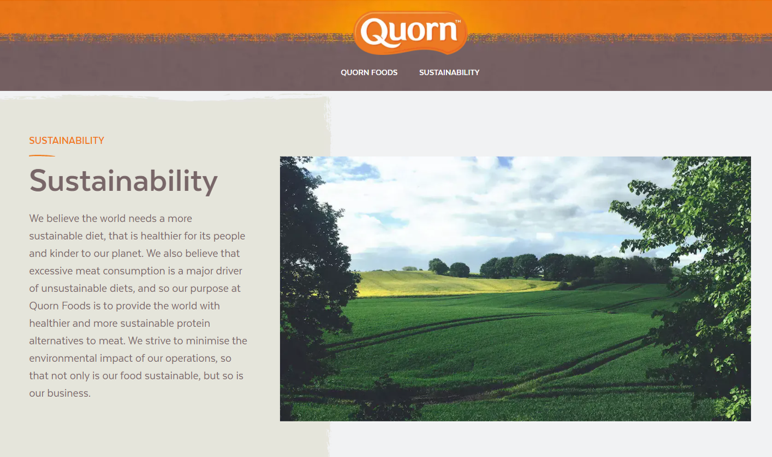 9. B. Good
A Boston-based 'fast casual' restaurant, B. Good leverages their environmental and human-focused values. As the restaurant chain grows from Boston to 11 states and even to Europe, they continue to evolve their sustainability agenda and have recently committed 1% for the Planet and have developed a partnership with FoodCorps to support children's access to healthy food.They have commitments to responsible sourcing, food innovation, and animal welfare.
Technology
Tech companies are different than the other sectors described above because their products are less physical and more service-oriented. The companies do have physical footprints, in the way of data centers and factories, but their footprint is instantly global because of the nature of the industry. These companies recognize their global prominence and leverage their platform to address solutions to promote social and environmental sustainability:
10. Google
Google has been carbon neutral since 2007 and has pledged to be carbon-free by 2030. Though they are leaders themselves, Google has pledged $10M to 'Impact Challenge on Climate,' which will fund 'bold ideas' to take carbon action with innovative strategies. In addition to sustainable financing, Google also recently announced ambitious carbon-free manufacturing and other large carbon initiatives throughout their global footprint.
11. Salesforce
Salesforce is a cloud-based software company, so most of their products have less of an impact on physical waste and more of an impact in carbon emissions and energy consumption. They recently launched their own carbon accounting platform to help organizations measure and offset their own carbon footprint. Additionally, Salesforce recently refined their carbon neutrality goal with a road to 100% powered by renewable energy.
12. Microsoft
Microsoft, led by renowned Bill Gates and based in Washington State, is a globally recognized leader in technology, but also in carbon emissions reduction and sustainability commitment. The company has been carbon neutral since 2012 and is committed to be carbon negative by 2030, meaning that they promote the sequestration of more carbon than they emit. In addition to their operations, they are also focused on incentivizing carbon emissions reduction-related technologies and global solutions. Recently, Gates published a blog post titled "COVID-19 is awful. Climate change could be worse," to focus on this critical topic.
_________________
We hope this all-inclusive list of the most environmentally companies helps gives you an idea of who to consider supporting. We know there are so many other environmentally friendly companies practicing sustainable measures, so please share your favorites that we in the missed in the comments.