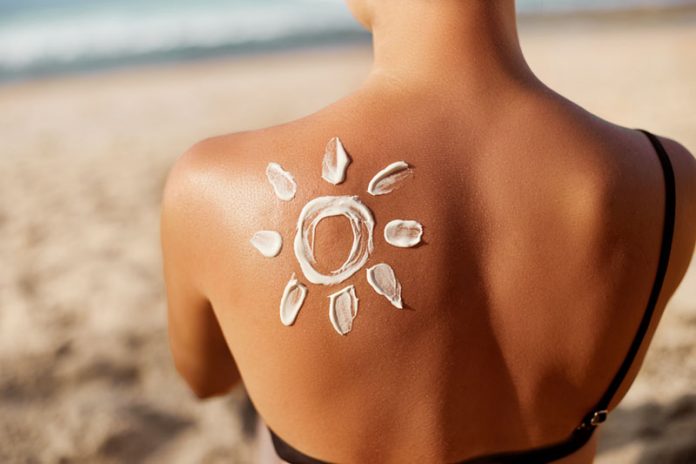 Suns out, buns out! After a long winter, we can all use the warmth of the sun, but we don't want to overdo it. And that's where environmentally friendly sunscreen comes in. 
Most conventional sunscreen is ironically made with ingredients that harm not only our bodies, but also our waterways and marine life! Many of the chemicals commonly in sunscreen are absorbed by coral, which can disrupt their growth and reproduction cycles, and ultimately lead to coral bleaching. 
And it isn't just the coral that's impacted by sunscreen. Sea urchins, mussels, fish, and dolphins can also be harmed, sometimes suffering fatal complications. 
Here are a few common toxic ingredients to keep an eye out for:
Oxybenzone
Octinoxate (octyl methoxycinnamate)
Homosalate
Octisalate
Octocrylene
Titanium dioxide (*generally safe and effective unless in a powder or spray option)
To save you the trouble of reading ingredient list after ingredient list, we've compiled some of our favorite environmentally friendly sunscreen brands. 
9 Top Environmentally Friendly Sunscreen Brands
1. Badger Sunscreen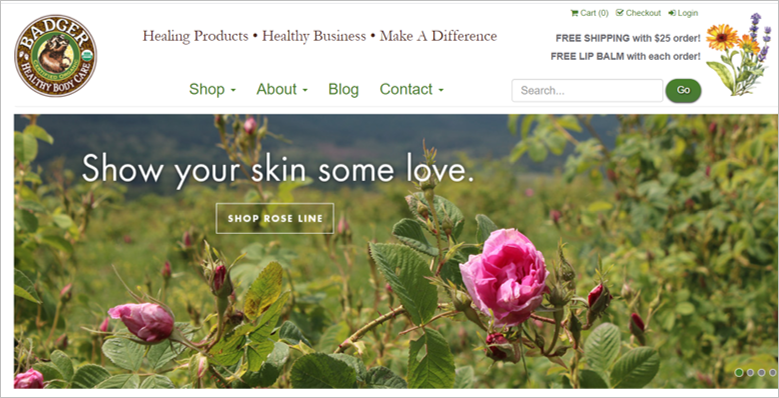 Badger uses a mix of biodegradable, cruelty-free, reef safe, and certified Non-GMO ingredients, like organic sunflower oil, organic beeswax, and vitamin E. The natural mineral zinc oxide protects against UVA and UVB rays, too! 
This means that their sunscreens don't include octinoxate, oxybenzone, or other harsh chemicals. 
Badger is a certified B Corp, so you can be sure they're one of the best environmentally friendly sunscreen brands. Their plastic tubes are free of BPA and phthalates, and are recyclable. 
2. Apothecary Muse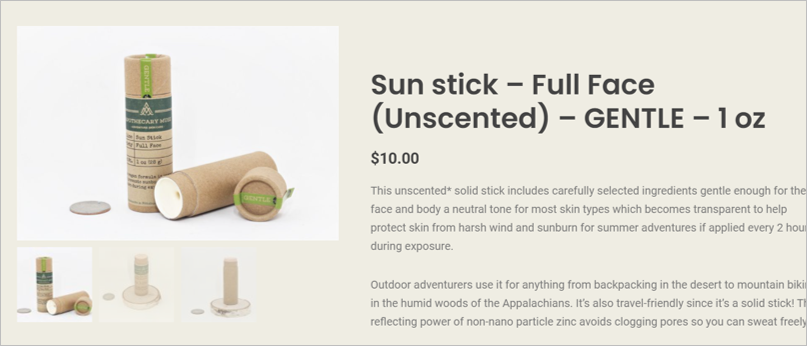 Apothecary Muse has a sunstick that's perfect for skin protection—and perfect for our planet. 
Apothecary Muse designs their products with outdoor adventurers in mind, so their solid sunscreen stick is travel-friendly. It's made with non-nano particle zinc, rosehip seed oil, aloe powder, witch hazel extract, and other natural and organic ingredients and is free of fragrance.
It's also reef-safe and it comes in a compostable cardboard tube, too! 
Available: Apothecary Muse
3. Thinksport Sunscreen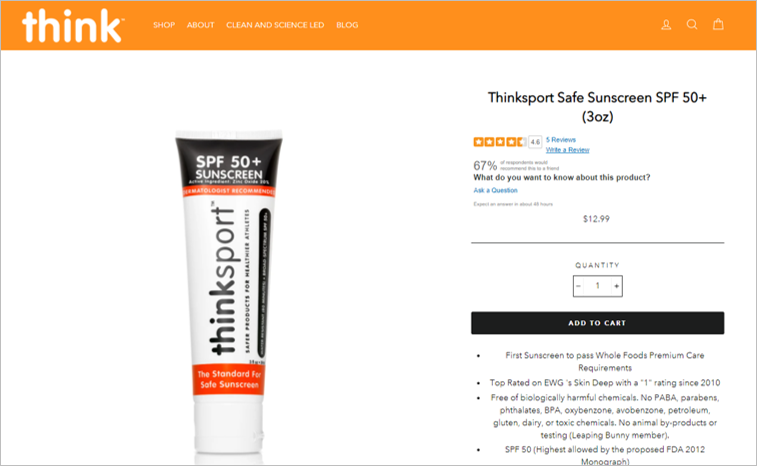 Thinksport sunscreen was the first one to pass Whole Foods' Premium Care Requirements—meaning that it's free of PABA, phthalates, parabens, BPA, oxybenzone, petroleum, avobenzone, dairy, and toxic chemicals. 
This also makes it one of the Environmental Working Group's Skin Deep Top Rated Products. 
The sunscreen provides all the protection you could need from the sun (it's SPF 50), without causing damage to our planet. It's achieved the highest levels of biodegradable testing and is reef safe. 
Zinc oxide protects you from the giant glowing ball in the sky, and other ingredients include coconut based stearates, pine resin, aloe juice, and jojoba oil. 
Not only does Thinksport create safe skincare products, but they're socially conscious, too. They donate to various fundraisers and regularly partner with charities around the globe. 
Available: Amazon|Thinksport
4. MANDA Organic Sun Paste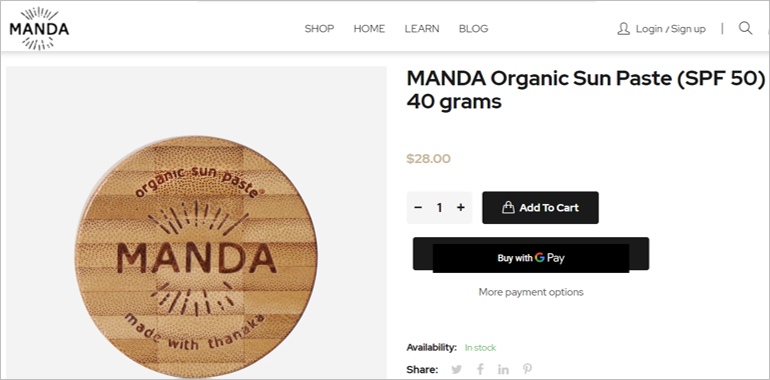 As their name suggests, MANDA wants to provide you with an organic option for your day in the sun. Their sun paste is SPF 50 and ideal for those who are active participants in the great outdoors (read: surfers, hikers, athletes, and climbers).
Their organic sun paste is free of harmful chemicals and non-toxic, reef safe, and kid safe. Apply once, and you'll have protection against sweat, water, and wind. 
All of this is possible thanks to one main ingredient: thanaka. A tree native to Myanmar, this natural sun protectant has been used for thousands of years (and reportedly beautifies the skin, too).
MANDA sources their thanaka sustainably and the powerful ingredient (combined with non-nano zinc oxide) means 4x the sun protection and an environmental impact far less than other types of sunscreen. 
The sunscreen comes in a cute, reusable/recyclable bamboo and tin jar, too!  
5. Raw Elements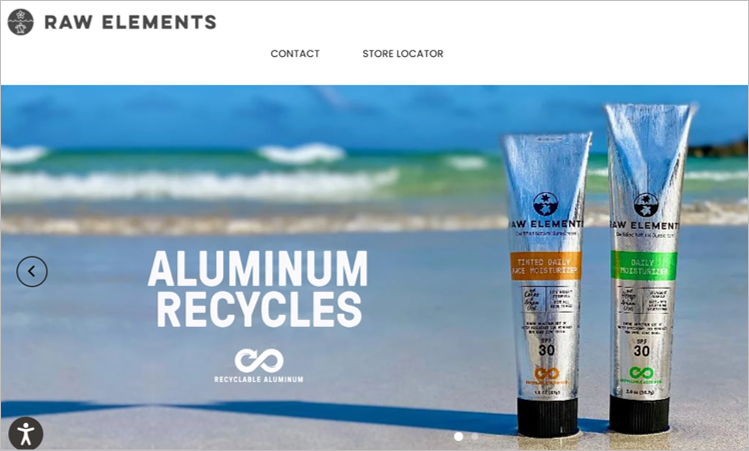 The sunscreen from Raw Elements really delivers. It's gentle enough for infants, but strong enough for extreme athletes. Oh yeah, and it preserves ecosystems and coral reefs, too! 
They've got a few different environmentally friendly options, all of which are certified natural. 
There's a traditional tube of certified natural, water resistant, and broad spectrum cream that's packed with vitamins, minerals, and active antioxidants. It uses non-nano zinc oxide to protect you from the sun, along with skin-supporting ingredients like hemp seed oil, cocoa butter, black tea, and coffee bean—most of which are organic, too. 
For those of us reducing our plastic use, they also have a plastic-version that contains all of the same awesome ingredients—but comes in a recyclable or reusable tin. 
They also have a tinted facial moisturizer (SPF 30). 
At the end of a long day in the sun, you'll feel good about your decision to slather on environmentally friendly sunscreen from Raw Elements. They're a member of 1% for the Planet, and a portion of their profits go to nonprofits that are saving Earth's precious resources. 
Available: Amazon|Raw Elements
6. Butter Me Up Organics
The natural organic sunscreen from Butter Me Up Organics is so natural you might be tempted to eat it. 
Okay, so we don't recommend that you eat it, but we do recommend that you grab a jar for your next trip to the beach. 
The sunscreen is SPF 45 and uses organic non-nano zinc oxide to protect you (without turning you white). Other ingredients, like organic shea butter and coconut oil make for a delicious smell and super soft skin. 
You can get the sunscreen in a conventional squeeze bottle (BPA-free) or a reusable glass jar with a sturdy lid. The sunscreen from this zero waste company is even sent plastic-free and with upcycled materials! 
Available: Amazon|Butter Me Up Organics
7. AO Organics Hawaii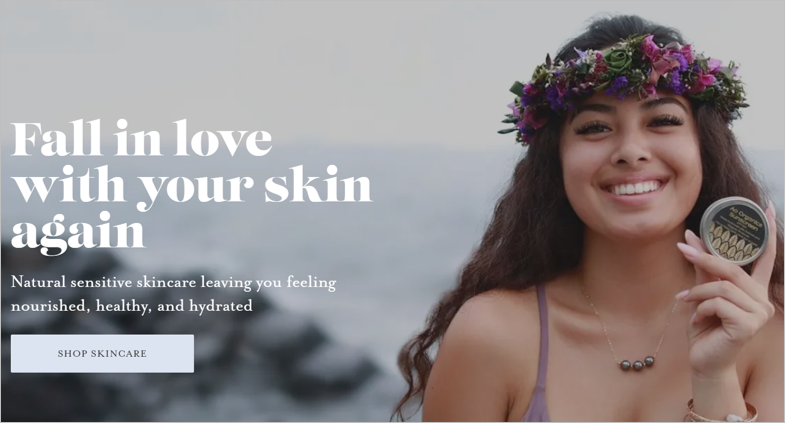 The products from AO Organics Hawaii are designed with sensitive skin in mind, and this goes for their sunscreen, too. 
Their products are eco-friendly, cruelty-free, and made with 100% natural ingredients. For sunscreen, this means ingredients like organic sunflower oil, organic avocado oil, organic Hawaiian beeswax, and organic cacao powder, which are combined with non-nano zinc oxide for protection from the sun's rays.  
This makes the sunscreen not only great for skin, but also safe for reefs. 
You can either get a liquid option that comes in a reusable or recyclable glass jar, a metal tin that's also reusable and recyclable, or a compostable cardboard tube. 
Available: AO Organics Hawaii
8. EmpireSquid Organics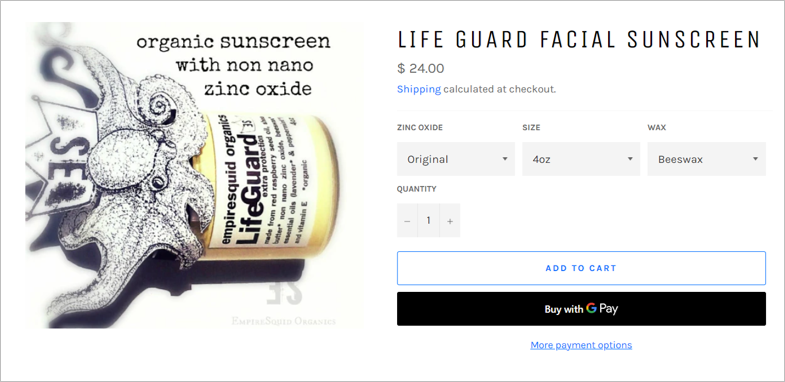 Ingredients like non-nano zinc oxide, beeswax (or vegan candelia oil), essential oils, organic shea butter, and red raspberry seed oil are what you'll be slathering on before heading outside this summer. 
EmpireSquid's sunscreen saves you from sunburns and saves our environment by using reef-friendly ingredients and a glass jar instead of plastic. The California-based company is family-operated and handmakes their products with love. 
Available: EmpireSquid Organics
9. Block Island Organics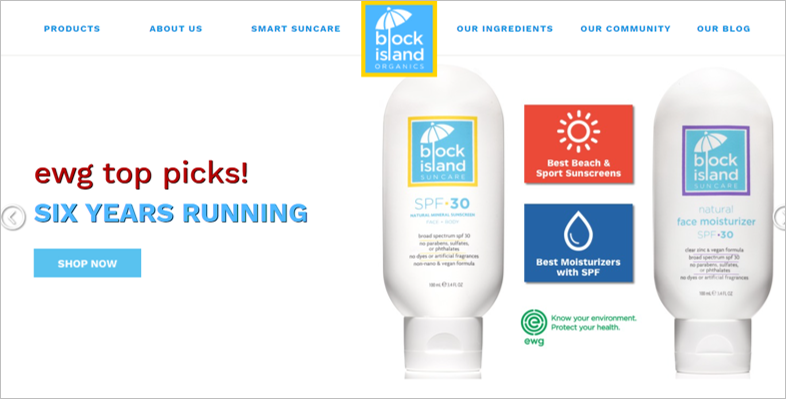 For more than six years, the sunscreen from Block Island Organics has been voted one of the best by the Environmental Working Group. This is in part because they're free of parabens, sulfates, phthalates, and fragrances. 
They contain natural non-nano zinc along with natural and organic ingredients like pomegranate, shea butter, and green tea antioxidants—making the sunscreen reef safe, eco-friendly, and biodegradable. The vegan formula is also never tested on animals and comes in a recyclable plastic tube. 
Available: Amazon|Block Island Organics
Final Thoughts on Environmentally Friendly Sunscreen 
Don't forget to cover up and wear a hat! If you have any more recommendations for your favorite environmentally friendly sunscreen brands, please let us know in the comments!