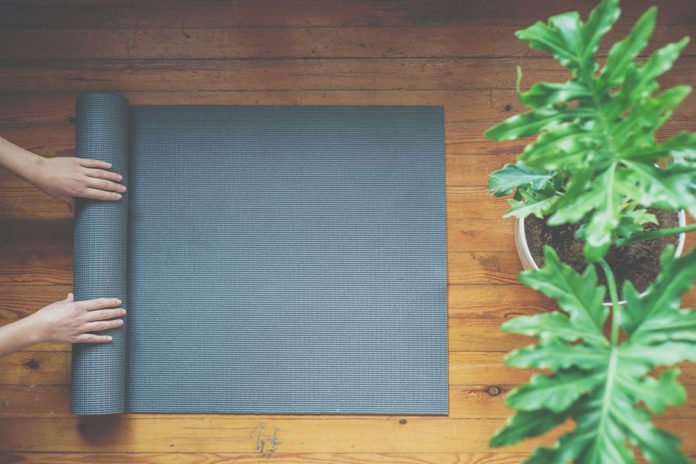 How important is it to have an eco-friendly yoga mat? Whether you're just starting out or a well-practiced yogi, a yoga mat that's been ethically and sustainably made should be a top priority.
Just think about it, many of us spend hours each week sitting, standing, and laying down on our yoga mats, but it may come as a surprise to find out what most of them are made with toxic plastic.
There's nothing that can ruin the serenity of savasana like thinking about the cancer-causing chemicals and environmentally damaging materials that are unfortunately found in most yoga mats.
That's why we've unrolled a few mats to find the 8 most eco-friendly yoga mats out there—ones that are better for us and the planet. We'll also elaborate more on some of the environmental and health impacts of our morning yoga routine before exploring some different mat options that suit all budgets and preferences.
Is Downward Dog Destroying the Planet?
You probably just have one or two yoga mats at home and the studio. And they're relatively light-weight and thin, so there's no way they could have a significant impact on our planet, right?
Well, not to ruin your post-yoga relaxed state but we actually purchase more than 36 million yoga mats every single year (enough to circle the entire globe twice). And with the yoga industry expected to reach more than $23 billion by 2026, that number of yoga mats is expected to skyrocket. This means that more toxic chemicals and non-biodegradable materials are going to make their way into our landfills.
There are a few different materials that are commonly found in yoga mats; natural ones like cotton, jute, and rubber; as well as synthetic, plastic-based materials like PVC and TPE. Unfortunately, most of the world's yoga mats are made with the latter.
Let's explore these in a bit more detail:
Polyvinyl chloride (PVC): About half of the yoga mats out there are made with PVC, which is considered to be one of the most environmentally damaging consumer materials ever. PVC takes a tremendous amount of energy to produce, and it ends up producing a lot of toxic waste. It also generally can't be recycled and takes thousands of years to biodegrade.
Not only that, but it is also associated with a lot of toxic chemicals (phthalates, PCBs, dioxin, and hexachlorobenzene) that are associated with a range of negative health and environmental impacts.
PVC alternatives: With the awareness that PVC mats are the worst, some brands have been using other synthetics, like EVA foam and NBR rubber, instead. These also require a lot of energy and chemical inputs. And, like PVC, they also leach toxic chemicals and aren't biodegradable.
Thermoplastic elastomers (TPE) and Polyurethane (PU): These synthetics are normally touted as eco-friendly and non-toxic alternatives to PVC. They're made by mixing polymers (both plastic and rubber) to give it that firm, yet flexible feel. However, while these may be slightly better than PVC, they are still produced in a way that may mean that they're harmful for the environment and for your health.
So, it's important to realize that all yoga mats have an environmental impact, but it's clear to see that some are worse than others. If you need to buy a new yoga mat, try to find one that will last as long as possible.
Also, look for natural materials like organic cotton, wool, recycled materials, cork, and jute—like what's found in these 8 eco-friendly yoga mats.
8 Best Eco-Friendly Yoga Mats
1. Valka Yoga Cork Mat
This New Zealand-based brand uses non-slip and antimicrobial cork that's been sustainably sourced in Portugal. It's combined with a layer of natural rubber and an organic fair trade cotton strap.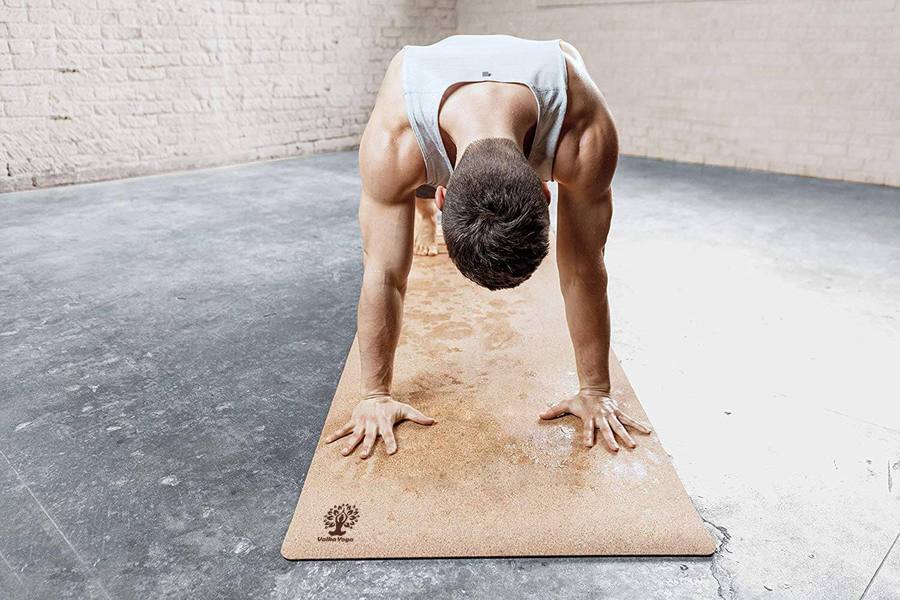 The organic cork is great—the wetter it gets (like from all your sweat in that bikram class), the better it grips. Plus, it works well at naturally killing bacteria and germs, which keeps your yoga mat smelling better over time.
Valka ships their yoga mats without plastic and they plant a tree for every order!
Available: Amazon|Valka Yoga
2. Gurus Roots Cork Yoga Mat
Gurus also uses non-slip cork, which is combined with a natural rubber bottom. They partner with a family rubber farm in Kerala, India to get their rubber and use a sustainable process to get their cork. This combination weighs less than most yoga mats, and is durable enough to last years.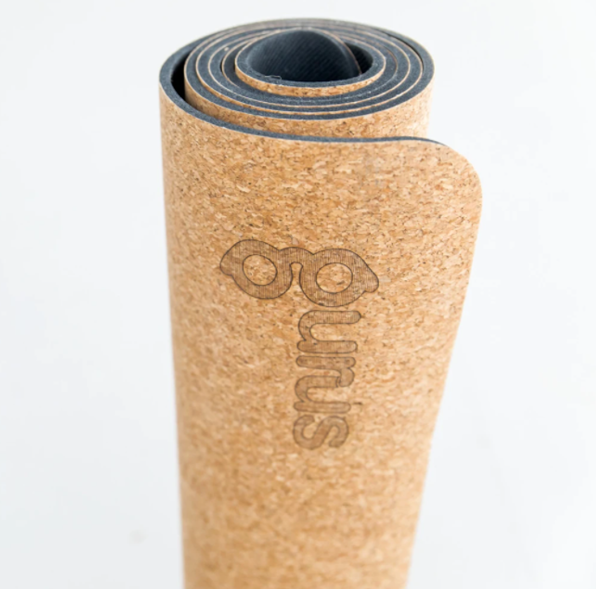 Even better, Gurus partners with Trees for the Future and plants a tree in the developing world for each purchase!
3. Gaiam Performance Jute Yoga Mat
This yoga mat combines two natural materials—latex and jute fibers. The jute plant is one of the most sustainable on Earth; it grows quickly and requires very little water and fertilizers.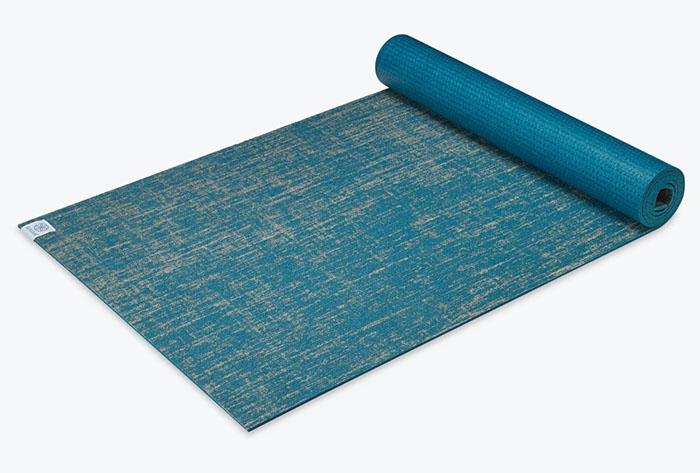 This yoga mat is great at absorbing moisture and preventing slips. It's also lightweight and easy to transport. Plus, it's one of the more affordable options out there, so it's perfect for beginners.
4. Yoloha Original Air Cork Yoga Mat
This is another yoga mat that uses sustainably harvested cork. Yoloha gets their cork from the Meditteranean, from a forest that supplies more than 100,000 people with fair wage jobs.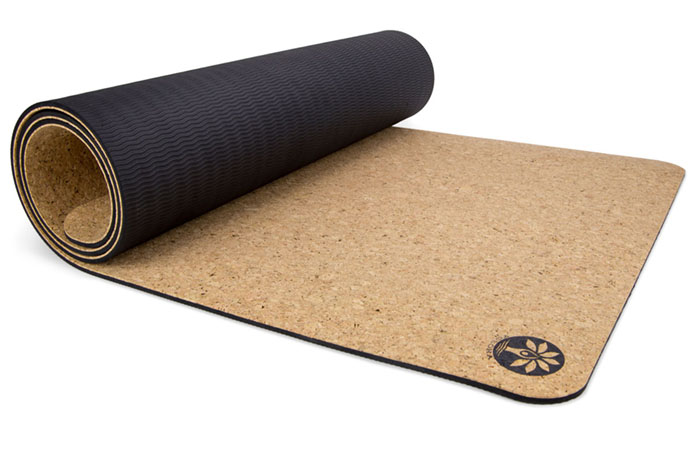 Cork can be harvested without cutting the entire tree down, which allows it to continue supporting some of the world's greatest forest biodiversity.
When you're on the mat, you'll notice that you won't slip—even with heavy perspiration. You can also get into child's pose without any worries because this mat is vegan and free of PVCs, plasticizers, and the smell of rubber.
5. SugaMats Recycled Wetsuit Yoga Mat
For one of the most unique yoga mat materials out there, check out SugaMats. They're made in the US entirely from recycled wetsuits!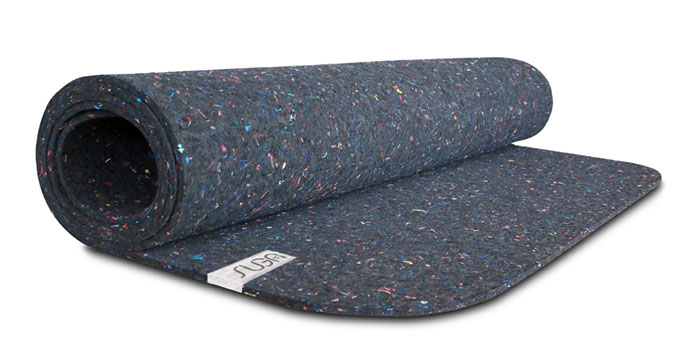 You may be worried about using a yoga mat that's been made with recycled materials but you can rest assured that it can tolerate stretch, folds, sweat, and both hot and cold temperatures. Plus, it's actually more durable than other mats on the market.
Not only can you send in your old wetsuits to be recycled, but this yoga mat is also recyclable at the end of its long life!
6. Pureful Yoga Organic Premium-Grade Cork Yoga Mat
This mat is made primarily with organic cork that's been sustainably harvested from cork trees. It's coupled with a TPE foam base, making the yoga mat 100% natural, fully-recyclable, and biodegradable.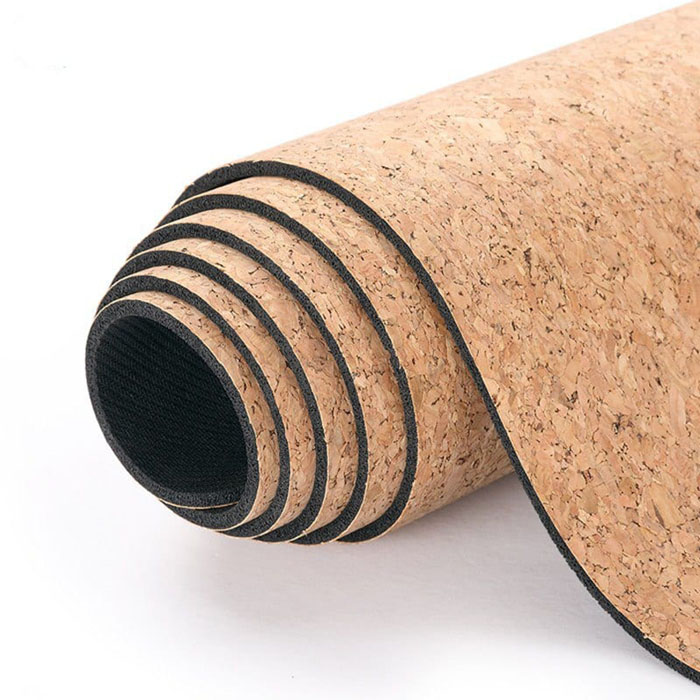 The mat is also extremely lightweight, non-slip, and self-cleaning. It's also been designed to last at least one to two years (whereas most only last around six months).
Available: Pureful Yoga
7. Lottus Life Jute Yoga Mat
This eco-friendly yoga mat is made with SGS-certified natural jute fibers that have been blended with polymer environmental resin (PER). PER is a synthetic material, but it's considered to be more biodegradable than other synthetics like PVC.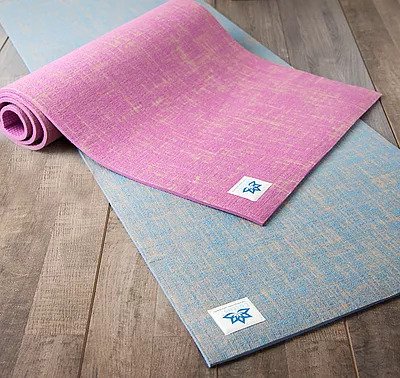 This mat is very easy to clean and is free of any harmful materials like phthalates, heavy metals, lead, and cadmium. Also, 1% of every purchase supports the Karma Project, which provides clean drinking water to communities in need.
Available: Lottus Life
8. Yogasana Natural Cotton Yoga Mat
Yogasana keeps it simple with their yoga mats—they're made with just 100% cotton! The natural yoga mats have been handwoven in India, the birthplace of yoga. As the mats are handmade, so minimal energy is required. This means that the total footprint of this mat is much less than some other options that require a tremendous amount of energy and chemical inputs.
Every mat is covered by an impressive 15-year warranty, and when it's done being used, it can biodegrade naturally. Like some of the other natural materials mentioned here, cotton gets grippier as it gets sweatier—making this perfect for a hot yoga session.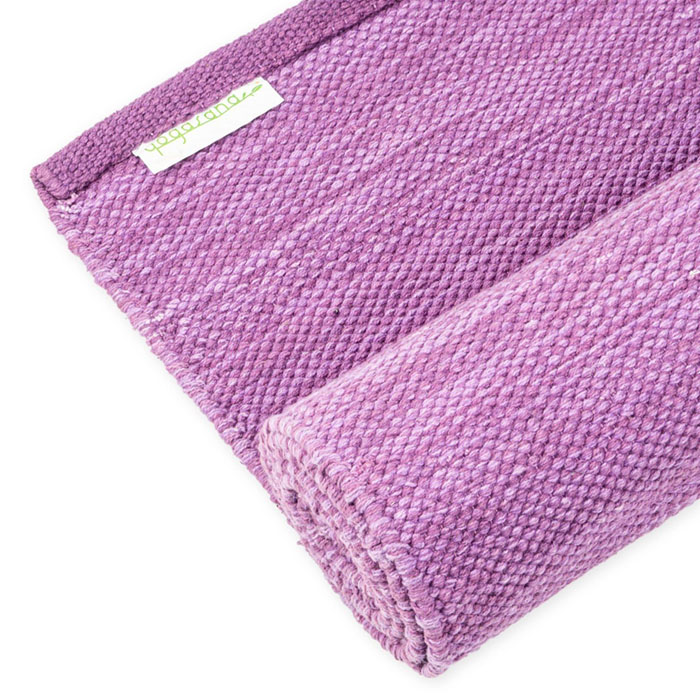 To top it all off, each purchase helps Yogasana support a program that educates children. $5 from every purchase goes towards supporting the children of the individuals who make these mats.
_______________
There's nothing that can ruin an otherwise-perfect yoga session like toxic materials and dangerous chemicals. Well, now you know how to avoid them! We're sure that there are other eco-friendly yoga mats out there…if you have a favorite, let us know in the comments!