It can be relatively easy to reduce our impact by making sustainable swaps in the kitchen, with our clothing, or in the bathroom, but when it comes to providing the best for our children, a bucket of toys can seem pretty harmless.  
Unfortunately, many of those toys lurking in your child's bedroom and underneath the couch contain chemicals that aren't great for them or our planet. 
No need to cry! We're thankful to know that there are several brands who get a gold star for making eco-friendly toys (including you, if you try your hand at making a DIY eco-friendly toy).
More than a Messy Room
Toys are an essential part of a child's growth and development, and no parent wants their kid exposed to toxic chemicals that could hinder that. Toys often contain chemicals like phthalates, lead, flame retardants, PVC, and BPA/BPS. In fact, a recent 2021 study found 126 potentially dangerous substances in plastic toys (Science Daily).
How could this be possible in something designed for a child?!
Unfortunately, the US regulatory body responsible for your child's favorite playmate, the Consumer Product Safety Commission (CPSC) does not test toys for safety before they go on sale. Any regulation that does take place is the result of complaints after the toy hits the market.  
This is even more alarming when you consider that because of their smaller size and exploratory nature, infants and children are at higher risk for exposure to environmental toxins than older children and adults, according to NCBI. 
Why Eco-Friendly Toys?
Those 100+ dangerous chemicals can harm our children, and they can also leach into the environment and harm ecosystems, waterways, and our planet as a whole.
Eco-friendly toys can provide parents with peace of mind that their children aren't putting themselves at risk with their building blocks and dolls. They can keep our conscience clear from an environmental standpoint, too. 
Once the toy box is empty and a child becomes a teenager, many of those toys will end up in a landfill. A British study found that more than 25% of parents admitted to throwing away a toy—even when it was still in perfect working condition (BBC). Overall, more than 80% of the toys scattered around the playroom will end up in landfills, our oceans, or incinerators. 
Fortunately, playtime isn't out. There are many brands cleaning up their act and using sustainable, renewable, and recycled materials to put a smile on your child's face. 
5 Eco-Friendly Toys 
1. Dr Zigs
Dr Zigs is committed to manufacturing giant bubble toys that are as ethical and as environmentally friendly as possible. Named after the founder's youngest son, Ziggy, the brand used his love for bubbles to find a sustainable alternative to what commonly included a single-use plastic wand and plastic bottle.
Their bubbles still contribute to the giggles and a sense of wonder like their conventional counterparts, but are instead made in an eco-friendly, low plastic, palm oil free way. The bubble mix is biodegradable, non-toxic, and contains no phosphates. 
Not only do these provide a great alternative to one of the most environmentally unfriendly toys (cough, cough, balloons) but the use of rope makes for a really, really big bubble.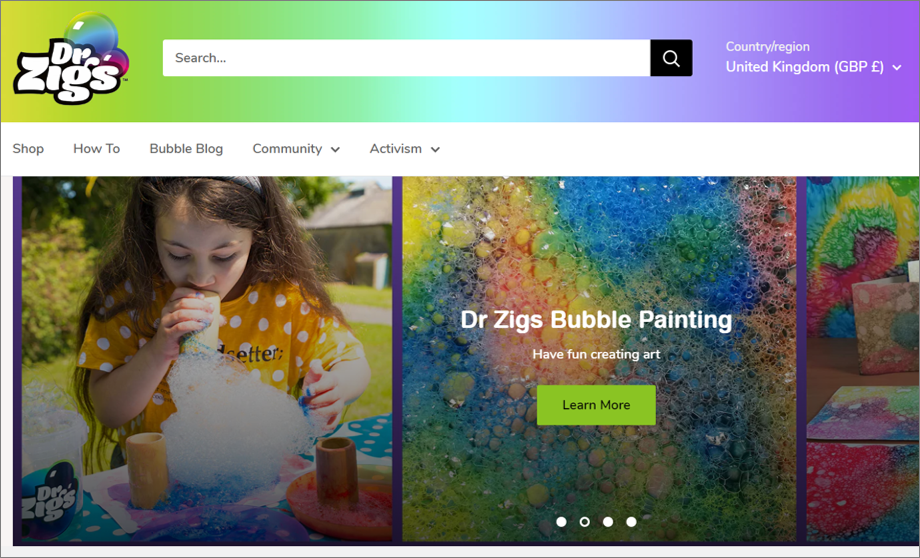 Available: Dr Zigs
2. Melissa & Doug
Melissa & Doug is a very popular name in the world of eco-friendly toys. They have toys perfect for every age, interest, and child, ranging from developmental toys and dolls to games and Magic to even puppets and plush toys.
You can also shop their website by different categories like developmental play, problem solving, and pretend play—or by age. 
While the range of toys isn't made of exclusively eco-friendly materials, many are made from natural, renewable materials (including FSC-certified wood). Additionally, they have some of the most affordable and accessible toys for new parents.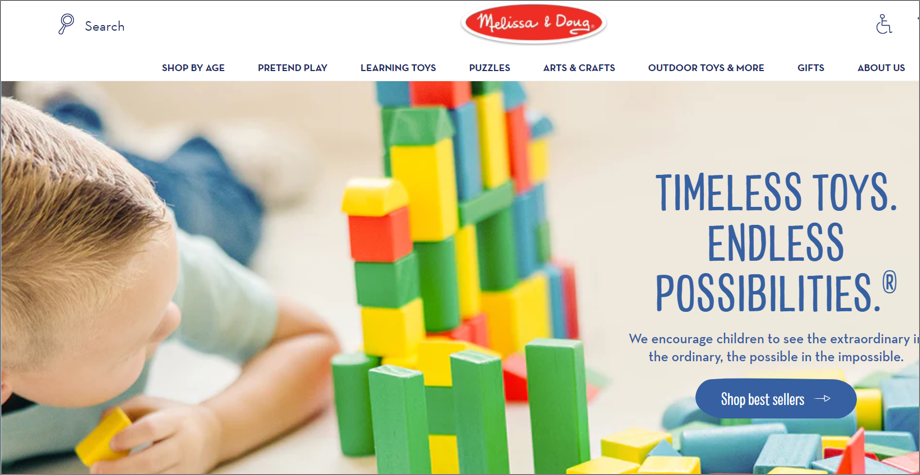 Available: Melissa & Doug|Amazon
3. Cuddle + Kind
Cuddle + Kind keeps it simple, sustainable, and super ethical. 
They sell adorable, high-quality dolls made from natural cotton which either meets or exceeds US and Canadian safety standards and is tested and certified to be non-toxic.
The dolls are produced in a loving way by female workers in Peru. Every doll is handmade, hand-loomed, and hand crocheted using traditions that have been passed down for generations. There are more than 750 artisans who are supported with sustainable, fair trade income. 
Taking this social support to the next level, every doll also provides 10 meals to children in need. This occurs with a partnership with WE Charity that supports remote schools in countries like Kenya by providing meals and establishing an organic garden. 
They also partner with orphanages in Haiti, Breakfast Club of Canada, the Children's Hunger Fund, and the World Food Program USA Schools Meal Program.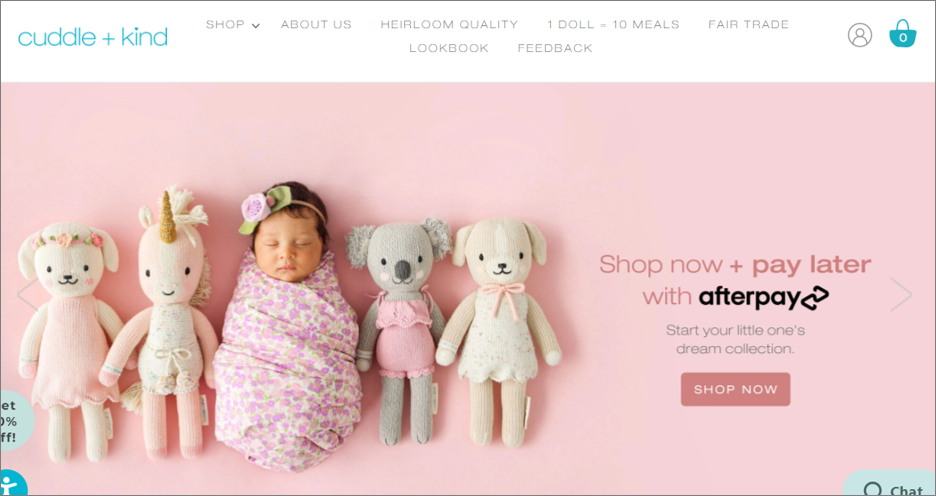 Available: Cuddle + Kind
4. Begin Again
Begin Again and their toys are based on five personalities that help develop the whole child. These include: artist for creative open-ended play; writer for social play; inventor to exercise the mind; sportster to exercise the body; and hero to develop storytelling and verbal skills. 
Where they really stand out though is through their choice of materials. They're committed to providing parents with options for plastic-free play, and instead use the "playful power of plants." 
Their toys are made from sustainably-grown rubberwood, sustainably harvested natural rubber, USA-based cornstarch rubber (also non-GMO and 100% compostable), USA-supplied hardwood, and water-based stains that are eco-friendly and non-toxic. 
This is what you'll find in their range of toys that include puzzles and playsets, construction and creative play, bathtub fun, infant and toddler toys, and games for all ages.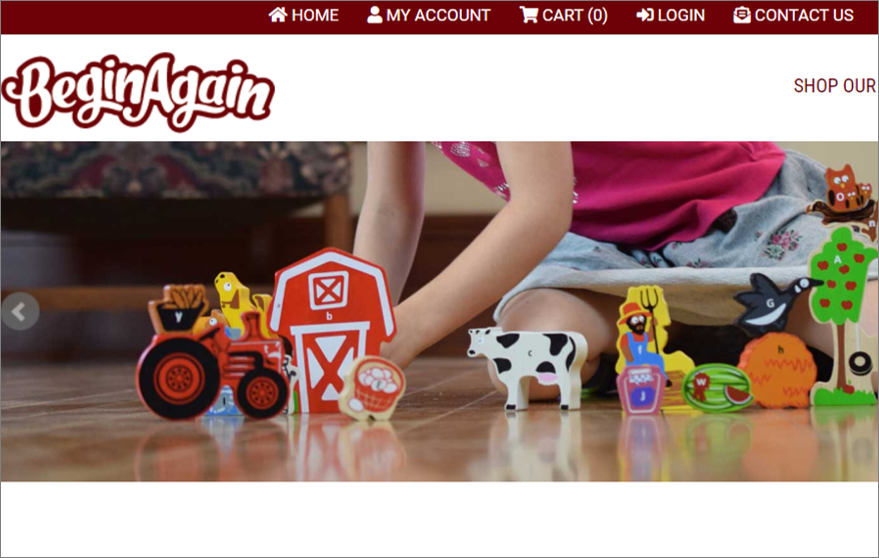 Available: Begin Again
5. Plan Toys
For Plan Toys, sustainability and child development are the top priorities.When it comes to the former, the toy brand prides themselves on intentionally considering every step of production in order to lessen their environmental impact. They achieve this through using sustainable materials, sustainable manufacturing practices, and an overall sustainable mind.
All of their toys are sustainably made in Thailand in an eco-friendly workplace that makes use of local and responsibly-sourced wood. Their toys are made from trees that no longer produce latex and are in fact a byproduct of another industry. They even use some of the waste materials from manufacturing as biofuel to operate their canteen! 
The toys are kiln-dried in a chemical-free process and only treated with organic, water-based pigments. They exceed all International safety standards and are free of formaldehyde and other dangerous chemicals.
Additionally, the toys are sent in eco-friendly packaging. When shopping, you can sort by age or child development stage. Expect to see toys like parking garages, cooking sets, puzzles, dollhouses, and more.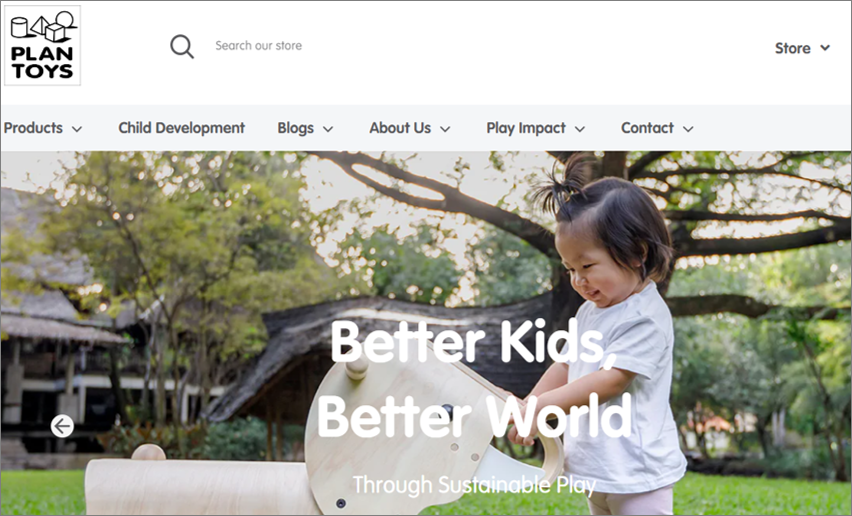 Honorable Mentions:
DIY Eco-Friendly Toys
Many of us likely look back fondly on those childhood days spent in an upcycled cardboard box. In fact, many fun toys can be whipped up with things that are just lying around the house. 
Here are a few ideas for DIY eco-friendly toys: 
Final Thoughts on Eco-Friendly Toys
We're sure that the toy box is still full with many other eco-friendly toy brands and DIY toy ideas. If you've got any up your sleeve, please feel free to share them in the comments so that other parents might make use of them, too!