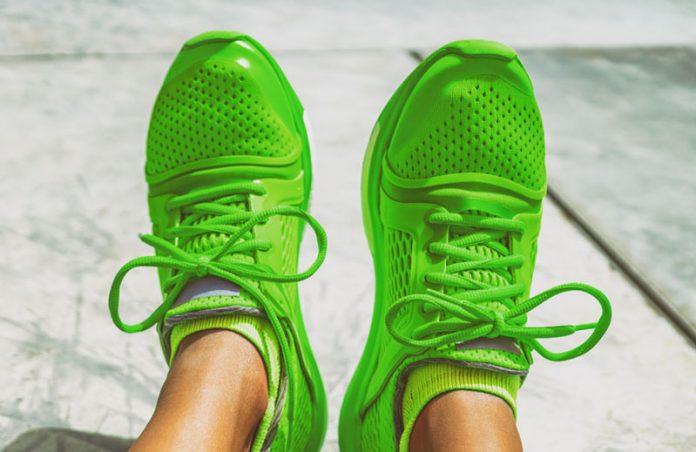 Shoes are essential. They protect our feet, they keep us warm, they provide support, and they look great! But when you combine the fact that most of us own more pairs than we need (a closet exclusively for shoes?!?) and the fact that the shoes we know and love are made out of synthetics, foam, and unethically produced leather, we have a problem.
Fortunately, eco-friendly shoes do exist and they're made with responsible manufacturing practices and Earth-friendly materials. Here are 8 of our favorite brands.
Eco-Friendly Boots
This Canadian brand wants us all to #BeOutside. Even in the grossest of winter days, they make this possible with their ethical weekend boots, rain boots, and riding rain boots.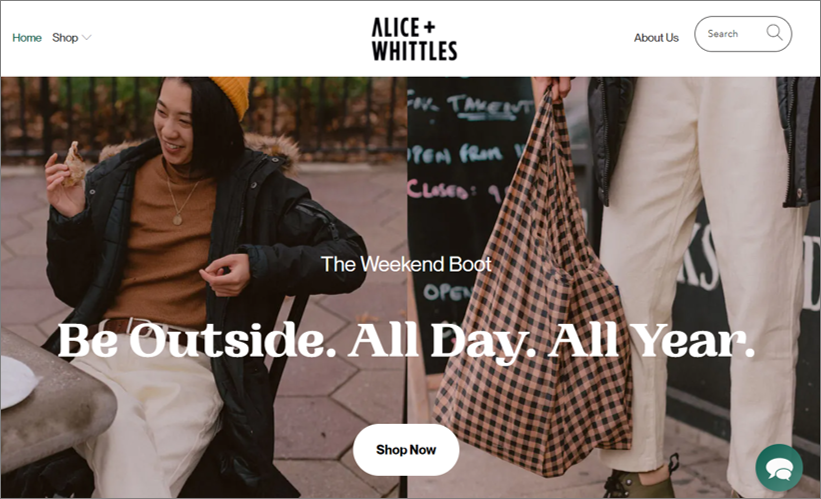 Their rain boots are made with 100% natural and fairly-traded rubber (which also happens to make them 100% plastic-free!). They have partnerships with Sri Lankan rubber producers and ensure that their rubber comes from sustainably managed forests.
But we're really jumping for joy for their vegan boots—the Weekend Boot. They come in a range of colors and are perfect for a hike—whether it's through a muddy and rough terrain or simply down the street for brunch.
Why we really love these boots, however, is because they're made with water-resistant repurposed marine plastic! Not just that, but the inner lining is made with 100% recycled synthetic wool. The sole is made with sustainable rubber, 45% of which is recycled.
Everything—down to the vegan glue—has been carefully considered to be as sustainable as possible. The boots are ethically made in a family-run Portugese factory, too.
Nisolo is based in Nashville and they're a Certified B Corporation that is committed to bringing sustainable and ethically-made products to people around the globe.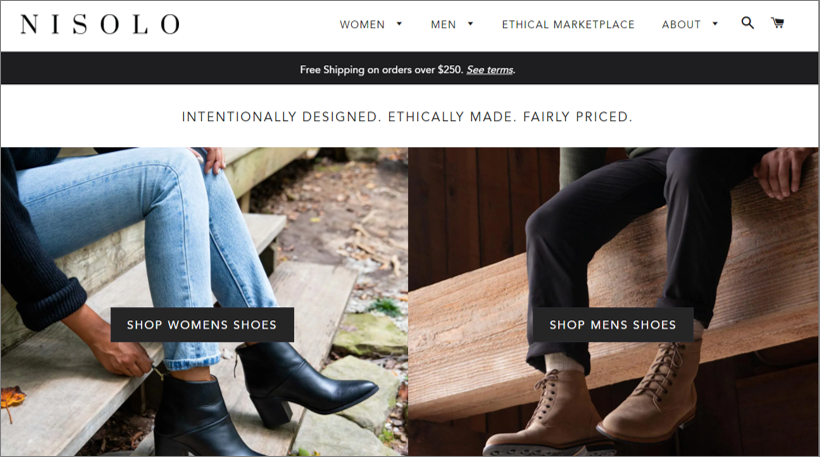 While they also have handbags and jewelry, we're especially impressed with their boots—of which they have an extensive range for both men and women.
While they use suede and rubber too, it's their leather boots that really stand out. Their leather is a by-product of the meat industry, and some of the tanneries they work with have been certified by the Leather Working Group—a third party organization that works with tanneries that use environmental stewardship practices.
Another reason why we're ready to lace up a pair of Nisolo boots is because all of their workers are paid a living wage—meaning that they make enough to provide food, water, health care, housing, education, transportation, essential needs, and more for themselves in their family.
Around the world, it's estimated that only 2% of workers make a living wage—and Nisolo is trying to change that.
Finally, they have a Shoe Reclamation Program that allows customers to send back their old Nisolo shoes. Then, through a collaboration with Soles4Souls, micro-entrepreneurs repair the shoes for resale! Not only is this a great way to close the loop on shoes, but it also provides livelihood opportunities (and a discount on a new pair of Nisolo shoes!).
Eco-Friendly Sandals
Indosole's sandals are everything we want them to be: they're waterproof, made with natural rubber, cruelty-free, suitable for all terrain walking, made responsibly, and they provide arch support. Even better, they have soles made from recycled tires!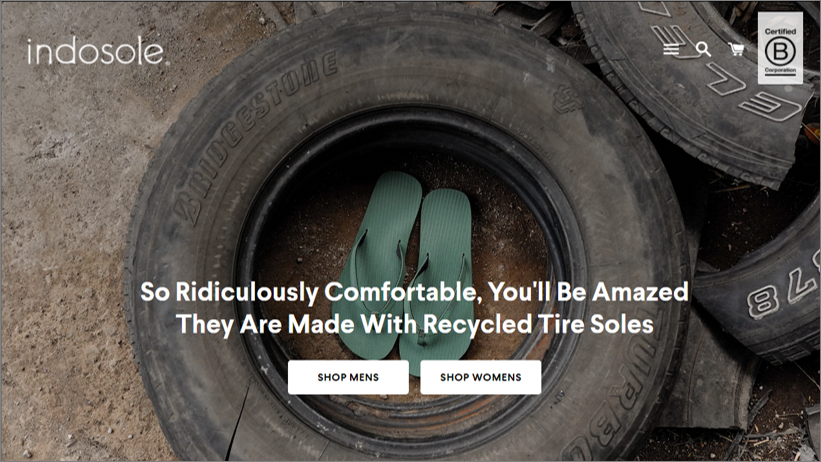 The shoe brand was started with the awareness of a certain problem: the fact we discard more than 1.5 billion tires every year. In tropical countries, these tires can become breeding grounds for mosquitoes, which presents a dangerous risk for diseases.
Tires take thousands of years to decompose, too. When Indosole founder, Kyle Parsons, went to Bali for the first time, he realized that not only were illegal dumping grounds problematic, but that discarded tires were already being transformed into footwear!
The rest is history. Now, people all around the world can wear sandals from this Certified B Corp. Available in slides and flip flops, they're all made with repurposed tire soles that has prevented 80,000 tires from ending up in landfills.
Like the name suggests, Native Shoes has more than just sandals (shoes and boots), but we're big fans of their affordable, animal-free, and eco-friendly sandals. They're available in both adults and kids' sizes.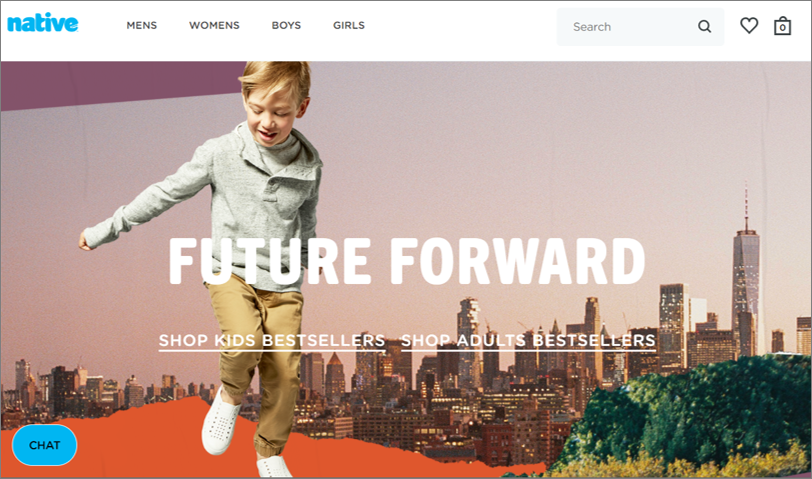 Lightness is the main driver for this brand. They want our footwear to be lighter so that we have a lighter impact on our planet. That's why they create sandals that are easy to wear, easy to wash, and easy to maintain.
While they do use synthetic materials, by 2023, every pair will be 100% life cycle managed—meaning that Native Shoes can be recycled for free to be transformed into new shews, seating, insulation, and more.
Eco-Friendly Sports Shoes
"Mother Nature is our muse. Building on her handiwork, we're finding new uses for materials that exist right in front of us." This is directly from Allbirds themselves, and is a testament to how they make their eco-friendly shoes.
They use four main materials in their shoes: wool, tree, sugar, and Trino™. All of these are about as close to nature you can get and everything is sustainably and ethically-sourced.
Their laces are made from recycled plastic bottles (1 bottle = 1 lace); the insoles are made with castor bean oil, and their packaging is made from 90% recycled cardboard. It appears that this Certified B Corp is doing everything right.
They've got shoes for men, women, and kids, and they have pairs for every occasion: running, everyday, slip ons, high tops, boat shoes, flats, weather-repellent shoes, and more. You can even see the carbon footprint of each pair (including some that are carbon neutral!).
Veja has shoes for men, women, and kids, and, like Allbirds, they're one of the only eco-friendly shoe brands with running shoes! In fact, they're the creator of the first "post-petroleum running shoe!"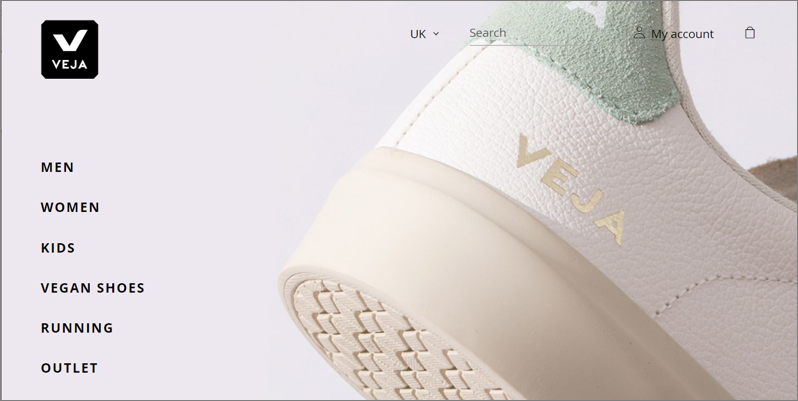 All of their running shoes vary based on what surface and ride they're suitable for. They use eco-friendly materials like recycled plastic bottles, ricinus oil (AKA castor seed oil), recycled polyester, sugar cane, latex, rubber, rice waste, synthetic rubber, organic cotton, and even banana oil!
They're transparent with the materials in each pair, where in the world they're made, as well as how much farmers and workers are paid. As a Certified B Corp we can know that they're a "good" business and they're using this certification to become even better.
Eco-Friendly Dress Shoes
A quick look at Christy Dawn's and you'll instantly feel that this is a brand that can be trusted. They're all about "honoring mother earth," which they accomplish with their gorgeous range of loungewear and dresses—most of which are made with organic cotton and dyed with organic, non-toxic dyes.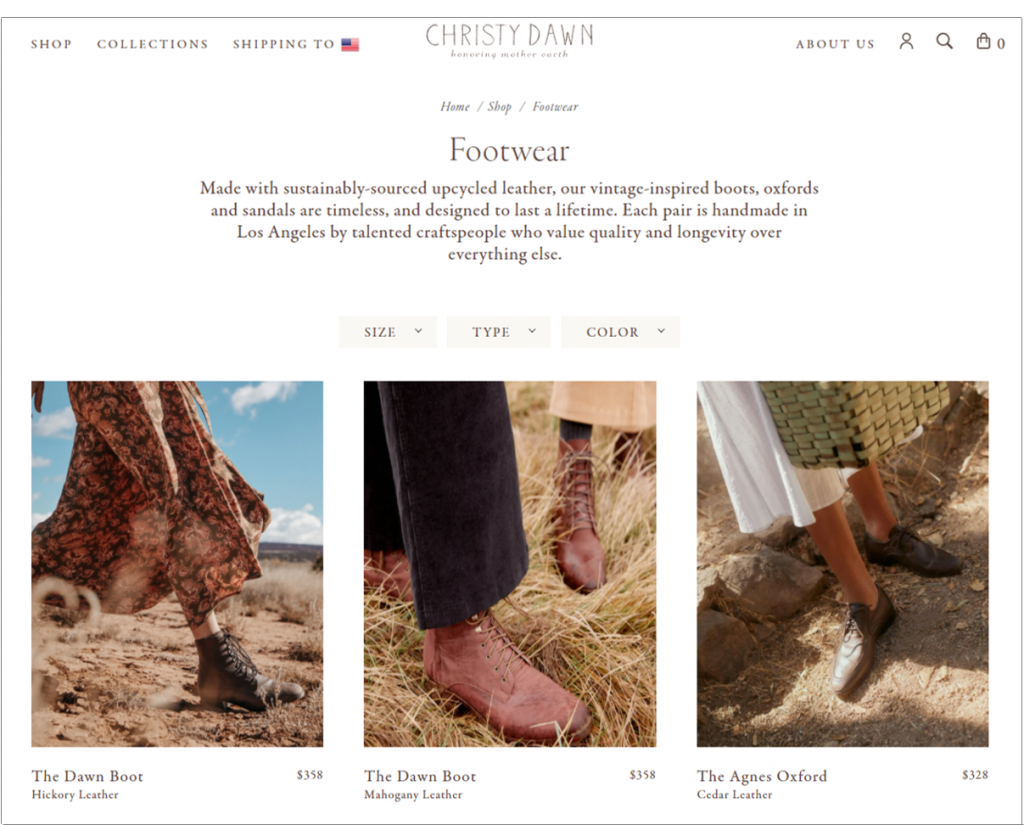 While they also make other types of clothes, it's their footwear (primarily their oxfords) that we're most impressed with. The oxfords are inspired by a vintage men's shoe, and they'll definitely stand out in any crowd.
The leather is sustainably-sourced and untreated deadstock leather (meaning that it's a waste product of the leather industry). The oxfords are crafted in the USA (Los Angeles, to be exact), by talented artisans who craft each pair with quality and longevity in mind.
In fact this brand is all about slow fashion (AKA the much needed opposite of fast fashion) and they encourage their workers to take their time and enjoy their work.
Zou Xou wants to make minimalist footwear essentials that are unfussy and well-made. They work with natural materials (i.e. premium leather) and Argentinian shoemakers who use age-old techniques. All of their shoes are produced in small batches and waste and energy use is minimized. They're designed to last, too!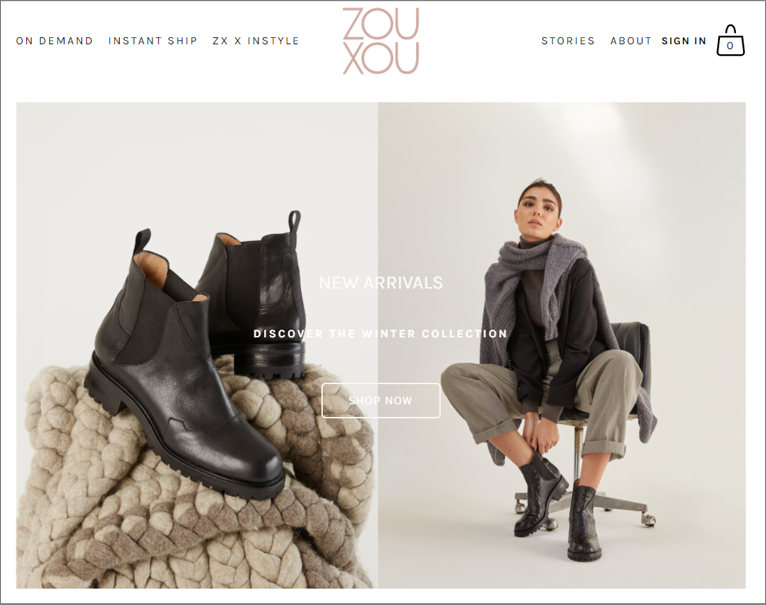 Zou Xou is a BIPOC-owned company with a mission to make footwear that allows women to feel like the best version of themselves. They've got pumps, slip ons, and mules, and also offer the option for made-to order shoes!
Final Thoughts on Eco-Friendly Shoes
It's likely that we're all wearing a lot more slippers these days, for which we'd recommend checking out the ethical wool slippers from Baabuk. But when our feet are ready to get into a pair of shoes ready for socializing and the great outdoors, we have these eco-friendly shoe options ready!
Speaking of which, let us know if you have any more brands we should add to the list!