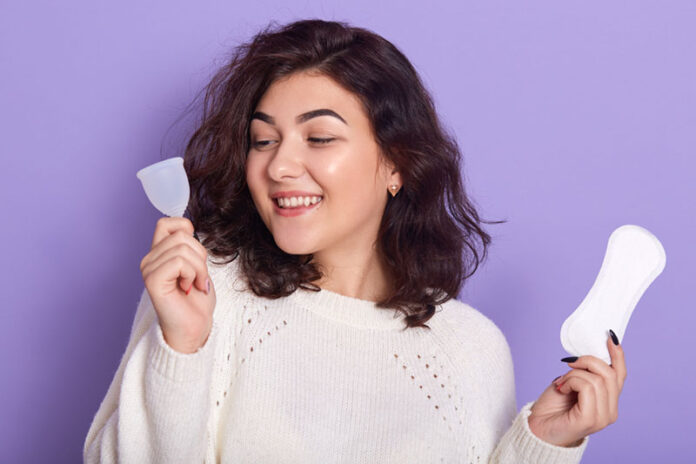 When that time of the month rolls around, you probably have a lot to deal with. Between cramps and cravings—and the fact that the U.S. is not a country with free period products—dealing with those two to seven days can already be an annoyance. Sorry to add yet another thing to consider, but there's a reason eco-friendly feminine products are popping up on drug store and supermarket shelves… 
Over the span of her lifetime, an average woman will send around 250 to 300 pounds of feminine products to landfills. Many of these pads and tampons are plastic-based, meaning that they'll likely be there for decades or centuries before degrading. 
And this is a best-case scenario, because these menstrual products can have an even worse fate if improperly flushed down the toilet. 
Let's explore all the ways leak-proof is proving to take its toll on our planet, before suggesting ways we can make our flows more planet-friendly. 
When it comes to sustainable menstrual products, you have a few options: eco-friendly pads, period underwear, eco-friendly tampons, and menstrual cups. We'll explore a few options for each. 
Cramps and Climate Change
For the most part, we don't choose to menstruate, so it's unfortunate that our visit from Aunt Flo is associated with so many environmental consequences. However, understanding them is a good first step towards making some simple changes to help support our planet. 
In just a year, scientists have found that our period products have an average carbon footprint of 5.3 kg CO2 equivalents. The biggest culprits? Plastic tampon applicators and the plastic strip found on the back of sanitary pads. 
Then we get to their disposal. Not only are period products piling up in the world's landfills, but that's better than the alternative: when they end up in the ocean. 
In just a single day in 2004, The Ocean Conservancy collected more than 18,000 used tampons (including applicators) from the world's beaches. Bear in mind that our population has grown significantly since then, meaning that that number would likely be even higher today. 
When flushed, tampons can clog toilets, but they often do much worse than that. They can block entire sewer systems, end up injuring wildlife, and release harmful phthalates and dioxins into the environment.
Pads aren't much better—and given their size, are actually worse for the planet than tampons.
In just a single conventional pad (made with about 90% plastic-based materials), you're wearing the equivalent of four plastic shopping bags! And we all know that one pad typically isn't enough to last the day…meaning that you might be leak-proof thanks to the equivalent of 44,000 plastic bags over your lifetime. 
Before we get carried away in this doom and gloom void that can only be filled with vegan Ben & Jerry's ice cream, let's explore some of the solutions. 
Easy Swaps for Sustainable Periods
Don't want to significantly change your menstruation routine? No worries, you don't have to. Even if you stick with traditional pads and tampons, there are a few ways to make them a little more Earth-friendly. 
If you use tampons, consider switching to those without an applicator. This minimizes unnecessary waste and is likely much easier to get used to than you probably expect. If you struggle the first couple of times, think about this: according to a big name in the world of tampons (o.b.), applicator-less tampons produce 58% less waste! 
You can also opt for organic feminine products, or those that have features that make them more sustainable. Remember when we mentioned the emissions associated with period products (5.3 kg CO2 equivalent)? When substituted with organic products, that number is significantly reduced, to just 3.4 kg CO2 equivalents. 
What to look for in eco-friendly pads:
100% biodegradable/compostable ingredients (like cellulose, cotton, and veggie gum glue)
Cotton bleached without chlorine
pH neutral compositions
No harmful chemicals (free of phthalates, fragrances, dyes, etc.)
What to look for in eco-friendly tampons:
Cardboard applicators (many can be recycled—although they often aren't because of sanitary issues)
Applicator-free options (you can also use a reusable applicator)
Recyclable or compostable wrappers (typically made with cornstarch)
Tampons made with 100% cotton, or other biodegradable materials (some include bamboo)
No harmful chemicals (free of phthalates, fragrance, etc.)
A brand who gives back (likely by supporting women in countries with little access to menstrual products)
*If using disposable period products, they'll still require the right composting environment (typically industrial composting facilities). You can help the process by manually breaking down or cutting the pad or tampon into smaller pieces. 
Best Organic Feminine Products
1. Natracare Pads and Tampons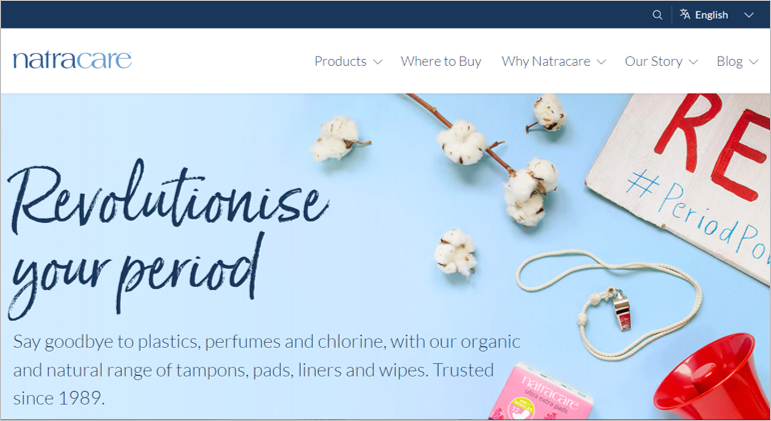 Natracare was the first brand to sell an alternative to plastic-based period products. Since 1989, they've been selling organic and natural tampons (including applicator-free options), pads, liners, and wipes. They have a range of products available to suit any woman's needs. 
2. Cora Pads and Tampons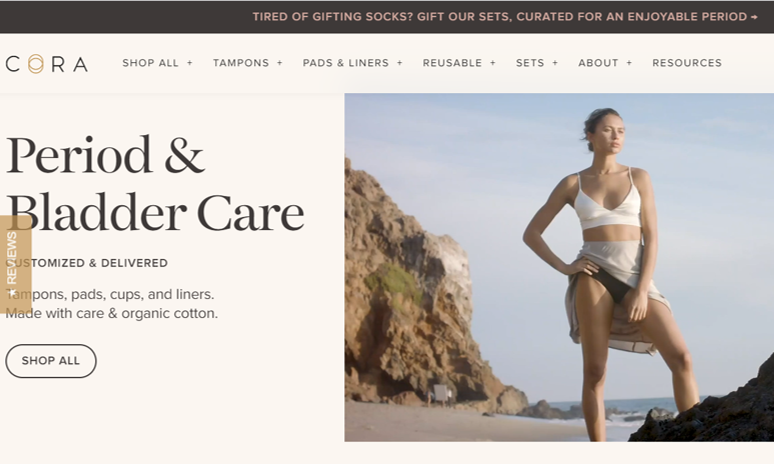 Cora's products are hypoallergenic, highly-absorbent, and come in different options to suit all menstruators. The pads feature a top-sheet made with 100% organic cotton, whereas the tampons are made with only 100% organic cotton (and can come without applicators). Plus, with every purchase, Cora supports women around the world with menstrual products and educational opportunities.
AVAILABLE: Amazon, Cora (for subscription service), and most U.S. supermarkets
3. TOP Tampons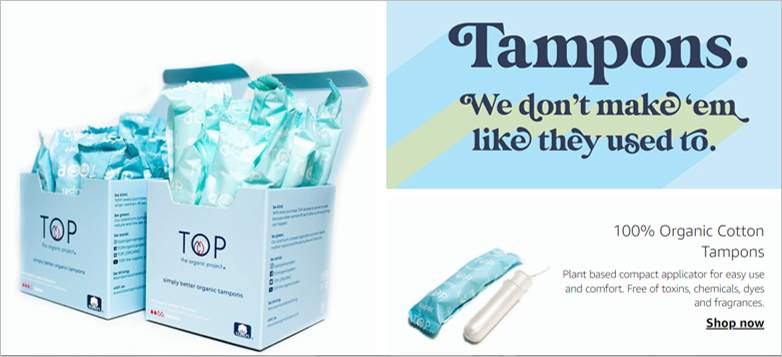 TOP stands for "The Organic Project," and their tampons are 100% organic cotton, free of toxic chemicals, and come with a biodegradable plant-based applicator (applicator-free options are available, too).
AVAILABLE: Amazon
Reusable Eco-Friendly Feminine Products
If you're ready to level-up with your monthly flow, there are an increasing number of options to make your menstruation even less wasteful. If you have a lifestyle that can accommodate it, there are a range of reusable options in the form of both washable pads, period underwear, and menstrual cups.  
Reusable Menstrual Cups
4. Diva Cup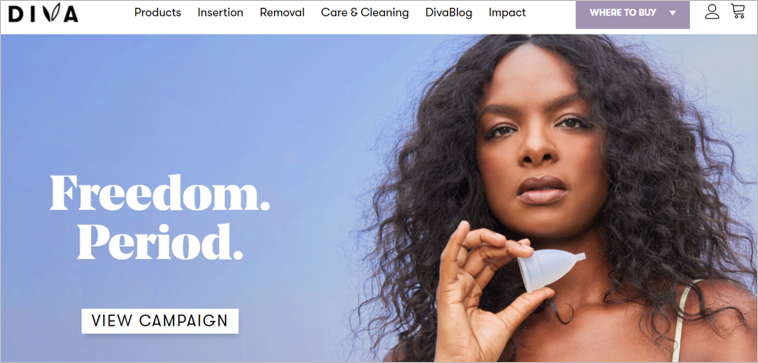 How does 12 hours of leak-free protection sound? This is possible with the world's # 1 menstrual cup brand. Diva Cup has been around for 18 years, so it's safe to say that they know a thing or two about helping us (and the planet) out during that time of the month. 
AVAILABLE: Amazon, Diva Cup (discounts for signing up to their newsletter)
5. Saalt Menstrual Cup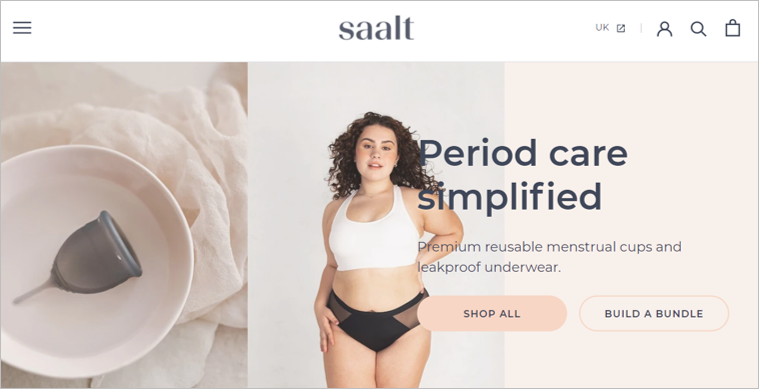 Saalt's another brand that's made giving back a part of their mission. Like Diva Cup, they have a few different cups (for different flow levels), but theirs tend to be a little softer. They're also made in the USA using medical-grade silicone. 
AVAILABLE: Amazon, Saalt (discounts for signing up to their newsletter, also FSA/HSA eligible)
6. INTIMINA Ziggy Cup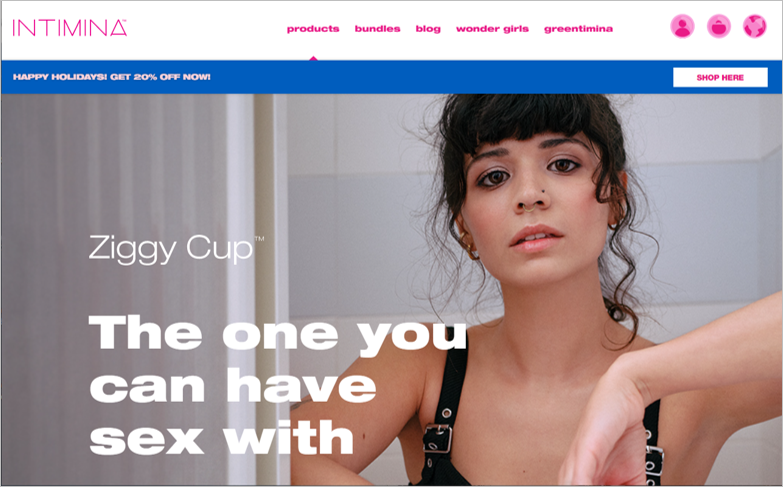 Ths menstrual cup can do something a little different: it can be worn during sex (during light to medium flow). It's safe, your partner won't feel it, and it's totally leak-free! 
AVAILABLE: Amazon, Intimina (FSA/HSA eligible)
Reusable Pads and Period Underwear
7. Rael Reusable Organic Cotton Pads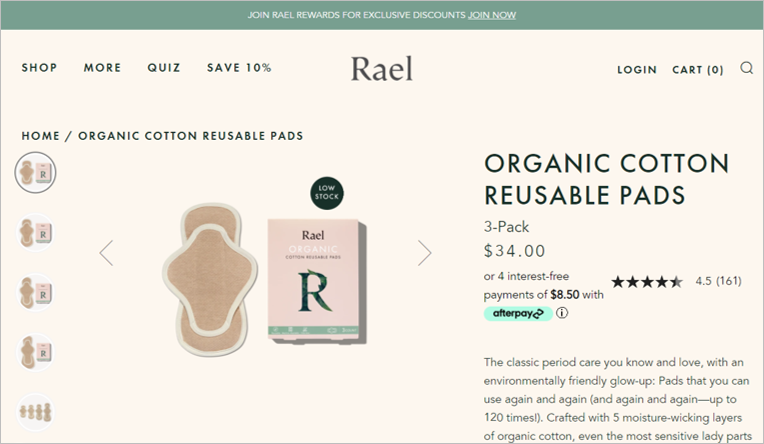 Thanks to five layers of organic cotton, you'll be leak proof. Thanks to wearability of up to 120 times, you'll help save the planet! These pads are also free of harsh and irritating chemicals. 
AVAILABLE: Amazon, Rael (discounts for new customers)
8. Marley's Monsters Reusable Pads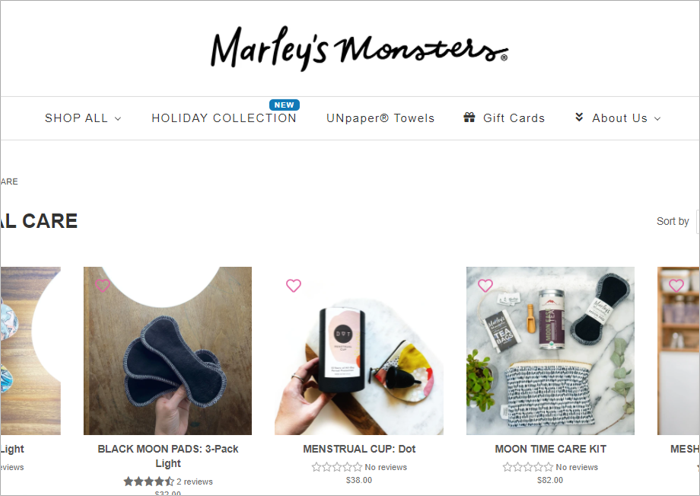 From paper towels to toilet paper (gasp!) Marley's Monsters is always about plastic-free products that are designed to be reused. This goes for their Moon Pads, which are made in the USA with 100% cotton—and provide protection for a light flow. We never thought we'd say this, but they come in fun patterns and are pretty cute, too. 
AVAILABLE: Marley's Monsters
9. Thinx Period Underwear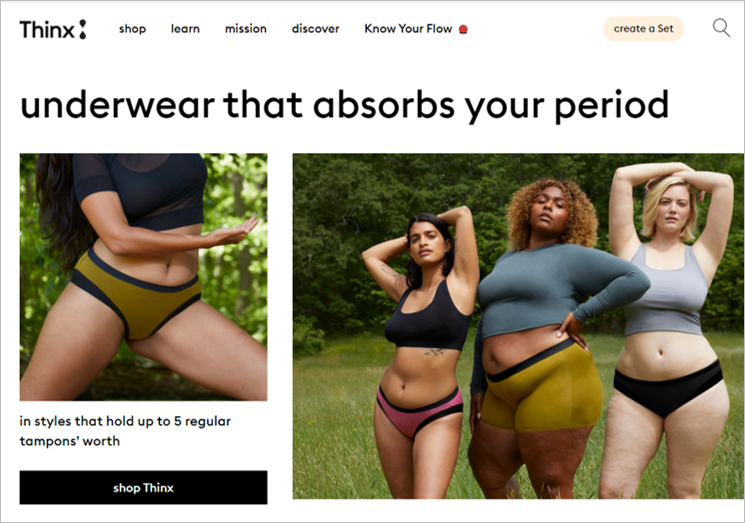 Thinx was one of the first in the period underwear game, and now more than one million people wear them! The leak protection is built-in, and some styles hold up to the equivalent of five regular tampons! With styles and sizes for everyone, this is a perfect no-fuss way to deal with your cycle. 
Wrapping Up Eco-Friendly Feminine Products
We deserve products that are healthier for our bodies, and our planet deserves to not have to deal with mountains of menstrual products. Period. 
We're thankful that there are now more eco-friendly menstrual products than ever before! If there's one that you love that didn't make the list, please share it in the comments!