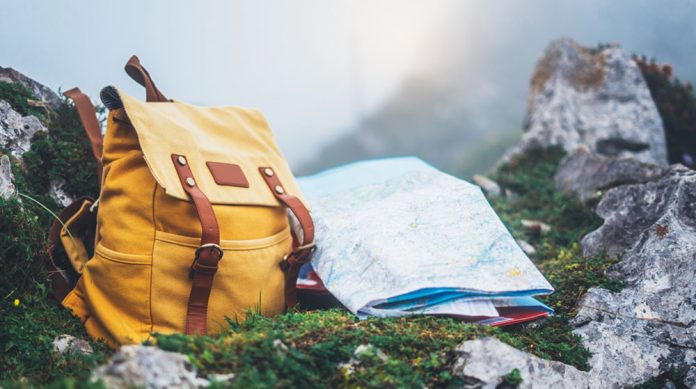 Who doesn't own a backpack? Really, backpacks are a staple for nearly everyone. For working professionals, students, travellers, children, or those simply needing a way to carry things, a backpack is undoubtedly one of the most handy things to have—and eco-friendly backpacks are even better.
We have Gerry Outdoors to thank for the first backpack. In 1938, they invented the first backpack that had a zipper and could be used for camping, hiking, and recreation.
We've come a long way since then and now backpacks are smaller, lighter, and more convenient. And, as we'll explore in this article now there are several eco-friendly backpacks that are not only convenient for us, but also consider the needs of our planet.
What to Look for in an Eco-Friendly Backpack
Something that meets your needs: Only you can determine the best backpack for you and your needs. What will you be using the backpack for? Do you need several different compartments? Do you need something that's weatherproof? Will you require space for a laptop? Or can you get away with something small and lightweight?
Quality and durability: A backpack is functional and, chances are, it will be subjected to a lot of wear and tear. Whether you'll be toting it around to class every day, taking it on a hiking trip, or just using it for semi-regular weekend getaways, you want something that will last—and, from a sustainability standpoint, having one product for longer is the most eco-friendly way to go.
Natural or recycled materials: We like to avoid some of the regularly used materials in backpacks (i.e. nylon and polyester) and instead opt for natural materials like organic cotton canvas or recycled materials.
7 Eco-Friendly Backpacks
1. United By Blue
United By Blue is an outdoor apparel company that's committed to tackling ocean pollution. For every purchase, they remove one pound of trash from waterways and oceans. So far, they've removed 3,449,580 pounds of trash.
Not only that, but they also use sustainably-sourced materials that are processed in GOTS-certified factories to make consciously designed products that last.
They've got several different backpack options in all different sizes. Their 9L Sidekick is perfect for a mid-afternoon trip and is made from 100% recycled polyester that is sourced from recycled plastic bottles. The backpack is 100% vegan, stain resistant, and water resistant.
For someone ready for a bigger adventure, they also have a 25L Transit Pack which is also made from recycled plastic bottles but has an expandable front compartments and a padded interior laptop sleeve.
Everything from United By Blue is made ethically, which can be backed up by the fact that they are a Certified B Corporation.
Available: United By Blue|Amazon
2. Solgaard
Making sustainable travel gear for global citizens, Solgaard is another brand to make use of our waste—especially plastic pollution in our oceans. In fact, every single product removes 5 pounds of plastic from our oceans.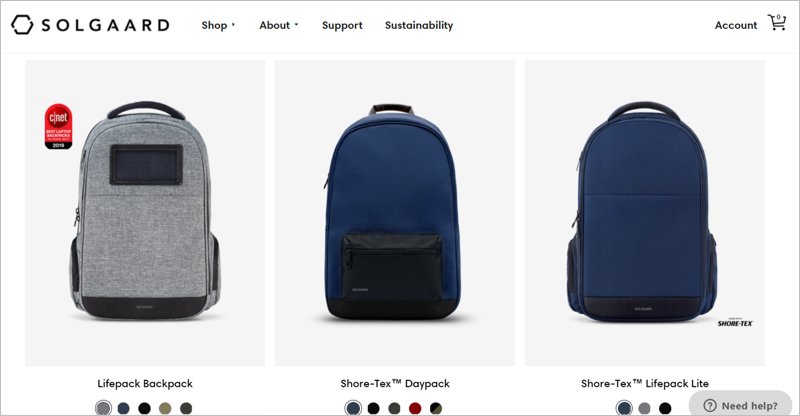 Taking eco-friendly to the next level, their Lifepack Backpack is made from upcycled ocean plastic and is also equipped with a solar charger and bluetooth speaker! Perfect for a busy entrepreneur it also has secret pockets and an anti-theft lock. It's great for traveling, too, and also has a water-resistant bottom.
3. Terra Thread
Terra Thread ticks all of the boxes for us—their backpacks are sustainable, ethical, durable, affordable, and people and planet friendly. Their range of organic and fair-trade backpacks are perfect for people who want to make conscious purchases.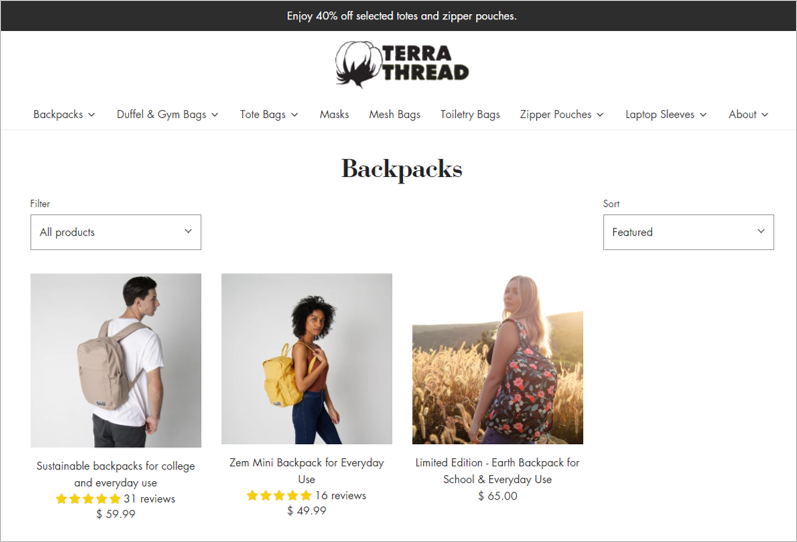 They've got a Mini Backpack for everyday use and a Sustainable Backpack that's a little bit larger. They're made with 100% GOTS certified organic and fair-trade cotton and dyed using low-impact dyes.
Buying an organic backpack means that more than 326,000 sq ft of land have been farmed without pesticides, and it means water savings and emissions reductions that are just as impressive.
Terra Thread also gives back, and with every single purchase, they donate 10-20 meals to children and families in need through their partnership with Feeding America.
The company is carbon neutral and a Certified B Corp too!
Available: Terra Thread
4. Lo & Sons
Lo & Sons has a range of high-quality and stylish backpacks for both men and women. They are designed for durability in any type of situation, and some of them are made with eco-friendly materials.
For an eco-friendly backpack, we like the Hanover 2, which is minimalist and super versatile. It is made with recycled polyester and water-resistant zippers. The Hanover Deluxe 2 is a slightly larger version and is made with the same sustainable materials.
Then there's the Edgemont, which is a great travel backpack that is also made from recycled polyester that's made from recycled plastic bottles and also makes the backpack water resistant.
5. thredUP
Let's face it, some of the best eco-friendly backpacks are those that we buy second-hand. For this, we love to go to thredUP. They've got a range of gently-used backpacks from brand names like Billabong, Vera Bradley, and FjallRaven.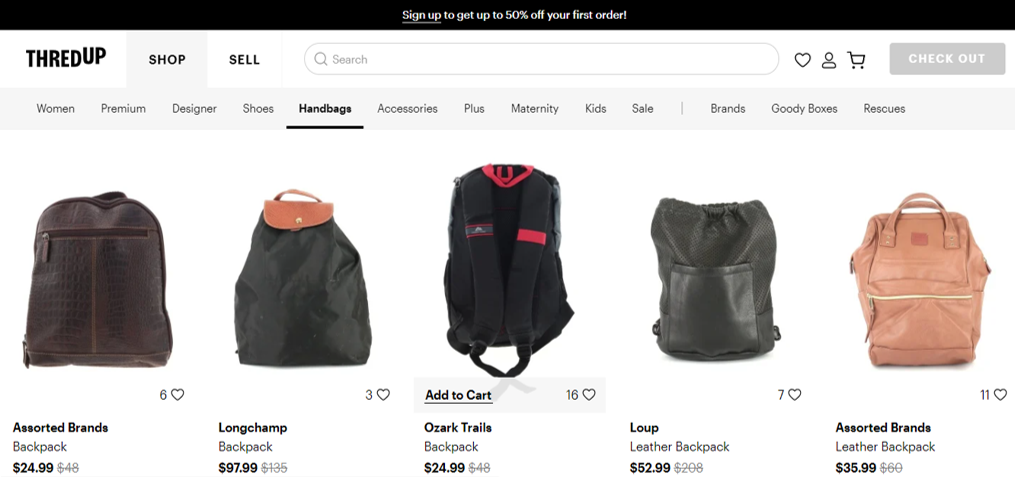 Not only are these backpacks much cheaper and they would be, but buying used means that you're keeping something out of a landfill. In fact, by buying just one used item, we can reduce the water, carbon, and waste footprints of that product by a whopping 82%!
Plus, thrifting is a much more fun way to shop.
Available: thredUP
6. FjallRaven
FjallRaven backpacks go back to Sweden in the 1960s, and were created out of necessity. Where they were once designed for outdoorsmen, now these backpacks are loved by conscious adventures—or people simply looking for a cute way to carry items—all around the globe.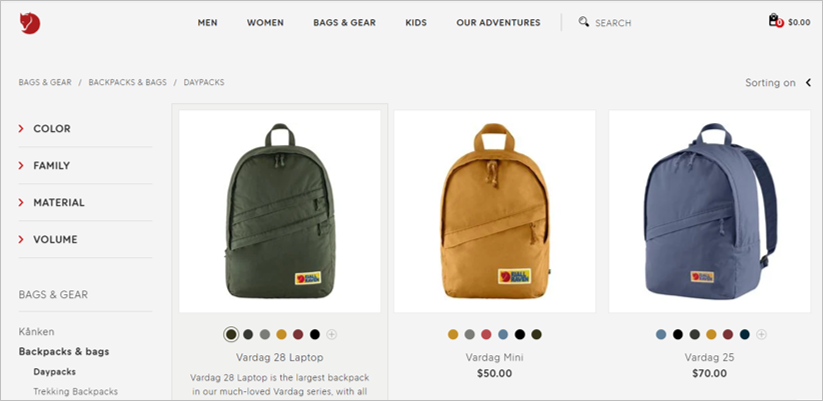 FjallRaven realizes that everything they do has an impact on the environment, which is why they choose materials to keep their environmental footprint as small as possible. Not only do they use materials like organic cotton, recycled wool, and recycled polyester for their backpacks, but they also design their products to last for generations.
FjallRaven designs their products in a range of sizes, colors, and for various different uses so every sustainable shopper is sure to find something perfect for them.
Available: FjallRaven|Amazon
7. Tentree
Canadian Certified B Corporation, Tentree, creates " earth-first apparel", and this includes a range of eco-friendly backpacks.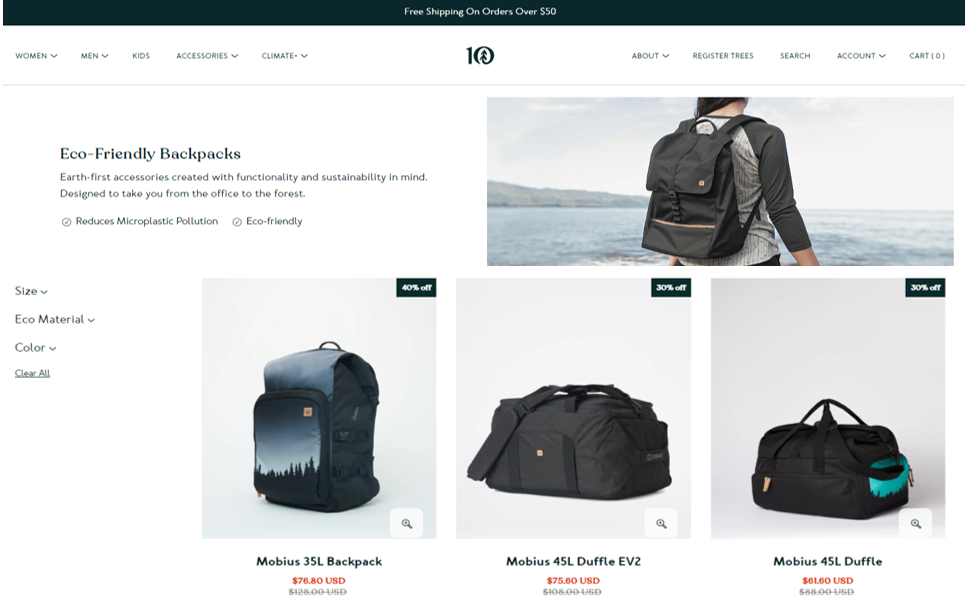 The Quest 25L backpack is made from 100% recycled polyester and features a water bottle pocket, padded laptop sleeve, and more. Oh yeah, and it's been made from 22 recycled water bottles!
Then there's the Mobius 35L backpack, which in addition to featuring 100% recycled polyester, also incorporates BLOOM foam padding—which is made from algae blooms. Not only does this backpack clean up plastic waste (31 plastic bottles, to be exact) but it also removes algae from the world's waterways.
As you may have gathered from the name, for every purchase tentree also plants ten trees. So far, they've planted more than 50 million trees—and their goal is to plant one billion trees by 2030. It's no wonder that this is one of the highest-ranking Certified B Corporations out there!
Before We Zip Up These Eco-Friendly Backpacks…
We may not have a backup planet, but with these eco-friendly backpacks hopefully we won't need one. We know that there are a lot of impressive brands out there, so we would love to hear where you got your eco-friendly backpack. Just let us know in the comments below!