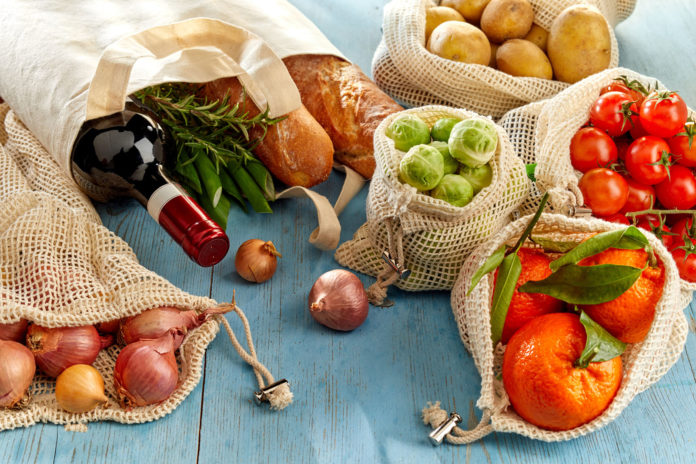 I'm thrilled to see that more and more people are thinking about their carbon footprint, including when it comes to grocery shopping. "Back in the day," people didn't think think twice about tearing off multiple single-use produce bags and tossing them in the landfill on each and every grocery trip.
Now, I love to see reusable produce bags popping up in more shopping carts.
But what are the BEST reusable produce bags that will withstand the test of time?
In this post, we'll share our picks for the 7 best reusable produce bags, perfect for the store and farmer's markets.
But First…Why Switch to Reusable Produce Bags?
I love to dive into the research, so I wanted to provide some facts about current plastic bag usage (including shopping bags) along with the benefits of switching to reusable bags. 
According to the EPA, over 380 billion plastic bags are used annually in the U.S. alone. It takes about 12 million barrels of oil to make all these bags. Unfortunately, these bags do not biodegrade and less than 5% of single-use plastic bags are being recycled.
When you make the switch to reusable produce bags and shopping bags you not only reduce the polluting of land, coasts and waterways, but you also directly reduce carbon emissions used to manufacture each bag. Less single-use bag manufacturing also reduces the drilling and use of fossil fuels, as petroleum is used to make single-use bags (as mentioned above).
OK, with that being said, these our top picks for the best reusable produce bags.
1. Naturally Sensible Nylon Mesh Produce Bags
Naturally Sensible's reusable bags come in a set of five large nylon mesh bags, with a price of $14.95. These bags are hand-washable and also have the tare weight printed on the tag in large print for cashiers to easily deduct the weight.
A bonus of purchasing from Naturally Sensible is that they donate a portion of their profits to One Tree Planted, a non-profit focused on global reforestation through tree planting.
2. Simply Eco Cotton Produce Bags
This produce bag set from Simply Eco is a great starter kit, as it includes 8 produce bags of three sizes for different uses. The bags are a mix of mesh and muslin, made from natural unbleached cotton and are polyester and BPA-free.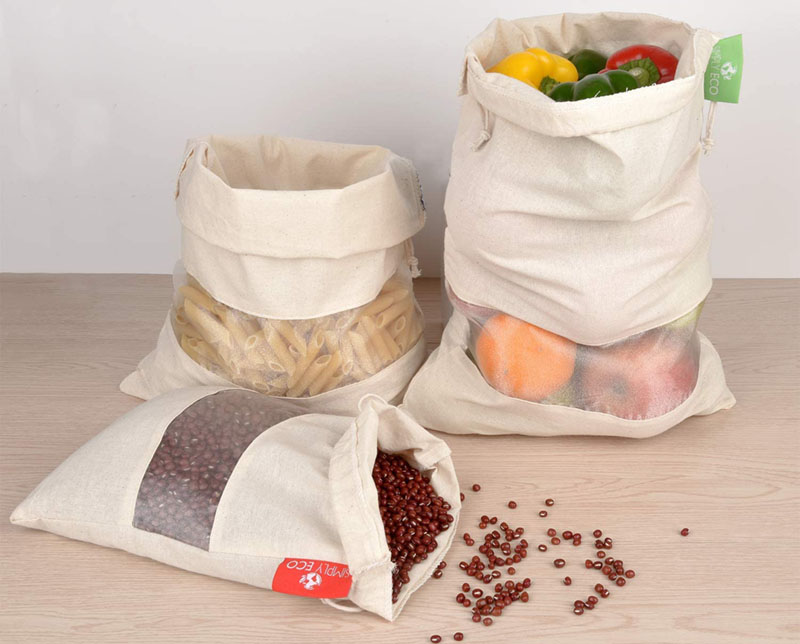 The full kit encompasses three sizes, with two small bags, two medium bags, and three  large bags, with a separate large cotton bag for leafy greens. I use my regular mesh bags for leafy greens as needed, so don't feel like you need different bags just for leafy greens. 
3. EcoRoots Premium Reusable Produce Bags
EcoRoots' cotton reusable produce bag set comes with a set of 9 bags (small, medium and large). If you do a lot of cooking and buy a fair amount of produce, this set should have you covered.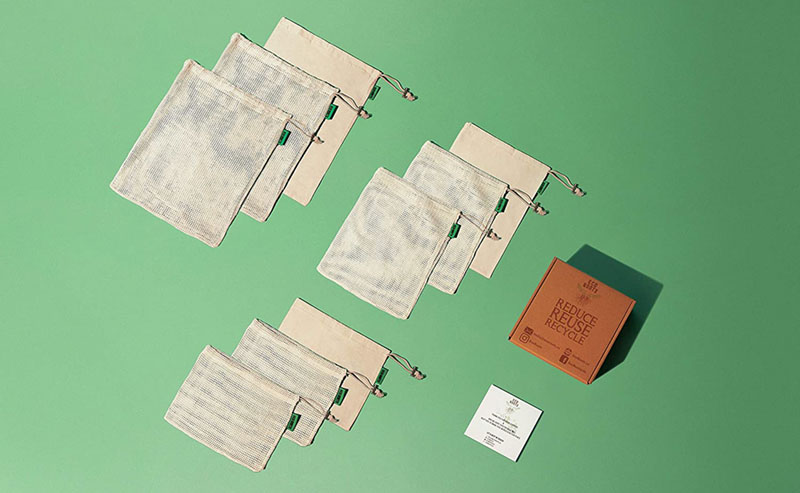 These bags are made out of 100% organic and sustainable cotton, are washable and are biodegradable once they've lived out their long lifespan. According to the company, each bag has a lifespan of "more than 700 disposable bags." 
Another added bonus is that each bag's weight is also on the tags so the weight can be easily deducted at check-out.
4. Ahyuan Ecology Large Cotton Mesh Bags
For a more stylish look at the farmer's market, this Ahyuan Ecology cotton string mesh bag three-pack is a great budget-friendly option.
These larger netted bags can be used at the grocery store as well, but I think work best when you need just a few bags for your farmer's market haul. They can hold up to 20 lbs so you can really load them up.
The bags are BPA-free, machine-washable, and are made from 100% natural cotton. These are super cute and can also be used as beach bags. The three pack comes with one beige color and one light blue color. 
5. ECOBAGS Organic Produce Bags
If you're looking for an organic option, ECOBAGS carries these organic cotton mesh produce bags, made from 100% Certified Organic Cotton. The bags are tested to hold 12-15 pounds of produce (36+ onions) and are machine-washable. 
They are a bit pricier than the above-mentioned bags, selling for approximately $10 per bag, and are currently only available in a set of five. If you get the set, you could gift a few to any other environmentally conscious friends if you don't need all five. 
6. Don't Forget The Bulk Food Bags
These reusable bulk bags from Onya seem to be a relatively new concept that has just started to take off. Because produce bags aren't quite made for the bulk section, and glass jars can be a pain to carry along with all of your other bags, Onya created these reusable bulk food bags to solve that problem.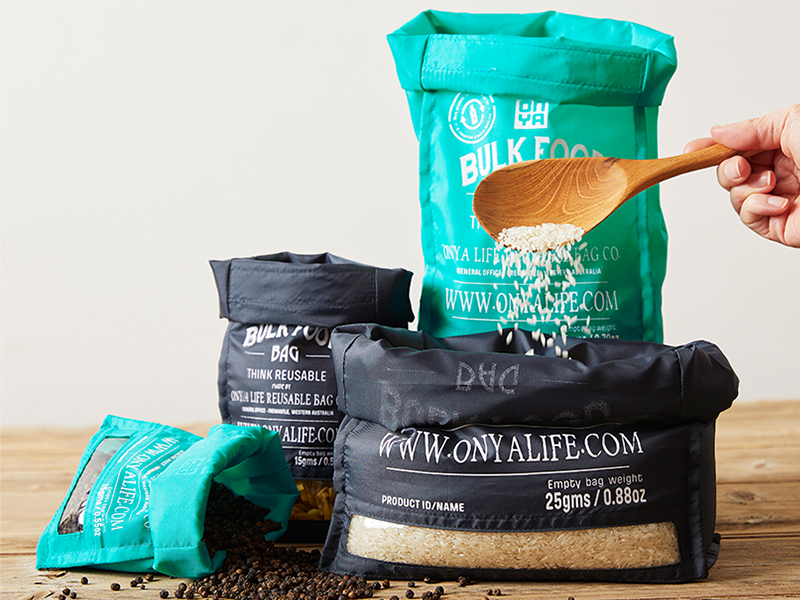 These bags are made from BPA-free, food safe recycled plastic bottles. What I love about these bags is that each bag has the bag's weight and a clear window at the bottom to see what's in the bag. The window can also be written on with a wax pencil or dry erase marker for any codes you need when checking out. I'm personally really happy to have these recycled bulk bags in my grocery bag rotation.
7. And, These Reusable Bread Bags!
If you enjoy buying fresh-baked bread and want to eliminate single-use packaging for this as well, Onya also created these reusable bread bags. Like their bulk bags, the bread bags are BPA-free and made from recycled plastic drink bottles.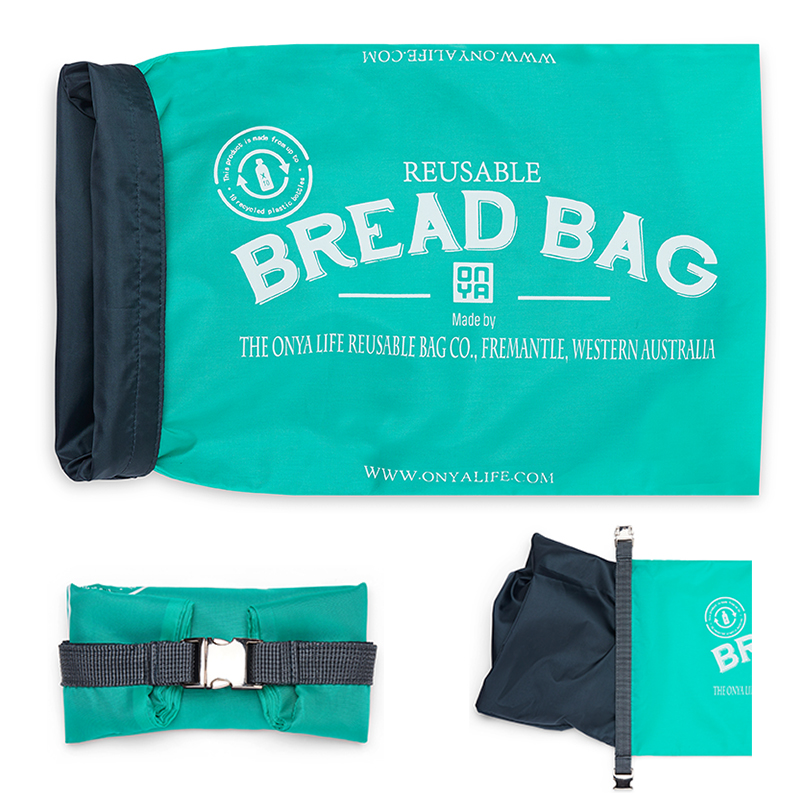 The bags are double-lined and freezer burn-proof so you can pop your fresh bread in the freezer for storage (up to 3 months) if desired. What's cool too is that Onya is a Certified B Corporation, and both their bread bags and bulk bags are 100% recyclable. 
---
I hope this post gives you some inspiration to "greenify" your grocery trips a bit more. 
If you have spare material at home, keep in mind you can also make your own produce bags with old fabric (which is the most environmental option). Additionally, if you have a stash of plastic bags already, be sure to reuse them as many times as possible (recycling them when they're done) before buying new reusable bags.
When you swap out single-use produce bags for reusable or recycled bags, you're doing your part to help keep less plastic out of our landfills and waterways.
Every reused or recycled bag makes a difference!
This post was originally published on April 21, 2020 and updated on March 29, 2023.