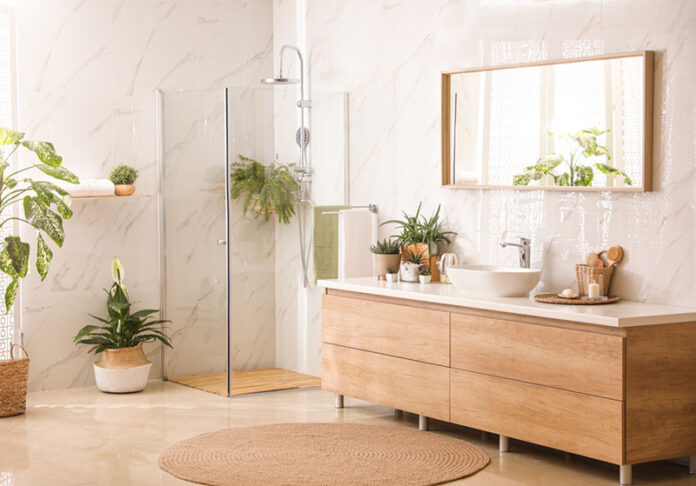 Did you know that showering is a big part of each household's water use? According to the EPA, it accounts for around 17% of indoor water use. Every family is estimated to scrub a dub with around 40 gallons per day—which means our country's annual consumption is a whopping 1.2 trillion gallons! 
That's a lot of water. 
Fortunately, we can be smarter with our showering—and the EPA is here to help. Most shower heads use 2.5 gallons per minute (GPM). The EPA has a WaterSense label that can be displayed on shower heads that use no more than 2.0 GPM. 
By switching to one of these shower heads, an average family can save around 2,700 gallons of water every year—and enjoy savings on electricity and utility bills, too. 
We've rounded up a list of some of our favorite low flow shower heads. 
What Exactly is a Low Flow Shower Head?
Wondering what it means to be a low flow shower head?
As the name suggests, it's a shower head that minimizes that amount of water produced. It's more economical, better for the planet, and designed to feel exactly like a higher flow shower head will feel. 
Using smaller nozzles, water is restricted but more concentrated, producing a similar pressure while minimizing the amount of water used. 
10 Best Low Flow Shower Heads
1. High Sierra Showerheads Classic PLUS
Recognized by the EPA in 2016, this WaterSense-certified and durable solid metal shower head does it all. It's got an optional trickle valve, which is perfect for conserving water while lathering or shaving.  
It's also got larger flow passageways that make cleaning a breeze, while still providing flow-rate options of 1.5 and 2.0 GPM. 
The shower head comes in a chrome finish.
Available: High Sierra Showerheads
2. Delta Economy Water-Saving Shower Head
In less than 20 minutes you can install a new Delta shower head. With a flow rate of 1.5 GPM, you'll notice a 36% reduction of water use right away! 
This chrome-finished shower head keeps it simple. It's got just one setting, but uses a patented motion of water so that spray holes remain clog-free and produce larger water droplets that feel warmer for longer. 
The shower head is backed by a limited lifetime warranty, too! 
Available: Delta
3. Niagara Earth Massage Shower Head
As one of the most enjoyable conservation tools, this chrome shower head has been a popular choice since it was released a decade ago. You can still experience the same comfort as a traditional shower head, but will significantly reduce your shower's impact. 
With one of the lowest flows available, you'll lather up with a flow rate of 1.25 GPM and save around 50% on the cost of each shower. This is also one of the cheapest shower filters out there, so savings all around! 
Available: Niagara
4. Waterpik VSA-653E EcoFlow Low-Flow Shower Head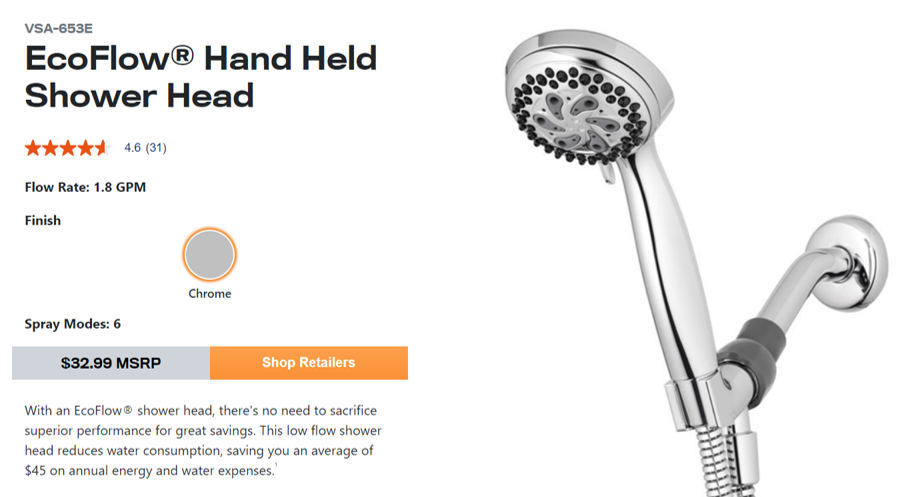 What about those of us who prefer a handheld shower head? Here's a great option! 
The Waterpik EcoFlow comes equipped with six different spray settings, including both a pulsating massage and trickle option for ultimate water savings. Over the span of a year, expect to save around $45 on your utility bills, all thanks to Waterpik's low flow rate of 1.8 GPM. 
The EcoFlow shower head comes in a chrome finish. 
Available: Waterpik
5. American Standard FloWise Transitional 3-Function Water Saving Shower Head
In addition to their WaterSense bathroom faucets and toilets, American Standard also has a few low flow shower heads. 
This specific model not only provides 3 spray options for a comfortable shower (turbine, full, or combination), but also uses a 1.5 GPM flow rate—meaning up to 40% in water savings! Over the span of a year, it's likely that your family will save a whopping 8,000 gallons of water! 
Choose between polished chrome or brushed nickel finishes. 
Available: American Standard
6. Kohler K-22169-G-CP Forte Multifunction Showerhead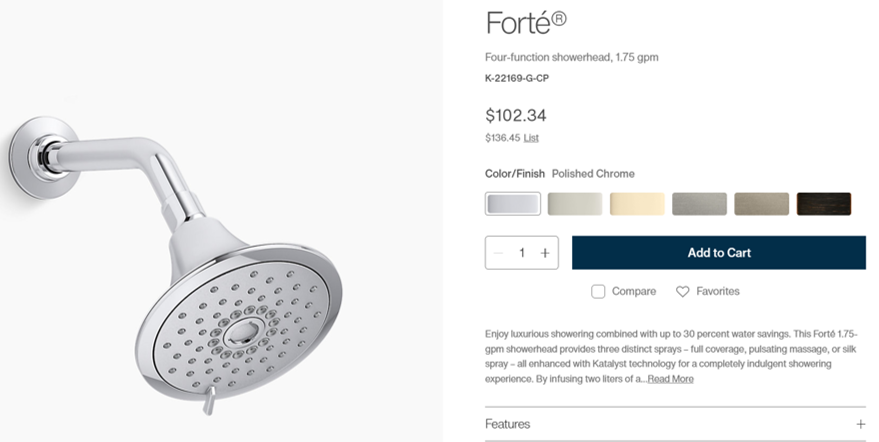 If you want to enjoy both a luxurious shower and a shower head that's capable of a 30% reduction in water usage, the Forte is for you. 
Choose between three distinct sprays—silk, pulsating massage, or full coverage. Each uses advanced Katalyst technology to infuse air in the water, delivering a spray that clings to the body thanks to larger, fuller drops. 
Not only does the WaterSense-certified model save water and money, but it'll also save time on cleaning, thanks to a tarnish- and corrosion-resistant finish and MasterClean sprayface that withstands mineral buildup and is easy to clean. 
There are seven different finishes available: polished chrome, brushed chrome, vibrant polished nickel, vibrant brushed nickel, vibrant French gold, vibrant brushed bronze, and oil-rubbed bronze. 
Available: Kohler
7. PULSE ShowerSpas 1011-CH-1.8 GPM Kauai III Shower
Ready for an upgrade in luxury and a downgrade in water consumption?
This rain shower head will cost a little more up-front, but the utility savings and comfortable experience make up for it. In just 30 minutes you can retrofit your shower to feature the rain showerhead and 5-function hand shower. 
While this model is at the upper end of low flow shower heads (1.8 GPM), it will provide some water savings while making "every day feel like a spa day."
There are several finishes to choose from; brushed gold, brushed nickel, matte black, oil-rubbed bronze, and polished chrome. 
Available: PULSE 
8. Water Management Fire Hydrant Spa Shower Head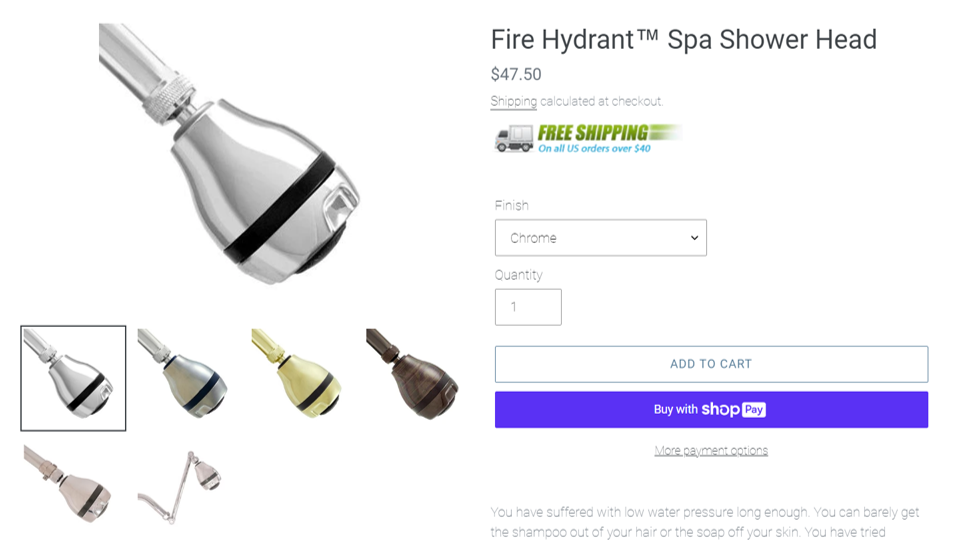 With this shower head, you get a fire hydrant-like power stream, without all the unnecessary water. 
While it does require the additional purchase of a Volume Control attachment to reduce the flow rate (with just the touch of a button), this is one of the better options for those of us with low water pressure. 
Regardless if you live in a city or use well water, turn a low, barely-there shower flow into something more powerful, more sustainable, and just like a trip to the spa. 
With finishes including chrome, brushed nickel, polished brass, and oil-rubbed bronze, you're sure to find something perfect for your bathroom. 
Available: Water Management
9. Moen Gibson Chrome M-CORE 2-Series Shower Only
If you're ready for a serious bathroom upgrade, consider one of the several shower/bath combination faucets from Moen. 
This particular model is a shower-only lever handle and shower head. It features a mirror-like chrome finish and a single-spray shower head that conserves water without sacrificing performance. 
The shower head meets EPA WaterSense criteria and produces a 1.75 GPM flow rate. Installation doesn't require any plumbing replacements, either!
Available: Moen 
10. Symmons 1.5 GPM Dia Single Function Shower Head
Combine a sleek design and quality materials and you get this shower head—which provides a comfortable full spray, but is still WaterSense certified. The maximum flow rate for the 3-inch shower head is 1.5 GPM. 
Choose between matte black or brushed bronze colors. 
Available: Lowes
Wrapping Up: Low Flow Shower Heads
Before you buy, make sure to head to EPA's Rebate Finder to see if the best low flow shower head can also be a bargain! You may find a money-saving rebate available in your area. 
Also, remember that water savings can happen without a fancy shower head—just try to cut down your shower time! An average shower can use around 20 gallons, so just three minutes shorter can significantly reduce your water footprint. Don't forget your eco-friendly shampoo, either!