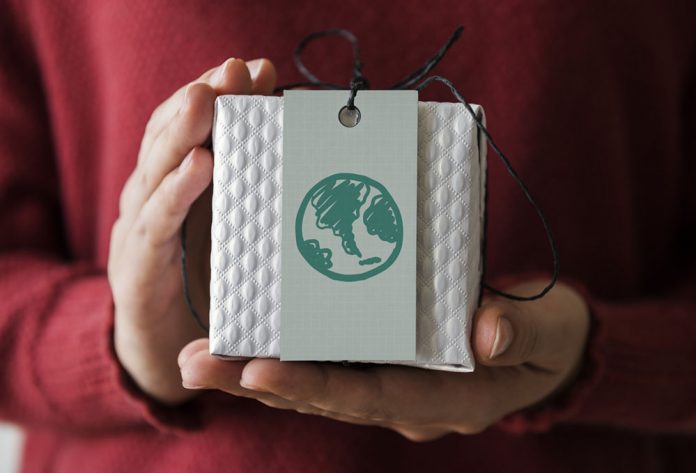 The holidays really snuck up on us this year, didn't they? While they'll be slightly different for 2020, the holidays are typically a time of joy, laughter, connection, eating, celebrating, and…waste.
According to the Environmental Protection Agency (EPA), Americans produce 25 million tons of extra waste between Thanksgiving and New Year's Day—in addition to the excesses in energy for lights, fossil fuels for traveling, and food waste from feasting. 
'Tis the season for sustainability, that's for sure. Here are our favorite tips for how we can be more sustainable during the holidays.
Holiday Gift and Card Giving
Green Your Greeting Cards
What normally happens to the holiday cards you receive? They likely met one of two fates: they ended up in a box shoved somewhere in a closet, never to be seen again. Or they ended up in the recycling bin or trash.
Greeting cards are largely a waste of money and resources. Unless they contain just paper, they must be thrown away. If they're a musical greeting card, they contain mercury (meaning that they can't even go in the garbage).
If you're a stickler for tradition, look for a card made with recycled or recyclable paper. Good Cause Greetings also has greeting cards that support charities, like the Environmental Defense Fund. Or, if you're willing to adapt, send an e-card.
Avoid Panic Buying
It's easy to get caught up in the chaos and commotion of the holidays and end up with the plan to "buy just one more gift." Gift giving has turned into a competitive sport of sorts, with everyone going crazy over filling the base of the tree or finding "that perfect gift."
In fact, holiday shopping addiction is a very real thing and even if you're not spending thousands of dollars buying big-ticket items, it's easy for all of us to get caught up in the frenzy.
So, be mindful of your holiday purchases. Do your loved ones really need them? Will they stand the test of time, or simply be discarded after the buzz wears off? Are second hand/eco-friendly options available?
Use Reusable Wrapping Paper
Instead of using traditional wrapping paper (some of which can't even be recycled), get creative with how you package your gifts. Use old cereal boxes, recycled burlap, fabric, or even a scarf.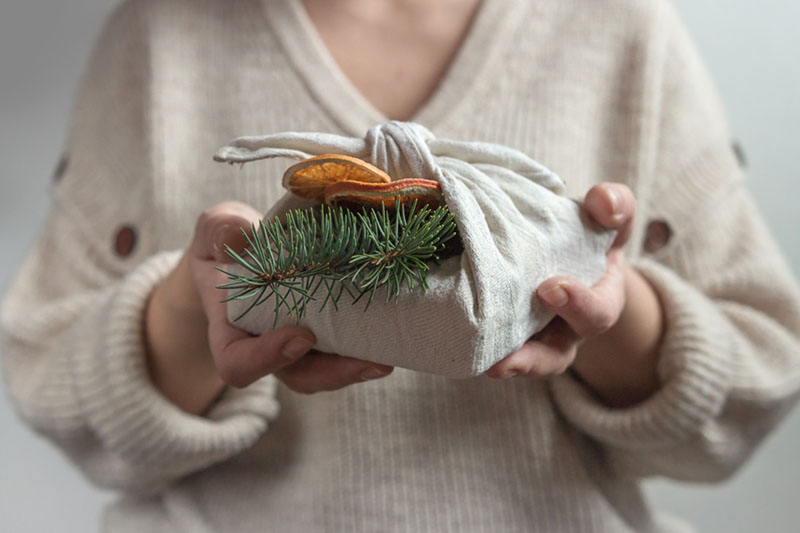 Instead of using glitter and plastic bows, use dried fruit, a twig of pine, or fragrant rosemary to decorate.
Give Experiences, Not Gifts
Instead of buying something that will likely be discarded after a few short months, gift an experience instead. Purchase a weekend getaway, tickets to a concert, a trip to a local attraction, or a gift certificate to a local restaurant. The options are endless!
Chances are, your loved one will remember and cherish the time spent during this experience more than they'll value the plastic gadget or cheesy pair of pajamas.
Shop Local
If you are set on having something underneath the tree come December 25, support a local business in the process! Small, local businesses could use our help more than ever in 2020, and while it may be less convenient than shopping online, it's the best way to not only provide a gift for a loved one, but for your local community as well.
Plus, by purchasing something local, you're minimizing the shipping emissions associated with online shopping, and it's likely that you'll end up with something more unique, too!
If shopping at a brick and mortar shop is a big NO this year, look on Etsy. You're able to search for a specific shop location and Etsy uses carbon offsets to make their shipping carbon-neutral!
Give the (Sustainable) Gift That Keeps On Giving
Why not support that budding environmentalist in your life with a gift that helps them on their eco-friendly journey? Give a gift that supports our planet, like a green-living book, eco-friendly kit (equipped with reusable utensils, silicone kitchen supplies, and a reusable water bottle), or fair trade and sustainable beauty products that can be refilled in reusable containers. For more eco-friendly gift ideas, be sure to check out our sustainable gift guide here.
Deck the Halls with Donations
This is the gift that really keeps on giving. Consider donating to an environmental or social justice organization in your loved one's name.
Holiday Feasting and Entertaining
Reconsider Some of Your Feasting
It's no secret that food waste is a huge issue. And this is an issue that becomes all the more problematic around the holidays. On average, American families throw away 40% of the food they purchase.
We've all been there. The four-day old mashed potatoes are no longer creamy, and the idea of stomaching turkey yet again sounds like torture.
This is why the EPA has specifically pleaded with Americans to consider food waste for the 2020 holiday season. According to the EPA Administrator Andrew Wheeler, "This holiday season, we must all do our part to help people and the environment by preparing only what we need, cutting down our food waste, and sharing or donating what we can to feed others."
Here are a few tips for earth-friendly eats around the holidays:
Create (and stick to) a shopping list
Consider your stomach, not your eyes, when planning a holiday feast (AKA prepare less)
Make a plan for leftovers
Learn how to freeze some of your meal
Don't use plastic plates and cutlery
Be Like Rudolph and Eat More Plants
Reindeer are vegetarians, and if they can pull Santa's sleigh with no worries, we can reduce the amount of meat we eat, too.
So, instead of the ham or turkey, opt for a plant-based dish instead. Here are a few ideas to get those culinary creations flowing:
Homemade butternut squash ravioli
Traditional Hanukkah latkes
Roasted winter (delicata) squash
Honey balsamic Brussels sprouts
Vegetarian lasagne
Spinach Maria
Roasted garlic and kale stuffing
If you do want to eat meat, opt for an option with a lower carbon footprint (i.e. poultry), and source it locally and organically.
Virtual Instead of Physical Gatherings
This is probably going to be a must for most families anyway, but we can all feel even better about our virtual holiday celebrations because they mean a reduction in greenhouse gas emissions normally associated with traveling for the holidays!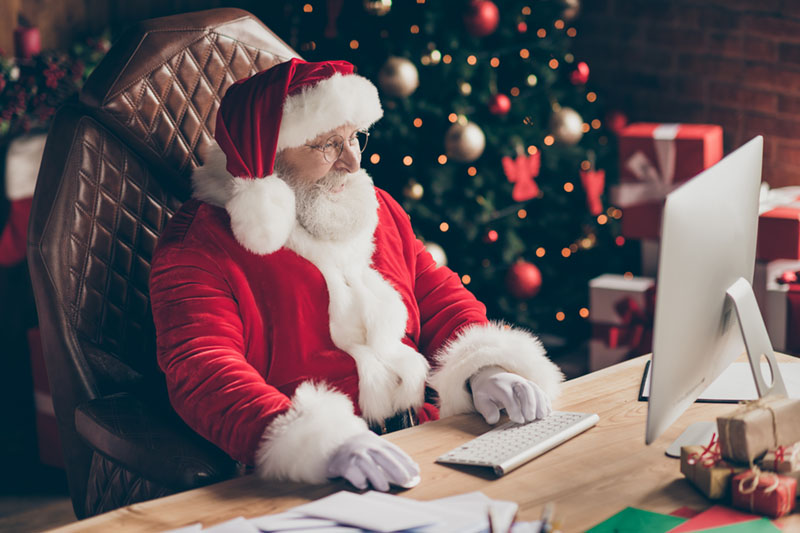 Start a New Tradition: The Christmas Bird Count
If you do meet up with family or friends this holiday season, do so outside and start a new tradition by joining the Audubon's annual Christmas Bird Count! It's one of the most festive community science projects and runs from December 14 to January 5.
Head to their website for more information.
Christmas Tree and Decorations
O (Real) Christmas Tree, O (Real) Christmas Tree
Artificial christmas trees are made from—you guessed it—plastic. Around 90% of them are shipped in from China, and they aren't recyclable.
Need we say more? A real Christmas tree is better for a planet, and with that delectable pine scent, they're better for us, too!
Many cities already recycle Christmas trees through curbside collection, but check with your local city council to be sure that you dispose of yours properly.
Use Energy Star Qualified LED Lights
This season isn't the same without lights, and fortunately an easy switch can make a big impact. LED (light emitting diode) lights are 90% more efficient than normal Christmas lights, and they last longer, too!
Even better, look for LED lights that are solar powered!
Use Eco-Friendly Holiday Candles
The soft flicker of a candle seems even more magical around the holidays. But when you know that that candle is releasing harmful toxins and known carcinogens, it loses a bit of its magic.
Instead of conventional candles (which are commonly made with paraffin, dangerous fragrances, and lead-containing wicks), look for eco-friendly alternatives. Candles made from organic beeswax or soy are best. Look for those with a cotton wick and that use pure essential oils for scent instead of chemicals.
________________
We hope this article gave you some inspiration to be more mindful and help lower your carbon footprint during these busy times. What habits or tips do you have to help you be more sustainable during the holidays? Please let us know in the comments!